These days, employees' attention is pulled in multiple directions. Between emails, Zoom calls, and Slack notifications, employees need to focus on so many things at once. When everyone's distracted and working remotely, how can companies make sure their employees are adequately trained?
Inspiring and informative employee training programs have always been a priority for companies. Creating great training content is even more of a must when most or all of your workforce is remote. The good news? A wealth of instructional design tools can help.
Instructional design tools are software and programs that help learning and development professionals craft exceptional eLearning programs for their employees. Your team can leverage many of these tools to create training programs that keep employees both informed and engaged.
Here's our roundup of 10 instructional design tools to help you create and share best-in-class employee training.

Whatfix is a digital adoption platform that helps L&D pros train employees on their companies' software applications. With Whatfix, instructors can create interactive training, which employees can consult in real time when they're actually using the software. By allowing employees to learn by doing, Whatfix encourages higher rates of engagement—and even better employee retention.
What's more, a host of features allows instructors to easily create personalized learning content for individual teams and people within an organization. And advanced analytics help learning and development teams understand what's working and what isn't so they can create even better training content for employees.
Features We Love
With Whatfix, learning and development managers can auto-create content, saving time and allowing them to create greater volumes of training materials.
Contextual in-app guidance allows employees using Whatfix to "see live" and learn by doing, which helps them better retain information.
Whatfix's interactive self-help feature offers 24/7 personalized digital assistance, so employees can solve their own problems when they get stuck.
Eduflow is a learning experience platform that allows L&D pros to create fun and collaborative training courses, track learner progress, and measure engagement. One major reason we love this tool is that it focuses on keeping employees engaged and entertained—something too many training programs miss.
Eduflow was designed with the understanding that people learn differently. Instructors have a wide range of options for the training courses they can create, and getting started only takes two minutes. It's also easy to integrate Eduflow with tools your L&D department is already using, which makes for a more streamlined employee training experience.
Features We Love
Employees can record webcam and screen recordings directly from the Eduflow app, so they can easily refer back to the information that's most relevant to them.
Everyone learns differently, and Eduflow gets that. Instructors can create personalized learning paths for individual learners based on their needs, which results in more effective training.
Extensive analytics tools give trainers insight into how their content is performing, so the organization's training program is always leveling up.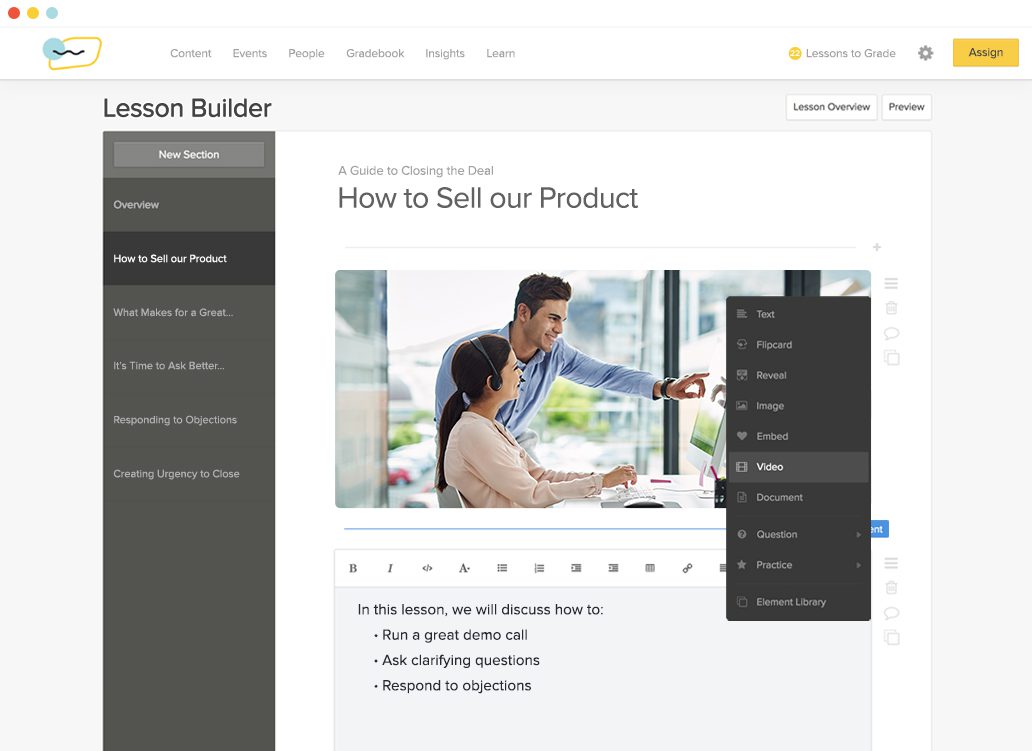 Lessonly is a cloud-based learning management system that allows instructors to create, share, and analyze training programs via a single, user-friendly platform. Lessonly designed its platform specifically to help train teams, so employees can learn how to do their jobs more effectively.
With easy drag-and-drop lesson design features, instructors can quickly and easily create rich training content—including text, images, videos, quizzes, and more—that employees can easily understand. The responsive, mobile-friendly platform encourages learning on the go so you can train your team anywhere.
Part of Lessonly's mission is to help instructors be the best trainers they can possibly be. To that end, the platform offers ample resources that help instructors become better Lessonly users and better, more effective trainers.
Features We Love
Targeted training programs allow instructors to assign lessons and paths to individual employees or specific teams, so they can provide individual attention to the people who need it most.
Training content creators have access to Lessonly University, a content hub that includes lesson templates, best-practice guides, and other pre-made materials, which make a trainer's job easier.
Lessonly's open API integrates easily with the company's entire tech stack, so trainers can easily share and manage users, groups, and analytics through the platform.
One thing we can all agree on: The user experience for online courses viewed on a mobile device is typically pretty sub-par. Adobe Captivate is an instructional design tool that helps solve that problem. Captivate lets instructors create responsive eLearning content and make every course beautiful and user-friendly on every device.
A 2019 update added even more features to the Captivate platform: Trainers can create beautiful, mobile-friendly training content in minutes, thanks to a vast repository of customizable slides and animations. By leveraging the full power of Adobe's design prowess, Captivate helps trainers create courses that employees will love.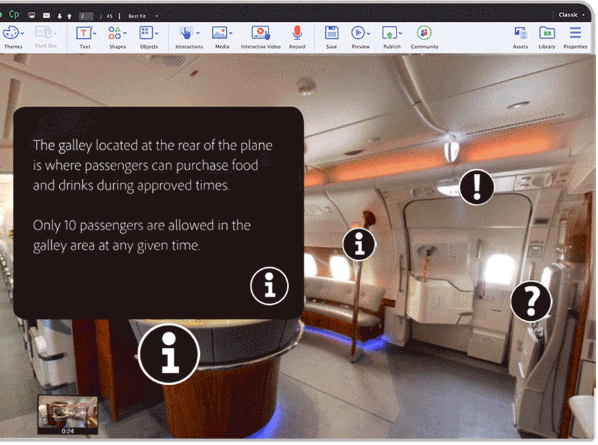 Features We Love
Captivate's huge collection of ready-to-go quick slides allows even beginning eLearning professionals to create high-quality, mobile-friendly content more quickly.
Virtual reality walkthroughs and tours make learning come to life, so training content is both more effective and more engaging for employees.
Captivate isn't just focused on beautiful design—it also encourages highly effective training programs with frequent checkpoints to determine information retention. For example, instructors can create courses that require learners to complete modules before they take a skills quiz.
Tettra is an internal knowledge base with smart workflows, so employees can easily find answers to all their most pertinent questions. By storing company information, training content, and organizational policies in a single place, companies give employees easy access to training content. As an added bonus, that access reduces the number of repetitive questions that members of the L&D team need to answer.
Essentially, Tettra makes training faster for employees and easier for learning teams. Anyone can contribute to the organization's knowledge base, and smart workflows make suggestions about content that should be added, updated, or removed.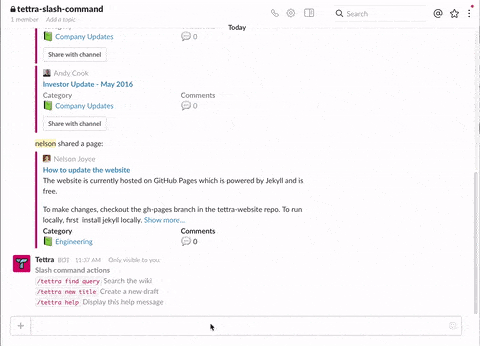 Features We Love
Tettra helps trainers—who are often asked the same questions repeatedly—save time. Smart templates can auto-populate information into a new page, so instructors don't need to reinvent the wheel every time they train a new employee or team.
While fragmented systems can offer multiple answers to the same question and cause confusion, Tettra gives employees a single source of truth for any questions they might have. This empowers employees to find information more quickly and with greater confidence, so they can make better decisions in their work.
iSpring Page is an instructional design tool that allows instructors to create adaptive micro-learning courses directly in their browsers. We love that iSpring Page created a solution for the modern learner, who's busy and pressed for time. Micro-courses allow employees to master smaller chunks of material on their own time so they can more easily retain the relevant information and act on their new knowledge immediately.
Plus, iSpring couldn't be easier for training content creators to use. Instructors only need an iSpring page, an Internet connection, and an idea to create a course.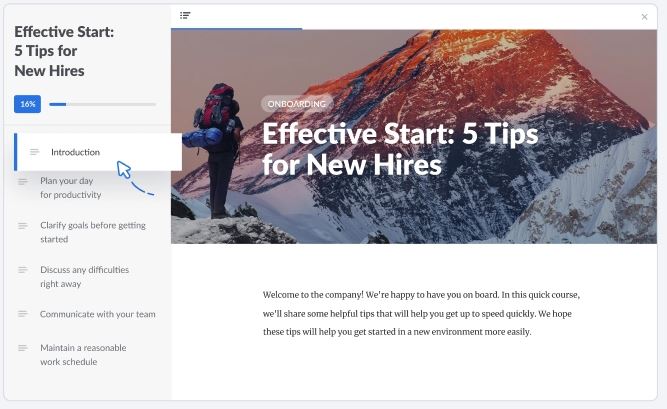 Features We Love
Too many employees suffer from information overload when it comes to training programs. With iSpring Page, instructors can create progress-restricted chapters, allowing learners to digest the right volume of information in a logical order.
Knowledge checks allow instructors to add questions or mini-quizzes to help learners retain information.
Content creators can collaborate easily with their team so that they can create better training programs in less time.
Camtasia is an instructional design tool that makes screen recording and editing easy. As more and more organizations go remote, L&D teams increasingly rely on customized videos to train employees. Camtasia's easy screen-recording feature and user-friendly templates allow instructors—even those who've never edited a video before—to create professional-quality instructional videos.
On top of that, Camtasia includes multiple features that make every video even more effective for employee training. Training content creators can easily include quizzes, annotations, images, and more, so they can make sure employees are learning as well as watching.

Features We Love
Pre-made video templates (new in Camtasia 2020) make editing easier—and instructors can create custom templates for training videos they make over and over again.
We're always fans of features that make L&D teams' lives easier. Camtasia's drag-and-drop editor makes producing high-quality training videos easy.
Trainers can add interactive features and quizzes to their videos, enabling them to measure employee learning more effectively.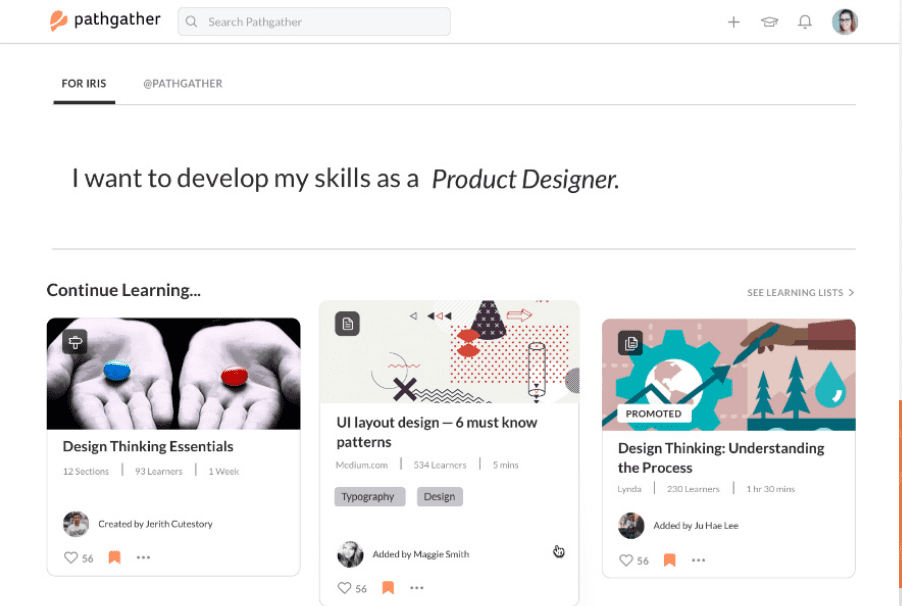 Pathgather is an instructional design tool that uses social learning features to make training more fun and engaging. With Pathgather, employees find training materials on a single platform, which provides smart content recommendations based on individual employees' needs. Social sharing features encourage team members to share their best resources, so everyone benefits from their knowledge.
Pathgather prizes agility in training and gives both employees and managers the ability to share helpful information. The platform makes it easy for any employee to curate "learning paths," so employees can learn from one another more readily.
Features We Love
Pathgather is all about collaboration: Collaborative editing allows multiple team members to create and share high-quality training content; administrators can create learning groups or "gatherings," so teams can easily share information and learn from one another.
Content insights and user reporting show training content creators what types of materials employees want, allowing instructors to create more relevant and engaging courses.
Pathgather is accessible anywhere, so employees can keep learning whether they're at their desk, on the train, or in the field.

EdCast is an AI-powered "knowledge cloud" that focuses on improving employee performance via personalized training and eLearning content. The platform aggregates all your company's learning materials, then uses machine learning to curate only the best and most relevant content to train your team.
We love that EdCast uses AI to offer a more personalized training experience to employees and that automated workflows can save employees precious time.
Features We Love
EdCast uses technology to improve the learning experience for users. The AI-based "Recommend" feature makes continuous eLearning recommendations to individual employees based on their roles and preferences, so employees are more engaged with more relevant materials.
Guides are enabled for automation, which drives employee productivity and reduces extraneous work.
Detailed analytics give chief learning officers and their teams access to data on usage and performance, so they can determine whether or not training programs have been effective.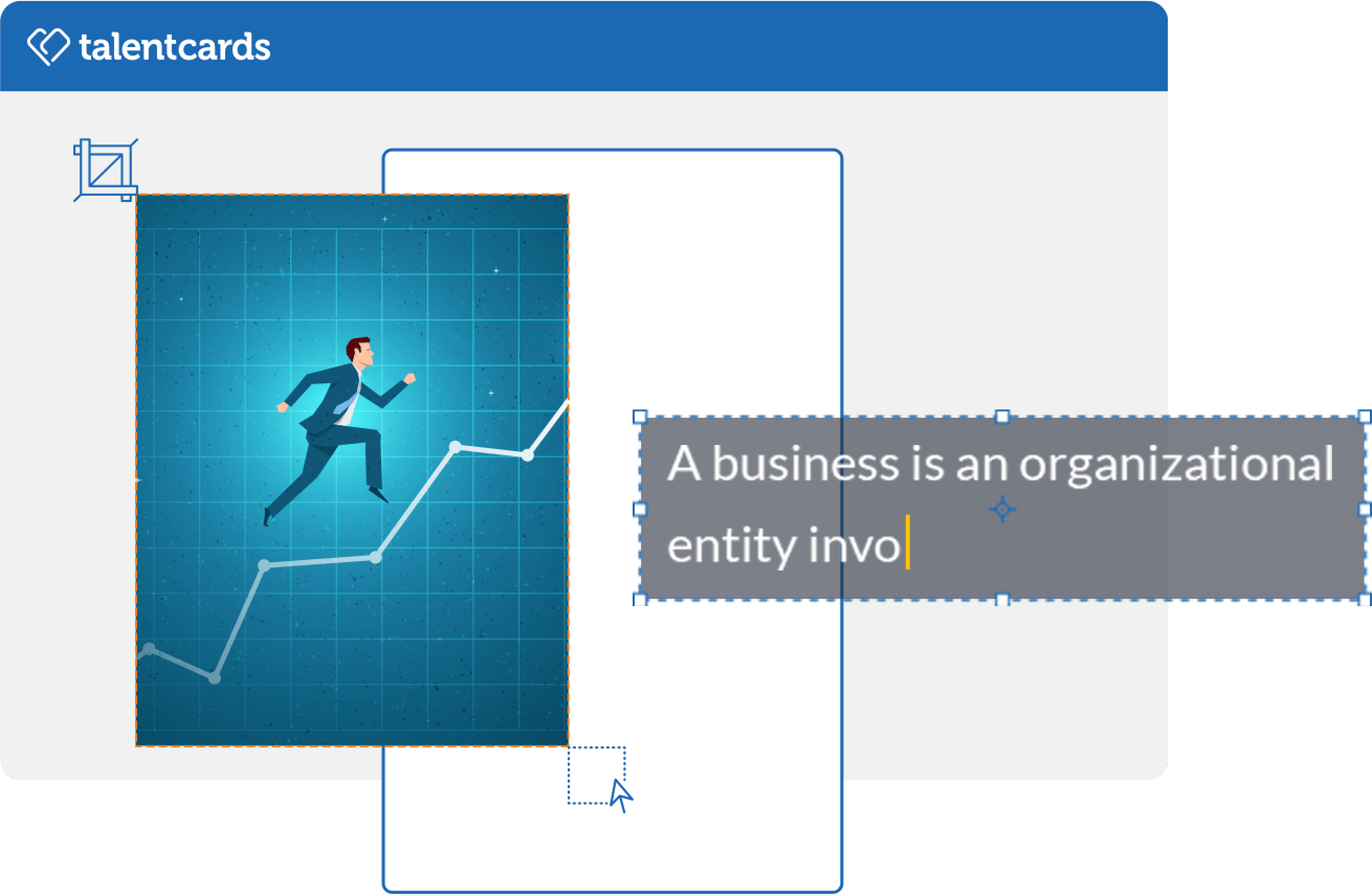 Like iSpring Page, TalentCards is an instructional design tool focused on micro-lessons and is designed for mobile learners. With TalentCards, trainers can maximize employee engagement with game-like digital cards that focus only on the most salient information.
It's easy for training content creators to design cards with TalentCards' online card editor. Instructors can enhance the learning experience by adding images, diagrams, audio, and video as well as text to each card. The result is a training program that employees actually enjoy completing.
Features We Love
TalentCards automatically identifies problem areas for individual employees and delivers targeted training based on their specific needs. That saves employees time as they don't have to spend hours on areas they've already mastered—instead, they can hone in on topics that might be more challenging.
Trainers can send push notifications with important information directly to employees' smartphones, so users never miss an important training opportunity.
Gamification features make training fun, so employees are motivated to complete the training programs instructors create.
Instructional Design Tools Make Training Easy and Enjoyable
Training doesn't have to be boring for employees, and it doesn't have to be overly time-consuming for instructors. By using instructional design tools, L&D departments can create more effective and enjoyable training content for their employees.
There's an instructional design tool out there for pretty much any element of training you can think of. As you're attempting to maintain business as usual, even while training fully remote employees all across the country or around the world, try leaning on these instructional design tools for support.