Salesforce is a powerful tool, with native capabilities to help with almost every facet of the customer journey. But its basic features don't always work seamlessly with the other tools your teams use. Fortunately, there are handy Salesforce integrations for every department to connect your email, social media, and other tools to Salesforce.
With hundreds of integrations to choose from, it can be hard to know which ones are best for your unique needs. That's why we put together a list of 16 top Salesforce integrations, broken down by category. No matter what departments in your company use Salesforce, we'll help you find applications that save time and ease your workflow. Here is a list of applications that we'll be talking about in this article –
Sales Funnel by InsightSquared
SMS-Magic
Adobe Sign
Cloudingo
Zoominfo
Case Age and Status Changes in Business Hours
Whatfix
Social25
Five9
Survey Monkey
Cirrus Insight
Groove
Youreka
Conga Composer
Asana for Salesforce
Dataloader.io
Salesforce Integrations for Sales Teams
Sales representatives spend nearly two-thirds of their time on tasks other than selling. Salesforce integrations can help automate administrative and data organization tasks to free up sales reps to focus on selling.
1. Sales Funnel by InsightSquared
As a manager, tracking the progress of your sales reps and identifying when they may need further training is a big job. Even watching overall conversion rates can't always tell you what coaching a rep might need. Fortunately, there are Salesforce integrations that can help.
Sales Funnel by InsightSquared is a free app that helps you visualize the entire sales funnel and see conversion rates at each stage. You can customize the stages so they are specific to your company, and the app automatically imports data from Salesforce.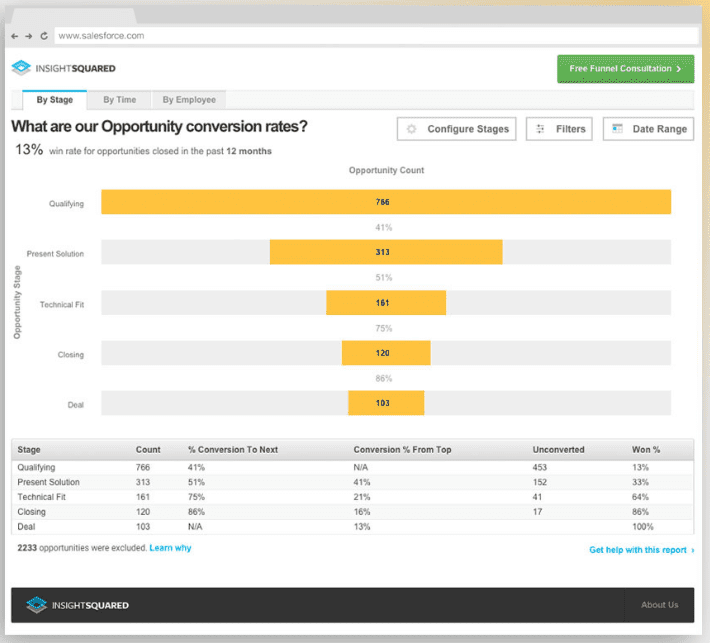 [Image source]
By looking at this data, you can see how your team is converting at each stage in the funnel and identify where further training might be needed.
Engaging leads is a vital part of sales, but it is time-consuming for sales teams to flip back and forth between different platforms to keep up multiple conversations. Employees using 30 or more applications in a day have an error rate that's 28% higher than employees who use fewer apps. SMS-Magic solves this problem.
SMS-Magic allows you to engage leads in the communication channel the customer prefers, including WhatsApp, Facebook Messenger, and SMS messaging. Reps can manage all conversations from a single inbox, so there's no platform-switching necessary.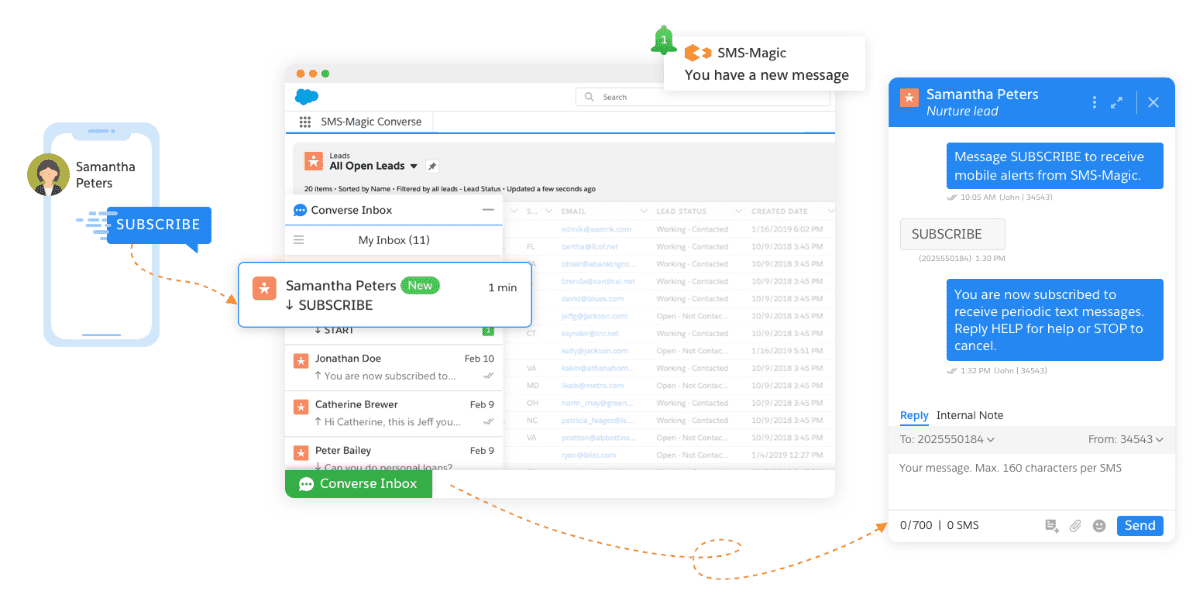 [Image source]
Teams can also use the app to set up bots for automated conversations, and they can set up, run, and analyse communication-based marketing campaigns.
Sales reps spend 25% of their time on administrative tasks. Salesforce integrations such as Adobe Sign automate tedious paperwork processes, freeing up your reps to focus on selling.
With Adobe Sign, you can create, send, sign, and file agreements with clients without leaving the Salesforce platform. The e-signature process is automated, so sales reps don't have to manually send documents back and forth to collect signatures. This helps streamline the whole process and shorten the sales cycle.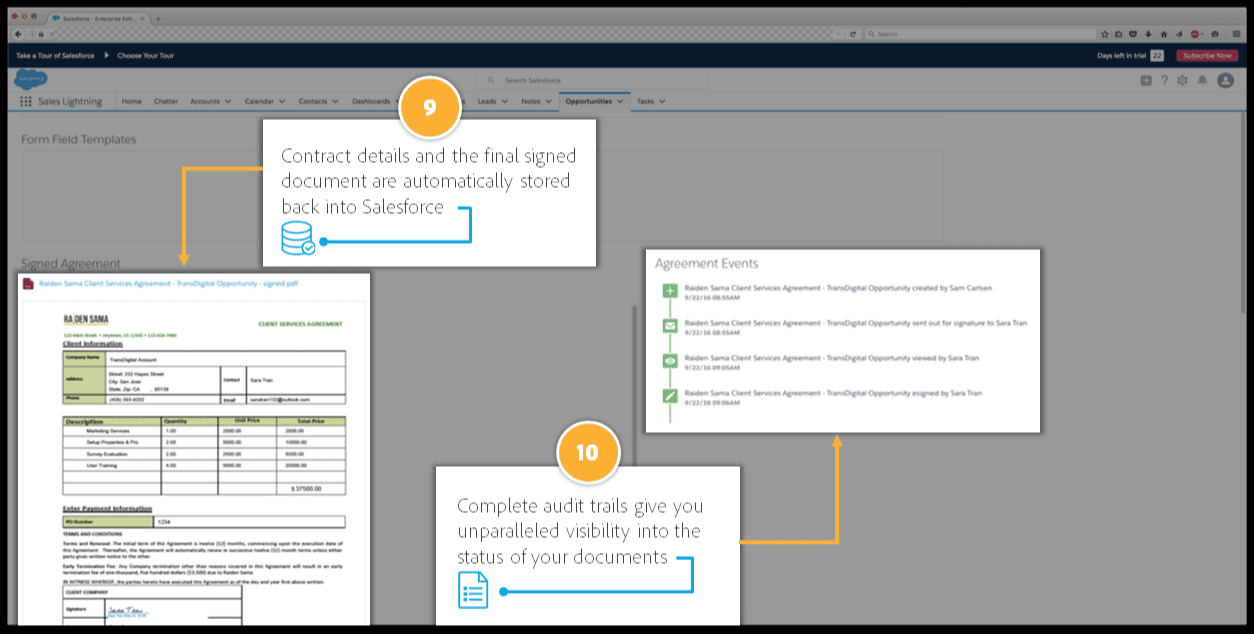 [Image source]
The app has a two-way integration with Salesforce; it uses Salesforce data to populate the documents. The client's information is automatically filed in Salesforce after the agreement is signed.
Another time-saving Salesforce integration is Cloudingo. It helps sales teams manage their data by removing or merging duplicate entries and offering mass import and update options.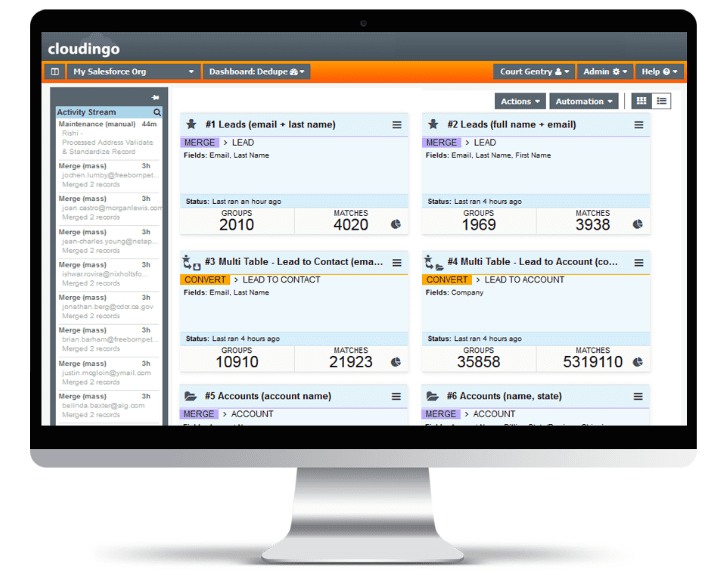 Keeping databases clean and up to date is a necessary but time-consuming job. Cloudingo automates much of the cleaning process—which means one less administrative task for your reps to focus on.
Regularly updating contact information in Salesforce is vital. But with a large database, it can be nearly impossible to continually check every piece of contact information to see if it's still valid. ZoomInfo makes this process easy and almost instantaneous.
ZoomInfo has an extensive database of verified contact information. The app can scan for discrepancies between its database and your Salesforce database and automatically update Salesforce. You can even set up alerts for specific companies. You'll receive notifications of their new projects, funding opportunities, and staffing changes.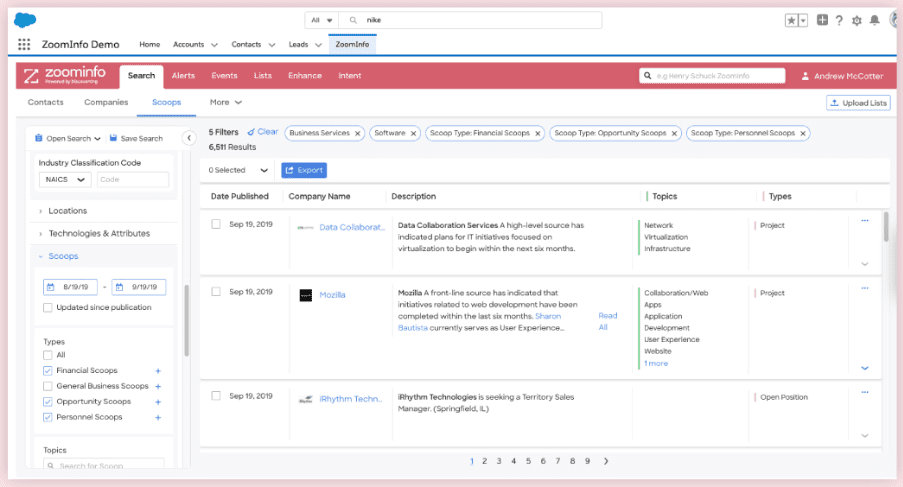 ZoomInfo is a popular Salesforce integration, with more than 13,000 companies using it to find and contact sales prospects in their target market.
Salesforce Integrations for Customer Service Teams
Customer satisfaction is a top key performance indicator (KPI) for two-thirds of sales teams. These Salesforce integrations can help reduce response time and improve customer experience.
6. Case Age and Status Changes in Business Hours
No one likes to wait while their problem is resolved. The faster you can address customer concerns, the happier your customers will be. This free app from Salesforce Labs shows you how long, in business hours, a ticket has been sitting at each stage in the support process.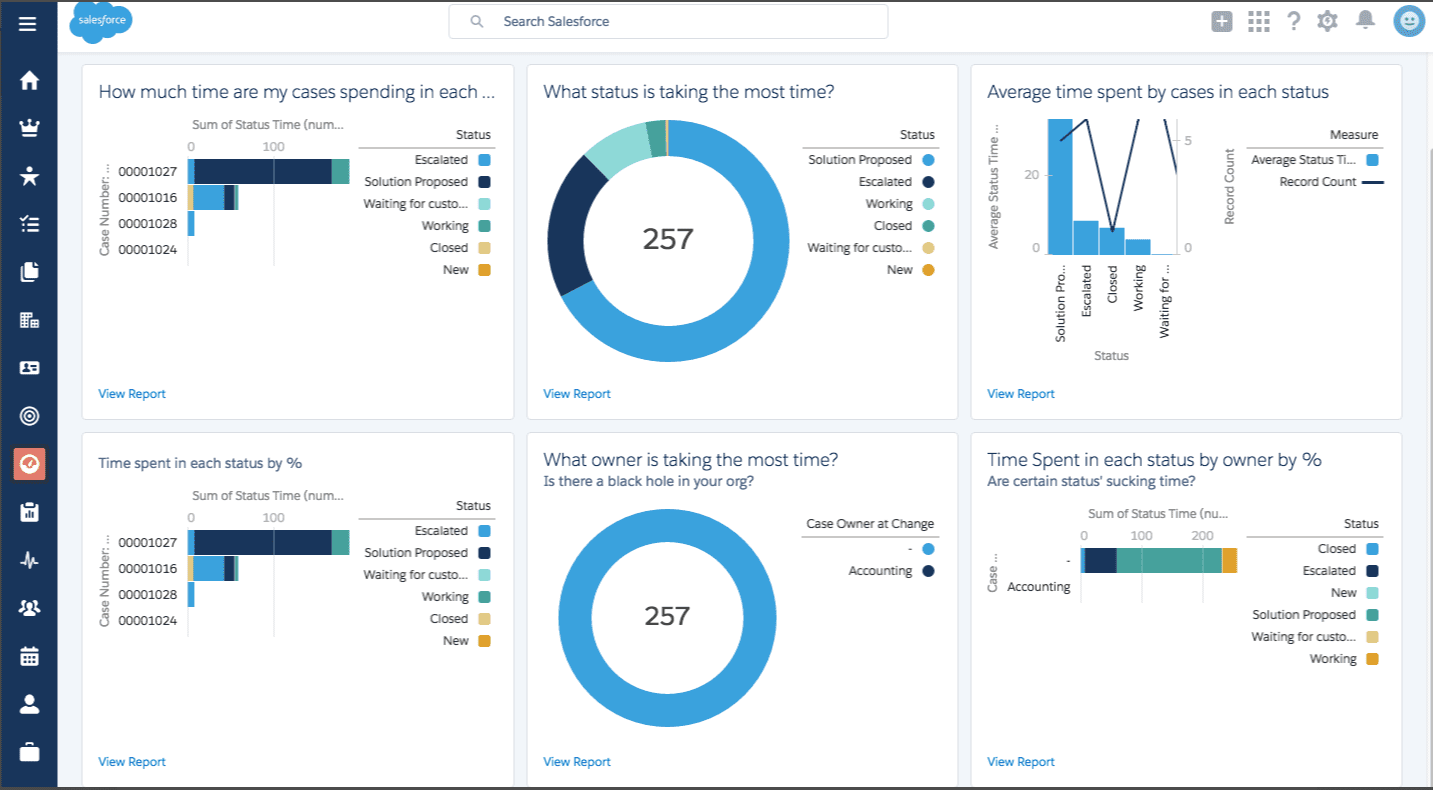 The app tracks status changes and allows you to see where tickets are getting hung up. Then, your team can make pipeline improvements to reduce time-to-solution for customers.
Salesforce has many native capabilities to increase productivity, but if your employees aren't using the platform properly, then they aren't getting these advantages. Whatfix teaches your customer service team to effectively use Salesforce, including helping them respond to customer questions from email or social media.
Whatfix offers walk-throughs to guide employees through each aspect of the platform, ensuring that they know how to use it properly.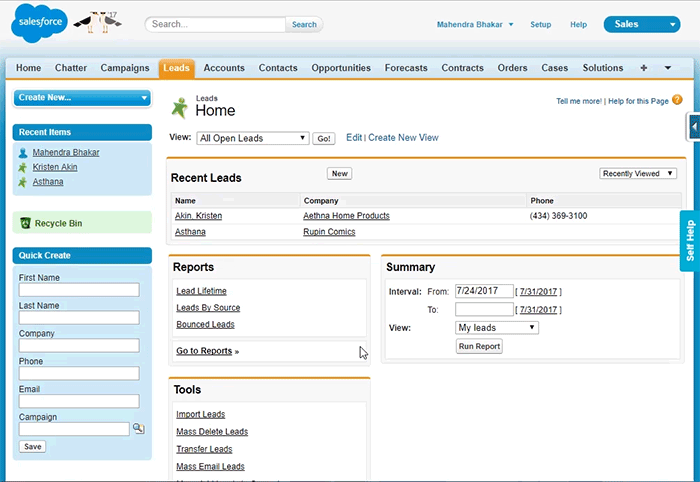 Whatfix also has alerts to highlight changes and new features. This keeps your team up to date so they can take full advantage of what Salesforce has to offer.
Communication is just as important for support teams as for sales. Social25 is a Salesforce Integration that helps your team engage with customers on their preferred social channels. Messages pop up within the Salesforce platform, so employees can see and respond immediately without switching between windows.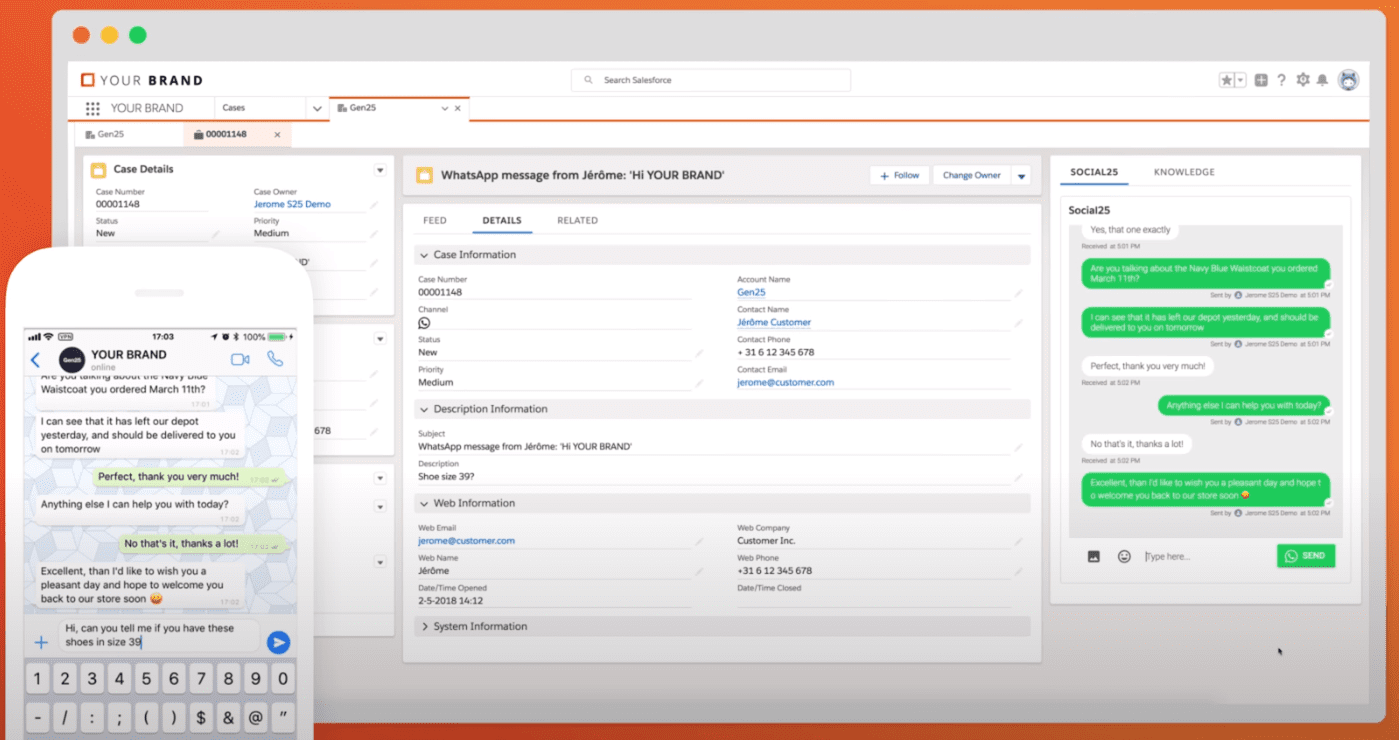 With Social25, employees can connect with customers via Facebook Messenger, WhatsApp, Kik, Twitter DM, and more. They can even set up chatbots so that customers receive an instant reply.
Another helpful communication app is Five9, an omnichannel contact center that helps customer service teams manage and respond to calls. It automatically prioritizes and routes calls, ensuring that customers speak to the right agent as soon as possible. It also has chat functions that allow agents to talk to customers via messaging, reducing overall call volume.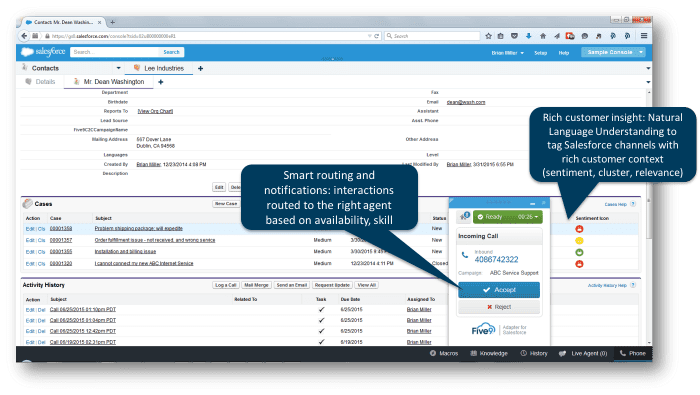 The app uses data from Salesforce to give employees context on the customer and offer suggestions for the next steps. The data and the call show up in the Salesforce platform, so the customer doesn't have to wait while an agent searches for their information.
If your goal is to improve customer satisfaction, direct surveys are an invaluable tool. Sending out surveys and manually entering the information in Salesforce is tedious, but Salesforce integrations such as SurveyMonkey automate and speed up the process.
SurveyMonkey enables your team to collect customer feedback and store the data in Salesforce. The surveys are mobile-friendly, and you can use premade templates to save time when creating your surveys.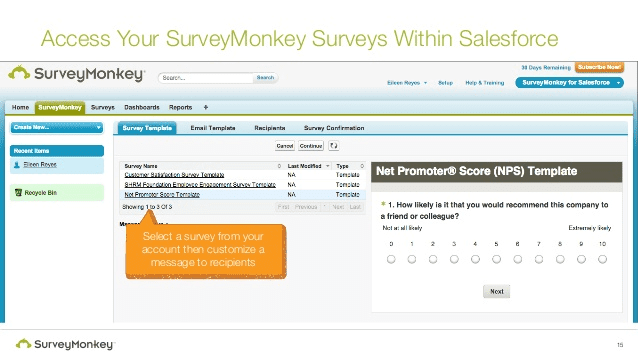 Once you receive feedback, the app helps you analyse it in Salesforce and quickly move on to the next steps, such as following up with individual customers or discussing product updates.
Salesforce Email Integrations
Email is a prominent communication method for every department. These Salesforce integrations will make it much easier to schedule, update, and manage customer communication by syncing your inbox and calendar with Salesforce, no matter what part of the company you're in.
Cirrus Insight connects your Gmail, Outlook, and Office 365 email and calendar to Salesforce. Employees can easily track email leads and responses and input the data into Salesforce without repeatedly switching between platforms.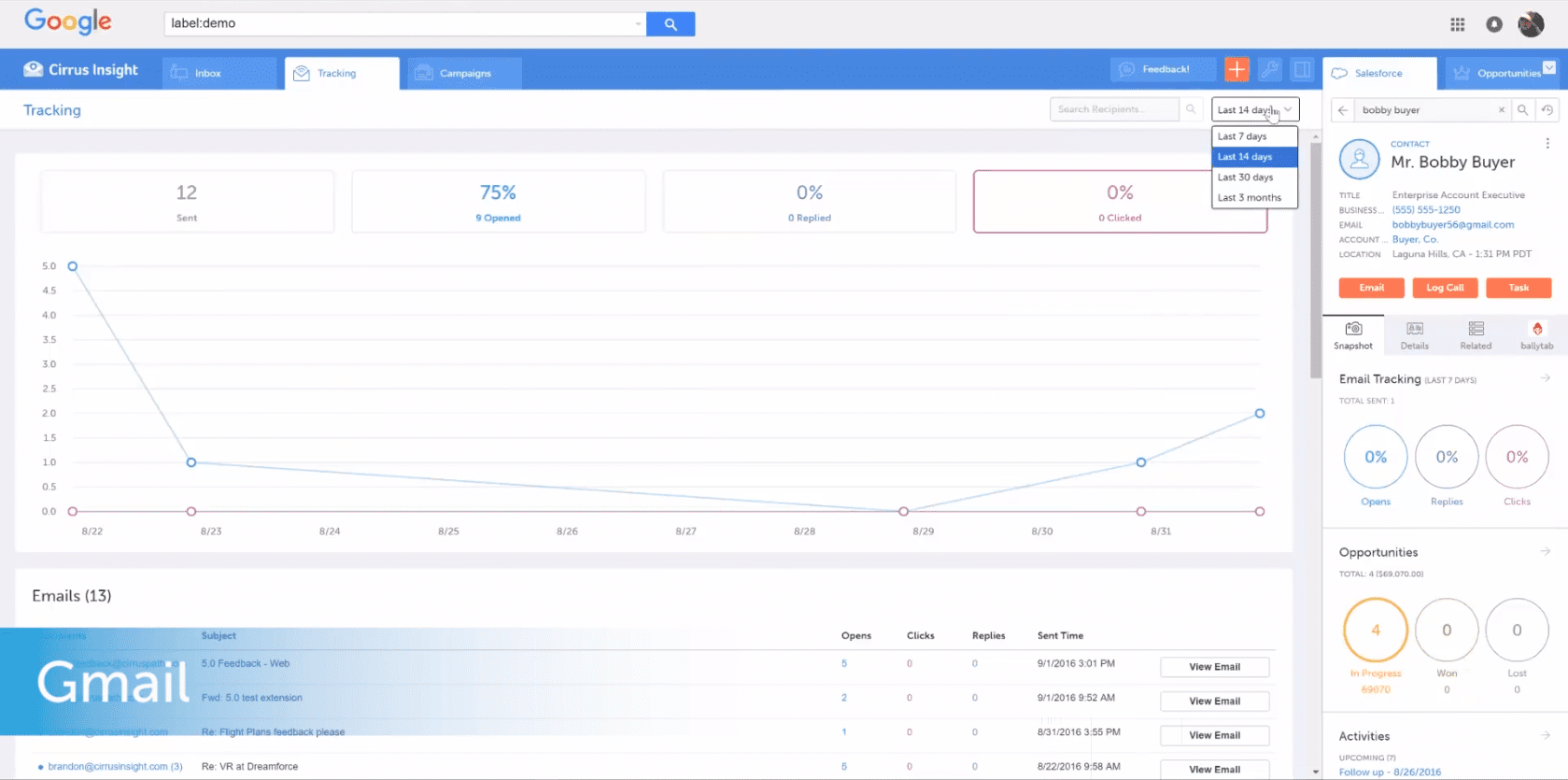 The app also saves time by allowing you to book appointments via email and automatically add them to your calendar.
Groove is another time-saving email sync app. It creates a two-way connection between Gmail or Office 365 and Salesforce. Groove automatically updates Salesforce entries using data from your email and calendar, and you can view Salesforce data from within your email or calendar application.
Because Groove is a native Salesforce application, data reporting and updates are faster than in non-native apps.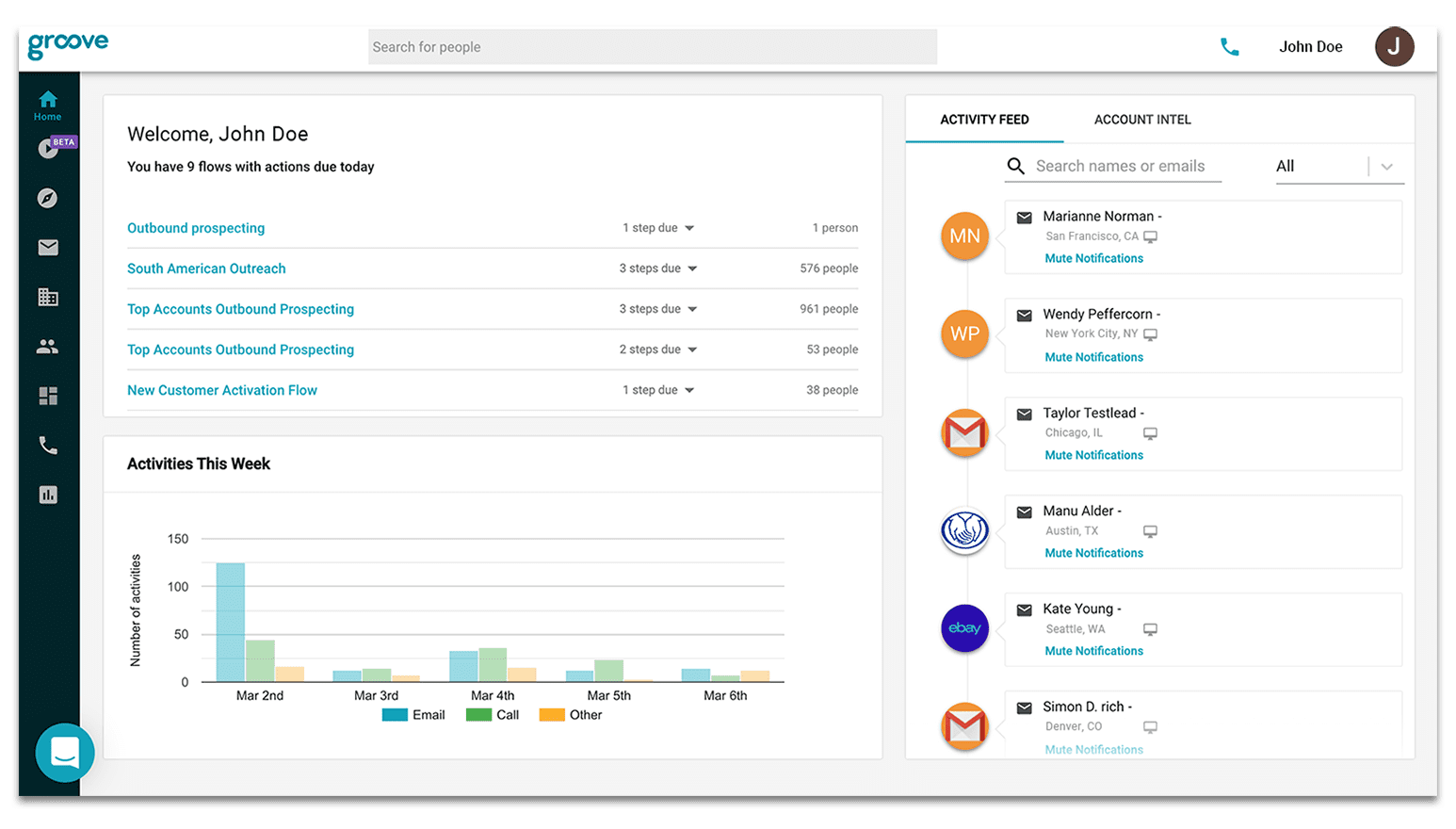 Groove is a popular Salesforce integration that has more than 50,000 people at top companies, such as Google, using the tool.
Salesforce Integrations to Boost Productivity on Any Team
Though many Salesforce integrations are focused on one department, such as sales or customer service, there are some that help boost productivity across teams.
In the field, internet access may be spotty, and online loading times might be slow. Youreka boosts productivity by allowing field teams to access forms, surveys, and checklists without internet access.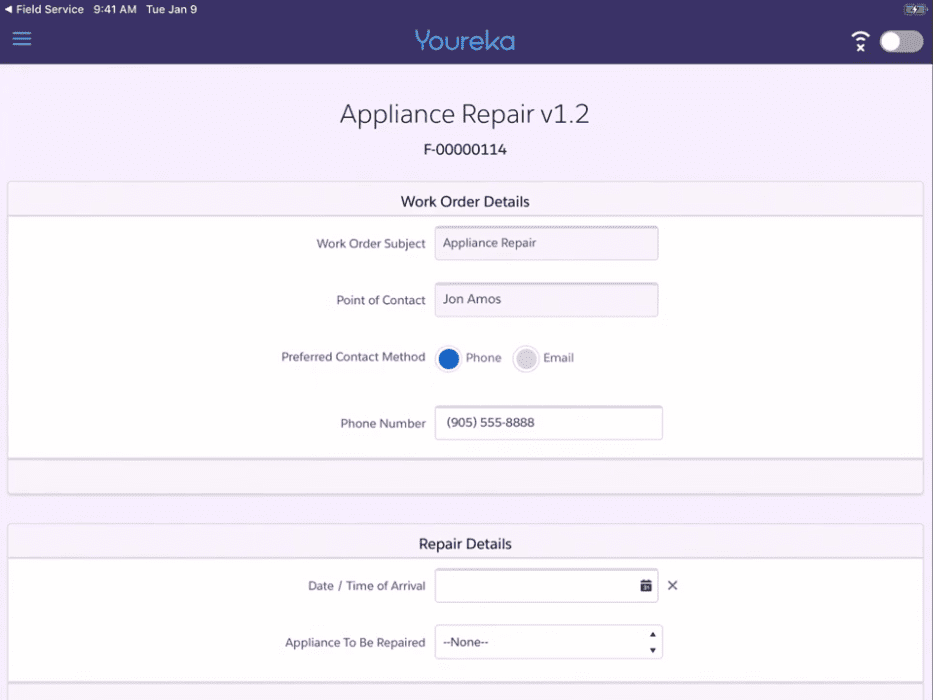 [Image source]
The application offers multiple templates to make building forms fast and easy. You can link the forms to fields within Salesforce, and Youreka will automatically populate the documents with the right information. After the fieldwork is complete, employees can create reports and store the data within Salesforce. This is a Salesforce-native application, so it works quickly with little or no lag time.
Documentation is a necessary part of work in every department, but repeatedly creating and filling out new documents takes a lot of time. Conga Composer enables automatic document generation, saving time and ensuring consistency.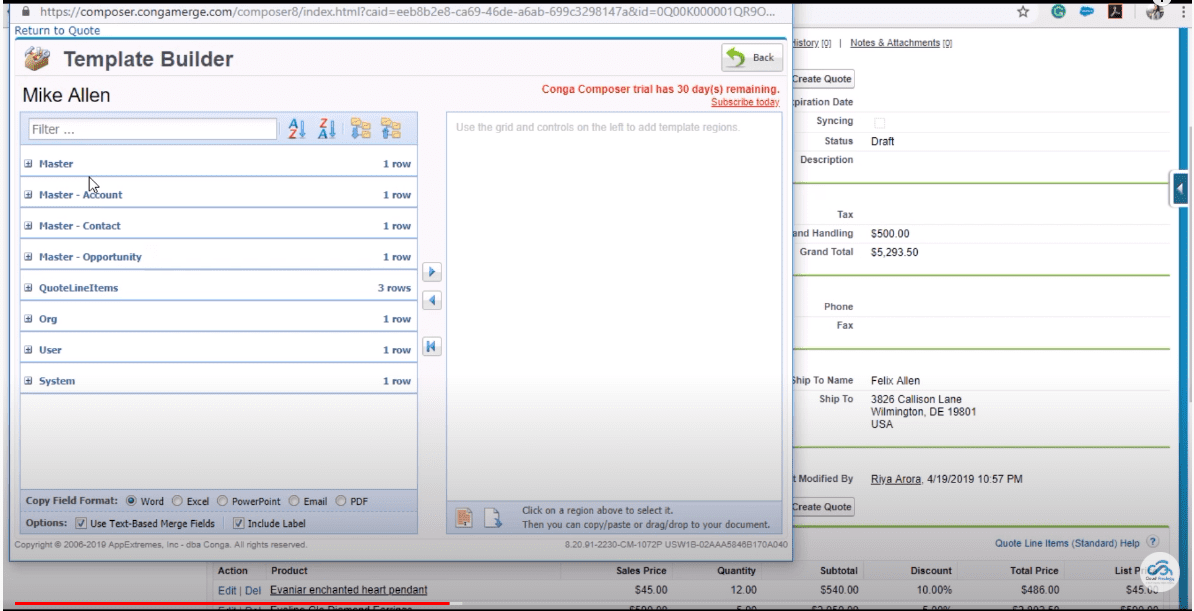 [Image source]
Teams can create standardised documents like quotes, proposals, contracts, work orders, and invoices. The app automatically populates the documents with data from Salesforce, reducing the likelihood of clerical errors.
A recent survey found that 73% of sales teams say interdepartmental cooperation is vital to sales. Asana promotes collaboration across departments to increase productivity and prevent data silos.
Sales teams can use Asana to track the progress of Salesforce projects. They can also request help from other departments by using Tasks.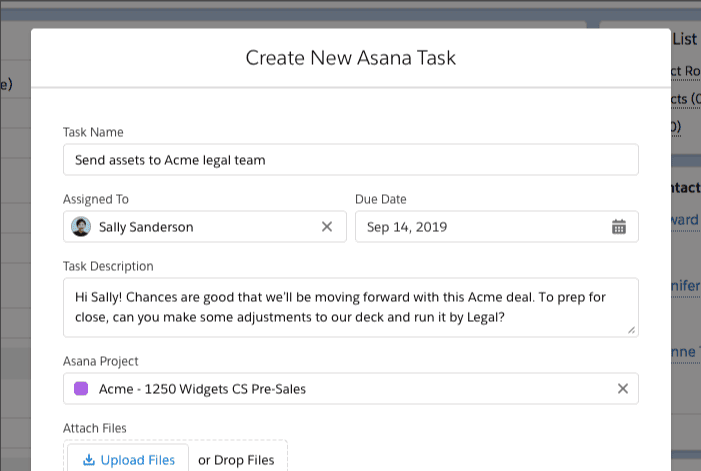 [Image source]
Asana's integration with Salesforce means that tasks can be created, assigned, and reviewed without leaving the Salesforce platform.
In any department, manually importing or exporting data takes time, and there is a lot of room for error. Dataloader.io is a free Salesforce integration that allows teams to quickly import, export, and delete large amounts of data.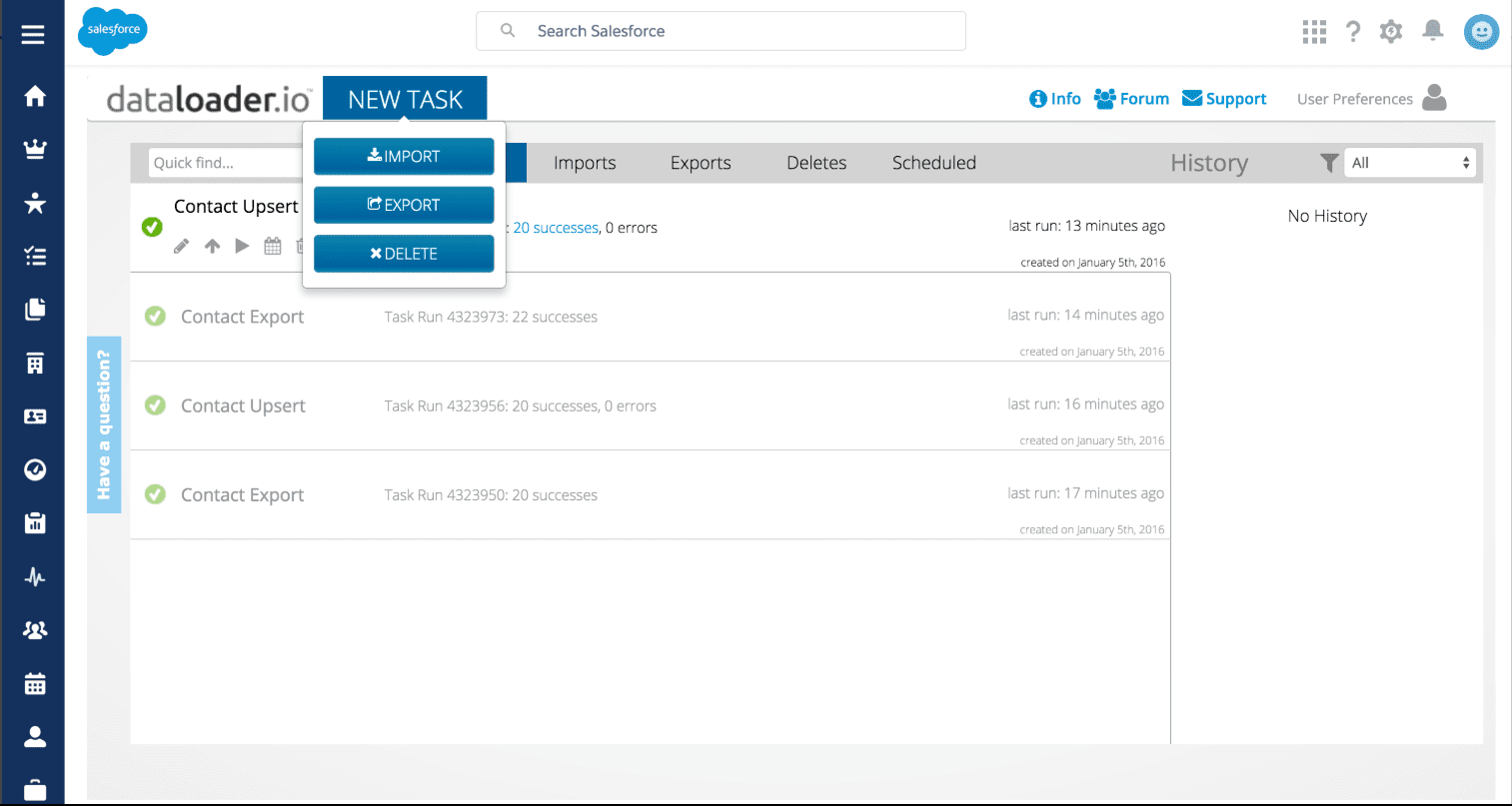 [Image source]
Fields in Dataloader.io automatically map to Salesforce fields, saving time and ensuring accuracy. Employees can move data directly to and from sources like Dropbox and Box. Dataloader also has a scheduling feature, so you can automatically update your data daily, weekly, or monthly.
Boost Productivity Across Departments with Salesforce Integrations
The point of adopting a customer relationship management (CRM) platform like Salesforce is to make it easier for your sales, customer service, marketing, and other teams to track and use customer data.
Salesforce integrations boost productivity even more by enabling teams to complete multiple types of tasks without having to leave the platform. These integrations automate tasks like document creation and data cleaning that would otherwise eat up valuable time. And as you can see from our list, there are Salesforce integrations available to help every department.