Last month in our feature release, we introduced you to the Task List. A widget that enables you to get your users engaged as soon as they are onboard and train them with a set of predefined tasks. With this month's release, we have some new features that are even more exciting.
At Whatfix, creating an engaging and interactive experience has always been one of our main priorities. Thinking on that line, we've taken another step towards making our interactive guides even more useful. This reflects in our latest feature rollout –  Video embed feature.
1. Whatfix Video Embed Inside Tooltips
This feature is a much-anticipated one. Many of our customers gave us feedback that it would be good to embed more media elements inside our interactive tooltips. Taking a cue from their amazing suggestions, we now have embedded media inside our tooltips.
Whatfix users can now quickly and easily embed any video from any platform inside the interactive tooltips using the video embed code. That means you can train your users in real-time, show them relevant video as an add-on and amp up the value, even more than before.
Here's a snippet of how it looks inside a tooltip: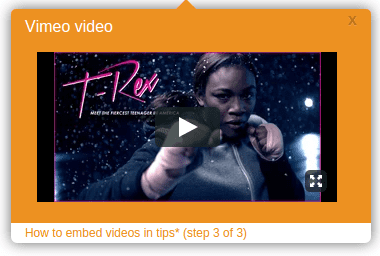 Videos can also be embedded in the end message to a Whatfix guide: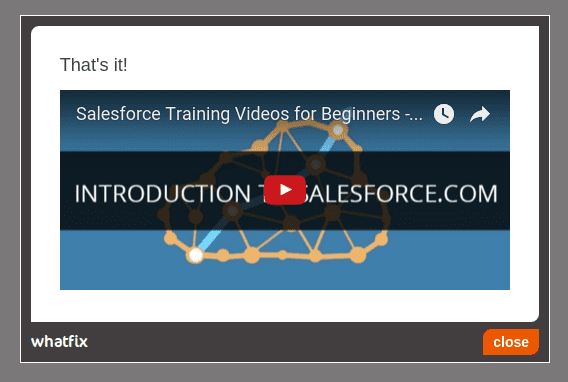 Curious as to try it out. Here's how you go about it.
Use the following format while creating a step on the Whatfix Guide Editor:
Format:
%%% embed_video_link %%%
For example,
%%%https://www.youtube.com/watch?v=goyL6IejHsw
%%%
The embeddable video is in addition to all the existing rich text formatting options like bold, italics, button, link, etc. To read more about it, click here.
We have bigger and better news for all our Enterprise users as well. With our new Export API, migration of guides to your self-hosted servers is now much simpler.
2. Export API for Enterprise users
Our export version (self-hosted) allows users to export all Whatfix guides created from Whatfix cloud server to their own self-hosted server. With the release of our new export API, users can now download and deploy Whatfix guides in their own servers via our new export API.
The API allows automating the process of downloading the export version of Whatfix guides. The API can be periodically called from your servers to update the export version with the latest changes.
So from now on, you won't have to download our export package manually and update it onto your servers. This feature can be used when you want to bundle Whatfix guides along with your web application, as a part of your build process.
To know more on how to get the Whatfix export API, click here.
Also Read: Your Whatfix guides can now be multilingual
Last but not the least, we've had a security upgrade too.
3. Whatfix is now fully HTTPS
We've upgraded our website completely to HTTPS. Earlier, all our secure transaction was via HTTPS, but users could also visit the website using HTTP.
Now, with the upgradations to fully HTTPS, all the information shared with us on whatfix.com will be encrypted, secure and will not be intercepted.
Also read: How Whatfix Spotlight gives you more control over your guide.
Have any features in mind that could be useful to you and your team? Tell us in the comments.
Do you have any queries regarding any of our features? if yes, then please reach out to [email protected]