When you think of digital transformation, you probably think of tech companies or software businesses. But what about healthcare? Digital transformation in healthcare is on the rise. The use of telehealth solutions increased 340% from 2016 to 2019, and it continues to spike. In fact, adoption of new technology in healthcare is growing in many different areas of the field.
Though each healthcare system prioritizes different technology, there are a few overarching commonalities. Examining these trends and the successes or failures of health systems that implement them can help any business that is planning to adopt new technology.
Here, we'll go through four top trends for technology in healthcare and show you how each one can inform your digital transformation.
1. Virtual Visits
One of the most prominent technologies in healthcare trends is the growth of virtual doctor visits. These allow patients to meet with their doctors via video chat rather than going to the office in person. The coronavirus pandemic accelerated the adoption of virtual visits, with doctors seeing 50-175x more patients using telehealth than they did pre-COVID-19.
Though it's tempting to see virtual visits as a fad brought on by the need for sheltering in place, the truth is that this trend was growing even before the pandemic. The percentage of providers offering virtual visits rose from 5% in 2015 to 22% in 2018. And it seems the trend is here to stay—83% of surveyed patients expect to keep using telemedicine going forward.
It's easy to see the advantages. Doctors can conduct wellness visits, screen patients quickly and easily, and then schedule them for in-person follow-ups if needed. Patients don't have to spend hours traveling to doctor's offices and sitting in waiting rooms. The lack of travel also makes healthcare more accessible to people in isolated or rural locations.
Brigham Health hospital network, in Massachusetts, uses virtual visits regularly. Patients schedule appointments online and can use their phones or desktops to chat with their provider via video. The hospital conducted a survey and found that 74% of people felt virtual visits actually improved their relationship with their provider. The visits also help increase the interaction between patients and doctors, helping both parties keep track of symptoms and treatment.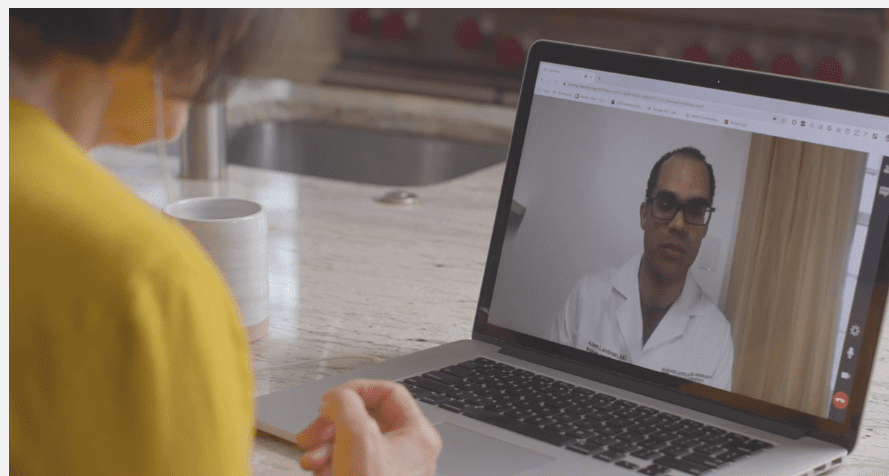 [Image source]
With fewer people scheduling in-person visits, there are fewer people in waiting rooms, and it's easier to promote social distancing.
Digital Transformation Tip: Answer the Question "What's In It for Me?"
If you don't already offer virtual visits, physicians might be resistant to adopting the new technology. McKinsey research found that providers were concerned about telehealth's effectiveness and about incorporating it into their usual workflow.
To create a smooth digital transformation, answer "What's in it for me?" by showing providers the advantages of virtual visits. Fewer patients in the waiting room mean less burden on office staff. And virtual visits don't lower the quality of care—patients can get appointments more quickly and can always come for an in-person follow-up, if necessary.
2. Patient Portals
Another leading technology in healthcare trends is patient portals. These are platforms with which patients can access their health records, schedule appointments, message their doctors, and more. A survey of health systems found that 82% consider patient portals one of their primary technologies for engaging patients.
This trend promotes convenience and transparency. People can easily see their test results, care histories, and visit notes from doctors—all online. They can easily share this data with multiple providers, eliminating the need to call and manually transfer records. This is more convenient for the patient and reduces the burden on office staff.
One example is FollowMyHealth, a platform that multiple healthcare systems use.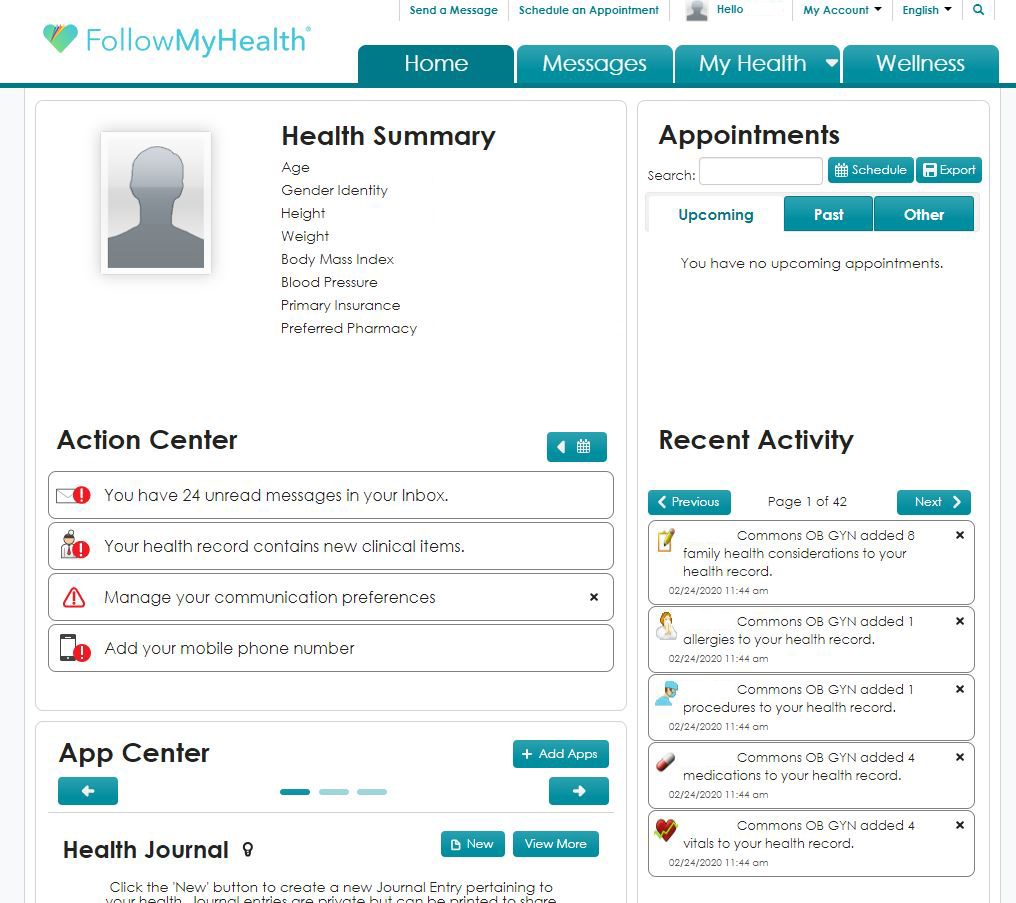 With FollowMyHealth, patients can use the same platform for both general medicine and specialist visits. They can message doctors and access their full medical histories, all from one central location.
Digital Transformation Tip: Increase Adoption with a DAP
As with any new technology, the key to a patient portal's usefulness is end-user adoption. Despite its advantages, almost half of surveyed health systems see portal adoption at 30% or lower among patients. In a patient survey, 41% of respondents said portals are too confusing and hard to use.
Implementing a digital adoption platform (DAP) can help patients learn the portal and use it effectively. DAPs have guided walk-throughs to take users through different features, as well as self-help menus so patients can quickly get answers to their questions.
Using a DAP to help with onboarding can increase adoption significantly, so patients can take advantage of everything the platform has to offer.
3. Data Aggregation
While patient portals help pull together data on the patient end, many hospitals are also working on aggregating back-end data. Currently, doctors' offices have data coming in from a wide variety of sources, including:
Patient-provided data
Internal electronic health records
External electronic health records (such as from outside specialists or urgent-care centers)
Lab results
Imaging
Insurance claims
Data from medical devices
Pharmacy data
With all of these sources, it's easy to overlook important patient medical history data. Data aggregation enables fast, informed patient-care decisions, and doctors don't have to worry about missing key information.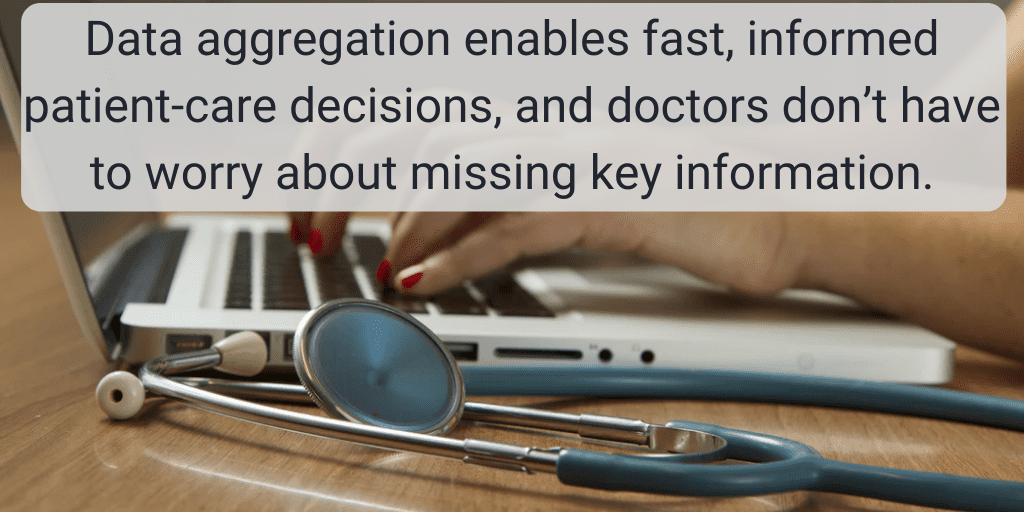 The top goals driving data aggregation are improved patient care and lower costs. All of the data for a patient is brought together to create a comprehensive patient profile. Having a single source of truth reduces the time staff spend sorting through patient data and paperwork, resulting in lower patient wait times and fewer administrative hours.
Mayo Clinic is pursuing data aggregation by partnering with Google to implement cloud solutions. They use the cloud to host data storage and analytics all in one place. Google's cloud offers a single, secure location for storing, organizing, and accessing patient data, allowing for more comprehensive diagnostics. At the same time, Google's cloud computing and artificial intelligence (AI) capabilities will aid in the Mayo Clinic's research efforts.
Digital Transformation Tip: Use the Cloud to Avoid Downtime
Not only does migrating to the cloud help with data aggregation, but it also reduces the likelihood of system downtime. A recent survey found that unplanned downtime caused 43% of data disruptions for companies with multiple vendors. This resulted in hundreds of thousands of dollars in lost productivity and finding solutions.
Because of cloud applications' distributed nature, the likelihood that you will experience a complete data disruption is much lower. The data is not all stored in a single server, so there is no central point that can fail.
Aggregating data and moving to a cloud-based system will help hospitals provide better, faster patient care with less administrative work.
4. AI Screening
One other growing trend for technology and healthcare is the use of artificial intelligence. Hospital systems have adopted automated voice systems and chatbots to screen patients and reduce the load for patient support staff.
This technology has existed for some time, but many systems started using it more widely when the pandemic increased workloads for doctors and staff. AI screening helps determine who needs care first and directs patients to the correct contact channels. For example, it might direct patients to the main scheduling line or to the pharmacy. This helps reduce the number of people gathering unnecessarily in waiting rooms and takes some of the initial patient contact burdens off of staff.
AI screening can take the form of automated phone systems that collect information and route callers to the correct person, reducing hold times and transfers. Chatbots can also screen patients and help schedule virtual or in-person visits. This automated scheduling is another way AI reduces staff workload.
One example is the Partners HealthCare Covid-19 Screener. It is a chatbot that determines whether patients need a COVID-19 test.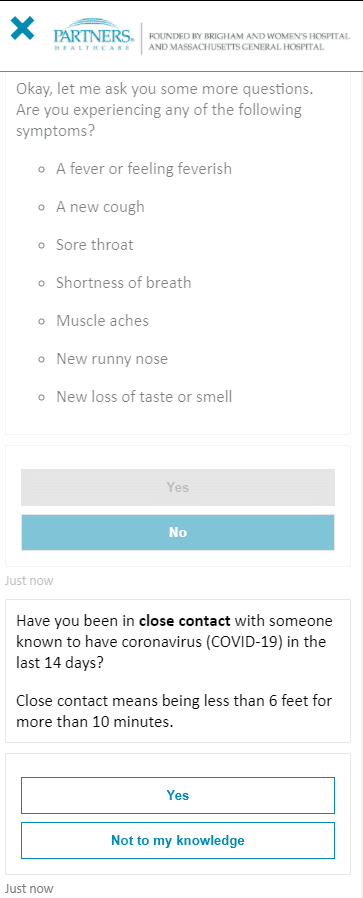 [Image source]
The bot asks a series of basic medical questions, letting the person know whether they should be tested for COVID-19. By screening out people who are unlikely to have the virus, the bot reduces the number of people waiting for tests.
Digital Transformation Tip: Automate Basic Tasks to reduce staff workload
Even if you're not in healthcare, AI and automation can free up employees from administrative tasks. Use chatbots and online calendars so customers can schedule appointments, and set up automated email appointment reminders. You can also use phone automation to direct callers to the right department. This type of AI frees up your employees to focus on other company priorities.
Though the pandemic has accelerated several of these technology and healthcare trends, the long-term advantages of each are clear: virtual visits, patient portals, data aggregation, and AI screening all improve patient care and lessen the administrative workload for healthcare staff.
Apply Technology in Healthcare Trends to Your Digital Transformation
If your company is in the healthcare field, it's vital to keep up with new technology trends. This includes patient engagement and data storage technology, as well as new medical devices. But trending technology in healthcare systems holds broader applications as well. Like any business, healthcare systems are always striving to lower costs and increase efficiency. By following their digital transformations, you can get valuable tips for implementing your own.