One of the most exciting features that rolled out with Salesforce Lightning Experience and Winter '16 is the reimagined opportunities section. The new version allows you to see all your sales opportunities in one place and has some really useful tabs.
Being exclusively available on Salesforce Lightning, the opportunities section has a one-stop shop for sales reps called the opportunity workspace. The workspace includes a sales path that allows you to create stages of your sales process, opportunities board which works on drag and drop and Lightning components that makes managing opportunities seem a lot easier.
In this post, we will show you how to manage Opportunities in Salesforce Lightning with 5 interactive Whatfix flows. These flows will help you learn how to do different tasks in real-time, on your Salesforce Lightning platform.
To enable the flows interactive mode, try the Whatfix Way. Click on the image below to get started.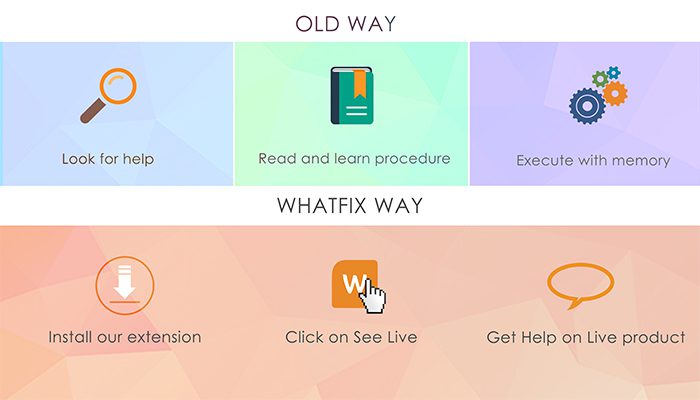 Let's start by creating opportunities in Salesforce Lightning.
Opportunities on Salesforce Lightning Experience is listed under the docked Navigation menu. To get started with it, we will give you a walkthrough of the creation, editing, and deletion of Opportunities in Salesforce Lightning.

Sales Path is a new feature of Salesforce Lightning that will allow you to determine and customize the stages that appear for your sales representatives. In the Sales path, you can decide and add the fields that are important to your company's success and guide your representatives throughout the sales process.
This flow will show you how you can set up Sales Path for Opportunities in Salesforce lightning.

Once you have completed a process in your configured Sales Path, you can move your opportunity to the next stage.
Click on See Live in the flow below to understand how to move from one opportunity stage to the next.

Also Read: Import And Export Salesforce Lightning Contacts In 3 Quick & Easy Steps
There are many scenarios in the sales process, where opportunities may need to be duplicated. The clone option in Salesforce Lightning will allow you to create complete copies of the opportunities in your Salesforce Lightning.

To maintain backups or physical reports, you may have to export your sales opportunities from time to time. This is done quickly via the Data Export feature in Salesforce Setup Home.

The next post in this series will feature Leads in Salesforce Lightning. So stay tuned.
Also read: How Accounts In Salesforce Lightning Experience Is Now Smarter
Like our posts on Salesforce Lightning? Subscribe to our weekly newsletter for more updates and news.