What is the one thing that needs to improve constantly apart from the products you offer? Even though workplace, infrastructure, and funding are the first things in your list, there's one thing that can help you last longer in the race and that's customer service.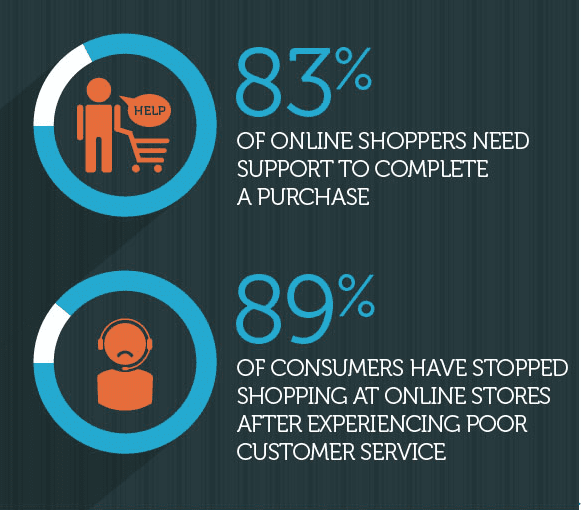 source: Invesp | Blog
"When the customer comes first, the customer will last." – Robert Half
No matter how good your team is or how well your product is fairing in the market, the only thing that customers tend to remember is the experience. So, how do you make sure the only experience they get is good? By constantly improving your customer services.
Here are 6 best ways to improve your customer service right away:
Donning the right gear
Often companies think that sitting down a team of 20 to answer customer queries is all that goes into making a customer service team, and they're absolutely wrong! A good customer service team doesn't just comprise of the best of people, but also a handful of tools to make the going easier. Here are a few tools to help your new-gen team:
Freshdesk:  A customer support software, Freshdesk brings together multiple communication channels like email, phone, and social networks, and makes it easier for businesses to communicate with customers.
Salesforce: Salesforce helps companies build strong customer relationships through interactive features including self service communities and social contact centers.
Whatfix: An online tool, Whatfix enables you to make quick, interactive how-to-guides to guide your customers from sign up, through the call-to-action buttons to conversion. This helps in cutting down the time that personal assistance usually takes.
TeamSupport: A complete customer service system with tools to streamline your customer support process, TeamSupport includes features like ticket automation, internal collaboration and advanced self-service options.
SupportBee: A help desk software, SupportBee helps your team collaborate on customer support. It offers a simple Gmail like email ticketing software for resolving customer issues.
Getting up, close and personal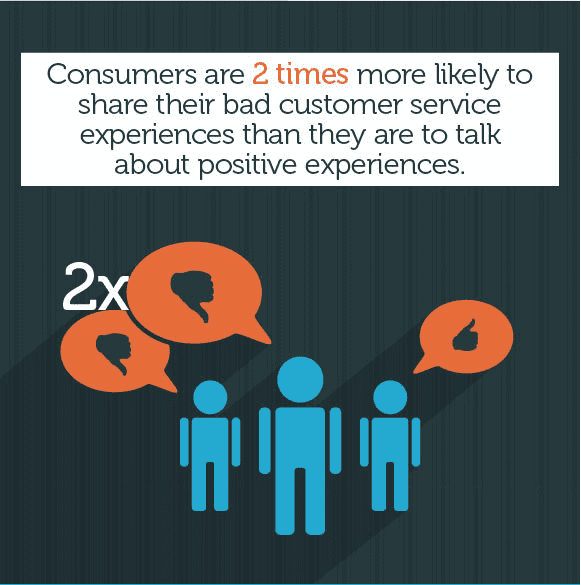 source: Invesp | Blog
Letting your customers get to know you is a sign that you want to know your customers as well and hence, his needs. It gives away the impression that the company isn't just interested in making what is trending the market, but also knowing how well they fit into their customer's lives and what's being expected from their next. Here's how you could this:
Sneak peeks: Give your customers a 'behind the scenes' by sharing your office culture and stories, or what goes into the making of your products. It helps build a reputation of being transparent.
AMAs: Holding occasional 'Ask me Anything' sessions is a great way to say you aren't afraid of answering any question – good or bad.
Polls: Instead of having to get in touch with each of your customers personally, hold polls on social profiles to gauge what your target audience thinks on what's trending.
Feedback: In continuation with the point above, chasing each customer to know his/ her experience with your product, is next to impossible. Create a feedback form that goes along with your follow up email to subtly hint you'd love to know their experience. Another way to get feedback from your target audience is by utilizing social platforms like Facebook and Twitter to start a conversation.
Customer stories: Customer experiences speak highly of how your product is being perceived in the market. If you receive a feedback with a story so good that your audience could relate to it, don't be afraid to share it with them; giving a shout out to the person sharing his story will definitely up the numbers sending back feedback.
Becoming quick with responses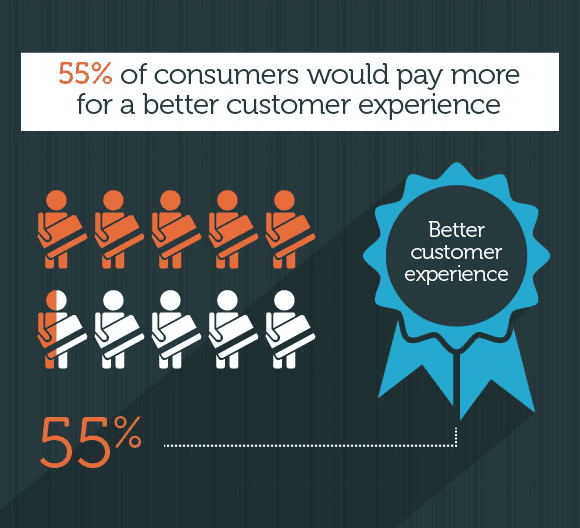 source: Invesp | Blog
Response time is defined as the time between when a customer sends in an inquiry and when it is addressed to by the customer service team. Making sure this time is as less as possible shows how responsible you are when it comes to keeping your customers happy. But with hundreds of queries coming in, how do you manage a decent response time? Here are a few tried and tested ways:
Set a target: Analyse the average number of queries coming in per day and the numbers you can resolve. Based on the result, set daily targets for your team.
Answer set: There are a lot of times when the queries coming in are just a repeat of each other; save time by creating an answer set. The answers in the set can be used to reply to repetitive questions without spending time on framing new ones every time.
Offering knowledge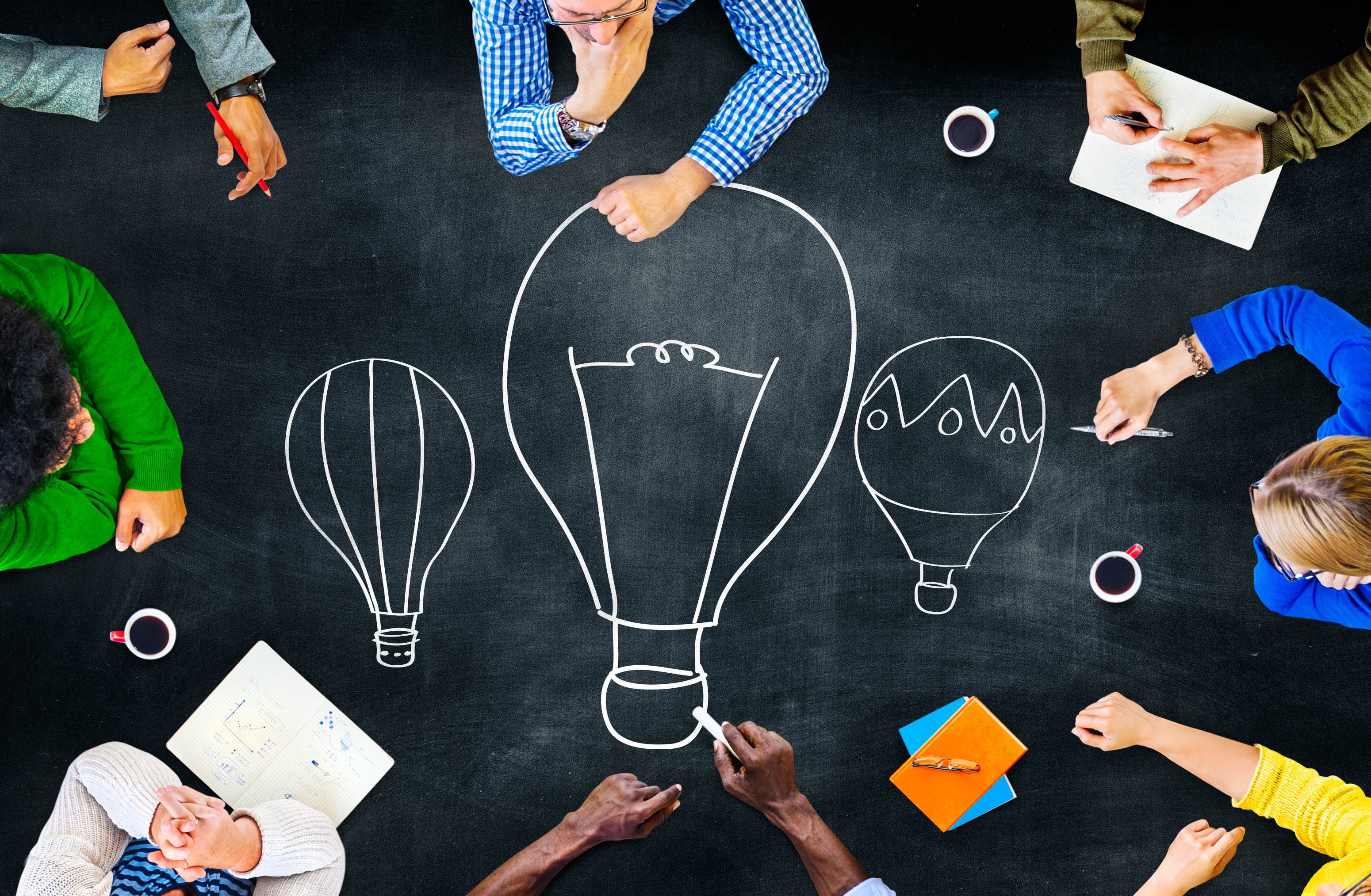 Getting better at customer service isn't just about attending to the smallest of queries with a smile, it takes a lot more than that to build strong relationships – it is a simple give and take of knowledge. Here's how you can do this effortlessly:
Answer the why's: Yes, you're the go-to whenever your customers run into issues. But instead of only walking them through a resolving process, explain them why it could have happened as well.
Updating FAQs: Often companies end up creating a quick list of FAQs in the initial months of a product launch, but these sections are rarely updated. Since these are the first stop for most of your customers in dire times, update them every now and then.
Stocking up how-to's: There are very few customers who want to go through the process of reaching a customer service executive and hence, end up looking for online guides. Make sure you're offering ample of them!
Creating active online communities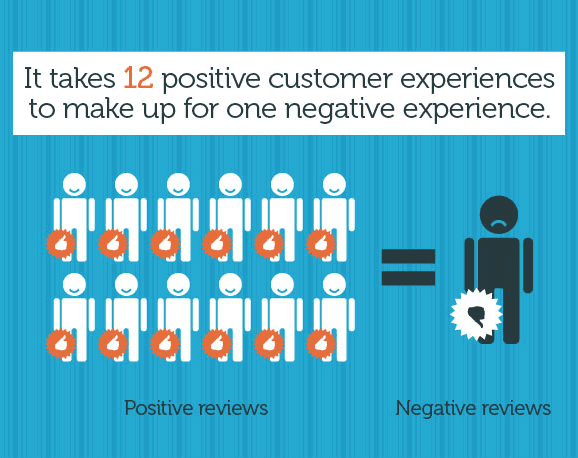 source: Invesp | Blog
Today, the best way to offer customer services is by creating online communities on popular platforms. Some of the best platforms that are a hit with customers are:
Quora: People often post questions around a product in the hope that someone answers it well enough to resolve their issues. Be the first to do so by creating possible topics around your product line.
Twitter: No one's asking you to resolve issues on your official account because we know it becomes a lot to manage. Create another account that is solely for the purpose of addressing customer problems and notify your following of the existence of this account.
Reddit: Even though it isn't popular with everyone, the platform is slowly becoming the next big thing for seeking answers. Making sure you're already present there to resolve the issues coming in is a great way to say you're always available.
Making them feel special
What's the one thing that your customer service team can do that your competitors most likely aren't doing? Making your people happy!
source: Invesp | Blog
Here are 2 ways that always works:
Customized coupons/ offers: If you know the market well, you'll probably know that people are forever on the lookout for good deals. Offering them occasionally or to those who reach out to you with problems, is a great way to ensure they come back to you every time. It is only to say that you're sorry for the trouble and you care!
Reward or loyalty programs: Offering rewards, loyalty, points, advantage or club cards to your customers encourages them to come back to you the next time they're looking for similar products. Starbucks is one of the biggest chains to believe in this method.
The only thing you need to know before you actually start working on these ways is hire people with the right attitude. Make sure those who smile and are genuinely interested in helping others are on board; they'll go a long way in defining the reputation of your company.
"Every company's greatest assets are its customers, because without customers there is no company." – Michael Leboeuf