HelpScout has compiled an interesting list of stats, quotes, and facts on customer support. And I think most of you will find the following one eye-popping: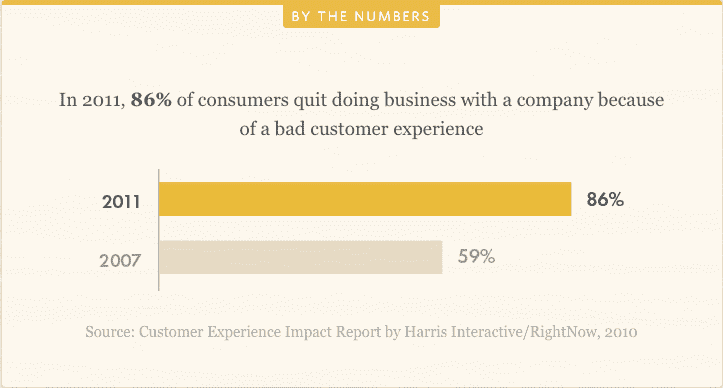 Clearly, customers are not willing to compromise on experience.
But what really goes into a stellar customer experience? For one thing, it's great customer support. It helps retain customers and strengthens your relationship.
Last year, I attended the Mumbai WordCamp. For those of you who don't know, a WordCamp is a great hangout where people from the WordPress community participate and discuss all things WordPress.

And during that WordCamp, I heard the most refreshing customer support lessons that you won't find online. This session was given by Automattic's Happiness Engineer, Mahangu Weerasinghe. He gave a talk on how support staff should look at themselves as teachers and not fixers and a lot of other things. And if you've ever used any WordPress offering from Automattic, you'll know that they take customer support very seriously. While Mahangu was talking in context to WordPress support, you can apply these lessons seamlessly to your own business.
In this post, I'm rehashing some invaluable tips from his talk (plus some more) and try to give you a similar customer support Bootcamp as we all got.
So here goes…
1. The fixer and the teacher
Yes – those are the two customer support representatives that you stumble across.
As support staff, you're expected to know your product inside out. So when a customer complains about not getting how to do something, it will, in most cases, take you a couple of minutes to fix. And you're done.
And no matter how quick or tempting or bandwidth-saving this approach feels, it's not a winner in the long-run because it only fixes the customer's problems — it doesn't educate them.
Train your support staff to play the role of a teacher, and not that of a fixer. Show the customers how to do a certain thing, and don't just do it for them.
2. Focus on one problem in one session
Mostly when customers contact for support, they have a single problem but lots of questions.
I find myself doing this a lot: Like recently I wanted to pay for some service with PayPal, and while the agent was working it out for me, I might have bombarded him with about 5 questions or so — and they were all about advanced usages of their product. But I must say the support agent didn't lose focus. If he did, I'm not sure if I would have got my issue resolved so rapidly.
Answers are fine – but what customers really care for is getting their issues resolved. Fast.
So enable your support heroes to use their discretion while deciding which predominant issue needs to be addressed first. If your support agents let your customers dictate the conversation, it will lead to one big mess.
Stress the need of focus in your support staff.
3. Your job is to work yourself out of a job
Sure — that's not the best message to give to your support staff. But that's how good you want them to be at their jobs that gradually your customers need them lesser and lesser.
Each time a customer reaches out for support, teach him how to use your product.
Request your support staff to make customers more independent with each session. Make sure that the same customer doesn't come to you twice for the same problem (at least not struggling with the same issues).
4. Don't forget the medium
Now you might hire the perfect customer support staff and give them the best possible training, but you might still not do well. Why: because you might not be choosing the right medium for getting your message out.
Instead of spending lengthy periods on the chat, perhaps a phone call would be the better medium to go about solving your customer's problem. Or maybe, a Skype call would suffice. Perhaps a simple presentation, who knows?
It could be that your customers would respond great to a video and not to written documentation. Or it might be that simple annotated screenshots would do better than all your Read.me docs stacked together.
So figure out how your struggling customers would understand best. And then walk the extra mile to create support content for them in that format.
5. Localize
This one's not so much of a no-brainer as it seems. Trust me.
Nothing's more frustrating than the language barrier. If your target audience speaks just Arabic, create support documentation for them in Arabic.
Ask your support staff to use a language that your troubled customers use.
6. Tools — your support best friends
Tools like a chat software or a follow-up service or even a screenshot extension that lets you annotate could improve the quality of your customer support.
They can be especially helpful in customer onboarding. As that's when your customers just log in to your system for the first time and don't know their way around. Whatfix is a great tool to extend a seamless onboarding experience. It helps you create walkthroughs of your product and actually handhold your customers through most of your product's functions.
Equip your support staff with the right tools.
For me, at the most granular level, I think a support chat session really shows that you care about your customers. And I hope these customer support tips will help you improve just that. Do let me know if you've any more to add to this list.
To get more relevant tips, subscribe to our blog by clicking here.
Also read: 30 Best Customer Support Tools to Delight Customers