Earlier this month, we rolled out some amazing new updates. The BIG reason why we call them amazing, is that these updates will give you more control over personalizing your interactive guides, with a pleasing look and feel.

So, for clarity, we've split up the updates into two – New features, and User Experience improvements.

Let's get on with the new features first.
What's New In Whatfix?
1. Personalize the content of Pop-up/Tooltip with dynamic variables
Personalization is a great way to engage with your users. With the new Dynamic variable support, you can personalize the content of your 'Welcome pop-up' as well as the tooltip by inserting personalizations tags based on the available field data.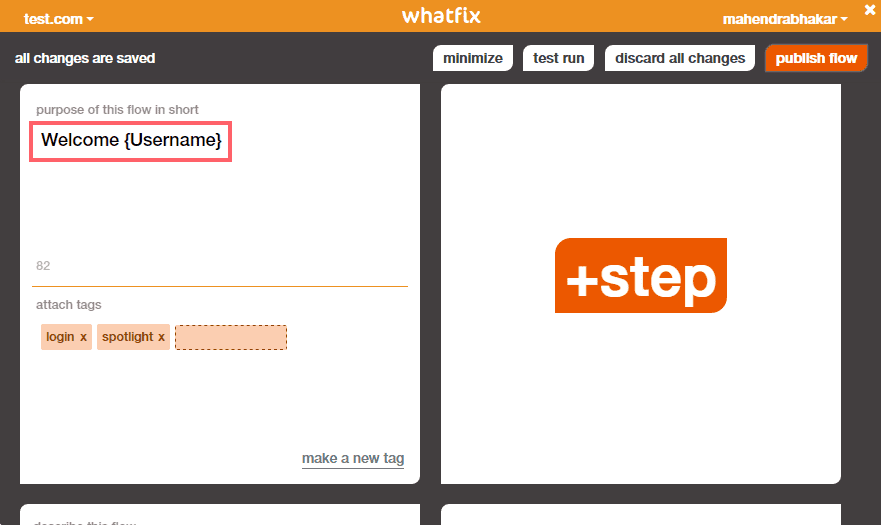 When your interactive guide is viewed in real-time, we dynamically change the tags to display the information relevant to your users.
To learn more on Personalizing with Dynamic variables, click here.
2. Accessibility Support (508 compliance) for Tooltip & Self Help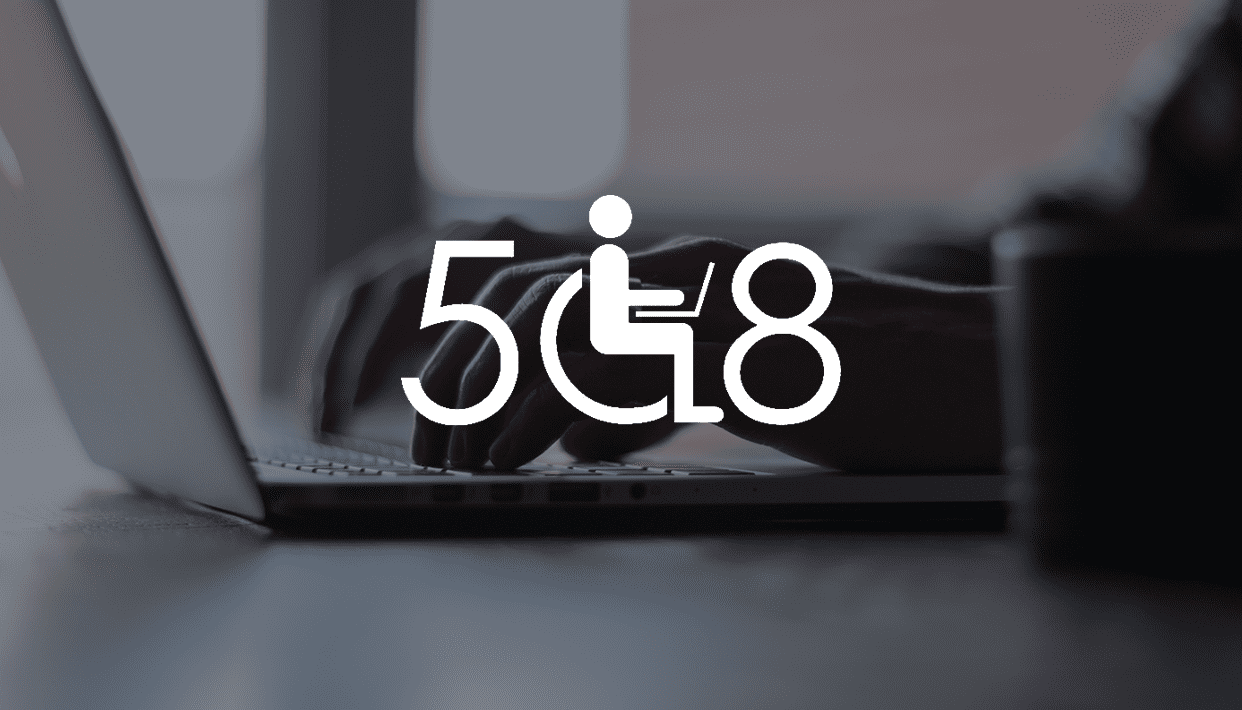 Our interactive guides are already en route to becoming fully accessible to all users as per Section 508 compliance standards. With this enhancement. Whatfix is now compatible with assistive technology, such as screen readers and quick navigation via keyboard strokes. 
Currently, the accessibility support is available on our tooltip and self-help widget. The support for the rest of the widgets will be rolled out soon.
To read more about Accessibility Support via keyboard, click here.
3. Additional control over Guide-step identification in Whatfix Editor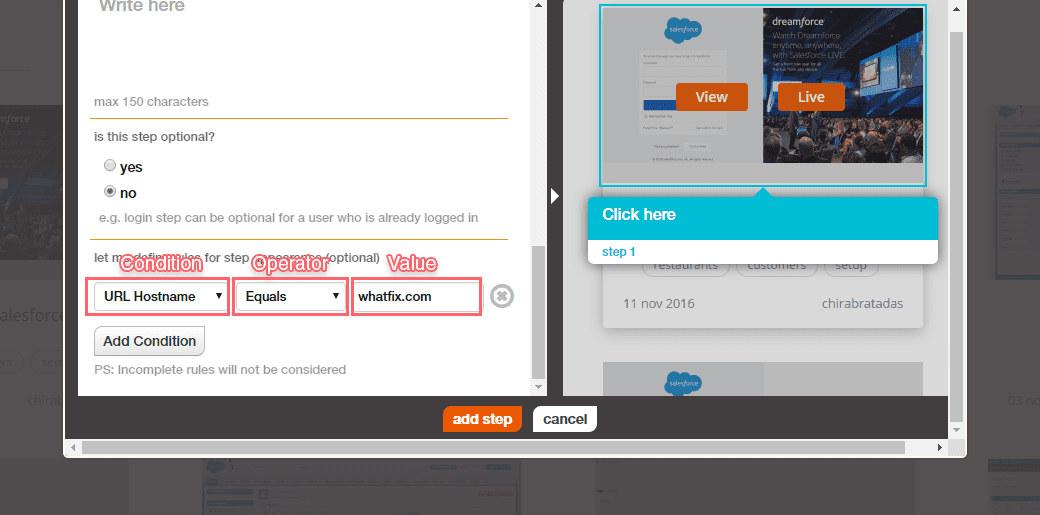 As an addition to our guide-step identification via CSS Selector, we have added a new feature that will help you to uniquely identify elements and pages during the creation of Whatfix guides. The conditional identification feature on the Whatfix Editor will allow you to define rules for each of the steps in your guide.

The support conditions are as follows:
1. URL Hostname – Use this condition, when you want to uniquely identify a page using the domain name
2. URL Path – Use this condition, when you want to uniquely identify a page using its path name
3. URL Query – Use this condition to identify your web page using the parameters on the URL
4. URL Hash – Use this condition, if you want to identify a page based using the hash value of your URL
5. Other Element – Use this condition, if you want to identify a page based on the presence of a particular element (other than the one selected by you) on your web page
6. Window Variable – Use this condition, if you wish to identify the page using the value of a particular Javascript global variable
7. Element CSS Selector – Use this to provide your own CSS selector identifier for the element
8. Element Text – Use this condition, if you want to identify a dynamic element on the page using its inside text
For more details on Conditional Identification, click here.

New Improvements to the Whatfix User Experience
Providing the best User Experience is the beating heart behind all our innovations at Whatfix. Our redesigned Dashboard was just the beginning. These are the latest updates.
4. Self-help Widget added to Theme configuration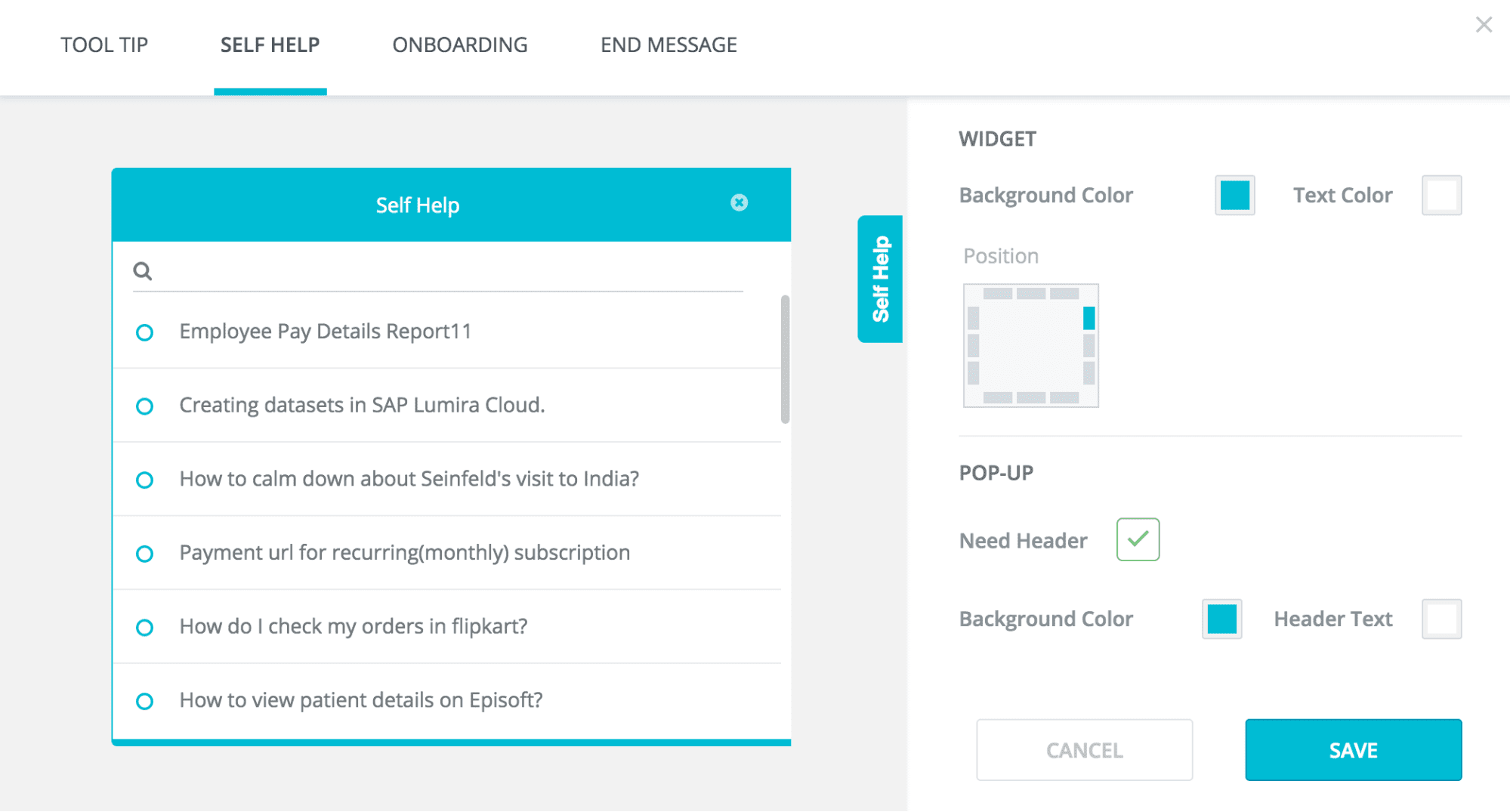 Along with the tool-tip, onboarding pop-up and end message, now you can also configure Self-help widget directly within the Theme configuration.

This update, allows you to simply point, click, and select the position of the widget and the color of the background, text, and widget header text.

5. Whatfix Tags displayed on guide tile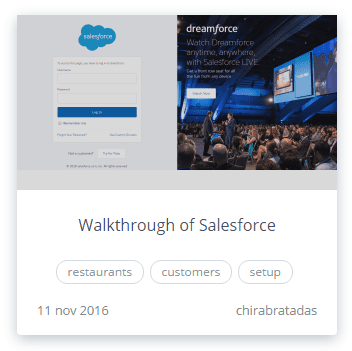 Whatfix Tags are used to categorize the interactive guides. With this update, the Tags are visible directly on the guide tile, within your dashboard. 
Now, you won't have to open a guide to view its related Tag.

6. Easy deletion of Whatfix Tags
Whatfix Tags can now be easily deleted by clicking on the 'X' on the Tag, in the Tags page of your Dashboard. This will allow you to remove unwanted Tags and categorize the guides accordingly.
7. Appearance of guides steps when optional
The step number on a guide will change if optional steps are skipped by the user. For example, In a 10 step guide, if the editor selects the first 3 steps as optional, and the guide begins for the user from step 4, then it will appear to the user as step 1 of 7.
---
Feel free to reach out your success manager for more details on these features. You could also email us at [email protected]