LinkedIn has undeniably changed the outlook of social media in a professional sense. With over 396 million members onboard and a rapidly rising popularity, LinkedIn was recently ranked #3 among the 15 most popular social networks in 2015.
Like any other social platforms, LinkedIn also has its own secret sauce that makes it alluring and engaging for both job hunters and recruiters. But, due to its extensively growing feature set, many of the attractive attributes of LinkedIn gets lost in the clutter. So, in an effort to declutter LinkedIn and get the best out of it for you, we've dug out some of the less known hacks that you'd must try out.
Read Also: Six LinkedIn Hacks To Get Hired
To make the experience of uncovering these hacks interactive, we recommend you to try out the Whatfix Way. Here's how it works: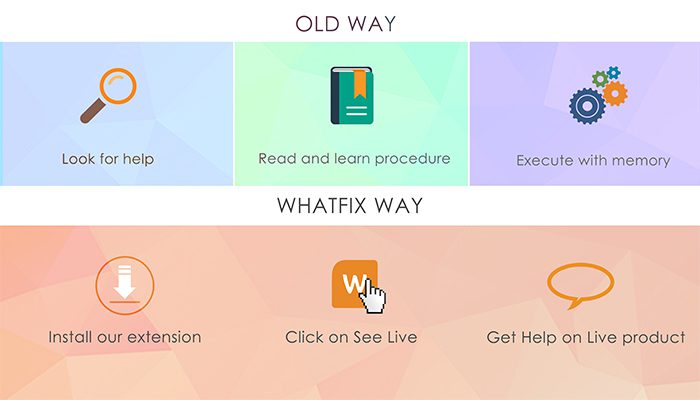 Are you ready? Then let's start with the hacks.

In your LinkedIn, you have the option to pick and choose the type of messages that you'd like to receive. This helps in showing people where your interests lie, and might help you grab their attention as well.
Along with this, you can also add a personalized message for the people trying to contact you. This is especially for those people, who try to contact you but can't actually message you via LinkedIn directly.
This Whatfix flow will show you how to set it up. Click on see live to see the live walkthrough on your LinkedIn profile.


The "People Also Viewed" widget in LinkedIn allows viewers of your profile jump onto other profiles similar to or related to you. It works like a public graph of your 1st and 2nd degree connections.
Disabling this widget will help you avoid risky situations, especially if the suggested profile might be that of a competitor.
Click on see live on the flow below to learn how to disable this widget right away.


Ever wondered whether you can look at people's LinkedIn profile without them knowing that you did? Well, this is possible by activating LinkedIn's private mode. (Earlier known as Anonymous)
By toggling into the private mode, you can disable your profile stats. The only downside is, when you are in the private mode, you won't be able to find out who viewed profile.
See this Whatfix flow live to switch your account to private mode.

For Job Seeker: 7 Hacks To Secure A Job Via Glassdoor


If the user has under 500 connections then you can see the number of connections on his/her profile. However, if their connections network is more than 500, then LinkedIn will display '500+' connections.
Click See Live on this flow to see how to view how many connections a user has on LinkedIn quickly and easily.


LinkedIn allows you to export all your connections a .CSV file. This includes all the details of your connections such as company, job title, email address, phone number, etc. Once exported, you can filter, sort and target prospects easily.
This flow will show you how to export LinkedIn connections to .CSV. Click on See Live for an interactive walkthrough.


LinkedIn's recommendations is a true asset that will help you set your profile up a notch. The recommendations is a way of validation about your relationships with colleagues, acquaintances, customers and your bosses. It will hint the viewers about your quality of work, sociability and effectiveness of your results.
Know anyone who would be willing to give you a recommendation? Then ask for it right away by clicking on See Live.

Also Read: 10 Awesome Job Search Tips For Engineering Graduates In India

Generally, your activity feed and recommendations that you receive are only visible to your 1st, 2nd, and 3rd degree connections. But you can still, customize the privacy settings for both.
This flow will walk you through step by step on how to do it.

Do you know any more interesting LinkedIn hacks? Let us know in the comments.
Subscribe to our blog for our weekly newsletter on productivity, hacks and how-tos.