If you've been in the business world for longer than a few years, you've witnessed firsthand the evolution of technology. This is especially true if you're a seasoned professional who has been working in your industry for years.
You already know that innovations in technology have revolutionized the way every industry works, including how enterprises conduct market research, develop products, market and advertise to target audiences, and even the nature of daily business practices and processes.
With the speed at which technology is innovating, especially within the last few years, enterprises have a robust list of digital technology choices. These technologies work to automate mundane tasks, organize customer and employee information, streamline workflows and processes, enhance communication, provide detailed reporting and analytics, and boost productivity, to name a few potential benefits.
While you carry out your digital transformation journey, you would aim to capture all the advantages listed above. However, organizations need to understand that achieving a successful digital transformation journey is not a guarantee.
This article will cover the basics of why software adoption rates are low, the main problems with low adoption rates, and what tools are available to your organization that ensure successful user enablement and full adoption.
Step Closer Towards Your Digital Transformation Journey by Understanding the Reasons Behind Low Software Adoption
The first step in moving toward full adoption is understanding why software adoption rates are low in the first place. Here are some of the top reasons why 70% of change management initiatives fail.
1. Users reject technology
It's not uncommon for your intended users to reject new software implementation efforts. 83% of senior executives said that their main challenge in the Digital Transformation journey was getting their staff to use the software. There are a few main reasons for this. 
First, users may feel a loss of control. When users no longer understand how to get from point A to point B at work, you risk them either developing complicated workarounds or even reverting to their old ways.
The second reason users may fail to adopt new software is that they aren't tech-savvy enough to navigate complicated interfaces on their own. Without step-by-step guidance, proper training, and ongoing support, it's difficult for users to implement new software into their daily practices.
Additionally, users may not understand the value of new technology. Without understanding how the software will free up time, streamline processes, and make their day easier, users won't have reason to adopt the new software fully.
Finally, employees often have too much technology thrown at them with little guidance on how to effectively use the software. One-third of companies spend an average of over 5% of their annual revenues on technology. Along with this investment comes the expectation for employees to use each technology. However, with a wealth of technologies, and little support, it's almost a guarantee that employees will fail at both digital adoption and customer care. 42% of service agents are unable to efficiently resolve customer issues because of multiple business applications, among other reasons, according to Forrester Research.
2. The interface is too complex
While the purpose of business technology is to simplify processes, it's no secret that user interfaces are often too complicated for novice users to navigate, especially to its fullest extent. Some technologies even require the help of a full-time consultant for implementation and training for even the most tech-savvy employees.
It's true that software engineers design technology to solve multiple business problems, but that doesn't mean the features are easy to grasp.
43% of CRM customers use fewer than half the features they have on their CRM. However, 72% of these users would trade functionality for ease of use.
When enterprises are spending thousands of dollars on new technologies, trading out top functionality is not an option.
3. Lack of effective training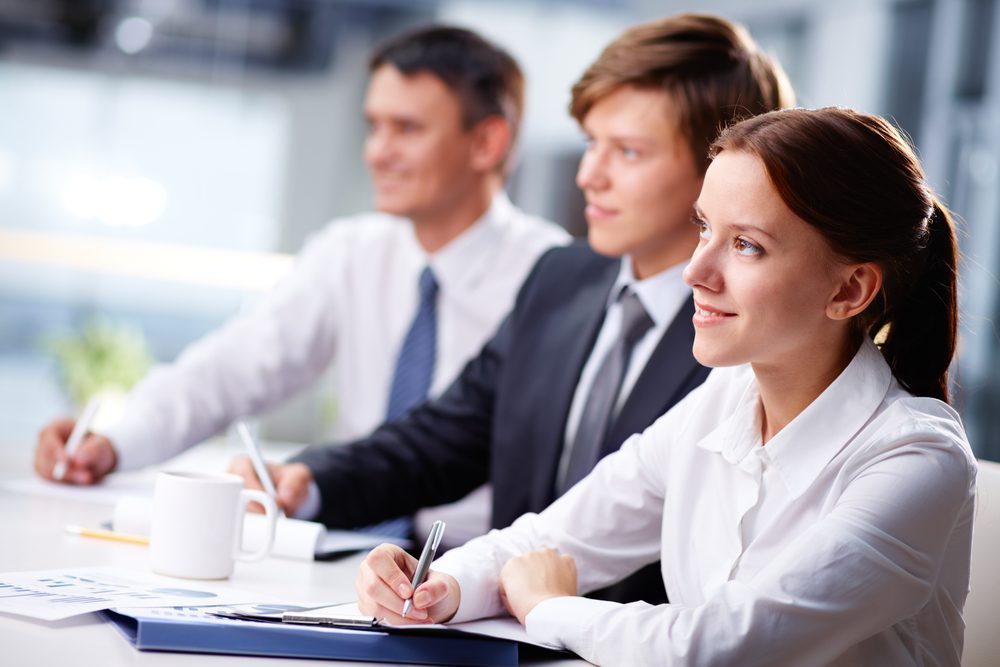 Software programs are notoriously complex. Take Salesforce.
In theory, Salesforce provides solutions to increase productivity, organization, communication, collaboration, AI, mobility, and more across nearly every industry and every job function. Salesforce is an essential tool, and businesses genuinely benefit from this software.
However, to leverage the full benefit of the software takes time, intense training, help from consultants, ongoing support, and continued evaluation of reports.
Without practical training, the Salesforce adoption journey (as well as other software programs) is an added business expense, instead of an innovative and helpful tool.
Without Major Implementation Solutions, User Adoption Remains A Challenge
Low user adoption is often a circular process for executives. Here are some of the most impressive stats, as reported by different organizations, that prove merely investing in software, with no plan for adoption, remains little more than a disappointing financial burden:
93% of companies

continue to spend on underused software products.

20%-22% of companies

continue to pay annual maintenance on shelf-ware.

Less than

40% of CRM

customers have end-user adoption rates above 90%.

Less than

37% of sales reps

use their company's CRM system.

It was estimated that over

$1 billion

had been spent on software that companies weren't even using.

Only about

50% of the CRM features

paid for by businesses are used.
Without making changes in implementation practices, including training and ongoing support, investing in software implementation remains an exercise in futility. 
Introducing Digital Adoption Solutions (DAS)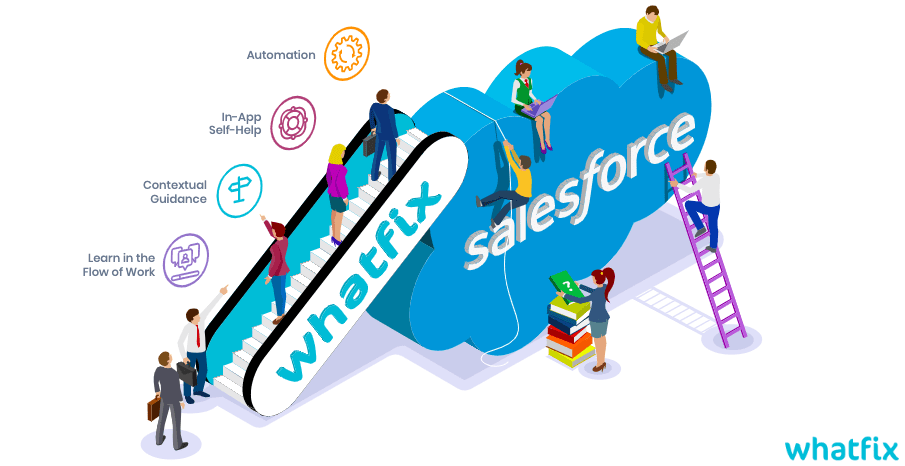 The main contributor to low adoption rates includes introducing convoluted software with a lack of adequate training and ongoing support.
When you solve the problem of complexity with proven training methods, adoption rates increase.
But how is it done? 
It's done through the help of new technology, recently recognized by Gartner, as digital adoption solutions (DAS).
Digital adoption solutions are relatively new platforms that help ensure effective onboarding and provide initial, on-demand, and contextual training. Additionally, DAS offers ongoing support and detailed analytics to ensure enterprise-wide digital adoption.
The best part about digital adoption platforms is all the training is done within the new software solution (e.g. Salesforce, Oracle, SharePoint, etc.) add an overlay or a walk-through. That's right. There is no need for users to click out of the software to get answers, attend ineffective in-class training, download user manuals, or continually ask a more experienced team member for help. DAS provides training and answers to questions right when users need help.
You may be wondering where to look to invest in a digital adoption solution. Start with Whatfix.
Whatfix is a digital adoption solution that effectively bridges the adoption gap by providing in-app and on-demand training that overlays the software application in question. Whatfix is especially effective because it is:
Contextual. Guided Walkthroughs offer specific help based on the user's job function, location within the app, the task at hand, and behavior within the application.
Interactive. Learning is hands-on, meaning users complete tasks within the app.
Real-time. Training and support are available exactly when a user needs it, meaning there is no need to leave the application, download a guide, ask a trainer, watch a video, or attend an in-class training to get answers.
Progressive. Users can leverage the full benefit of the software as they gain varying skills, instruction, and validation.
Autonomous. Whatfix automatically completes mundane steps or tasks, improving overall efficiency.
In short, the digital adoption platform, Whatfix, provides in-app training, continuous guidance, and ongoing application training support whenever users need it. 
With the help of in-app and contextual training, users can effectively navigate software products, accelerate onboarding and task management, and access support on-demand.
Gartner explains the effectiveness of digital adoption solutions (DAS) like Whatfix. Gartner purports that digital adoption solutions help boost the adoption of multiple software solutions across an organization. And, that digital adoption solutions walk users through business processes for multiple products, providing the following advantages:
Consistent user experience

Replacing manual entry with automation

Supplying visually clear paths to complete tasks

Allowing sellers to onboard quickly

Boost overall productivity of sales teams and various other areas in an organization

As organizations look to keep up with an evolving landscape of technology, it's important to remember that the investment is only half the battle. To gain the full benefit of new digital technology and achieve success in your digital transformation journey, companies must also invest in in-app training resources, like Whatfix, that aid in change management, solve current problems with software implementation, and ensure increased digital adoption rates. For more information about Whatfix, schedule a demo today.