2021 continues on full steam with exciting features and enhancements  in Analytics, Flows, and more.
Here's why we are excited
---
New Capabilities
Identify user drop-off across stages in application processes with 'Funnels'  
With User Actions, you can track how your users interact with your application, and decide how you would want to go about creating experiences on the application. 
Funnels, a powerful new report added to the Whatfix Analytics dashboard, takes this a few levels deeper.
Imagine a scenario where your end-users need to perform 5 steps to complete a process in your application. 
How would you identify the drop-off rate of users at each step? 
With Funnels, you can now analyze and understand how your end-users navigate through processes within your application and identify the steps at which they drop off. 
What is a Funnel? 
A Funnel is a series of sequential User Actions that your end-users progress through a process in your application.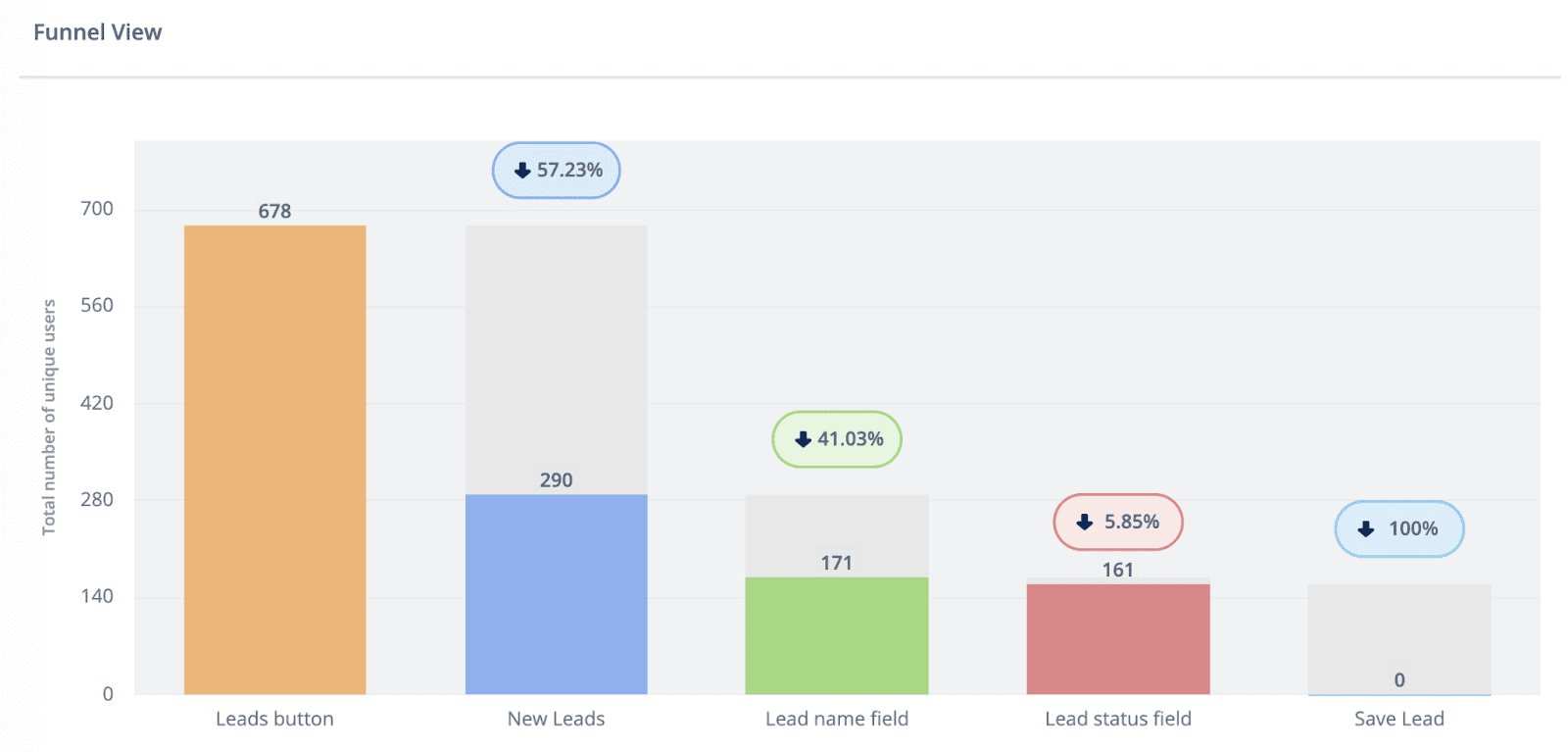 Once User Actions are enabled, you can create a Funnel and periodically analyze end-users' engagement with the application.
How does it help you?
Identify stages with the most drop-offs.

Create Help content to help users progress through these stages.

Improve process completion rate and reduce support tickets.
Improve Flow completion rates using Flow Closure Feedback
When users choose to end a Flow during a step-by-step task, content administrators have no insight on the specific reasons why.
For example, a user may have triggered an incorrect Flow or ended mid-step because they were familiar with the next steps. Or in some cases, a Flow could have been ended purely by mistake.
Flow Closure Feedback is a pop-up that appears when a Flow is terminated (intentionally or otherwise) for the first time.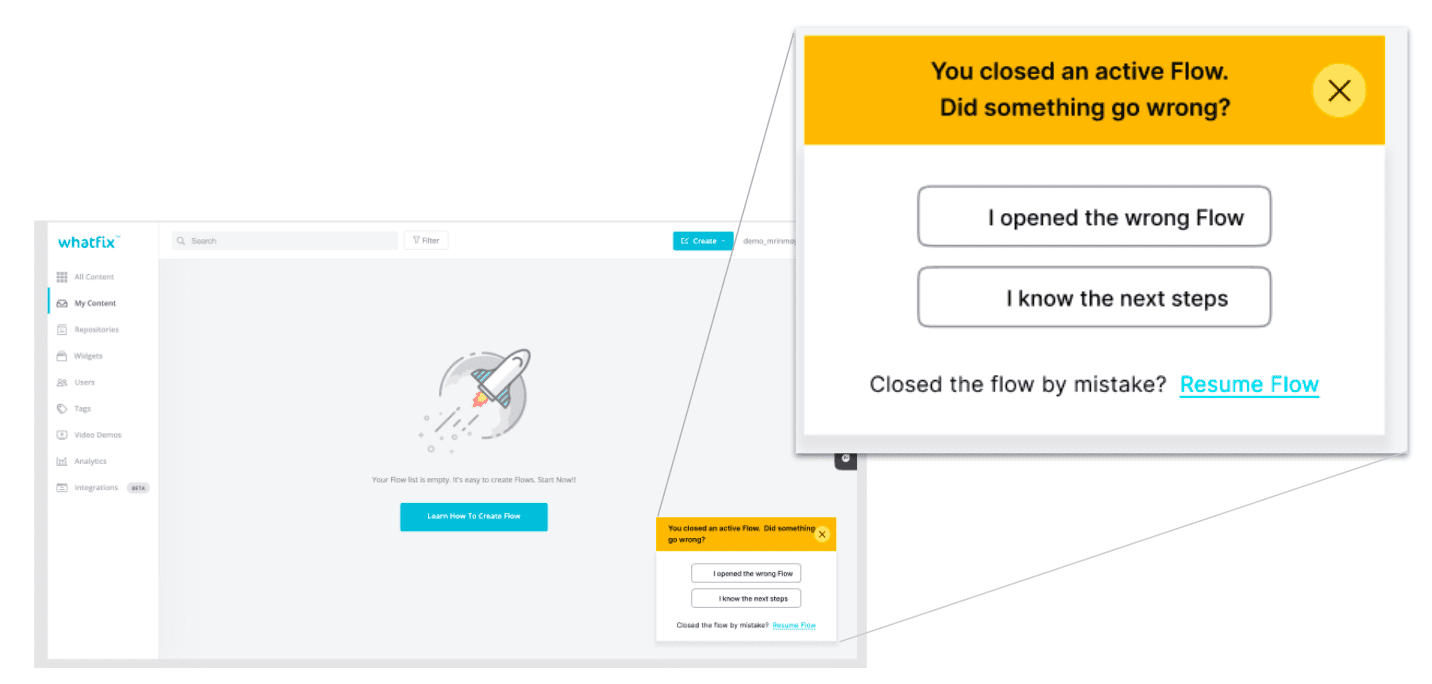 The menu encourages users to share the reason for ending the Flow. In case of accidental closure, the user is presented with an option to resume their Flow from the point where they left off.
The Flow Closure Feedback message is only displayed during the first instance of closing a particular Flow.
A smaller Flow Closure Menu is displayed on subsequent attempts to close the flow., Users can resume the Flow on either message and continue from where they were..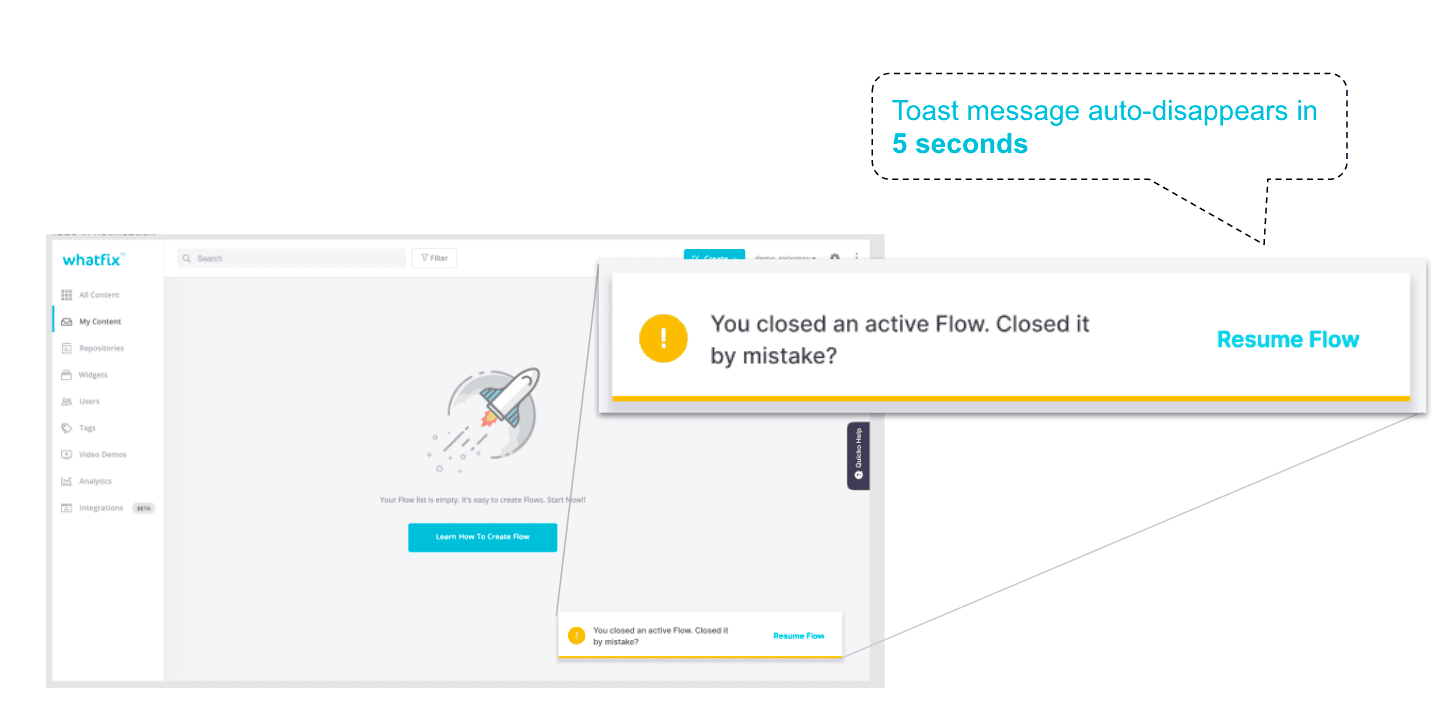 Insights from the Flow Closure Feedback menu are funneled back into the Whatfix Analytics Dashboard. Content administrators can view the number of Flows closed for specific reasons under the Flows Analytics menu. Flow Closure Feedback also helps improve the completion rates of Flows
Flow Closure Feedback is also customizable. The feedback options text and button colors can be made to blend into the application's aesthetics in the Advanced Customization options.
Understand which Flows to automate using One-Click Flow Automation
We all love automation. It helps get things done. But what if a Digital Adoption Platform can not only automate your everyday tasks but also intelligently recommend to you which workflows can be automated in the first place?
Whatfix's new One-Click Flow Automation does just that. It analyzes your existing Flows to understand which Flows (complete or partial sections) are good candidates to be automated.
One-Click Flow Automation has a great impact on productivity and efficiency. Content authors no longer need to spend precious time to identify individual Flows or steps within them to automate.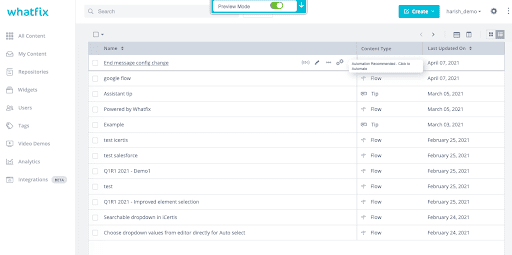 All steps that can be automated are available in a single view. No longer do authors have to navigate through each step and configure automation steps.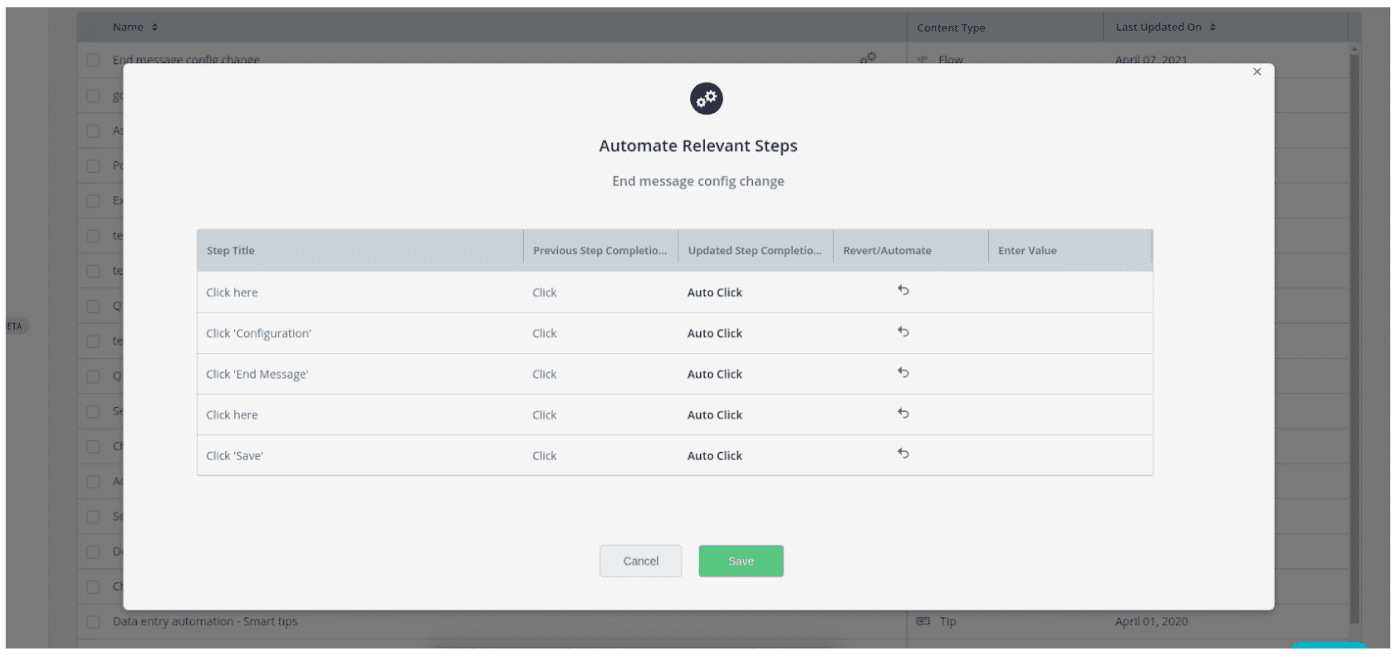 Click and Hover actions can be transformed into Auto-Clicks and Auto-Hovers. Typing Text and Selection Change actions can be transformed into Auto-Input and Auto-Select with a provision to enter the custom field values as needed.
Existing Flows are dependent on specific criteria to qualify for candidates for One-Click Flow Automation. To know more, get in touch with your Whatfix Customer Success Manager.
App-Specific Default Timers – Flow On Standby
The Flow On Standby feature receives new enhancements in the form of new default timing. Based on app performance, the default time after which Flow On Standby is displayed can now be changed. This is to avoid Flow On Standby from appearing either too early or too late. The maximum time interval for Flow On Standby to appear is also now limited to 20 seconds.
Self-Hosted Extensions for AWS S3
Whatfix introduces an additional layer of security with Self-Hosted Extensions. Customers who are keen to host their Whatfix Extensions within their own AWS S3 buckets rather than the Whatfix CDN or a third-party store can now do so with Whatfix's Self-Hosted Extensions.
The AWS S3 access configuration is a one-time activity, performed on the Whatfix dashboard itself. The extensions are hosted automatically on S3 after the configuration.
Updates to extensions is a one-click action on the dashboard. Mass roll-out and other existing options remain.
Self-Hosted extension support is available for Chrome, Edge, and Firefox browsers.
Voiceover for Flow videos now available in 28 languages
You can now publish Whatfix Flow videos with voiceover in 28 major languages including French, German, Portuguese, Dutch, Chinese, and Arabic. You also have the choice to render a male or female voice.
Add-on security encryption of content repositories
To further enhance content creators' experience, Whatfix has added an additional security layer by encrypting learning & training repositories, by which companies can maintain the confidentiality of their data, avoid any data breaches or targeted hacks & attacks.
Going forward, Whatfix will encrypt all your crawled content at rest as well as transfer. This will have no impact on the end-user experience. For the content creators also, there is no additional configuration required.
Selective crawling for Salesforce & OneDrive applications
To reduce the time to crawl data into Whatfix & ease content management for the creators, we now provide content creators the ability to crawl only select categories of folders from their entire repository. 
This feature is available for Salesforce & OneDrive applications. For the Salesforce Knowledge section, we can now crawl articles from a specific category given by creators. Similarly, for OneDrive applications, Whatfix can now crawl content at folder/sub-folder levels.
Self-Help Performance Enhancements
Whatfix's Self Help widget is a popular way for application users to search for and access content including Flows, PDFs, and text. The latest performance enhancements to Self-Help improve widget loading times and ensure faster access to content for end users.
Additional Sub-Group level in Self-Help
Whatfix's Self-Help now includes an additional level of folder hierarchy. Self-Help content can now be placed into folders and subfolders to better organization and easier accessibility.
Integrations
Integrations are now enabled for ServiceNow and Microsoft Excel applications.
What's Next
You can expect a host of exciting and powerful features in the next Release including,
Audio walkthroughs – Create an engaging experience for end users with audio instructions for Flows
Intelligent Nudges – Provide contextual nudges to the user by predicting and when and where they need help
and many more…
---
For additional information, you can access the Release Notes here.
---
Whatfix Support Documentation Feedback
Now you can easily give us feedback (verbatim) on any article in support.whatfix.com.
At the end of any article, click either the thumbs up or thumbs down icon under the Was this article helpful? section and enter your feedback.



If it's not regarding a specific article, you can also write to us at [email protected].