It's been an exciting start to the quarter here at Whatfix. With the acquisition of Nittio Learn, we've also had an infusion of new talent into the product team which has already been doing some amazing work this year, all from their homes.
This August 2021 release is bringing some powerful new capabilities and enhancements to the Whatfix platform.
---
New Capabilities
Augmenting the Content Aggregation capability
More detailed view on integration status of Knowledge Repositories
Whatfix has now introduced additional statuses to give our users more details on the integration of repositories at any point in time. Under the Whatfix dashboard Settings tab, on selecting 'Manage Repositories' and then checking 'Status Table', they can see the granular integration status for each repository with system generated notes/comments for more visibility on partial/total failure or schedule of next sync.
This makes the users informed of integration at each step inside the Dashboard.
Crawler status on articles & links for each knowledge repository
As we already know, Whatfix enables auto updation of articles in repositories synced with it. Further, to ease the status on update of these articles, a crawl status report can now be generated after every scheduled integration, thereby providing count of links that were newly added, edited, deleted, or links that could not be accessed while integrating with Whatfix.
The detailed crawl report makes our users check the status of integration links for each repository at scheduled frequency as shown in the image below.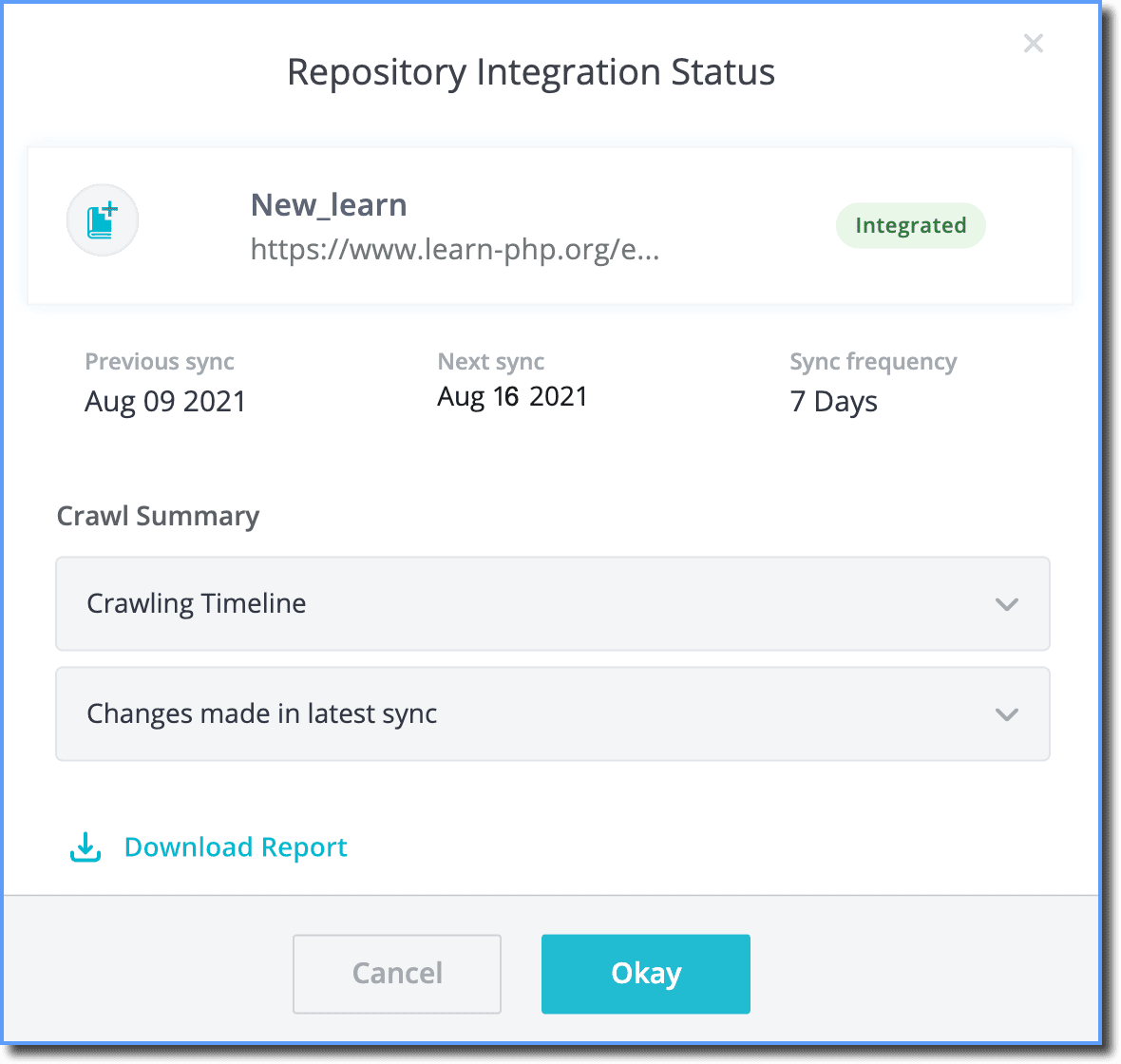 Auto-email notifications
Users adding any knowledge repository to their Whatfix panel will now receive updates via email as soon as the integration is completed. This detailed email will notify about integration failures or crawler analysis reports for successful integrations.
Enhanced Security for Whatfix Export Package
Whatfix is introducing new security enhancements for self-hosted customers with a checksum addition to the package file name. Each export package is assigned a unique value which can be used to cross reference and identify if any changes have resulted in the generation of a new package.
With this release, Whatfix offers more security and improves compliance with enterprise level infosec requirements.
This Enhanced Security capability is now in General Availability for all Whatfix Self-Hosted customers.
Enhancements and Upgrades
User Engagement metrics on the Analytics dashboard
Get visibility into the number of unique users who engaged with Whatfix content, right on the Analytics dashboard. You will also be able to download this data from the dashboard itself.

More control over User Actions

You will now get an alert message that lists down all content on which a specific User Action is enabled, when you try to delete a User Action. This way, you can now ensure User Action is enabled only for the content you want it on.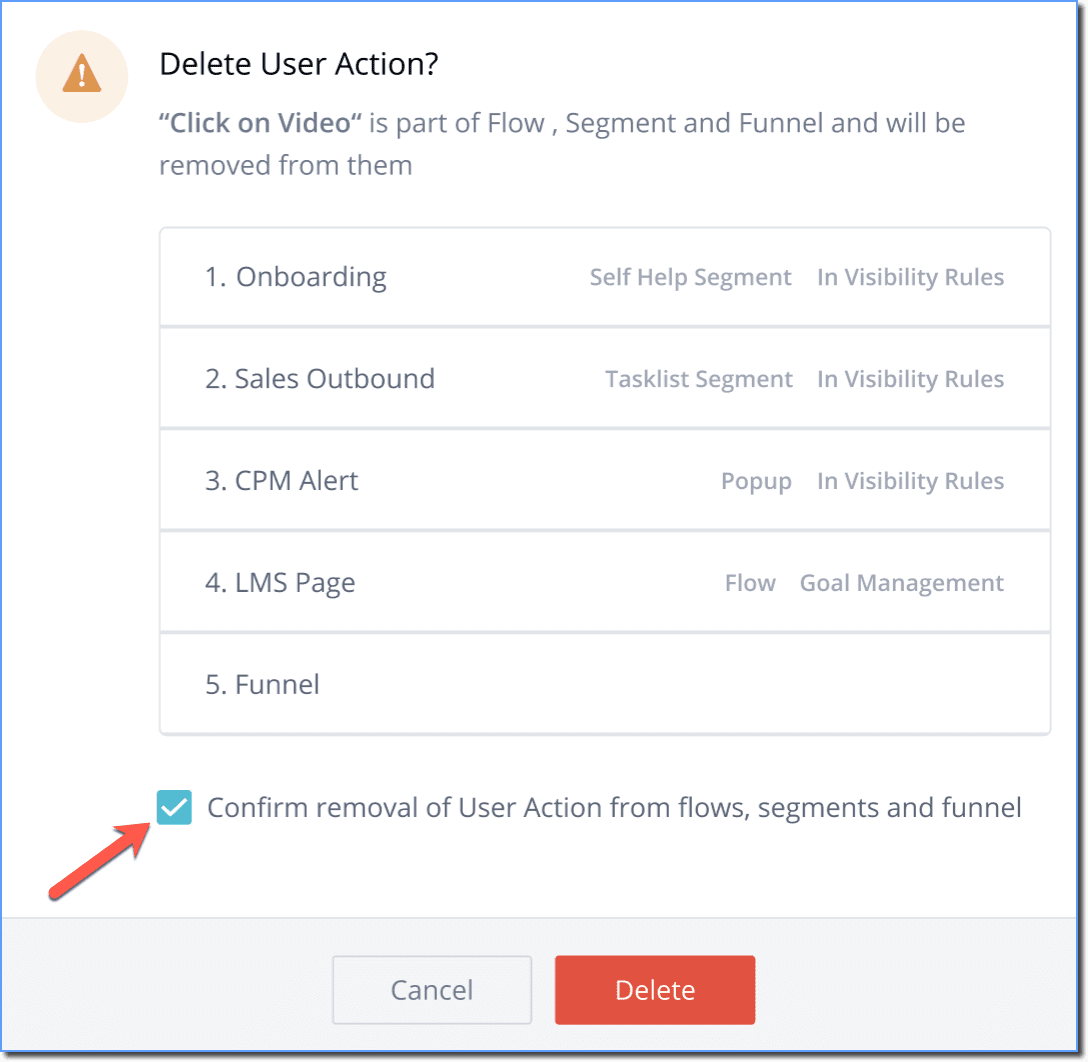 Sharper content segmentation with Enterprise Attribute
Contextualize experiences for user segments based on enterprise level attributes such as geography, job type, etc. For example – schedule an application maintenance popup notification only to users who log in from the EU region.
Auto-updation of the Whatfix Desktop Player
Whatfix auto-updates your Whatfix Desktop Player to ensure that you have the latest capabilities, performance enhancements and bug fixes. Now when the Account Manager performs a Push to Production, the Whatfix Desktop Player for all your end-users is updated. IT teams no longer need to update all end-user Desktop Players manually.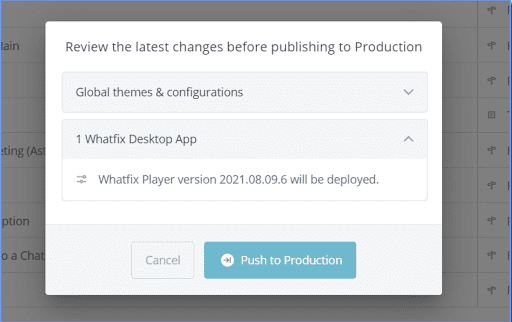 For questions on any of our new features and product enhancements, email [email protected] or contact your customer success manager to learn more.
Upcoming Release
More control and transparency into content creation and maintenance with the launch of Content Lifecycle Management capability in the Whatfix dashboard
Platform Analytics – time taken for data refresh on user engagement with Whatfix content to come down to 30 mins from the current 14 hours
Whatfix Data center set to be launched in the EU region
---
For additional information on the features and capabilities, you can access the Release Notes here.
---
Whatfix Support Documentation Feedback
Now you can easily give us feedback (verbatim) on any article in support.whatfix.com.
At the end of any article, click either the thumbs up or thumbs down icon under the Was this article helpful? section and enter your feedback.