The first thing you'll notice about Dynamics 365 is that it's nothing like the friendly, simple Microsoft Office 365 apps you may have used to build a spreadsheet or write your resume.
This enterprise-level cousin of Office 365 is built for many different types of professionals and can virtually run your business with its myriad apps. It's powerful, feature-rich, and complex. Microsoft calls it software with "no limits."
But the problem with software that does everything is that it does nothing if you don't know which levers to pull.
Your major priority when implementing Dynamics 365 should be to make your employees power users of the app. It's the only way to unlock the true potential of the software.
Your Dynamics 365 Implementation Will Fail Because of Poor User Adoption
Your Dynamics 365 implementation will most likely fail because your users – your employees – won't adopt it. The term for how likely they are to adopt it is called, no surprise, user adoption. User adoption measures whether employees are using the features of an app on an ongoing basis or reverting to their pre-app ways of working.
Most companies struggle with getting their employees to adopt Dynamics 365 for a few reasons:
There's a steep learning curve: Users on software review sites such as Capterra and TrustRadius mention it's difficult to train new employees to use Microsoft Dynamics 365. This is mainly because the app has a confusing interface and is dense with jargon.
It's tightly knit with Microsoft apps: Dynamics 365 works best when integrated with Microsoft apps like LinkedIn and Azure. This means only employees who are proficient with Microsoft products can use them well. What's more, this also makes Dynamics 365 cumbersome to use with other apps.
There are constant product updates: Microsoft's product roadmap proposes extensive changes in the app in a short span of six months. In each update, Microsoft often renames key features and sections of the app. This makes it difficult for employees to keep up with the software.
Microsoft offers little implementation support: The only support Microsoft offers for implementing Dynamics 365 is the written and video training resources on its website. There are no live demos or on-demand training options available.
To sum up, it's not as simple to get your team to use Microsoft Dynamics 365 as it may be to transfer your data from another customer management platform (CRM) to Dynamics.
To achieve user adoption for this complex app, you'll need to ease your team into it with innovative onboarding and training.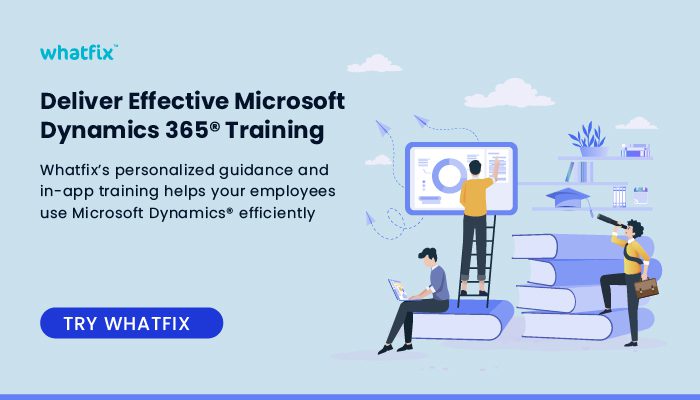 Whatfix Helps You Drive Adoption for Dynamics 365 at Scale
Whatfix is a digital adoption platform (DAP) that helps you provide real-time, in-app training for Microsoft Dynamics 365.
It allows you to add pop-ups, step-by-step walkthroughs, and tooltips, on top of different features of Dynamics 365, to help employees understand how they work.
Here's how Whatfix can help drive user adoption for Dynamics 365:
Task lists with walkthroughs track learning progress
Whatfix allows you to organize important tasks in Dynamics 365 into a task list, so new users can independently learn how to use the software. Each task item can be a walkthrough or step-by-step instructions to complete a workflow within the app.
You can also tailor task lists based on an employee's role and the workflows they'll need to complete within Dynamics 365.
For instance, when a sales manager logs into the Sales module for the first time, they may see a task list as follows:
Create a sales lead
Qualify a lead
Move marketing leads to sales
When that sales manager clicks on a task, they'll see a set of pop-ups or tooltips to guide them through each step of the process.
Such task list-based walkthroughs are a great way for employees to keep track of their own learning. It also helps managers see how far an employee has progressed within Microsoft Dynamics 365.
Personalization makes training content relevant
Instead of offering generic training for Dynamics 365 to each employee, Whatfix lets you surface only the most relevant training content within the app based on an employee's role, title, customers they manage, and other criteria.
Thus, an admin or manager might see different training material than, say, a basic-level user. Or within an app like Finance, those who manage budgeting and cost accounting may see different training content than employees who handle accounts receivable and accounts payable.
This type of laser-targeted training is especially beneficial for onboarding users onto a behemoth like Dynamics 365, which has nine different apps across sales, marketing, finance, operations, HR, and customer service, and multiple functions within each app.
It allows employees to quickly get up to speed on Dynamics 365 features that matter to their job instead of wading through unnecessary documentation.
Contextual training content improves retention
Whatfix's contextual training option ensures your employees only see training material related to the section of the app they're in, and not all at once.
For instance, those in the "Leads qualification" tab of the Marketing app in Dynamics 365 will only see tutorials and tips related to that specific tab. This could be workflows related to creating a lead in the app or tips on qualifying sales leads.
With training material organized and presented in this way, employees are more likely to find it meaningful, as opposed to viewing content out of order or context. This, in turn, helps them remember key features and workflows within Dynamics 365.
Announcements make it easy to track product updates
Whatfix lets you announce new product releases, features, and changes in feature or product names within Dynamics 365 using beacons. Beacons are blinking red spots that draw users' attention to an area of the app.
Each time Microsoft announces an update, you can add a beacon to the changed section of the app to let users know. You can also attach videos, links, or tutorials to a beacon.
Thus, employees won't have to rummage through Microsoft's product update announcements to learn about key changes or wonder what happened to Microsoft Forms Pro (it was renamed to Dynamics 365 Customer Voice) and other important features.
Varied content formats make training engaging
Training content for Dynamics 365 doesn't have to be drab or boring when you use Whatfix.
You can create both static and interactive training content for employees — PDFs, videos, links, slideshows, and articles, as well as walkthroughs, smart tips, and task lists. Additionally, content formats are interchangeable. So, walkthroughs and tips can easily become PDFs, videos, and slideshows.
You might use walkthroughs to explain more complex workflows in Dynamics 365. For introducing simple features, you could use a quick video tutorial.
Varying content formats ensures employees don't get overwhelmed with a single content type, and learn in a format they find most valuable.
Automated form-filling reduces manual work and errors
Automated form-filling in Whatfix helps you pre-populate certain fields in your Dynamics 365 forms based on given conditions.
For example, when creating a new customer profile, you can auto-fill fields such as company information, email, and a number of employees, based on sales data.
This helps you tackle one of the most tedious aspects of a CRM like Dynamics 365 — data entry. It also helps you reduce errors from manual data entry to a minimum.
Without User Adoption, Your Dynamics 365 Implementation Will Fail
Implementing Microsoft Dynamics 365 is costly, time-consuming, and error-prone. But above all, it can be an exercise in vain if your team doesn't use the app's features as intended.
When setting up Dynamics 365 for your organization, don't focus on data transfer or assigning admin roles alone. Spend equal or more time teaching employees the ins and outs of the app and how it improves their workflow.
Ultimately, that will determine the overall benefits you derive from the app.
Whatfix helps employees quickly get up to speed on the various features of Dynamics 365 without feeling overwhelmed. If you'd like to see how, then you can sign up for a personalized demo here.