Disrupted by the uncertainties brought by the COVID-19 pandemic, a majority of organizations have transitioned from working in the conventional physical office to working from home.
As businesses around the world postpone and cancel in-person meetings in response to this pandemic, workplace learning is emerging as one of the hardest-hit business processes.
Since organizations cannot just push the pause button on training and upskilling their employees, learning leaders are pivoting their training initiatives from in-person to online. 
However, training thousands of remote employees on internal tools (something most organizations have never done before) possesses a logistical challenge for enterprises. This is why remote training has to be a well-thought-out strategy during this transition to ensure business continuity.
So the big question here is, how can you successfully train remote workers in this environment and improve the overall training experience for them? 
Based on our customer experiences and their implementation of remote training with Whatfix, we have identified a few best practices for training remote employees for you to make the transition easy for everyone:
Planning the Curriculum
When you have thousands of employees who need varying types of information, it's not effective to make things up as you go.
Therefore, one of the most important best practices for training remote employees is considering every employee's requirements before planning your remote training curriculum. Think of it as a course where you need to plan different things like – What should be the syllabus? What requires in-app context? How much time will it take to complete the course? Which skills might an employee need to practice multiple times? What might be confusing without an explanation from an expert?
Also, different scenarios need to be considered like onboarding new hires might call for a curriculum that should be different from implementing operational changes with existing employees. 
Let's put it this way, a new employee who is supposed to be put on a Salesforce training also needs to be taught about how the sales process works at your company. While an existing employee who is supposed to learn a Salesforce-related operational change doesn't need to learn the sales funnel as they already know it.
In addition to this, some employees might feel less motivated to participate in routine remote training sessions as they might have a lot more things to do and very little help to do them as they work away from the office. Hence, planning the training curriculum according to the employee requirements can definitely make them feel more determined to participate in the training sessions and keep upskilling themselves. 
Respect their time
Working from home isn't all about the job. It's also about family, pets, or roommates who are also spending more of their time at home. In addition to this, your remote workforce is geographically dispersed with people working in different time zones. This means that your remote training plan needs to respect your employees' time.
A successful remote training plan is one that can work with each individual's schedule. The training program should be available whenever an employee is ready to learn. 
The solution here lies in self-paced learning. With self-paced learning, employees are able to access learning materials independently and go through training at the speed that works best for them. A live instructor doesn't need to be present, and materials are posted online so that employees refer to them as needed.
Helping workers to learn on their own time is especially useful for remote teams but it's beneficial for in-office employees as well.
Implementing a Digital Adoption Platform like Whatfix enables self-paced learning for your remote employees. It creates walkthroughs and videos to train your employees on new software or maybe a software update. Whatfix's self-paced and interactive on-the-job training solution augments training by helping employees in learning while doing, within the business application.
Leverage technology
With both office and remote employee training, keeping employees engaged is the biggest challenge faced by enterprises. 
Hence, another best practice for training remote employees is leveraging the right technology to overcome the employee engagement challenge and boost productivity. 
For instance, tools like Slack, Zoom, and Google Hangouts can be used to promote employee engagement via live-stream lectures, collaboration on projects, posting videos, etc.
Similarly, a Digital Adoption Platform (DAP) is a next-gen tool that trains your employees via interactive walkthroughs within the application. Taking a step ahead of conventional documents, interactive walkthroughs use a step-by-step approach for training and ensure active employee participation.
Digital Adoption Platforms are contextual, real-time, autonomous, interactive, and a necessary training tool to adopt during this time of working from home.

Develop easily consumable bites of information
Another solution to overcome the employee attention and engagement challenge during remote training is "Microlearning". Microlearning brings in short and concise snippets of training that are conducive to how the human brain remembers information. Microlearning is one of the most effective best practices for training remote employees, as it provides short digestible lessons with a single learning objective.
In addition to this, as employees work from home they have zillions of things vying for their attention which gives them very little time to spare for the training and development sessions. 
Hence, in order to generate the expected return on your training expenditure, you need to ensure that your training methodologies are able to engage distracted remote employees. Considering this, microlearning is a reliable solution here mainly because it breaks the content-heavy courses into small pieces of information that can be assimilated quickly.
Provide responsive support
Enterprise employees work in and out of many applications every day and they can have queries at any moment about how to perform a particular task. 
For remote employees, it's no longer viable to hop-over to the next cubicle and ask a colleague about any queries or doubts they have while working on any application. Also, writing to the tech support team with similar 'how-to' queries isn't very productive either since the process is not immediate – it takes a significant amount of time for the support team to resolve these tickets. 
So what can you do to effectively help your employees without disrupting their flow of work? L&D teams can leverage Digital Adoption Platforms to provide technical customer support in real-time without users having to raise support tickets and wait for the resolution of their queries. Whatfix's user support solutions provide your user's just-in-time contextual help which they can use to answer their queries at any time.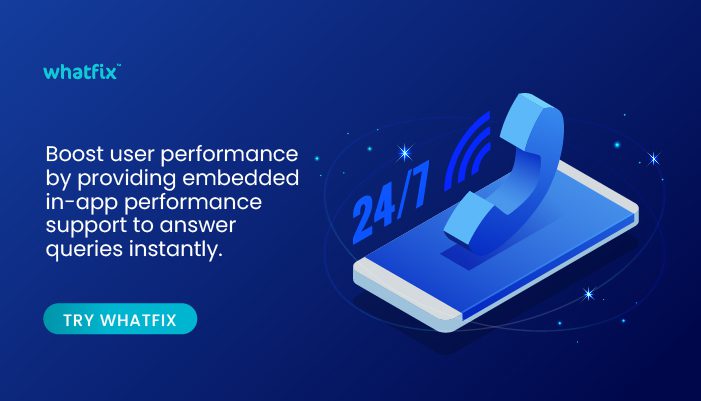 Track productivity regularly
With everyone working from home, it's critical to keep tabs on your workforce. To ensure whether your remote training plan is successful and employees are using enterprise software adequately, it is important to track the productivity of your remote team. Based on the results you can understand whether or not your remote employee training is meeting its objective. 
Having said that, it is important to make sure that you do not bother your employees constantly just to make sure that they are on track as it could make employees feel uncomfortable and pressured which might negatively impact your efforts! 
In this case, a Learning Management System or Digital Adoption Platform can be leveraged to track user metrics like – what training content and enterprise app features employees are using, and where they are lacking. These insights can help the L&D team understand how users engage with the product and further leverage them to improve the product experience.
Foster transparency & clear communication
Maintaining the flow of transparent communication and responding relatively quickly is one of the most important best practices for training remote employees. 
For instance, if there are 10 employees in the training program, include all of them to share ideas and discuss projects with each other, and value every individual's point for a more engaging remote training experience. 
Also, managers can regularly connect with their team members to keep a check on any issues employees are facing while participating in a training program.
To make this communication smoother and easier, there are a lot of great tools available – like Zoom, Slack, Chanty, Skype, etc. Whether you need to schedule group meetings or have a private chat with a team member, these communication tools help you stay connected and make the remote training sessions much engaging for your employees.
Check out our blog on "26 Top Collaboration Tools To Ensure Business Continuity" to learn about the top communication and collaboration tools in the market.
Set Clear Expectations for Your Team
If your training program doesn't have a deadline or the process isn't clear, you'll have to spend a lot of time and energy asking people to complete it. This is why another best practice for training remote employees is setting and communicating clear expectations for success and completion before announcing your remote training program to the team.
Another best practice here could be breaking the training program into smaller pieces and assigning deadlines for each section, simply because achievable mini-deadlines are comfortable for everyone to finish and helps them feel like finding small wins.
Launch product training alongside product updates
Complex products often come with constant iterations and updates. While this is desirable from a product perspective, these updates require consistent education around best practices and specific changes to the product.
Therefore, it's important to launch the product update training sessions in parallel to the update itself. Failing to do so might hinder your employees' daily workflows leading to loss of productivity and creating frustrated, unsuccessful stakeholders in the product.
Launch frequent content iterations based on reporting & analytics
To conduct a successful remote training program, it is important to keep an eye on any gaps in the training content. This means keeping a constant check on factors like – where are employees getting stuck, how long is a course taking to complete, what are the most common questions asked, are there more product up-sells because of certain training, etc.
This data can be collected by conducting surveys amongst your employees but it might take up a lot of your time. However, a more reliable and convenient option for collecting such data and uncover qualitative insights is leveraging the modern Digital Adoption Platforms. Whatfix DAP helps you continuously track usage of training content, from anywhere.
With Whatfix, You can identify:
Users' engagement rate with your content

Weak points in your content

Unique users and their behavior

Content consumption trends with the built-in end-user feedback to understand the usefulness of training
This information can be used to improve the training content that a lot of people start but don't finish, identify the content that may not be necessary for your program, or even add more helpful content to address the commonly asked questions.
So that was our collated list of best practices for training remote employees. Remembering and implementing these will help to keep your workforce engaged and increase productivity!
Also, with remote workforce soon becoming the norm, it's time for you to consider leveraging a Digital Adoption Platform to address the majority of remote training hitches and effortlessly train your remote team on enterprise applications.
To learn more about how Whatfix can help you effortlessly train your remote team, you can schedule a demo with our experts!