Are you looking for top WalkMe Alternatives?
Is your digital adoption going downhill? Thinking of getting an Enterprise-class guidance and engagement platform for your web app? Still confused about whether to go for WalkMe or the best among WalkMe alternatives for your product adoption initiatives?
Top 9 WalkMe Alternatives to Consider in 2020
Whatfix is one of the Biggest WalkMe Alternatives
Among these vendors, Whatfix is the biggest and the best WalkMe alternative out there and we will be telling you why. Keep reading further to learn 10 reasons why Whatfix is the best among the various alternatives to Walkme to boost digital adoption within your organization.
Compare WalkMe with Whatfix (A one among top WalkMe Alternatives)
Here you'll find a lot of specific information that will help you compare and contrast while looking at tools similar to Walkme, primarily Whatfix. We've included all the vital elements like features, customer experiences, pricing and even thoughts from the current Whatfix customers, to help you choose wisely.
So, let's dive in and see the how Whatfix is one of the top WalkMe alternatives.
[popup_anything id="4704″]

9 Reasons Why Whatfix Is one of The Best WalkMe alternatives
To help you with your evaluation of alternatives to Walkme, here are 10 top of the mind advantages about why Whatfix is a great Digital Adoption Platform and a fantastic WalkMe alternative.
1. Whatfix is a simplest to use digital adoption platform
Often, it is a misconception that simplifying the product adoption process is very complex. The nightmare is the creation and updating of all the user onboarding, training and support materials.
With Whatfix, you won't have that worry!
Whatfix Digital Adoption Platform, using interactive walkthroughs is a one-stop solution for all these product adoption woes.
All you have to do is install the Whatfix browser extension and you are good to go. The browser extension will work seamlessly on any web page. You just have to click on it, launch the Whatfix Editor and start creating your walkthroughs. There is absolutely no programming effort required which means your IT team doesn't have to get involved and you can start working right away.
Creation of an average 10-step Whatfix walkthrough would take roughly 3-5 minutes.
Here's how you create walkthroughs with Whatfix:

Done creating? Missed out on something? Well, simply click on the "Edit" button on your guide to launch the Whatfix editor. Whatfix's editor can also be a launched into a full-edit mode which gives you complete control
over editing
and the maintenance of the walkthroughs efficiently.
And if browser compatibility is a concern for you, then here's a detail of Whatfix that you'll love.
Whatfix editor works seamlessly on Google Chrome and Mozilla Firefox.
[popup_anything id="4715″]
Read more about how Maxwell Health used Whatfix's Digital Guidance and reduced 25000+ support queries here.
2. Our Smart Interactive Layer is One Of A Kind
Did you think Whatfix is just an interactive walkthrough solution? Well, there is a lot more than what meets the eye!
Whatfix's digital guidance and engagement platform is smartly designed to scale with your requirements. Our smart interactive layer allows you to reuse Whatfix walkthroughs in multiple embeddable formats. And the best part, all the different formats are readily available to you, once you create the guide.
Our Smart Interactive Layer is divided into two parts mainly:
1. Internal Layer – which includes the features that can be directly accessed within a web application
2. External Layer – which includes the multiple formats that can be generated from the created Whatfix guide
Here's a breakdown of both the layers.
Internal Layer
The internal layer of our Smart Interactive Layer comprises of specialized widgets of Whatfix that helps in user onboarding, training, and support as and when required.
1. Real-time interactive walkthroughs


This here is our show stopper. Whatfix interactive walkthroughs are overlaid balloon tips that virtually handholds users through tasks in web platforms.
2. Smart Assist (Self-help widget)

No matter where you are on the web platform, you can ensure Whatfix's help to be there. Our embeddable self-help widget will provide your users with all your Whatfix walkthroughs quickly and easily.
The self-help widget's smart assist technology allows you to include multiple formats of content within it like walkthroughs, videos, links, and even text. It is a moreover a one-stop knowledge base available on-demand round the clock for your end-user. The self-help widget can also be further configured to integrate with your ticketing and customer support platform.
Content within the self-help can also be organized into logically structured groups for easy access.
3. In-app User Onboarding and Training (Task List widget)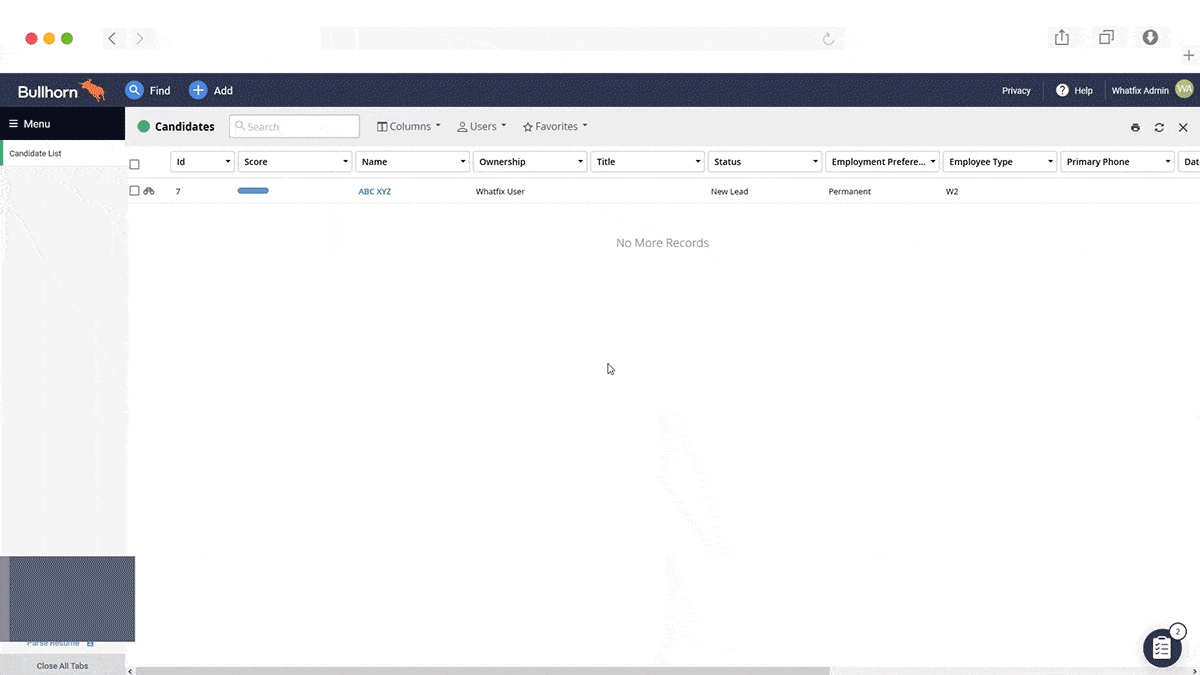 Conduct virtual user onboarding programs on your web platforms with our Task List. It will show the user all the required tasks to get started and will also track their progress simultaneously.
Whatfix Task-list can be configured to be a mini-LMS right within your web platform. With task completion tracking, you can deliver your Whatfix content as mini-modules or courses to your end-user.
4. Contextual Info Tip (Smart Tips)
Ever got lost while filling a long, detailed form? Well, who hasn't! Whatfix Smart tips are a level up to the traditional tooltips, which provides instant contextual help on any element, on hover over.
5. Smart and Guided Pop-up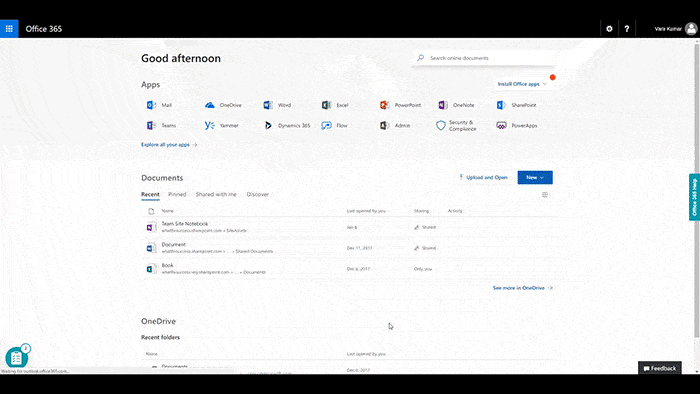 Whatfix's smart and guided pop-ups are used to provide product tours and specific notification message to users. They can be configured to include videos and a call-to-action button which can be further linked to the relevant content.
External Layer: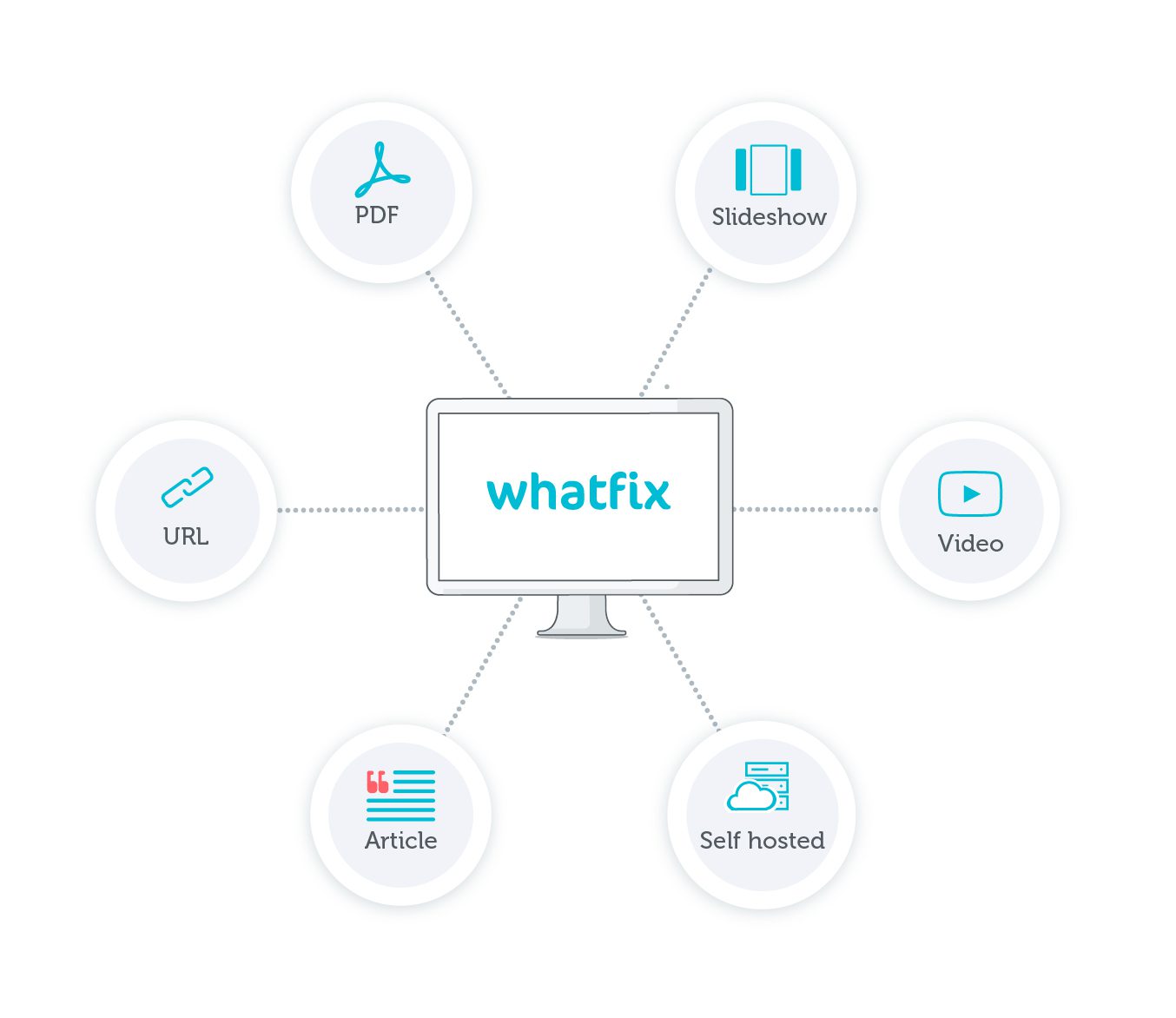 1. Slideshow: Do you want to convey the idea of a guide quickly? Then, Whatfix's Slideshow would definitely come in handy. Each of the slides has interactive instructions and the Slideshow can be easily embedded into any website or web app.
2. Annotated Video – Whatfix guide is automatically converted into an annotated video with mouse hover-over. You can download the video for offline training or push it online to your authorized YouTube/Wistia/Vimeo channel. Both these options are widely used by our customers.
3. PDFs: This is a feature that you can extensively use to create your documentation and training material. Just create the guide and export it as a PDF for quick reference.
4. Article: Do you have sequential screenshots in your help section? Embedding Whatfix Article format (annotated screenshots) is the simplest way to ensure that your users get the help they require.
5. URL – Whatfix works across all the major user touch points like chats, emails, and social media channels. Generate the guide into a link, and share it across quickly and easily. On click, the link will direct you to a live interactive walkthrough.
6. Self-hosted model – Do you want to host Whatfix walkthroughs on your own server? With our self-hosted export version, you can easily export all your walkthroughs from Whatfix cloud to your own servers.
Our smart interactive layer makes us stand out as one of a kind among WalkMe alternatives. Do you think these features are useful? Then, you can read more about them here.
3. Whatfix is the World's First SCORM Compliant
In-app Guidance
for LMS

This is something that we take a lot of pride in. With our SCORM compliance, we are able to serve all the LMS users extensively. Whatfix's walkthroughs can be easily converted into a SCORM package, which can then be uploaded to LMS as interactive courses.
As an additive feature, you will also have a default checklist to monitor your progress through the course.
Whatfix's integration with LMS is also pretty quick and easy.
(Scroll down to read about our integrations in detail.)

To read more about Whatfix's SCORM compliance as WalkMe alternatives, click here.
4. Whatfix can be easily integrated into web platforms
a. No code integration
Not too tech savvy?
Having trouble with coding?
Having trouble with coding? Whatfix integrations are all one-line codes for this matter. So, it doesn't matter whether coding is your cup of tea or not, you can easily integrate Whatfix's interactive elements onto your web platform with our one-line extension less code.
b. Syncing to Desk platform's

All Whatfix walkthroughs have the option to directly sync to popular desk platforms like: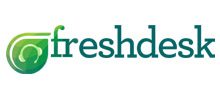 With this integration,
you can keep
your knowledge base (or helpdesk) updated by merely modifying the Whatfix guide.
So, each time you update a created Whatfix guide, just click on the Sync to Desk button, and it'll get synchronized to your knowledge base right away.
Another feature that holds Whatfix as a strong platform over the other alternatives to WalkMe is that our solution aims at getting you the help from your helpdesk in real-time. The Whatfix walkthroughs integrated has a "See-Live" option that will redirect you directly onto the web platform and guide you through the task at hand, in real-time.
c. Integration with LMS
With the additive advantage of SCORM compliance, Whatfix walkthroughs can easily be synchronized with SCORM compliant LMS. This means you can use Whatfix on LMS for making the eLearning interactive, creating documentation and courses easily and also to make your LMS self-serving.
d. Integration with Video Platforms
Do you have a presence in popular video channels like YouTube, Vimeo, and Wistia? Our walkthroughs can be authorized to integrate with your company's video channels as well. This will help you built a repository of tutorials, all in one place for your users.
5. Drill down your data with Whatfix Analytics

Whatfix in-built analytics will help you understand and analyze your end-user behavior proactively. The analytics, accessible from the Whatfix Dashboard gives you an overall picture of how the Whatfix implementation has been useful to you, drilled down details per widget usage and insights into what more can be done with Whatfix on your web platform.
You can also export customized analytics reports that contain performance-based data to compare and further scrutinize your data.
In case you already are using an analytics platform to collect all your data, you can link it with Whatfix using the API. You also have an option to push all your analytics data to your Google Analytics.
6. Whatfix is Enterprise Ready and Highly Secure


Whatfix maintains stringent data security norms and has received the ISO 27001:2013 certification for demonstrating adherence to internationally recognized standards. At the same time, Whatfix is also SOC 2 compliant having demonstrated the effectiveness of controls pertaining to the trust service principles of security, availability, processing integrity, confidentiality, and privacy.
Having a significant footprint in the European market, Whatfix has also taken steps to ensure compliance with the GDPR and has unveiled new policies and procedures to ensure the same.
7. Whatfix Community has the largest collection of walkthroughs in the world
Yes, you read that right. Our community version has the largest collection of guided walkthroughs, created on websites and web applications across different verticals. Our user base spans across the globe and our free community platform allows them to get the first-hand experience in using interactive walkthroughs, for free.
The aim of our community version is to declutter the web, i.e. to help simplify complex tasks and web apps for the community members. It is also a great place start-ups and individuals to get started with Whatfix.
If you are an SMB or an Enterprise looking for an end-to-end solution, then try Whatfix's competitively priced SMB and Enterprise model.
8. We believe in Proactive Customer Support & Service
We understand that our customers are our ambassadors. We want to ensure that you are happy and satisfied with Whatfix at all times.
Our Customer Success team is available round the clock and has a guaranteed 24 hours response time to all tickets. But yeah, it's highly likely that they will resolve all the cases in a much shorter timeframe. 🙂
In case you need assistance in creating Whatfix walkthroughs, then you could also go for our professional services package. Where we will create the walkthroughs on the needed platform on your behalf.
[popup_anything id="4707″]

Want to find out how Cardinal Health Canada is driving user adoption with Whatfix Digital Guidance? Find out here!
9. We love to make things simpler for you
a. Pre-signup Co-creation sessions
Even before you are onboarded, to let you know the flavor of Whatfix on your platform, we have a co-creation session. In the co-creation session, our team will handhold you and show you how easily Whatfix can work on your own web platform. Seeing is believing, so it's better if you see and then decide.
b. Free Training and Q&A session
We believe in learning by doing. So we make sure that all our newly onboarded customers have a first-hand experience of our technology for better understanding. Our Customer Success team ensures this with a free tailor-made training session during onboarding, that will help you use Whatfix to solve your pain-point effectively. If you have any questions, then this would be the perfect time to clear them all.
Our sessions include Storyboarding, Creation, and Deployment.
c. Free Technical Implementation session
For quicker deployment, right after your user onboarding training session, we will be providing you with a technical implementation session. This session will cover all the touch points on how to implement Whatfix on your platform efficiently.

Want to read what our customers have to say about Whatfix. Check out our reviews on leading software review websites such as capterra, g2.com and getapp.com.
Have any queries or feedback? Do let us know in the comments.
Interested in trying out Whatfix? Register today to schedule a demo of the Whatfix Digital Adoption Platform and find out how it can help your organization.
[popup_anything id="4710″]