To blend or not to blend? That's a Catch-22 situation that confuses every L&D manager when it comes to creating their employee training strategy. Well, quite frankly, it is inevitable. Especially since the risk factor and the cost metrics due to ineffective employee training are humongous! According to a slide deck compiled by Grovo, here's the total loss to a business due to ineffective employee training.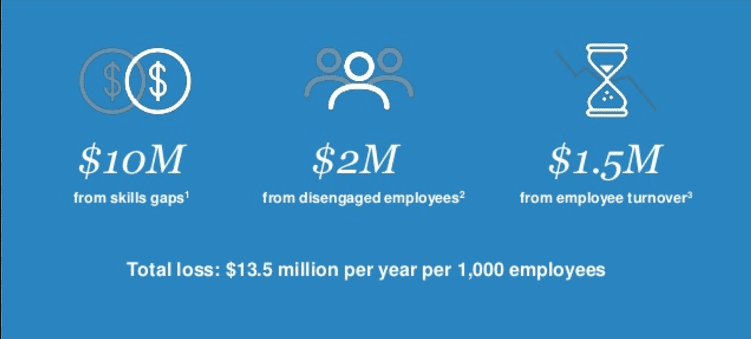 Quite alarming, isn't it? Well, here's another interesting fact from Gallup's 142-country study on the State of the Global Workplace – "Only 13 percent of all the employees worldwide are "highly engaged," and 26 percent are "actively disengaged."
Put both the stats side by side, you'll understand why there's an imminent need to recheck your current employee training strategy. There are a lot of befuddled employees that are unsure of how well they know what they are trained in. And they are probably causing the holes that are depleting the billions you are pouring into L&D. Most of the times, this could happen because your employees don't practice what you preach or rather don't know what they should know, to do what they were recruited for. A subtle strategy change could work out miracles in such scenarios.
Let's do a simple exercise. 
Imagine an upbeat Drumbeat that kickstarts your energy, playing at the back of your head. It goes in a perfect rhythm that makes your feet move to the beat. Then begins a sublime Piano stroke that adds charm to the music and color to the beat. The music may seem a bit hollow after some time, but that's covered with an Acoustic Guitar that starts playing as the lead, right to the note. To add up to it, a Cello gives it a soulful base that makes the music exceptionally beautiful. This music is a fusion that you've always wanted to hear. And probably everyone one of us will have a similar fusion that they would love to hear.
Everything would feel better when the mix is right. The mix needn't be decided by anyone, it feels better when you yourself decide what you want to do. Even if it is music or when it comes to learning or training. This is the concept of Blended Learning, a popular employee training and learning technique that helps individuals find their right mix of learning, on their own.
Let's begin by reasoning out the basic questions.
What is Blended Learning?
Blended Learning is a hybrid form of learning that mixes and matches traditional Face-to-face training (Classrooms, workshops, etc.) and modern web-based training and E-learning. The right mix is decided on the basis of the class, the discipline, and learning objectives. Popularly adopted by educational institutes, this methodology is now rapidly being adopted by businesses to train their employees.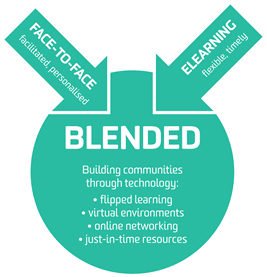 The blended learning approach is always flexible and not forced. And that makes a huge difference when it comes to training a multitude of employees.
It ensures that the learner can learn in his/her own pace while being engaged throughout and finding a self-driven motivation to learn. The non-intrusive approach works best in a Corporate setting because every employee might have a different learning aptitude and each employee's learning curve differs. It all boils down to how you set up your blended employee learning program.
7 Compelling Reasons To Adopt Blended Learning
Here are some compelling reasons on why you should upgrade your employee training to a blended approach.
1. Better the Resources, Better the Training
A research project by Middlesex University for Work Based Learning found that from a 4,300 workers sample, "74% felt that they weren't achieving their full potential at work due to lack of development opportunities."
Resources play a huge role in the development of an employee. Blended learning for employees is one way to make sure that your employees get what they expect and sometimes even more. Most of the employees want training to feel valued when they get it, and to make sure that they develop their skills while at work.
In fact, the same research also mentioned that "Nine out of 10 employees felt that training was important, particularly if it was delivered in the workplace, although 83% said they would consider undertaking a relevant course at home."
Adequate learning and training (both at the workplace and at their own comfort) will help in reducing workplace frustration and anxiety for your employees and make them happy and more engaged in their day-to-day activities.
2. Training Employees with Blended Learning is Cost Effective
Let's be honest. Employee Training was/is never cheap. Whatever traditional methods you take, be it an instructor-led classroom, induction workshop, seminars, or even face-to-face training, they may not justify your cost metrics. But since it is an unavoidable exercise, you make sure that an efficient solution is implemented.
A case study by Clive Shepherd on Dow Chemicals said that "Online training reduces training costs to just $11 per learner when compared to the traditional classroom training expenditure of $95 per learner. "
To achieve this Dow Chemicals used a Learning Content Management System (LCMS)  that helped them in mixing and matching learning objects to meet specific requirements. Despite the cost efficiency, the system also made it possible to personalize the learning objects to meet their individual requirements.
So, evidently implementing an E-learning strategy alongside your traditional training methodology is probably going to save you some big bucks!
3. Blend Learning on the Basis of the Learner's Engagement Level

Training is not one size fits all. That is something that we've been mentioning over and over in all of our employee training related articles. The fact is that the grasping and learning power of each individual is different. A blended approach will allow you to ensure that your employees learn at their own pace. Which in turn helps them drive their learning experience individually, engaging them better during their training.
The engagement can vary on the basis of the training methodology as well. The blended approach will allow you to provide your employees with a verbal, visual, contextual and physical engagement in the same program.

Verbal and visual being the instructor-led training or tutorial videos, Contextual being just-in-time help like in-app interactive walkthrough, physical being hands-on training sessions on the platform.
Train your employee effectively by engaging them step-by-step, try Whatfix interactive walkthroughs!
4. Efficient Analysis of Learner Performance
The most important post-training or mid-training exercise that every organization must practice is gathering feedback from employee training sessions. Well, if you don't it's pretty much like tuning up a guitar, after a performance. You need to understand what your employees think of your training efficiency so that it is a measurable metric throughout.
Blended Learning gives an effective system for this. Especially since there is a collaboration of multiple learning modules, it becomes easier to monitor and measure the effectiveness of the program. The division in modules will help you collect employee feedback in small chunks that is frictionless and not intrusive.
5. Tailor learning programs appealing to all learning styles
Blended learning allows companies to set up multiple channels for employee training based on the preference of learning styles. The training can include both offline and online channels that cater to the individual's learning style and demands.

This could also be helpful if the employee's missed out on a scheduled training session like a workshop. The tailor-made learning program would enable the employee to find information through online resources, webinars (even their recordings), ebooks, etc.
With such an approach the learners will be able to experience the advantages of a traditional classroom, along with the flexibility of E-learning.
6. Ubiquitous training across geography

This idea is quite applicable for MNC's and Corporates that are present across the world. They may have to train a large number employees, and a distributed learning channel would be unrealistic for the company. In this case, blended learning approach can be applied to provide all the learners the resources post their instructor-led sessions.
Employing multiple learning channels would also help in appealing to their learning styles.
Looking for a plug and play multilingual employee training platform? Check out Whatfix.
7. Make learning fun with out-of-the-box ideas
Employee training sessions are generally perceived as monotonous and boring. Well, it's something that can be helped if you think a bit out of the box.
Blended learning has no restriction whatsoever. Because its core idea is to make learning flexible. So, you can mix and match any possible training methodology to make it work. Gamification and real-time contextual guidance are some of the widely used blended training methods.
Gamified training mostly relies on progress based rewards that motivates the employees to learn more, while keeping them engaged throughout.
Companies like SAP and Deloitte are participating in what Forbes estimates is a $5.5 billion industry by "gamifying" their training programs, and both have seen considerable success.
Real-time contextual guidance like that provided by Whatfix, is the new gen methodology that works on par as a performance support system. It provides help and guidance to the employee just-in-time, making the learning by doing experience interesting and engaging.
---
Which all training methodologies do you blend in your organization? Let us know in the comments below.