In 2019, enterprise software spending rose to $457 billion globally. However, more than half of CIOs report that up to 24% of SaaS subscriptions go unused at their companies. All too often, technology is forced upon employees without a clear plan to help users adjust or properly use new tools.
While the strategy for introducing new software, tools, or any type of technology into an enterprise organization will vary, there are certain change management principles that can be applied to any transformation.
We chatted with several business leaders about how they handle tech-related changes in their own companies, and they shared the key principles of change management.
Create a Sense of Urgency
Roll out in Phases
Address Resistance and Communicate the WIIFM
Use a Variety of Training Methods
Establish Change Leaders
Ask for Feedback
Let's dig deeper into these principles of change management.
1. Create a Sense of Urgency
According to the Enhanced Kotter's 8-Step Change Model, it's important to present change as an urgent opportunity. With tech-related changes, employees often lean toward the status quo. Presenting new technology as a pressing need helps move the change forward.
Luis Marrero, director of marketing at Stealth Media Marketing, applied this change management principle when he introduced a proprietary automation to his employees that mixed Zapier, DocuSign, Mixmax, and Google Sheets. Before the automation, his team spent days onboarding new clients, so he presented the automation as an urgent opportunity to save time.
"Prior to integrating any new technology/software into our agency, I look at areas where we're lacking or spending too much time," Marrero says, "[then I] put together an action plan of how we can cut down on the hours it takes to execute the specific task."
Dominic Kent, the founder of Unified Comms Influencers, also believes in change management principles focused on moving quickly. "Acceleration of use is key," he says. "A typical process is formed of three stages: trial, accelerated rollout, and accelerated adoption. The acceleration element is crucial to reaching the end of the third stage."
Moving quickly is important, but before you hit the gas, make sure you know where you're going and what pitstops you'll make along the way.
2. Roll out in Phases
While this may seem like a contradiction, you can create a sense of urgency while still breaking your implementation down into phases. Think of the phases like mile markers for a marathon — runners get a burst of motivation for every mile they complete, pushing them toward the finish line.
Similarly, setting milestones tied to particular phases in your technology rollout will keep the sense of urgency alive. Milestones also make it easier for change leaders and employees to mark their progress.
Kotter's 8-Step Change Model, the Nudge theory, and the ADKAR Model all consider celebrating small wins an important change management principle. All three stress that acknowledging achievements reinforces the change as the new norm.
Rolling out in phases also helps you avoid overwhelming your team with too much information at once. Gradual changes are less jarring and give employees time to learn.
Frane Šarić, chief technology officer at OptimoRoute, says, "gradual and piecemeal deployment of new technology allows gradual validation or buy-in of the engineering teams and your users. We strongly avoid the all-or-nothing approach to upgrades and migrations."
Digital Adoption Platforms (DAPs) are great for self-paced learning and allow employees to learn new tools while they use them. Instead of dumping an instructional manual into your employees' laps, you can leverage contextual walkthroughs and in-app instructions that provide hands-on training right when employees need it.
For more resources on gradual deployment, refer to our guide for creating an effective digital transformation strategy in six steps.
3. Address Resistance and Communicate the WIIFM
Many leaders address resistance to new technology by presenting the benefits of the change and answering "what's in it for me?" (WIIFM) questions for their team. Kent of Unified Comms Influencers follows this change management principle, stressing that "it is important to thoroughly communicate what is in it for them — not just the generic benefits."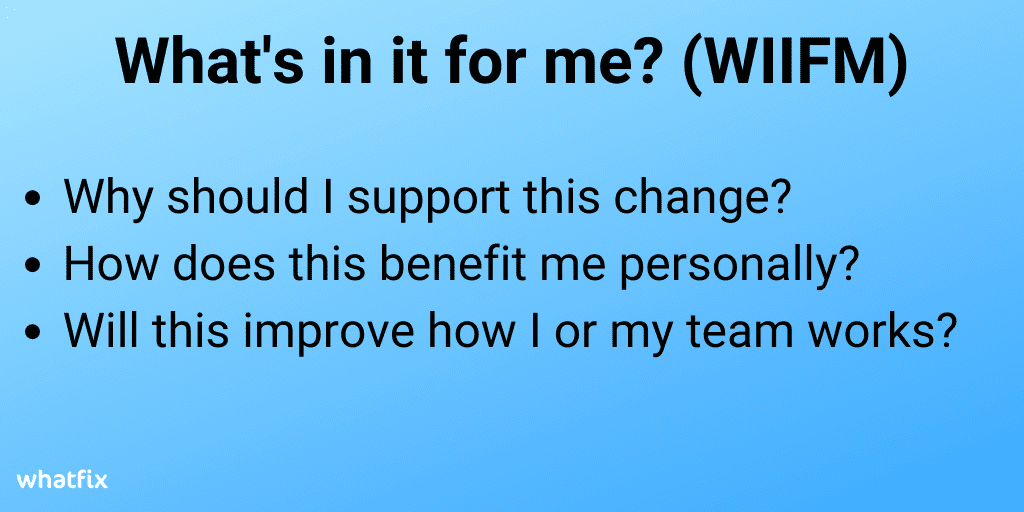 Šarić of OptimoRoute believes that "resistance to technology change typically stems from justified fears about introducing regressions, such as performance degradation of the existing feature set or bugs that did not exist before."
Maurer's 3 Levels of Resistance and Change Model backs up Šarić's theory. The first level of resistance is "I don't get it" — people resist technology when they don't understand how to use it and/or the need for it.
To address resistance rooted in fear, leadership should not only answer WIIFM questions but also show their teams that guidance will be available throughout the transition.
"It's important to hear everyone out and make sure they feel understood," says Jordan Chitwood, implementation consultant at Zylo. "Showing them the full picture and explaining the product roadmap and how changes in technology can help push future product needs they are looking for can help with perspective."
Once your team feels more confident in the need for the new technology, you can focus on helping them learn how to use it.
4. Use a Variety of Training Methods
Thirty-one percent of Learning and Development (L&D) professionals consider "teaching their employees to use technology more effectively" to be one of their top three challenges. When designing your technology implementation plan, be sure to include training that caters to a variety of learning styles.
Start by setting up a company wiki to keep all knowledge and training materials centralized. Chitwood of Zylo says, "We have a robust knowledge base which is extremely helpful." She adds that the knowledge base includes multiple walkthrough sessions that make finding answers to questions easier.
Jaclyn Kalb, general manager at Frontify, believes ongoing training through a variety of methods is crucial.
"Video calls, in-person training, and supplemental newsletters, videos, and thought leadership pieces are all key to ensuring transition into new tech."
Whatfix's Digital Adoption Platform makes providing multiple training options simple, allowing you to bring various training methods directly into the tool your team is learning. For example, if you're switching to Servicenow to change the way your employees work, you can integrate Whatfix to provide contextual walkthroughs, PDF guides, link out to the company wiki, etc.

5. Establish Change Leaders
Before introducing any technology into your organization, you'll need vocal supporters of the transformation.
Henrik Saetre, head of growth at AdChina.io, says, "We make sure to have a specific person in charge of implementing [the new tool] and ensuring that it is ready to be used."
Saetre thinks back to when their video conferencing tool stopped working in China, where half their colleagues are located. After researching tools and picking the winner, his team designated one person to be in charge of getting everyone set up. He says, "Having one person in charge of this ensured that it got done (versus the 'someone find a way to solve this problem' approach)."
Šarić of OptimoRoute refers to his change leaders as "internal evangelists," describing them as the people who spend time evaluating new technology and then pitching it to the rest of the organization. According to Šarić, "The key to successful training is gaining a small cluster of internal expertise."
Internal support and expert knowledge play an important role in technology adoption. Kalb of Frontify says that when introducing new technology, "initial steps always include ensuring that there are internal stakeholders bought in, that are championing the implementation and have their stake in ensuring its adoption."
Depending on the scope of your transformation, you may need several change leaders across your organization. Use change management plan templates to establish the change leaders and their responsibilities.
6. Ask for Feedback
You can't successfully integrate new technology without the participation of your employees. Soliciting feedback helps you address doubts and concerns as they arise and move forward together as a team. As you introduce technology, be sure to use a mix of anonymous surveys, group feedback sessions, and one-on-one conversations to gauge your team's response to the change.
The Nudge Theory and Deming Cycle (PDCA) both consider feedback a crucial aspect of managing change. Listening to feedback not only ensures that employees feel heard; it also gives you valuable insight into concerns and pain points.
Saetre of AdChina.io notes that while his company often ends up moving forward with the planned technology, more than once, they've changed directions based on feedback they received. And, "in every case where [they] have met resistance, [they] have come out of the process with an improved understanding of some part of [their] business."
Asking your team to weigh in on changes shows that you respect and value their opinion. Šarić of OptimoRoute believes that soliciting feedback from your team makes employees feel more empowered and "avoid the feeling that a solution is being forced as opposed to proposed."
Be sure to leverage your change leaders to communicate change and address feedback through the right person. Remember, employees want to know how the change will benefit them personally. Direct supervisors make good change leaders because they are familiar with their team's daily duties and thus better equipped to answer WIIFM questions.
Apply These Change Management Principles with Whatfix
Ready to apply these proven change management principles to your next tech change? Whatfix's Digital Adoption Platform has helped companies achieve impressive results, such as increasing user adoption rates from 10% up to 50% in just three months and cutting training time by 50%.
Sign up for a demo to see how Whatfix can help your company.