"Training is not one size fits all."
As a Project manager, this is a thought that you must constantly ponder over before setting up your Salesforce training program.
The effectiveness of your training program entirely depends on how well your training methods are tailored to fit each employee. Methods used for training could vary from a Salesperson to a Developer to an Admin and to an Architect. By maintaining the relevancy of these training methods in check, you will certainly be able to show a better turnover, in the long run.
But, If you end up skirting this crucial aspect, then in all likelihood, it will affect your company's bottom line, negatively.
So evidently, you must learn how to reinvent your company's training wheel, effectively. In this post, we've compiled few definite tips, that will help you make the best out of your available resources, and drive your employees to achieve spectacular results.
Where should you start? The first best option is to decide on what training, for which employee.
1. Make the Salesforce training relevant to each employee
Generally, companies provide hands-on Salesforce training to their employees. But, a major drawback to this approach is that they train employees on all aspects of the Salesforce, irrespective of what may be useful to them.
The ideal way to do this would be to create dedicated Salesforce training resources for specific job roles. So, no matter whether your employee is a Salesforce User, Admin, Developer or an Architect, with a tailor-made Salesforce training program, they will get up-to-speed in no time.
Make sure that you are prepared with the specific training materials made ready for them before you dive in deep with the program. You can be assured that your training is working well, if your employees readily recognize each lesson as an important part of their job, that they were recruited for.
2. Build a kickass Onboarding Process
Training on Salesforce is an ongoing process. But it could get cumbersome at times. Many Salesforce users end up tripping over the same hurdle again and again and re-learning the same lessons, even after the training program. This is why a good user onboarding process, i.e. the initial training given to an employee as soon as he/she joins, is crucial. When executed right, this would significantly improve the adoption rates of your employees. 
For this, there are a lot of methods for you to choose from and it could be anything ranging from manual training to a completely automated onboarding process. Another aspect that will help you big time is picking the suitable user onboarding tools for your Salesforce training program.
In one of our articles on Salesforce Onboarding, we have written in-depth about the best practices followed. The following are the topics it covers:
Learning Salesforce via Trailhead
Utilizing Salesforce chatter app
Live training with Whatfix flows
Personal training by Salesforce experts
Documentation and Videos
Encouraging colleagues to train each other via the credit system
Assigning an onboarding buddy
Once you have decided and executed your Salesforce onboarding properly, rest assured your employees will understand the basics of Salesforce, well enough to do their job efficiently.
Moving on, another idea that you can incorporate into your Salesforce training program is that of an immersive learning scenario.
3. Give your employees a real-time immersive learning scenario
An immersive learning environment on Salesforce will allow your employees learn by being 'totally immersed' in the platform, in real-time. It will help your employees hone their technical, creative, and problem-solving skills while making them more proactive to different situations.
This, in turn, will usher them to adopt Salesforce quickly, understand its different functionalities, and be proficient in its usage. With a real-time immersive learning that has a broader context of how to use Salesforce, you will be able to prepare your employees to be avid users.
Immersive learning environments include virtual programs, gamified approach to learning, guided walkthroughs, and multi-user virtual environments.
4. Adopt external training resources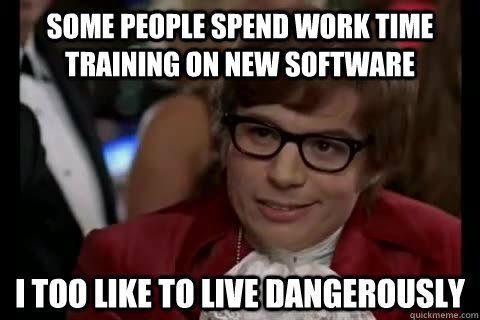 Source: Recruiting Daily
There are a lot of companies who create valuable Salesforce Training resources, specifically to cater the needs of their clients. Although Salesforce itself has made available a plethora of content to learn from, these third-party tools concentrate on solving one issue at a time.
For example, Whatfix is an intuitive SaaS-based tool that enables companies using Salesforce, create walkthroughs to:
Onboard new employees with ease

Train employees on real-time immersive environments

Simplify documentation 

Reduce support queries
With these walkthroughs, you will be able to reinvent your entire Salesforce training program easily and effectively. To understand the potential and effectiveness of Whatfix, click here to get a free-trial.
Want to know why Whatfix is a better Digital Adoption Platform than others in the market? Click here to find out. 
Moving on to the next point, how can you train your employees to leverage the customizable design of Salesforce.
5. Teach your employees about Salesforce's greatest strength – Customizability

Source: Dilbert
If you ask any long-time user about their experience with Salesforce, then you will surely hear a lot about its customizability. Salesforce with its end-to-end customizability of fields, objects, workflows, integrations, dashboards, etc. has been flaunting this capability, since always.
So, when it comes to training your employees on Salesforce's customizability, instead of showing them how to customize Salesforce, train them on how they can personalize each aspect of their Salesforce to achieve the best possible results with the software.
For instance,
Train your sales team to sell better by showing them how to customize their sales cycle and get relevant insights about the market
Teach your customers to auto-log when they use your product, which will help you in the long run to reduce churn
Make sure that your Admins understand the customizable aspects to create a seamless experience for your employees using Salesforce
Help your marketing and support team gather data from prospect to account management for their campaigns
Create an environment for your Developers to learn how to extend Salesforce using Apex and Visualforce
Do remember to share few important thoughts during the training program.
1) It is always best to take a holistic approach to customizations
2) Utilize the out of the box features whenever required to make the route to business success, simpler
3) Over-customization of Salesforce may put the platform in disarray.
That brings us to the final point, why you should make revising and measuring the efficiency of your Salesforce training program a priority?
6. The key to an efficient Salesforce training program – Revise, Measure, Repeat!
No training programs are perfect. And that is why you should keep revising it from time-to-time. This will help you discover newer technologies that can simplify the training process even further, incorporate effective proven methods, and understand what is working for you and what isn't.
And for understanding what's working, make sure that you measure your progress actively. Here are a few vital tips that you should keep in mind when you measure the progress:
Interact with your employees and understand their pain points

Assess the significant changes in your employee's learning curve
Learn the behavior of your employee towards the training
Take your time and solve one issue at a time &
Remember that the effectiveness of your Salesforce training program reflects on your positive approach towards it.
Summing up…
Before you reinvent your Salesforce training wheel again, make sure that you:
Make your training program relevant to each of your employees
Built an onboarding process that works!
Give your employees real-time experience with an immersive learning environment
Discover and adopt third-party tools that can simplify and augment your training
Train your employees to leverage Salesforce's customizability &
Revise your training program, measure its success, and keep iterating it from time to time
Do you have more points to add to this? Tell us in our comments.
✓ Thank you, the checklist will be sent to your email
Salesforce End User Training Checklist
To take the stress out of planning, we've created a detailed end-user training checklist for Salesforce. Don't worry, it's free to download and use.