Managing a seamless customer experience can be quite overwhelming as it involves understanding how customers interact with your product and what they expect from it. Customer experience management tools simplify this process by capturing highly relevant customer data and offering actionable insights.
Customer experience management tools are equipped with diverse capabilities like content management, customer analytics, contextual help, and customer feedback. But, there are a number of such tools available in the market and the real challenge is to identify the tool that works for you.
To make things easier, we have compiled a list of 13 customer experience management tools that you can use.
1. Medallia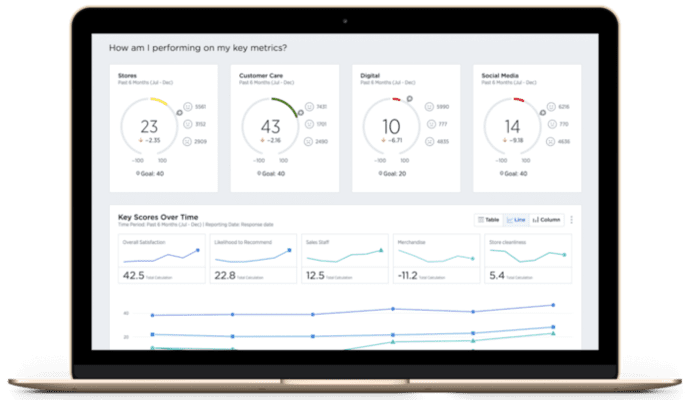 Source: Medallia
G2 Crowd rating: 4.5
Medallia is one among the top customer experience management tools that are there. It drives collaboration among employees through specially designed workflows and insights that allows employees to understand what their specific role is in improving the experience of a customer.
Medallia uses analytics and customer feedback to understand customers better. The platform collects feedback data from sources that are structured as well as unstructured. Each time a customer leaves feedback, the platform raises a new case in order to address the specific user concern and resolve it quickly. In addition to this, the customer feedback is incorporated while developing products and services in an effort to make sure that data can be collected through mobile, in-app, or online surveys. This allows you to test your ideas and obtain insights directly from your customers as to what will work and what won't.
Medallia also features reputation management which allows you to keep a constant look out at what customers are saying about your product on social media platforms.
2. Whatfix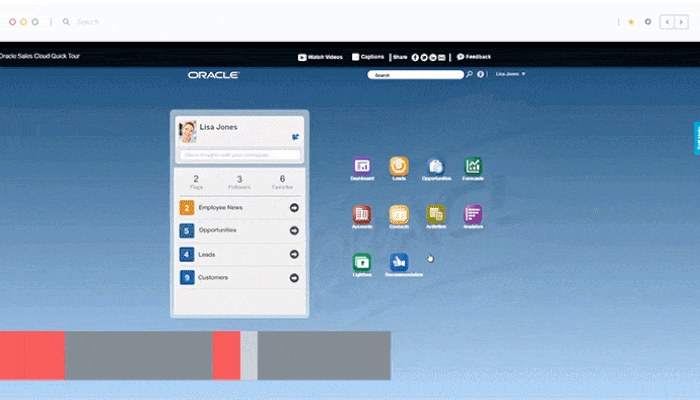 G2 Crowd rating: 4.7
Whatfix is a digital adoption platform to help accelerate user adoption on your product. You can easily streamline user onboarding with real-time contextual help that guides the users through the app. 
When it comes to customer experience management tools, Whatfix stands out with its core technology, interactive walkthroughs. With the platform, you can design in-app interactive walkthroughs with zero coding by simply using the Whatfix editor. Interactive walkthroughs help your users to easily navigate your product and engage with it as quickly and as thoroughly as possible.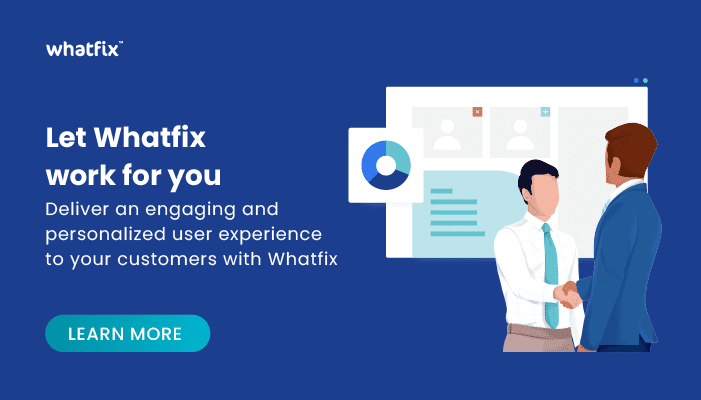 In addition, Whatfix features multifunctional widgets like Self Help and Task List.
A Task List is similar to an LMS. You can compile the task list according to how you want the user to engage with your product. The task list not only engages the users but also helps them to self-track their progress.
A Self Help widget is present at all times within the app. The widget offers just-in time, contextual help whenever the user has a query. All the help they require is embedded within the app and since it is contextual, it provides help exactly where the user needs leading to quicker resolution. Quick and useful resolution of queries amplifies customer experience.
3. Qualtrics Customer Experience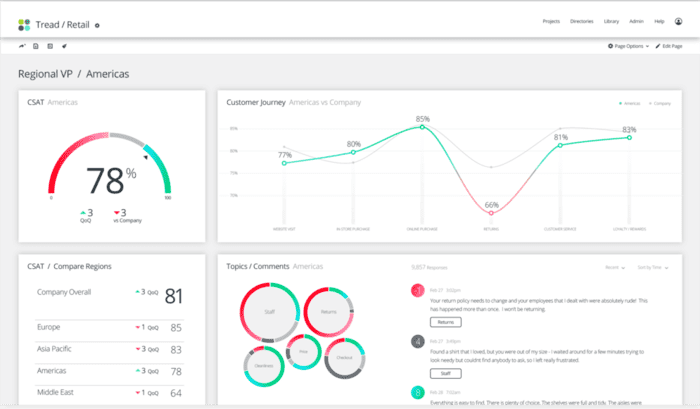 Source: Qualtrics
G2 Crowd rating: 4.4
One of the most important functions of customer experience management tools is to help you identify problems that your customers may possibly face and then react to it in the fastest and most effective way possible. This is exactly what the Predict iQ feature of Qualtrics does. In addition to understanding what drives customers to churn, the feature identifies at-risk customers and creates tickets for you to take immediate action.
It eliminates the need to spend hours creating predictive models and simplifies existing data so you can get to your customers faster. This is aided by two features, the Text iQ and the Stats iQ.
Text iQ carries out sentiment analysis and Stats iQ models customer behavior on the basis of customer segments and existing behavioral data.
A closed loop ticketing system collects and routes data to the appropriate teams so that specific customer pain points are addressed at the right time by the right people.
4. Censhare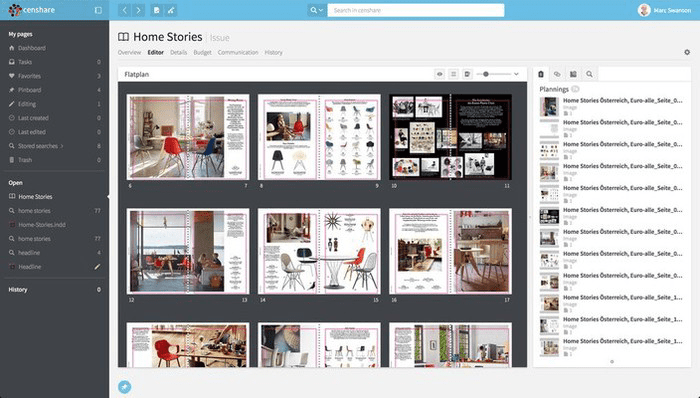 Source: Censhare
G2 Crowd rating: 4.4
Although Censhare's Digital Experience Platform is a complex web of several tools at first glance, in reality, like most customer experience management tools, Censhare primarily allows you to share relevant content across all touchpoints for an optimal user experience.
Besides omnichannel content management and digital asset management, Censhare also features what is known as marketing resource management that allows you to create, manage, and track the success of your marketing campaigns. The platform also incorporates effective project management that allows different teams to collaborate and ensure the success of all your projects.
5. NICE Satmetrix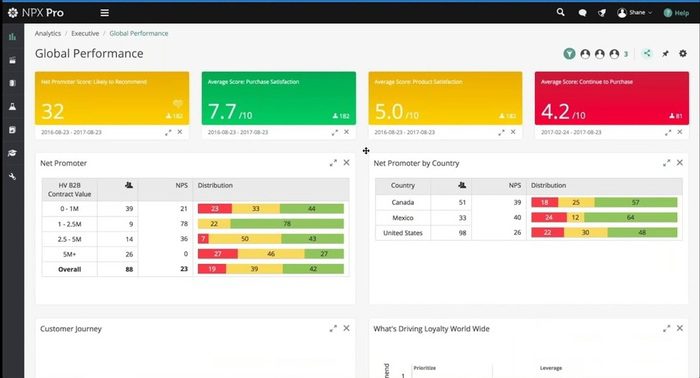 Source: YouTube
G2 Crowd rating: 4.3
Yet another customer experience management tool, Satmetrix focuses on helping organizations understand what causes their customers to become loyal and satisfied customers.
Customer feedback surveys are an effective way of getting direct feedback from your customers. Satmetrix combines both direct and indirect feedback to help you understand what works for your customers and where you need to improve.
Satmetrix uses tested algorithms to help visualize customer behavior and trends. This in turn can be compiled into reports and used to improve your programs.
And that's not all. The tool also has self-service controls that not only allows employees to explore the platform and implement custom changes but also turns out to be quite useful for the end-users as well.
6. IBM Digital Experience Manager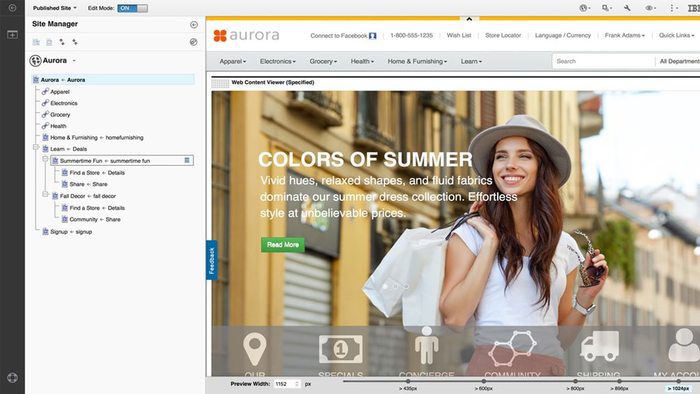 Source: IBM
G2 Crowd rating: 4.2
Delivering a thorough website experience is one of the pillars of customer satisfaction.The IBM Digital Experience Manager uses device detection and image optimization to deliver content personalized to the viewing characteristics of the user.
What's even more interesting is that the platform allows you to create personalized content not just for your customers but also your partners and employees in order to boost productivity.
Further, the IBM Digital Experience Manager also integrates with IBM Watson to bring out yet another interesting feature, cognitive tagging.
Large repositories of content can be quite daunting especially when you are trying to dig out something specific. Of course, you can simply add tags to all your assets however, it may not always be as thorough as you'd like.
With cognitive tagging, assets are analyzed and tags are automatically added making it easier for users to easily narrow down the content they need.
The platform also features integrated social capabilities that promote the exchange of ideas by connecting with forums and social platforms.
7. InMoment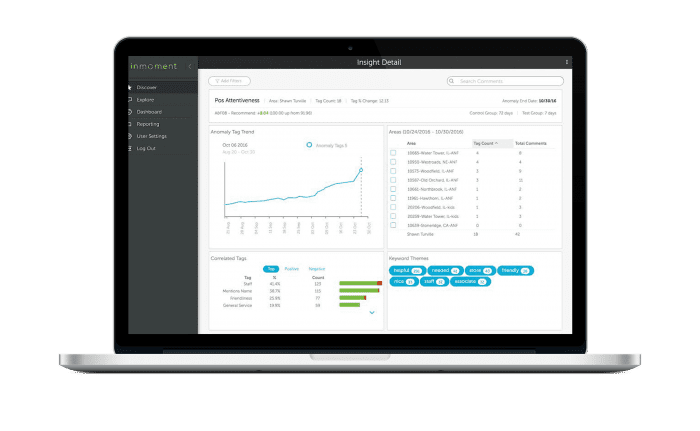 Source: InMoment
G2 Crowd rating: 4.2
InMoment is a customer experience management tool that captures customer feedback in both structured and unstructured form to help companies improve their overall customer experience. The platform uses text analytics to analyze customer data in the form of surveys, feedback, comments, and recommendations. Relevant information is filtered out and users are provided with real-time insights about their customers. Advanced listening techniques are used to ensure the quality of information obtained. the data is then incorporated into customer experience strategies and made available throughout the company. This ensures that different teams have access to the specific information they need in order to improve.
Various teams are notified of incoming customer data so that root causes of issues are identified and resolved quickly. The platform also allows teams to share different stories of customer experience in order to understand what strategies worked and what did not.
8. Chameleon: The Adaptive Customer Experience Platform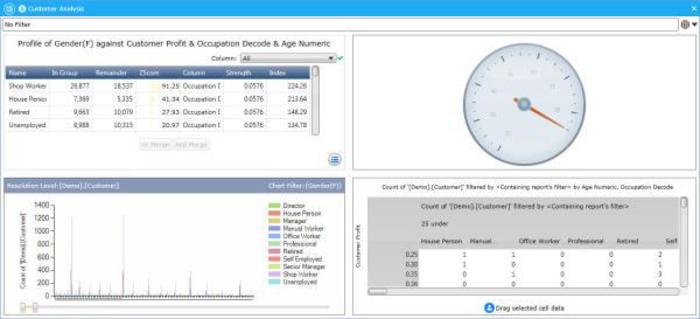 Source: Alterian Product Help
G2 Crowd rating: 4.0
Chameleon, among some of the interesting customer experience management tools was launched by Alterian to consolidate aspects like campaign management, marketing efforts, and data management into a single platform.
When it comes to Chameleon, the focus keyword is adaptive customer experience. The platform features real-time personalized messaging and e-mail marketing features that are delivered to the user during the time of an interaction. The aim is to reduce missed marketing opportunities while offering highly targeted customer experiences to the user.
Additionally, Chameleon offers real-time analytics that increases the productivity of internal teams and amplifies how different teams act on optimizing customer experience.
Clicktale
9. Avaya Aura Experience Portal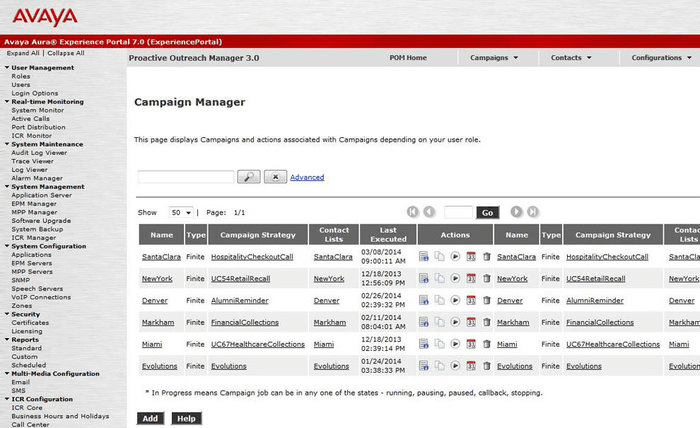 Source: CRM Buyer
G2 Crowd rating: 3.8
When it comes to customer experience management tools, Avaya incorporates the contextual help feature for agents. This means that any information that the customer has provided on one channel will be available contextually to the agent monitoring the customer even if the customer transitions to another channel. This improves customer service and helps your teams to be more attentive of what customers want.
10. Crownpeak Digital Experience Management
                                                                       Source: Crownpeak
G2 Crowd rating: 3.8
The single most attractive feature of this customer experience management tool is its in-built digital quality management. The feature resembles a quality control and governance team encased within the platform. The feature helps you to maintain a uniform digital experience across all your channels.
Aspects like compliance, SEO, broken links, misspellings, violations, etc. are checked as frequently as you choose. In addition to these pre-built checkpoints, you also have the option to create custom checkpoints for further quality control. A uniform digital experience across all channels enhances the customer experience.
You also have the option to integrate and manage all your social media platforms into Crownpeak which facilitates easy deployment and insights into customer interactions with your brand and the content you put out.
Aside from this, you can integrate in-house and third-party systems into the platform with the bare minimum coding. The platform also holds several more features like personalization, A/B testing, and content management, all of which will help you deliver a well-rounded customer experience.
11. Adobe Experience Manager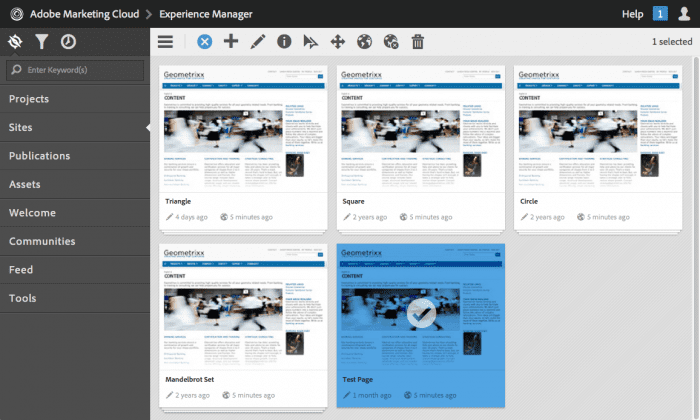 Source: GetApp
G2 Crowd rating: 3.5
The Adobe Experience Manager offers a stack of features designed to offer personalized experiences for all of your customers.
Adobe leverages the trifecta of AI, machine learning, and data to help you narrow down customer preferences and deliver content that lines up with customer preferences. Inbuilt features like smart tags, smart imaging, and smart crop allows you to optimize content according to the viewing characteristics of the user.
The customer experience management tool comes with several other interesting features including a hybrid CMS that allows you to collate your content within a central system, optimize, and deliver it across a number of different channels. This allows you to offer a seamless experience for your customers as they move across channels.
12. Sitecore Experience Platform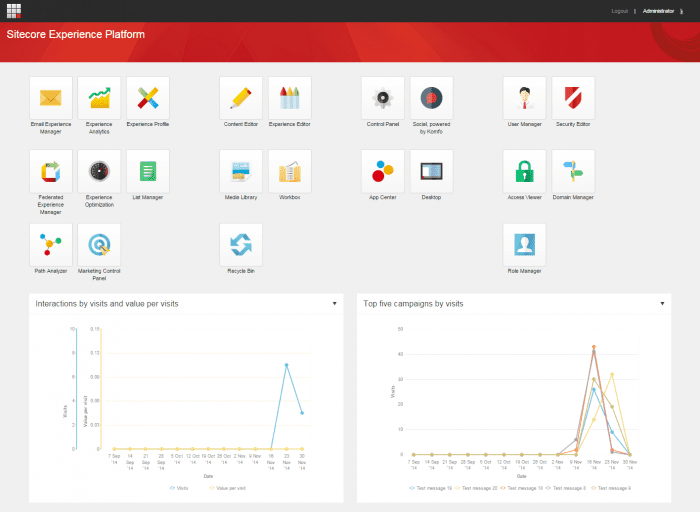 Source: Sitecore Documentation
G2 Crowd rating: 3.4
Customer experience management is a lot about showing your customers how well you know them. A thorough understanding of your customer's interactions with your brand is fundamental to provide an engaging experience for your customers.
While Sitecore features a number of benefits like omnichannel content delivery and content management like a number of customer experience management tools, they also use contextual intelligence to tailor content delivered to users.
The platform collates information and data about your customers and their activities and uses this data to generate real-time insights with the help of machine learning. Sitecore features a profiling platform which. quantifies aspects like engagement and behavior and then integrates it with data from CRMs and ERPs, offering you a 360 degree view of your customer that not only improves their experience but also helps you to segment your customers according to certain criteria to help serve individual segments better.
13. Bloomreach Experience Manager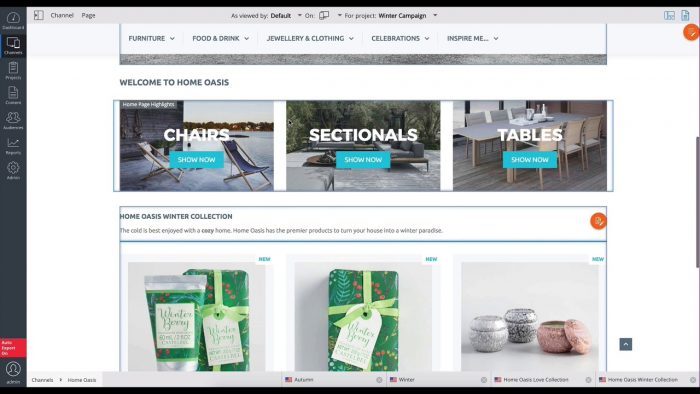 Source: Bloomreach
G2 Crowd rating: 3.3
Among the list of top customer experience management tools, Bloomreach is one that uses the Hippo CMS, an open source content management system.
Bloomreach offers insights into both channel and audience analytics. These features are extremely useful in studying how users interact with your website and the kind of products they are looking at thereby helping you to personalize and optimize your content accordingly.
This comes in addition to the audience profiling and segmentation feature which allows you to create audience segments based on various user preferences for better content delivery.
As an added bonus, Bloomreach also offers A/B and multivariate testing across the touch points in the customer journey. The results are analyzed and only optimal combinations are delivered to your users.
The customer experience management tools mentioned here showcases a number of essential features. Picking the right tool from this list that best caters to your enterprise needs will help you deliver a well-rounded customer experience that exceeds customer expectations.