A very happy new year from Whatfix!
2020 was an eventual year for all of us, to say the least. Distributed as we may be across the globe, together we have worked to see the finish line. All through 2020, enhancements and releases to the Whatfix platform have continued, thanks to your support and encouragement. And we will continue to do what we do best – help achieve your business goals.
Onward to 2021.
---
New Capabilities
Announcing User Actions Analytics
Your Product Managers, Customer Success Managers, and Digital Marketers can now obtain rich and granular insights into user behavior on your application to engage the right segments of users and drive adoption and business growth.
Understand how your end-users engage with your application and make subtle and incremental changes driven by data to drive engagement.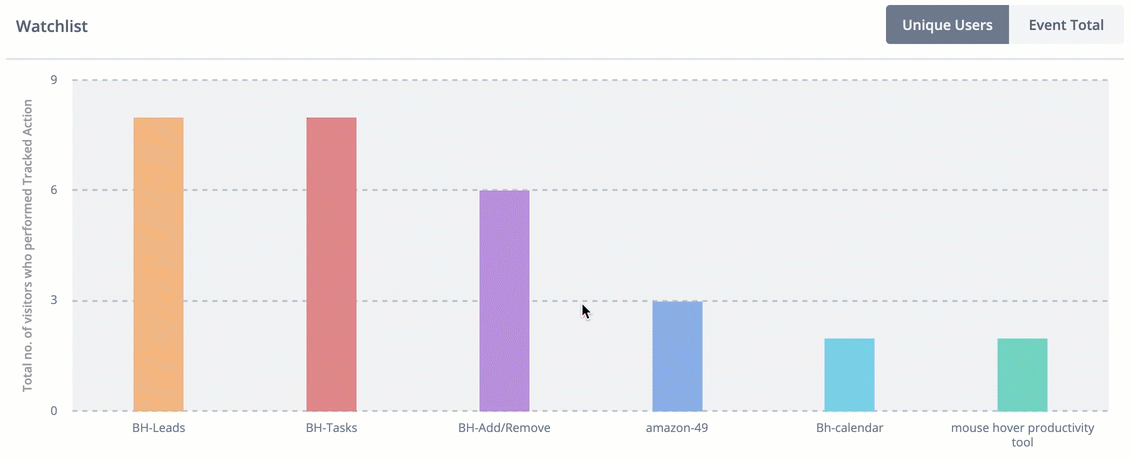 Exciting use cases that you can execute with User Action Analytics.
Get deeper insights into feature adoption trends: Track the adoption of various features, the number of unique users engaging with each feature, and other key behavior metrics to understand new feature adoption trends.
Optimize user experience by conducting A/B testing on various UX elements: Experiment with various elements in the UI, CTA buttons, etc. to determine the most engaging elements in order to drive in-app engagement.
Efficiently track and manage user-level goals within the application: Track task completion at a user-level interchangeably, either when the user initiates the task from a Whatfix flow in the Task List or performs it directly on the application. Track your application-level goals with the help of Whatfix Task List Analytics.
Track feature adoption of previous Releases with the 'Watchlist' feature: Mark certain user actions under 'Watchlist' and instantly track adoption levels of features in releases gone-by. Create new Help content based on user behavior in order to help them make the best use of the features and drive productivity.
Improve data movement efficiency with the new 'Integration Scheduling' capability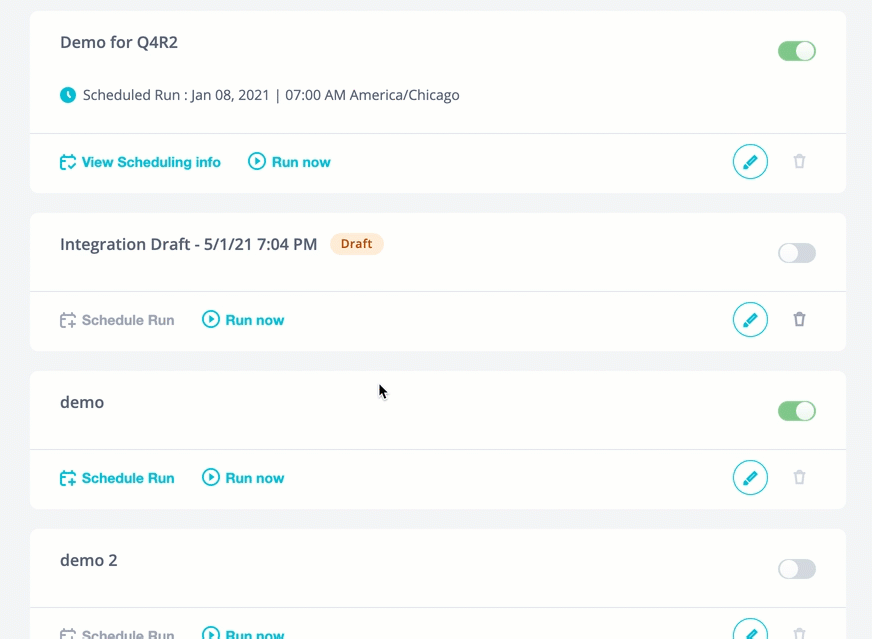 You can now schedule your Integrations for future time intervals of your choice. Save time by reducing manual intervention and bring more visibility into data movement between your application and Whatfix.
Improve task completion rate with the new 'Nudge' feature

You can now 'nudge' your end-users to complete their tasks on the application. Improve in-app task completion rate by bringing pending tasks to users' attention without being intrusive.
You can set up the 'nudge' using various trigger rules. The nudge can be of two types:
Keep Task list open when the user logs on to the application

Enable a 'tooltip' that highlights the task list and reminds the user to complete their tasks
Workday and MS Forms Integrations have now been enabled
Workday and MS Forms have been added to the list of App Integrations enabled on the Whatfix platform.
You can now segment Whatfix Help content based on Role, Employment type, Country/Region, and other attributes from Workday.
Bring more efficiency to your surveys with MS Forms integration. Show the survey pop-up to users who haven't completed a survey. Schedule repetitive pop-ups until users complete mandatory surveys.
Save time on video downloads and track progress
The video downloading process just became a lot more efficient and transparent.
You can now download your Flow videos 2-3 times quicker than you could before. You also have complete visibility into the status of your downloads. At any point in time, you clearly know which videos are queued for download so that you don't have to redownload them.
With this visual indicator, your content authors now have more transparency and so you can find the status of each video download on your own.
Exciting enhancements to Content Aggregation
If you're using Content Aggregation, you may have experienced this – You've decided and started the integration process between a content repository and Whatfix, but then you had to drop off mid-way. You no longer have to start over because we've added a 'Saved as Drafts' mode – enabling you to continue with the integration process from where you left off.
Additionally, we've also made it easier to integrate with the Salesforce knowledge base from the Whatfix Dashboard UI.
Whatfix Status Page – Stay Informed on Performance and Incidents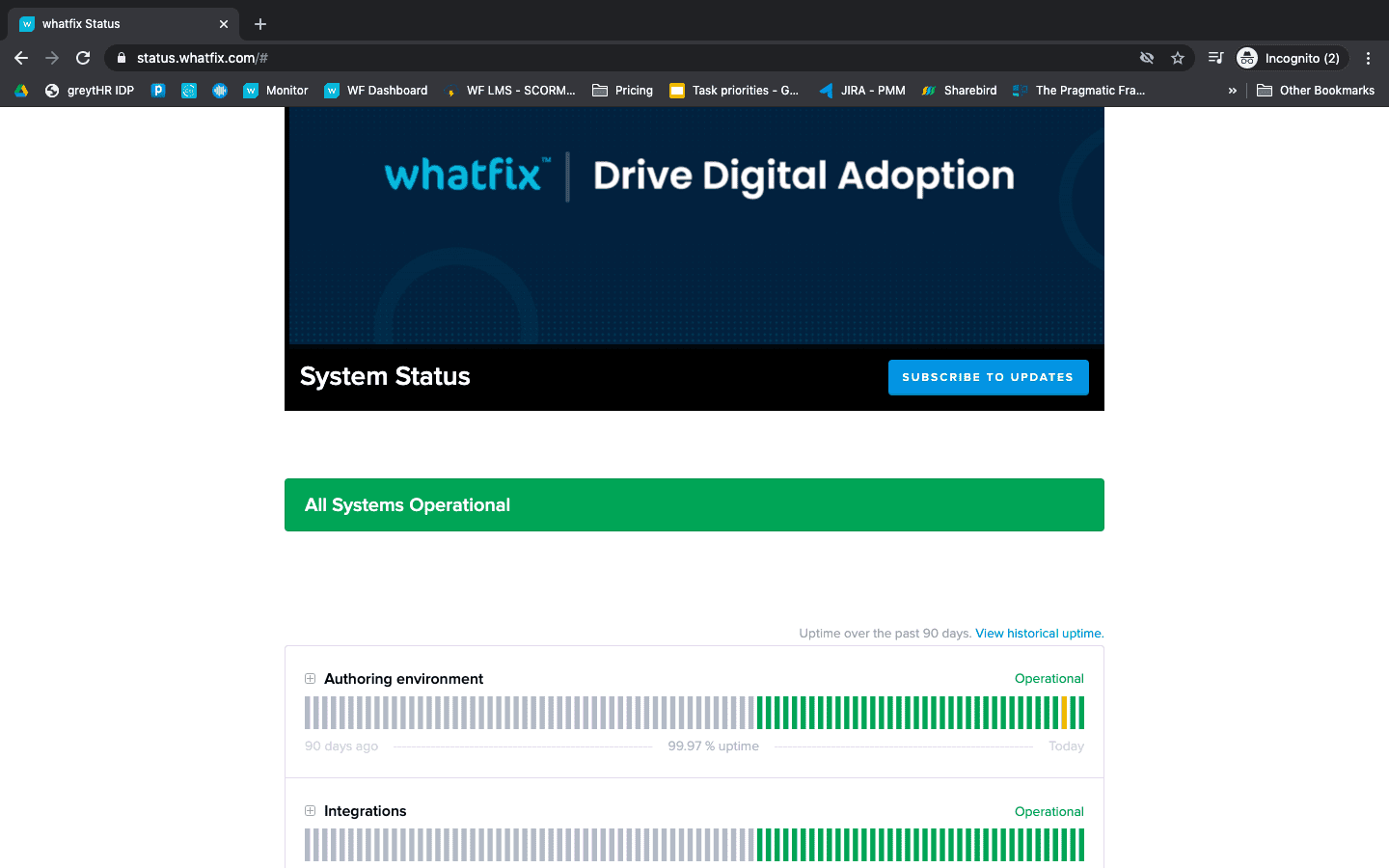 Application downtime can be frustrating, and not knowing if it's being attended to can magnify this frustration. With the Whatfix Status page, you can now get real-time information on system performance and incidents, and also get insight into resolution progress. Don't forget to subscribe to get periodic status updates.
Automated Testing for Proactive Content Maintenance
Let's be honest – flow failures are annoying! They disrupt in-app guidance for end-users, and they create unplanned maintenance work for Whatfix content creators – and overall, affect the Whatfix experience. However, this will be a thing of the past.
Automated Content Testing & Reporting (ACTR) is an automated, backend testing capability that detects and reports flow failures at regular, configurable intervals, and facilitates proactive flow maintenance that provides a seamless end-user experience, always. It's a simple 3-step process
Create a test case with our brand new 'auto-record' feature

Schedule the test at a future date, or run it on-demand

Get a summary report emailed to your inbox. A detailed report is made available in the Whatfix Dashboard.
The feature is currently in 'Closed Beta'. Watch this space for more information.
Upcoming Capabilities
App integrations will be enabled for Zendesk, and Microsoft Azure AD

'Funnels' will be added to User Action Analytics to help you track user behaviour and progression across the lifecycle of a task or workflow

Improved Change Management with the revamped Beacon

– Drive new feature adoption and highlight changes with the revamped Beacon. With customizable beacon styles to suit your use case, more positioning options, and editing capabilities inside the Beacon's Tooltip, there are now so many new ways in which your end-users can interact with the Beacon.

[Beta] Whatfix Single Installer – Whatfix Single Installer makes it simple to easily deploy the Whatfix end-user extension across all different types of browsers used in the enterprise. Browser specific installation files are replaced with a single, one-time creation installer.
---
For additional information, you can access the release notes here.
---
Whatfix Support Documentation Feedback
Now you can easily give us feedback (verbatim) on any article in support.whatfix.com.
At the end of any article, click either the thumbs up or thumbs down icon under the Was this article helpful? section and enter your feedback.



If it's not regarding a specific article, you can also write to us at [email protected].