What are Desktop Applications?
Desktop applications reside and run on an internal server or client system. They run stand-alone on a computer device, in contrast with a web based application that requires a web browser to run. Adobe, MS Outlook, MS Teams, Skype, etc. can be considered as typical desktop applications. Notably, desktop applications may not necessarily be a walled garden;  They often provide internet-based services, ie. the desktop versions of MS Teams, Slack, and Zoom. 
Desktop vs SaaS
According to the Bessemer Venture Partners report, Saas is definitely the future of applications and will overtake desktop applications by the 2030s. 
This presumption is not surprising considering the increasing popularity of Saas applications. But the question here is that is it a case of out with the old and in with the new or is there still a place for both desktop and Saas in the future?
The popularity of cloud-based services has been increasing significantly over the last few years for many reasons like portability, lower costs, etc. Nevertheless, many organizations still depend on legacy and on-prem systems because they provide certain benefits that are almost impossible to replicate within a browser. This is why a desktop application occupy a strong position among enterprises even today, and why there is a narrow chance of them ever becoming completely outdated. For the foreseeable future, both are relevant to modern organizations. 
Challenges with Desktop Applications
Desktop apps are critical for everything from operations to supply chain to other crucial functions of the enterprise. Unfortunately, CIOs face a number of challenges while implementing these business-critical enterprise applications, such as:
Applications need to be constantly updated to keep up with new processes, rules, and methodologies. These updates and patches can change workflows and functionality, making users dependent on the IT team to provide 24*7 support.

Legacy software systems can be loaded with outdated and tedious UX and UI, which often makes employees feel crunched. Complex interfaces add to user stress and generate confusion, questions, frustration, and an abundance of tickets to the IT help desk, all of which lead to a drop in user productivity.

Onboarding employees

and training on a desktop application can be one of the most challenging experiences for a CIO. Mention application training to your employees and most of the time they will recoil because traditional training methods like classroom sessions, pre-recorded videos or webinars, instruction manuals, etc. are time-consuming and are not effective for teaching people how to use contemporary enterprise application. Also, lengthy training processes make employees worry about their productivity. 

An enterprise application is expected to cater to each requirement by integrating multiple systems of the company. But too many apps and integrations make it difficult to deliver a consistent user experience.
Due to a lack of efficient onboarding and training, users fail to adopt new practices of the application and revert to old ways of working or remain unaware of the capabilities they have at their disposal. In adverse cases, low user adoption could lead to the biggest scare for any manager/admin – low ROI.
3 Reasons Why Enterprises Use Desktop Applications
Any business software with a wide range of advanced functionality is preferably done as a desktop app, especially when such software is capable of generating work that cannot be placed on external servers (due to sensitive data). This is why IDEs like Visual Studio and database management systems like SQL Management Studio are desktop applications. 
1. Independent of network connectivity
With web applications, an interrupted internet connection might cost employees their time and productivity, not to mention the inability to access business-critical data and information. Whereas desktop apps are standalone and do not face any hindrances from poor internet connectivity. Hence, when access to information is critical for an organization, a desktop application would be the better bet.
2. Privacy and security 
Industries with sensitive data prefer a desktop app over SaaS alternatives since they are much more secure due to the infrastructure and maintenance ownership kept in-house. Standalone applications can be protected against various vulnerabilities while web applications are open to multiple users in the internet community thus widening the threat. Hence, if your application is used for sensitive data, a desktop app is the better choice in that circumstance.
3. Performance
Desktop applications hold the number one place in terms of efficiency and performance for certain tasks. For instance, the performance of desktop applications for complex calculations is higher than that of web applications.
Also, critical applications that rely on speed are better off with desktop applications (e.g. financial and trading software), since users don't need to sift through twelve tabs to get to a tool.

Using DAS for desktop applications
A Digital Adoption Solution(DAS) provides an interactive overlay of step-by-step, contextual walkthroughs, engagement widgets, and self-help solutions for the users. Whatfix DAS for desktop enables user engagement throughout the application lifecycle. 
Here is how you can drive adoption and usage of desktop applications among multiple users across the enterprise with Whatfix DAS:
In-App Guidance
Whatfix In-App Guidance enables managers to create custom desktop notifications, encourage engagement with legacy processes, guide users step by step to perform specific tasks, and complete workflows without external support. It improves user efficiency on the application by providing guidance on form filling, validating data entry, and automating repetitive tasks.
Onboarding
It is challenging to onboard users to complex desktop applications. Whatfix DAS provides a solution to this challenge by navigating new users to setup and configure applications intuitively. A DAS creates an interactive user onboarding experience by providing a quick product tour of tabs and screens using videos and images.
Training
"74% of organizations use traditional methods that fall short of empowering employees to acquire skills and take responsibility to improve the work." – Bersin by Deloitte
DAS provides structured and personalized training plans to enable users to learn in the flow of work within the desktop application itself. Whatfix Digital Adoption Platform (DAP) provides on-the-job training in a short process to perform specific tasks effectively. 
Desktop Widget
A self-served support system can be created for the users that provide on-demand help within the application. The Desktop Widget is a multi-access tool that displays Whatfix content on the same menu for users to access easily. With the self-help widget, guidance is always available to the user, enabling them to start a process by using the search bar or navigating through the menu that aggregates content from multiple knowledge sources to contextually serve relevant content.
Create Notable Notifications
To announce any updates or tasks requiring an immediate attention, managers can add important notifications on their employee's desktop to ensure a high engagement rate with each notification. 
Instead of relying on the user to look out for information that they might not even know of, desktop notifications can be placed on their screen guaranteeing that they get the message. 
The kind of notifications you can put up for your users can be:
Announcements:

Upcoming events 

New features or services

Application updates
Reminders:

Remind employees to complete assigned tasks

Information:

Inform employees about upcoming site maintenance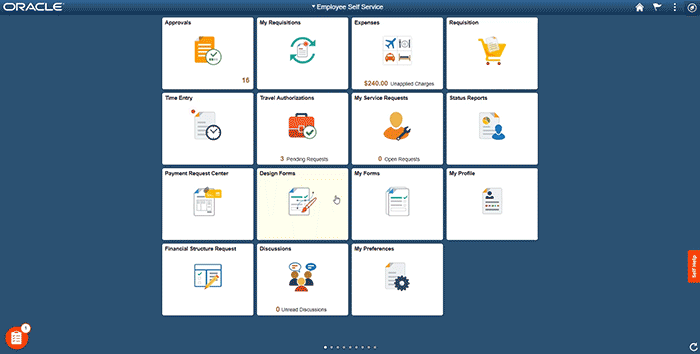 The impact of using DAS
DAS allows businesses to modernize legacy, on-prem platforms with minimal effort, thereby improving overall employee experience and productivity. 
The impact of DAS on your business 
Improved adoption of desktop applications

Reduced time to launch new applications

Faster time to proficiency

Higher rate of employee productivity

Reduction in content creation time

Reduction in support turnaround times and tickets
The impact of DAS on users
The proactive, step-by-step guidance and comprehensive solution engage employees helping them complete tasks in the moment of need, making them more efficient and productive. 

Desktop notifications remind employees of time-sensitive tasks that need immediate attention, thereby improving productivity

Whatfix's guidance tools promote a culture of self-sufficiency, making employees less frustrated and more confident in their work.

With DAS employees realize the full value of the digital assets 

With the self-help widget, employees get an immediate response to their queries, making them spend less time exploring other resources to search for answers. This leads to lesser frustration and more productivity
Economic Benefits
Reduction in support and maintenance costs

Quicker time to application ROI

Reduction in content creation costs
Whatfix Desktop is a DAP that offers your users the right guidance at the right time, on any desktop application. It allows admins to create content specifically for user roles thereby enabling user engagement throughout the lifecycle including onboarding, continuous learning and training, self-service support, and change management. To learn more about Whatfix and unlock the true value of your desktop applications, you can schedule a demo with us today!