With 73 percent of enterprises failing to provide any business value from their digital transformation efforts, according to Everest Group, and 78 percent failing to meet their business objectives, it may seem like accomplishing digital transformation success is a long shot—if not impossible.
But, don't let the previous failures of other organizations deter you from implementing the digital software platforms you know will help your business thrive. 
Instead, why not gain some inspiration from what successful companies are doing and add their strategies to your plan. Here is a quick look into how five different companies have used a Digital Adoption Solution to drive adoption to achieve their transformation goals.
5 Inspiring Digital Adoption Success Stories
Here are 5 inspiring digital adoption stories to pave way for successful adoption.
1. Experian Drives Salesforce Adoption
About Experian
Experian is the first digital adoption success story of note. This company is a leading global information services company, providing data and analytical tools to clients around the world, and Experian employs over 16,000 people.
The Objective
Experian made a significant investment in Salesforce to help its salespeople manage their business and client relationships as effectively as possible. Their core objective was to make effective use of the software to improve the productivity of their sales teams. 
Major Roadblocks to Maximising Adoption
Despite a strong training set-up, users struggled to leverage the various functions of Salesforce in their sales process, as initial training was mostly a theoretical focus on the 'how to' of the platform. Heavy customization to Salesforce had resulted in a diverse, high number of processes implemented, and there was no system in place to help users learn within the Salesforce application itself. 
The Digital Adoption Success Story
The Experian's training team decided that digital adoption depended on implementing interactive, on-demand training support that helps users in the flow of work, and hence decided to invest in Whatfix.
With the help of the Whatfix Digital Adoption Solution (DAS), Experian now offers real-time training that's personalized to the users' role, language, and business units. Not to mention, with the help of Whatfix's auto-generated multi-formats (videos, PDFs, slideshows, etc.), launching Salesforce in a new business unit is seamless. 
Additionally, interactive on-screen guidance helped sales reps deliver hands-on interactive training in the form of 40+ walkthroughs. Sales reps also have access to an always-available self-help menu (internally called 'guide-me') that provides users contextual information whenever users are unsure of how to perform a process or task.

The Result
Experian were able to reduce the time to launch a new business unit from 3 months to 1 month. 

The general user adoption timeline went from 8 months to 3 months. 

There was a 60% reduction in content creation, a 50% reduction in training time, and a 20% improvement in data quality.

Onboarding modules were reduced from 19 to 6.
For more information about this success story, check out the full Experian case study.
2. Corrigo Boosts User Engagement and Retention with a Digital Adoption Platform
About Corrigo
Corrigo, a JLL company, is a leader in integrated facilities management solutions that has a fast-growing user-base of their SaaS software. With a diverse user base, a widely customizable FMS platform, and frequent updates that affect clients differently, Corrigo was having a difficult time onboarding users effectively.
The Objective
Before looking for help from a digital adoption solution, Corrigo relied on Training Bootcamps that taught only 30-40 users at a time. The team at Corrigo wanted to find a way to onboard more users from the get-go, and wanted a way to effectively onboard a geographically spread-out user base by providing in-app guidance.
Additionally, they hoped to augment current training and optimize the user experience for diverse user-bases as well as save money.
Major Roadblocks to Maximising Adoption
Corrigo was facing rising customer training costs and effort along with its growing user-base. The customers were experiencing high time-to-productivity on the highly configurable solution leading to escalating support needs that also compromised user experience.
The Digital Adoption Success Story
To increase onboarding time, help transition users to a new version of their FMS platform, and solidify user engagement, Corrigo invested in the Whatfix Digital Adoption Solution (DAS). 
Whatfix helped Corrigo create goal-centered interactive guides, or walkthroughs, that show up show-up contextually and automatically to users within the Corrigo FMS platform. These walkthroughs help all users, no matter how they are using the FMS platform, to learn how to complete tasks as they engage with the platform. 
For additional training, Whatfix helps Corrigo attach useful videos and knowledge-base content (such as articles and whitepapers) to fill gaps in user knowledge.
Corrigo also makes good use of alerts and pop-ups that guide users through the platform at the time and point of need. This contextualization of training makes the right resources available as needed.
The Result
Drastic reduction in support costs, an elevated user experience.

Increased user retention due to learning in the flow of work.

Reduced costs by minimizing the need for classroom instruction.
For more information about this success story, check out the full Corrigo case study.
3. Wipro Limited Helps Global Sales Representatives Adopt Sales Solutions
About Wipro Limited
Wipro Limited is a leading global information technology, consulting, and business process services company with over 160,000 employees, serving clients across six continents.

The Objective
With a vast global sales workforce, comprehensive sales enablement was a challenge. To bring 160,000 employees up to speed, it requires reps to learn three applications: Trace (Wipro CRM), Catalyst (KM), and Interact (Sales Portal). 
Wipro wanted to ensure that its reps were productive on these three applications, and that they could operate the systems without experiencing any lags.
Major Roadblocks in Maximising Adoption
With a huge workforce in sales that is spread across six continents, sales enablement is a sizable expense for Wipro. For this fast-growing sales org, it was difficult to skill up sales reps using various apps and help them be productive.
Wipro was also losing money on the opportunity cost of precious time sales reps could have been using to make more sales.

The Digital Adoption Success Story
The sales enablement team decided to challenge the status quo and try a more effective and technology-based way to enable its digital workforce by adopting Whatfix. Whatfix helped Wipro create code-free, interactive, and self-guided content that walks users through the key features in the applications as they use them.
Whatfix digital guidance, displayed at the time of need, augments Wipro's in-person sales training (Jumpstart) and helps users apply their learning to work. 
It's also worthy to note that Whatfix offers content in various languages, and provides interactive support across multiple systems. As such, users learn at their own pace with walkthroughs and auto-generated multi formats (videos, pdfs, slideshows).

The Results
Decreased training costs.

Reduced dependency on the support center and trainers

Increased enablement of sales applications.
For more information about this success story, check out the full Wipro case study.
4. Dimensions UK Spurs Iplanit Adoption
About Dimensions UK
Dimensions UK is a British not-for-profit, charitable registered society and housing association with an active staff of 7,000+ people across the United Kingdom.
The Objective
Dimensions UK invested in a new system called Iplanit that helps document individuals' preferences and needs (such as morning routine) and medications.
This information helps the support team, even new colleagues, know how to provide the best support. Dimensions UK wanted to find a uniform way to train all employees.

Major Roadblocks in Maximising Adoption
Leveraging the full benefits of Iplanit is heavily dependent on how diligently and accurately support workers enter information into it. Unfortunately, the initial training on Iplanit wasn't successful due to low IT literacy within the organization. 
Since support workers did not feel empowered enough to use Iplanit they hesitated to adopt the software, and this was affecting the goals of the non-profit to improve people's lives.

The Digital Adoption Success Story
Dimensions UK invested in Whatfix as a creative and innovative way to ensure Inplanit adoption. With Whatfix, Dimensions UK was able to promote learning and doing at the same time with in-app microlearning.
Live training helped overcome user resistance, as they felt more confident in using Iplanit with walkthroughs that help users complete activities in real-time. 
Whatfix also provides self-service help so users can get contextual and actionable information relevant to the page they are on. Dimensions also collect information from various sources across the company to provide personalized help to support workers.

The Results
Users started entering data with more discipline.

Data quality went up by 20%.

Iplanit has become the treasure of information. 
For more information about this success story, check out the full Dimensions UK case study.


5. 451 Research Increased Adoption of its Research Platform
About 451 Research
451 Research is a global research and advisory firm that analyzes the technologies, services, and companies that disrupt information technology. With a team of 100+ analysts and research organized into 13 Channels, 451 Research has a reputation for high quality and insightful research. 
The Objective
To conduct and deliver insightful research, 451 Research uses a purpose-built research publishing and digestion platform for customers. It was difficult to navigate, so the CIO wanted to find a way to make it easier for users to utilize.

Major Roadblocks in Maximising Adoption
The platform was initially difficult to navigate, and finding the right information was time-consuming for users. This was hurting the user experience and defeating the purpose of having a self-serve platform altogether.

The Digital Adoption Success Story
451 Research discovered that they needed to provide more guidance to customers so they could quickly experience all the benefits of the self-service platform. This is where the Whatfix DAS comes in to play.
The process of digital adoption started as the CIO of 451 created targeted in-app user-journeys that utilized specific features including advanced search filters, guidance on details on each research category, and best-practices of research content discovery.
Whatfix's digital guidance helped actualize these user-journeys in the 451 Research platform through walkthroughs and self-help. Now users can quickly discover these features and find the right resources much quicker. Additionally, help content and tool-tips embedded in online pdf guides help users navigate effectively. Finally, beacons and tool-tips highlight and explain changes and new features.

The Results
Easy integration of the Whatfix system.

Access to expert consultation and personalization.

Increased ability of users to successfully utilize the research platform.
For more information about this success study, check out the full 451 Research case study.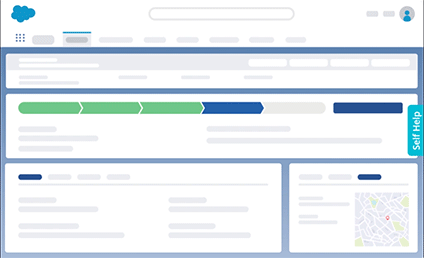 Create personalized learning flows for your enterprise apps with Whatfix
Whatfix empowers your users with contextual flows and self-help widgets, improving productivity and proficiency while cutting training and support costs.
Conclusion: Key Takeaways From These Digital Adoption Success Stories
It may seem like digital adoption is a world away. But it's not. It doesn't matter if you're implementing a new CRM, HRIS, ERP, or updating your proprietary software. But there is a solution to help you decrease change resistance and quickly skill up your users even if they aren't computer savvy.
No amount of classroom training, user manuals, team mentors, or any old-school training method can achieve maximum digital adoption within your organization. The key is to focus on end-user experience and training by partnering with the right solution provider like Whatfix that are made to help enterprises adopt new enterprise applications. 
Whatfix provides contextual, on-demand, and autonomous guidance that takes place within the application itself, allowing users to skill up in the flow of work. 
For more information about how to get started and why choose Whatfix, book your quick demo today. 
Increase end-user adoption with Whatfix
With Whatfix's Digital Adoption Platform, create in-app learning flows, contextual training and onboarding, and self-help knowledge bases. See it in action below.