It's official! We're hosting a first of its kind virtual event happening on the 26, 27 & 28 of May. To give you the experience to remember, we've brought together 40 speakers who are the best in class thought leaders of digital adoption, L&D, sales, and workforce management, ready to share their knowledge with you. We call it – The Digital Adoption Summit 2020!
In a time where virtual events are becoming the new norm, this summit will be the biggest one this year! Not convinced? Keep reading to find out why this is an event you certainly wouldn't want to miss.
Top 5 Reasons to Attend The Digital Adoption Summit 
1. 40+ Global Thought Leaders Across Various Industries
The event wouldn't be this extravagant if it wasn't for the large number of speakers, each one of them having years of experience across top tier organizations. A few noteworthy speakers are:
– Kerry Brown, VP, Workforce Adoption at SAP
– Stefaan Van Hooydonk, Chief Learning Officer at Cognizant 
– Khadim Batti, CEO & Founder at Whatfix
And many many more…
So, if you manage L&D, People Process, Sales, Workforce Productivity, Change management, and Digital Adoption or are even an avid follower of these spaces, then you have much to gain from attending this summit.  
2. Insights into Current Trends & Potential Opportunities
Due to the global COVID-19 pandemic, businesses have transitioned to remote work and are being confronted with a sluggish economy, making the future of work very unpredictable. 
To ensure that your organization is prepared for what is coming and stays ahead of the curve, you need to learn the best ways to cope with today and capitalize on the potential of tomorrow. 
This summit is a great opportunity for both young entrepreneurs and experienced leaders to learn from some of the best and brightest minds in business about:
How you can ensure business continuity during these tough times

What are the latest innovations in technology that support your efforts 

What are some innovative ways you can future-proof your organization 
3. No Distractions To Your Learning Experience
If you are not a fan of the hustle & bustle of the event crowd and the members from sponsors trying to sell you something and are only at a conference to attend speaker sessions and walk away with insightful knowledge, then this is a dream event for you. 
The Digital Adoption Summit was organized for the sole reason of bringing together a roster of thought leaders & experts across industries & domains to help you augment employee success. It's all the learning without the noise. What more can you ask for?
4. The Digital Adoption Summit is a FREE Virtual Conference!
This summit is arguably the largest virtual consortium of experts from various industries, coming together to share their insights and knowledge. The event provides more than 30 hours of insightful content about the latest technologies, business practices, future of work, workforce productivity, employee learning and more.

What does one pay to attend such a massive event?
Not even a penny! It's completely FREE. 


All you have to do is register for the event and all the details will be sent to your inbox. 
You can also add your preferred sessions to your calendar in order to receive reminders and relevant session links.
5. Stand a Chance to Win Exciting Giveaways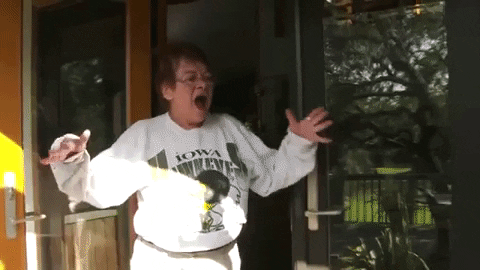 Many of the speakers are offering the registrants of their session, a chance to win valuable resources to take with them. These could be an exclusive copy of their book, whitepapers etc. that can help you kickstart your business initiatives. 
Want to win a FREE business resource? Then, here are few sessions you could consider:
The New Workflow Learning Instructional Designer, A talk by

Ray Jimenez

Agile Business Transformation That Drives Innovation and Culture, A talk by

Isaac Sacolick

How to Make Learning A Competitive Advantage, A talk by

Dr. Roy Pollock
To register for more of such sessions and increase your chance to win an exclusive prize, check out the schedule for the event.
If that's not enough, The Digital Adoption Summit will soon be announcing giveaways that every attendee can stand a chance to win. To keep up with such announcements, follow all the updates on Twitter and Linkedin. 
Sold On The Event? Want to Know How To Register?

If you're ready to join the biggest event of 2020, then all you have to do is visit https://www.digitaladoption.com/ to learn more about the summit, speakers and their sessions.
Once you visit the website, you will see a registration field as you scroll down. You can also get started by clicking on 'Reserve My Seat' on the top right of the page.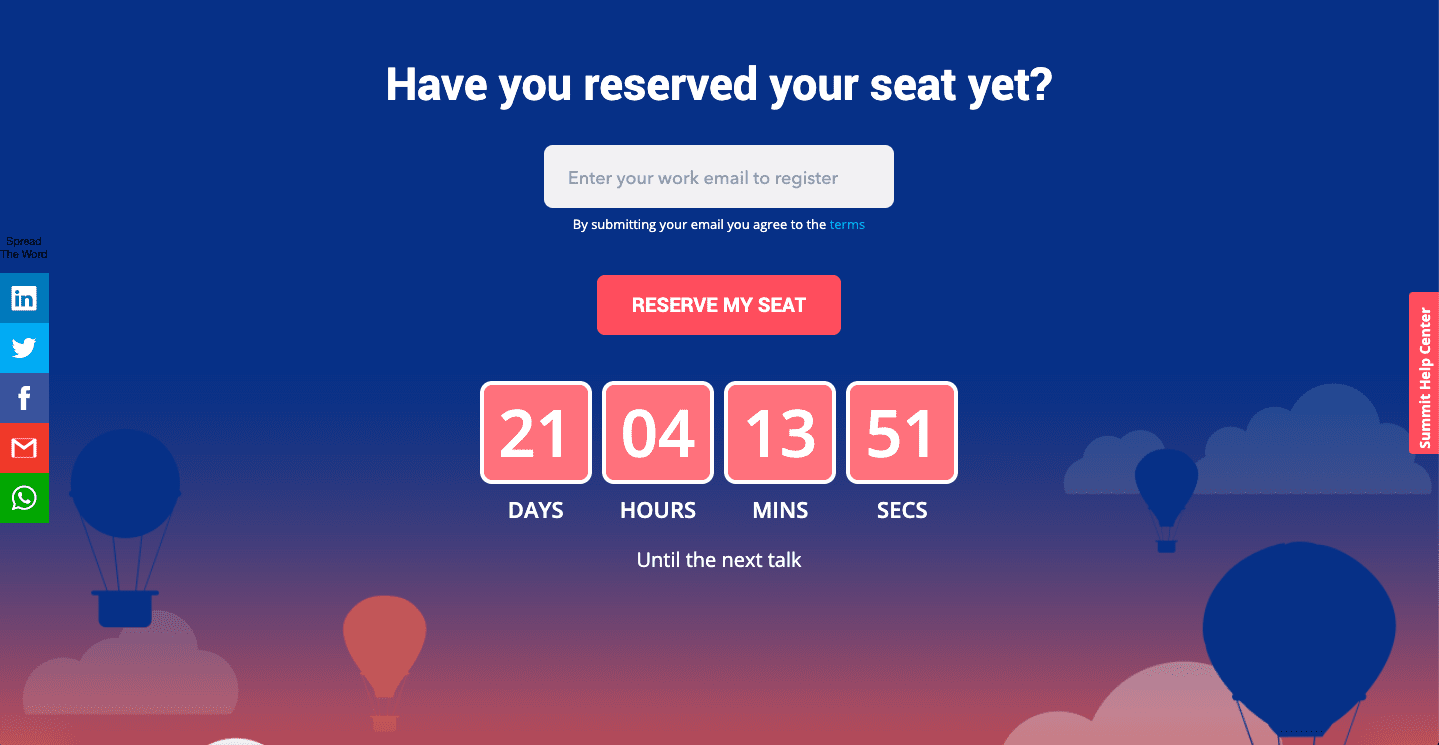 Just add your business email and you will be able to personalize your experience by selecting your preferred talk tracks and sessions. You can shorten the process by clicking on 'Select all' instead of choosing what session you would want to attend. 
Post this step, all you have to do is add in a few other details and voila, you're in!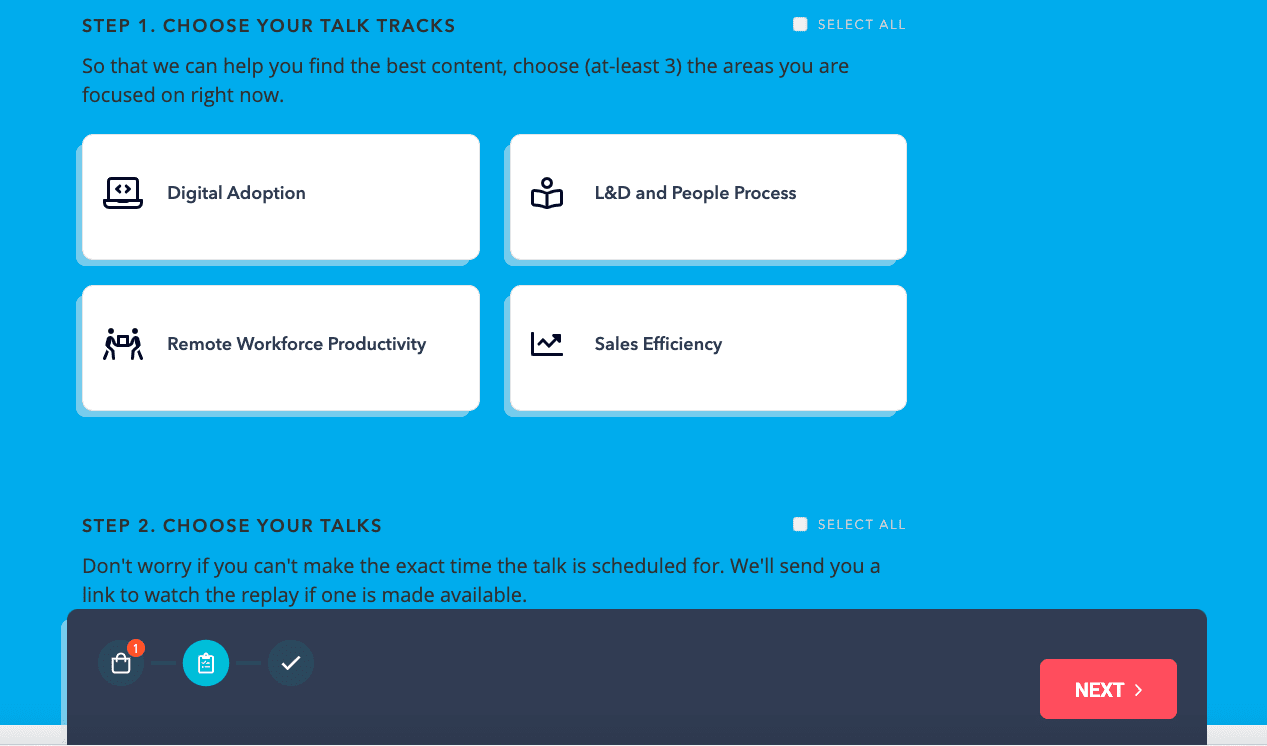 During these tough times, the Digital Adoption Summit aims at giving back to the community by bringing in experts, from different walks of life, under one umbrella to give value to all the attendees, ensuring that they gain new insights, confidence, and a full heart when the 3 days have ended.