Have you invested millions into latest enterprise technologies and modifying business processes to stay relevant in a world obsessed with digital transformations (DT)? Great!
But if your employees and customers do not know how to use these tools efficiently, then you are pouring money, time and effort down the proverbial 'digital transformation drain' – an ROI black hole… Not so great!
To prevent such a scenario from happening in real-life, apart from the implementation of the latest technologies, it is important to keep track of how well and how much your employees are able to leverage these digital assets to deliver improved experiences.
Read on, as in this blog post, I will try to explain how digital adoption tools can make a significant impact on digital business transformation.
Digital Transformation Platforms for Business Transformation
To help enterprises embrace new processes, and at the same time manage the newly adopted technologies, there are several DT platforms that can be harnessed. These business process management software help optimize digital business transformation operations, provide much-needed governance and increase efficiency; which (in turn) increases profits. 
Project management and process modeling tools, security solutions, communication platforms, big data management tools and Digital Adoption Solutions (DAS) are some examples of Digital Transformation Software.
But, arguably, of all these platforms, the most essential to DT is digital adoption tools.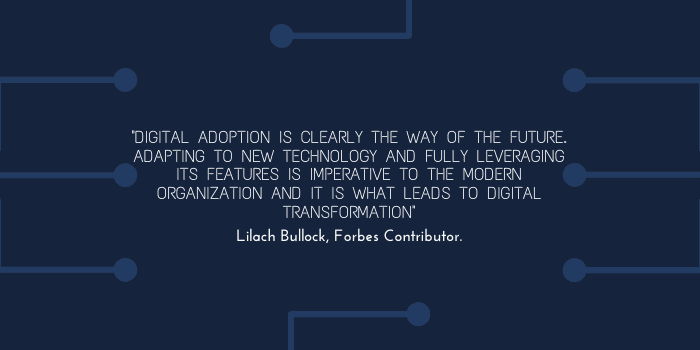 Talk about hitting the nail right on the head. 
Thus, digital adoption platforms deviate from the technology to focus on the human element of the DT revolution. So, it's no small wonder that digital adoption platforms (such as Whatfix) are touted as some of the biggest enablers of digital transformation success.
Why Choose DAS For Digital Transformation?
70% of the DT initiatives are expected to fail. And the prime reason is poor adoption and resistance to behavior change!
To understand the reason behind this statistic better, consider the case of a fictitious company (on a DT kick) that subscribed to a powerful onboarding tool. This enabled new hires to get a full introduction to the company and individual KPIs – a feature that its employees were familiar with. But what they didn't know was that the onboarding tool also allowed employees to upload e-copies of their id proof, photo, certificates and so on, to meet compliance requirements. Unfortunately, since the employees were unaware of the self-service feature, they continued to manually submit physical copies to the HR.
Now, as the tool was not harnessed to its full potential (ergo poor adoption) this situation was labeled a 'failed digital transformation'.
Scenarios such as these are quite common.
So, how do you remedy such a problem? Easy, you think – just put all the employees in a room and take them through powerpoint presentations and classroom-style sessions on all the features that exist and how to use the software. And they will be convinced to make the best use of the tool. Right?
Wrong.
Traditional L&D is not enough for the success of digital business adoption, and thereby transformation. This is because classroom-style sessions have the following limitations:
Not practical to conduct regularly for small concerns

– Creating an hour of training content, in the form of handouts or PowerPoint presentations, takes a minimum of

43 -185 hours

. Just imagine if you had to create and deliver such training for every small query that employees face!

Relatively expensive

– If you were to consider an average hourly labor cost of

$65

, then one hour of training content can cost up to $12,025! Especially for SMBs, this sort of cost is unthinkable. So, they end up limiting training sessions to the bare minimum and almost never refresh or update the content.

May cause productivity drops –

Every time a user struggles with simple tasks such as adding a new data item or placing a request on the tool, deploying full-scale training sessions just don't make sense. These sessions would mean a real sap on the organzaitions' resources. And the lag time between the deployment of training and the need for support, would result in a drop in efficiency of the user.

Not customizable –

Every team and user has specific training requirements. For instance, a Data Scientist (who has a Ph.D. in data analytics) would need training on topics at complexity levels very different from a junior technician. So, a one-size-fit-all classroom-style session cannot meet their unique needs.

Not agile – New technologies are added all the time. This has resulted in the reduction of skills' half-life to just 2.5 years. Thus, nowadays, employees need to upskill all the time. To keep up with these changes, it's important to have a training solution that is flexible and automates a lot of the more mundane tasks.
Adoption solutions resolve all these training concerns through automated interactive guides and contextual support.
An example that I love to quote is that of Experian (a global information solutions company) that set out to digitally transform its sales function using a heavily customized Salesforce platform. But despite having a strong traditional training set-up, salespersons felt forced (low adoption rate) to use the application and the new workflow. And when they did use the CRM, many of their sales representatives entered data incorrectly. To resolve this, Experian leveraged Whatfix's in-application guidance and learning and self-help support. In no time, the organization was able to improve user adoption time from 8 to 3 months and data quality by 20%; while also freeing up 13+ hours of salespersons' time. 
Talk about facilitating a successful and measurable digital transformation! 
Thus, with DAS, employees get the hang of software changes or additions faster, while sustaining productivity. At the same time, it guides users on how to optimally leverage all the features of the technology upgrade.
Five DAS Pillars For Digital Business Transformation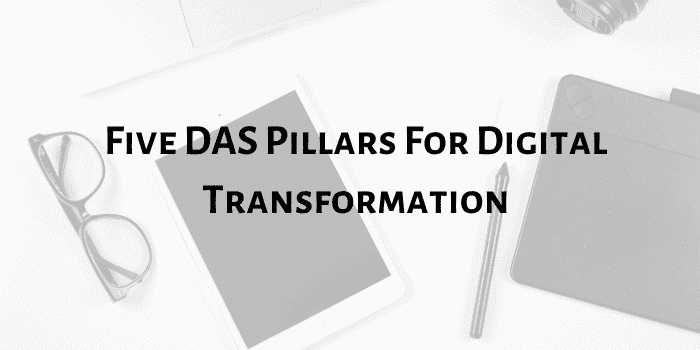 It's no secret that employee productivity and satisfaction (pegged to digital adoption levels) are critical for an organization's DT efforts to deliver satisfactory results. So, always remember to make room for digital adoption tools, when planning your digital transformation journey.
Here is a look at the five features of digital adoption tools that improve user experience and delivers organizational change.
1. Humanizes Technology
Being human (in the digital context) means having the ability to empathize with the employee's concerns via employee data collection and analysis. That's where a digital adoption platform delivers maximum value. It has the capability to make new technology more accessible and relatable for individual users – customized based on their unique needs. 
And, in this manner, it ensures that DT is not just an IT project by another name. 
Now, remember, your transformation efforts are doomed from the start if your employees don't want to, or are unable to, use your technology. To this end, DAS helps keep the experience simple and easy, no matter how non-technology savvy users may be.
Such adoption platforms are especially perfect for Millenials and Gen Z, who thrive in the midst of bite-sized training and learning in the flow of work. 
It also enables you to measure the digital transformation success, by tracking (in real-time) factors such as how often and what features of the technology your employees use regularly. 
Such business intelligence can then be used to further improve on the employee/human experience by compressing the learning curve.
2. Helps Scale Training and Adoption Quickly
Its commonly seen that enterprises, low in digital dexterity and maturity, begin their tech transformation journey with one business function (say HR or CRM). Then, once that is under control, they move to the next function. On the other hand, more digitally mature companies have technology transformation Centres of Excellence (COEs) that orchestrate the digital business shift across several functions, in a comprehensive and coordinated manner. The latter is more complicated to manage, but most digital adoption solutions are designed to be flexible enough to train employees according to the organization's agility. It scales your microlearning sessions as the transformation efforts grow.
Whatfix, in fact, has several clients that rollout multi-application/channel digital adoption initiatives (across their CRM, HR, ERP, Procurement and ITSM applications) all at once. 
Adding new technology, or growing the reach of your enterprise software to new functions or offices in new territories? No problem! By automating the users' digital adoption cycle, adoption solutions can ensure training and adoption support reaches everyone who needs it. For that matter, Whatfix auto-authors training content by repurposing and contextualizes all enterprise knowledge (knowledge bases, web-based content or inside-documents), in different formats. It also saves 60-85% on content creation costs, resulting in high-quality content in large volumes. What adds to scalability factor is that Whatfix is a cloud-based SaaS.
3. Decentralizes Digital Transformation
Transformation ownership should be decided based on the organizational scope and pace of the initiative. But traditionally, digital transformation projects used to function under the aegis of the IT department – for they understand complex technologies best. 
What is required is an ICT transformation taskforce, with members from different departments, that liaises with different functions to deliver maximum efficiency. 
But change is in the air, as functions such as HR are increasingly involved in DT Steering Committees. In fact, recently, there has been a 300% increase in the involvement of HR in digital transformation. 
This evolution is powered (in part) by in-app digital guidance and learning and support solutions that require almost no-coding knowledge. Also, since most digital adoption platforms are SaaS solutions, they are a more affordable training solution, while being easier for any department to adopt and deploy – cutting down on organizational bureaucracy.
4. Sustains Productivity 
Owing to incessant ICT transformation activities, employees end up getting lost in a sea of time-consuming training sessions. This, in turn, leads to cognitive overload. And dissatisfaction with the tool and low engagement, not to mention low productivity, become commonplace.
What your employees deserve is the convenience of finding the software-related knowledge they need, when they need it, and on whatever platform. 
To deliver this sort of information and the right learning experience at the right time, xAPI-powered tools such as Whatfix mine employee interactions and facilitate learning in the flow of work.  
Then, the adoption platform creates bite-sized learning modules and just-in-time support, that employees can consume within the app, allowing users to quickly return to complete their original task. This shortens the learning curve since it offers a sequential microlearning curriculum that supports various learning styles. Thus, DAS ensures minimum disruption of work and maximum efficiency.
As testimony to its productivity-improving prowess, Gartner even recently named Digital Adoption Solutions as the latest new category of Enterprise software at the Peak of the Hype cycle. 
5. Manages Change Smoothly 
One thing that is unavoidable when adopting new technologies is planning for change management. And digital adoption platforms are critical to ensuring that employees are eased into using the new tools. 
To this end, adoption software such as Whatfix helps build a culture of easy access and sharing of information. It also helps communicate the changes in technology and processes, in advance with the employees, so that they have enough time to prepare for it. 
Most importantly, DAS trains employees to use effectively and efficiently new technology (while working on it) so that they may hit the ground running.  
Some of the salient features of Whafix that aid in change management, and thus improve Digital adoption, are:
Beacons

that help users stay aware of the latest technology releases and announcements.

Alerts

and announcements relating to the digital business transformation can be scheduled in advance

Onboarding

widgets that can project welcome video, or other media, by C-suite as soon as users startup the new platform. 

Step-by-step walkthroughs and product tours, to ensure compliance through hand-holding users about changes and continual reinforcement

24×7 personalized and contextual digital assistance, for whenever the user is stuck and unable to complete a task on the tool
Is DAS Only Useful In Times Of Digital Transformation?
Sure, DAS can be a big help during global roll-outs and new technology implementation. But even if you aren't yet ready to take the plunge and join in the tech transformation relay event, adoption solutions can still come in handy. It is a real asset when it comes to guiding employees through complex legacy enterprise platforms such as Customer Record Management, Learning Management Software, Automated Billing Systems, and Enterprise Resource Planning.
Even when its business as usual, the microlearning platform can play a significant role in:
Helping new hires learn the ropes and familiarize themselves with the technology

Reinforcing learning, disbursed once in a while, following the initial set of long-format training sessions

Assisting users in navigating new technology updates. For instance Workday and Salesforce receive an upgrade almost every few months. The real value is derived if the user is regularly kept up to date with these new features.

Delivering on-demand training in a more affordable and timely manner

Improving data quality input by users into technology, via real-time data validation on form fields
Does My Organization Need A DAS?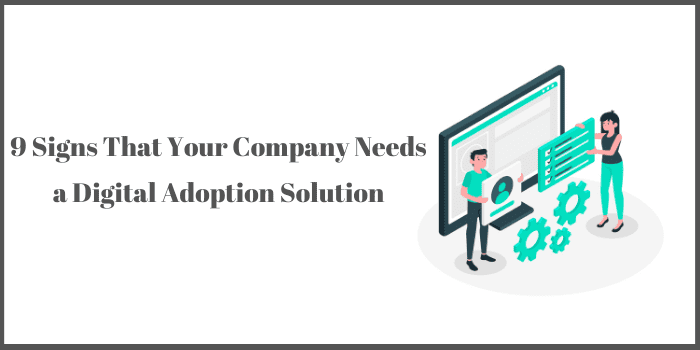 By getting employees comfortable with internal digital resources, and speeding up adoption, digital adoption platforms can offer a significant advantage to your company over competitors. 
Here are nine telltale signs that your company needs a digital adoption solution:
Your organization is constantly driving ICT transformation efforts

Your workforce primarily comprises of millennials and Gen Z

You are keen to increase software training, on a limited budget

You are you a multinational organization that seeks to roll out new software in different territories

You are trying to improve the software adoption rate of your internal and/or external audiences 

You are struggling with poor data quality

You have multiple, complex tools across your organization

You are in the market for an easier way to author, update and manage training content

You are facing resistance from employees towards the adoption of new technologies
All you need to do is start somewhere. Your organization's digital adoption efforts may be small, but it is sure to pack a punch in terms of modern employees engaged. 

If you are convinced about getting a DAS to support your digital business transformation efforts, click here for a free trial of Whatfix. Alternately, find out first hand, how this analytics-driven and personalized digital adoption platform can deliver a consistent experience to employees by assisting them in milking new technologies for all its worth with a quick demo.
If you're looking to learn more about how digital adoption fits into your organization's digital transformation business, Check out the webinar below where our VP of Product Marketing, Gary Malhotra, along with Leighton James from UKCloud and Michael Nappi from Science Logic give their insights into DT.