"Covid-19 was the digital accelerant of the decade," according to a digital engagement report published recently by Twilio. 
This might actually be an understatement. The pace at which organizations across the world are fast-tracking their digital transformation projects is unprecedented. Before the Covid-19 crisis, digitization was imperative for future survival. However, the pandemic has threatened our survival today. That is exactly why companies like Amazon, which provide a faster, contactless, and digital consumer experience, are thriving in the pandemic. This is evident by the fact that Amazon's market capitalization has increased by over $700 billion since the pandemic began.
But, this type of fast-paced digital service is more relevant to government organizations. Government bodies have to provide essential services for the wellbeing and survival of people. Since lives are at stake in the pandemic, it was for the first time that governments had to transform digitally to keep pace with the changing requirements and safeguard citizens. Procurement of required resources like vaccines, medicines like paracetamol tablets, and food supplies without unnecessary delay in the pandemic demanded an accelerated digital government transformation process. 
Digital government is not just about improving process efficiencies in federal organizations but concerned with enhanced citizen services. By giving citizens a voice and the opportunity to collaborate in their dealings with the government, federal agencies can create greater trust among citizens.
What Is Digital Transformation in the Public Sector?
Digital transformation in the public sector refers to the digitalization of governmental processes – from providing easier and better customer experience, implementing policies that allow for a distributed workforce, and improving and optimizing processes that save money and resources.
What Areas of the Government Need Digital Transformation?
Microsoft CEO, Satya Nadella, pointed out in his company's April 2020 earnings call that Microsoft has observed two years of digital transformation in two months. Governments as well are accelerating transformation by migrating to cloud-based services like Microsoft Office 365 and AWS for better productivity, security, and collaboration.  
Virtual has become the new normal after the adversity of Covid-19 and has challenged several orthodoxies associated with the workforce, workplace, pace, and service delivery in the public sector. 
See how few of the existing governments are setting up the right precedents for governments across the world. Some of the drastic changes that pandemic accelerated transformation requires include:
1. The Workplace & Workforce
Line-of-sight supervision is no longer a mandate given the concept of a remote workplace. Zoom and MS Teams have replaced usual conference meetings in offices. Remote work and remote learning have pushed the boundaries of IT infrastructure. There are new operating protocols for better collaboration and adaptation to the new normal.
Before the pandemic, the debate was whether government employees should be located in the capital city. However, now the requirement of a designated desk for every government employee is questioned.
Hiring was a lengthy and in-person process. However, virtual, AI-driven recruiting has proven highly efficient in hiring the right talent for an organization. Virtual interviews and onboarding have further accelerated the process. 
With increased digitization, governments can easily access the work records of their ex-employees across different departments. They can create provisions for direct rehiring or internal shifts.
COVID-19 is forcing governments to look at service delivery in a different light. Conventional belief dictates that personalization requires the human touch. On the contrary, digital technology provides a more accessible and personalized service. 
Digital platforms and applications tend to have a simple, intuitive, and user-friendly interface. They try to incorporate user feedback at every stage, thereby making the user experience more engaging and personalized. 
The pandemic has created a realization among government officials that only a few services require in-person delivery, not all.
For instance- the UK has scaled the concept of digital courts in the pandemic. The US Supreme Court is conducting hearings through teleconferencing platforms. On the other hand, the Spanish government has deployed an AI-powered chatbot called 'Hispabot' to answer over 200 questions from detailed symptoms of the widespread disease to emergency numbers.
Sectors like healthcare and education have also witnessed transformations like never before. Governments have been crowd-sourcing ideas to tackle the Covid-19 crisis more effectively. This crowd-sourcing of ideas and collaboration became possible due to digital transformation efforts. The Department of Education for the state of New South Wales has launched a digital strategy for schools. This strategy allows students in Australia to learn through personalized and flexible programs. It also increases the collaboration between teachers and parents. 
Additionally, digital identity has received wider acceptance. Physical presence is no longer a mandate for verification and authentication. For instance- in Chile, a digital ID system allowed people to enroll themselves in social programs as beneficiaries and enabled them to check their support status online. Such initiatives have sprung up across nations in the pandemic, stressing the importance of digital government transformation globally.
Till now, government regulations and policies were lengthy and inflexible. With multiple iterations and extended discussions, government policies became obsolete by the time they were released. 
However, Covid-19 has pushed governments to act quickly to combat the situation of panic. Decision making has become profound. The existing legacy seems to be evolving as there are no existing precedents before the policymakers to tackle challenges associated with Covid-19.
Similarly, procurement processes in government agencies were rigid and time-consuming. However, governments are now acting in anticipation of the needs of citizens. Procurement of masks, testing kits, and building Covid-19 specific hospitals in record times are examples wherein governments stepped up to act swiftly. 
According to research reports, the Indian government adopted an e-procurement solution for all purchases related to Covid-19. Average bid time is known to reduce from two weeks to three days. 
The US Navy has accelerated its acquisition time by 32% compared to last year and has displayed higher efficiency with a 95% remote workforce.
Barriers to Digital Government Transformation
The need for digital transformation in governments is evident. However, digital maturity in governments varies across the world, and the readiness for digital government transformation is not that high.   
According to Gartner, "80% of government organizations are still at the initial or developing digital maturity stages." It is evident from this figure that there are several barriers to digital government transformation as listed below: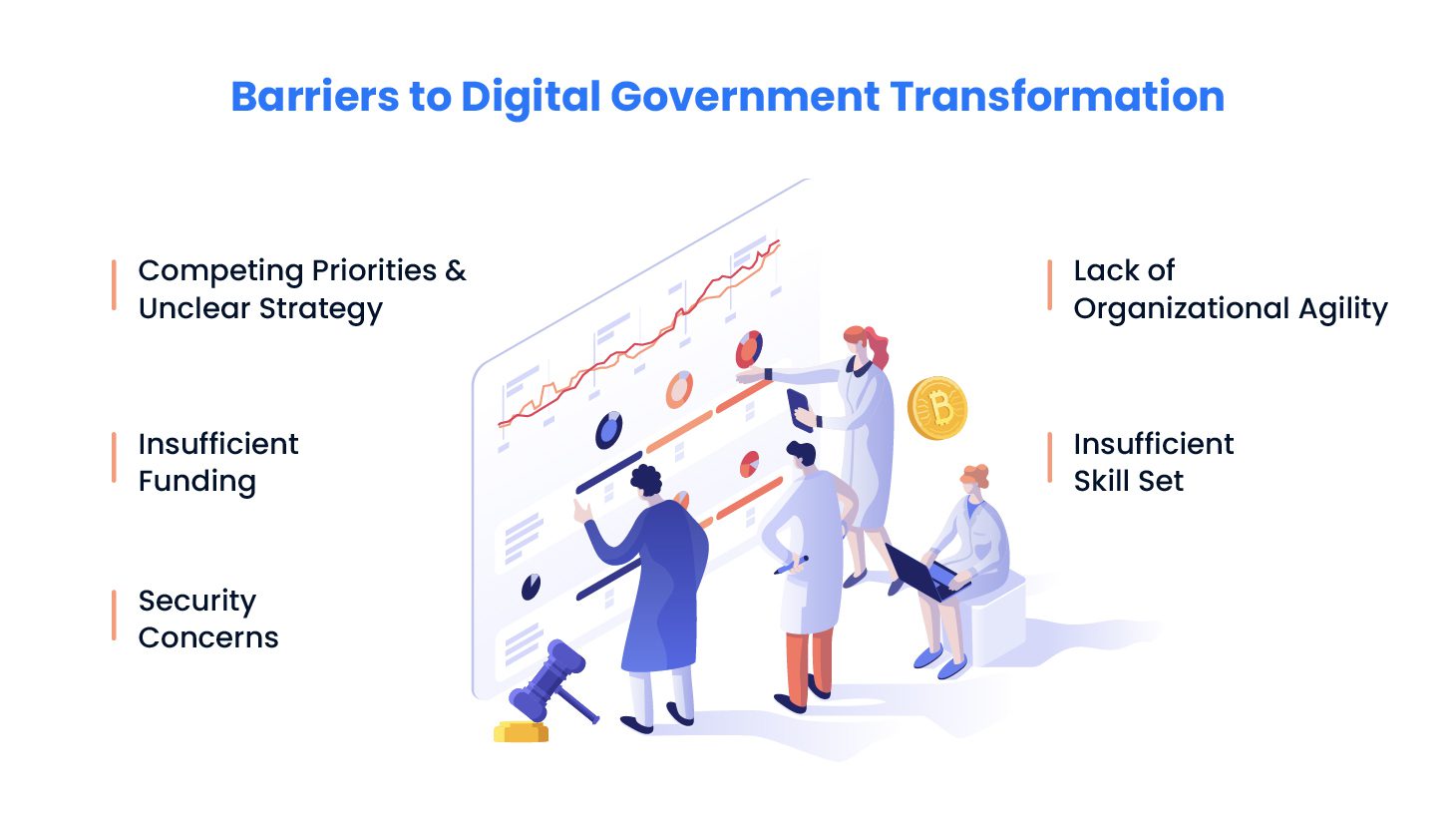 1. Competing Priorities & Unclear Strategy
There are too many competing priorities in government organizations. There's a clash between cost reduction strategy and increasing operational efficiency. Furthermore, government organizations often miss clarity on the overall digital strategy that poses a challenge to digital transformation in government offices. There should be a clear and well-defined roadmap for digital government transformation addressing elements like workforce, culture, leadership, and procurement.
Research suggests that although 82% of organizations perceive digital technology as an opportunity for enhanced efficiency and productivity, only 44% of the organizations have increased their digital transformation budgets. Budget allotment and insufficient funds often pull the plug on a digital transformation initiative in government organizations.
Sectors of the government such as Defense, Energy, Law, and Justice have a lower tolerance for errors. These sectors foster risk-averse culture and are reluctant to experiment with technology due to security concerns. Even a small operational error or data breach can have a long-term damaging impact.
4. Lack of Organizational Agility
An agile organizational structure is of immense importance to the success of a digital transformation initiative. Capability to adapt to changing technologies and market dynamics is rare in government offices. Both leaders and the workforce must evolve with changes in culture, technology, and internal processes for successful digital government transformation.
5. Insufficient Skill Set
Sectors like healthcare and social services lay more emphasis on subject matter expertise than being tech-savvy. Employees in these sectors often lack technical skills and are reluctant to spend more working hours in training. Upskilling the workforce is a challenging dimension for digital government transformation.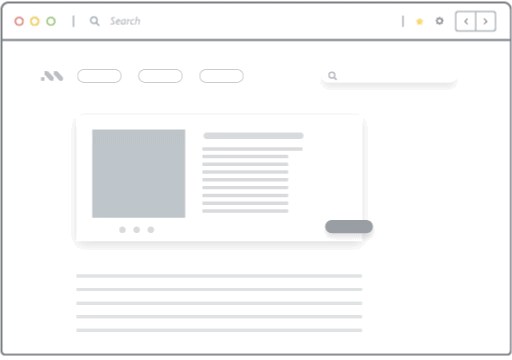 Support your digital transformation efforts with on-demand learning and support with Whatfix
Impact of Digital Transformation in the Public Sector
Digital government transformation has a long-reaching impact on improved citizen experience, operating efficiency, employee productivity, and data-driven insights. The tangibility of these benefits can be better understood as follows: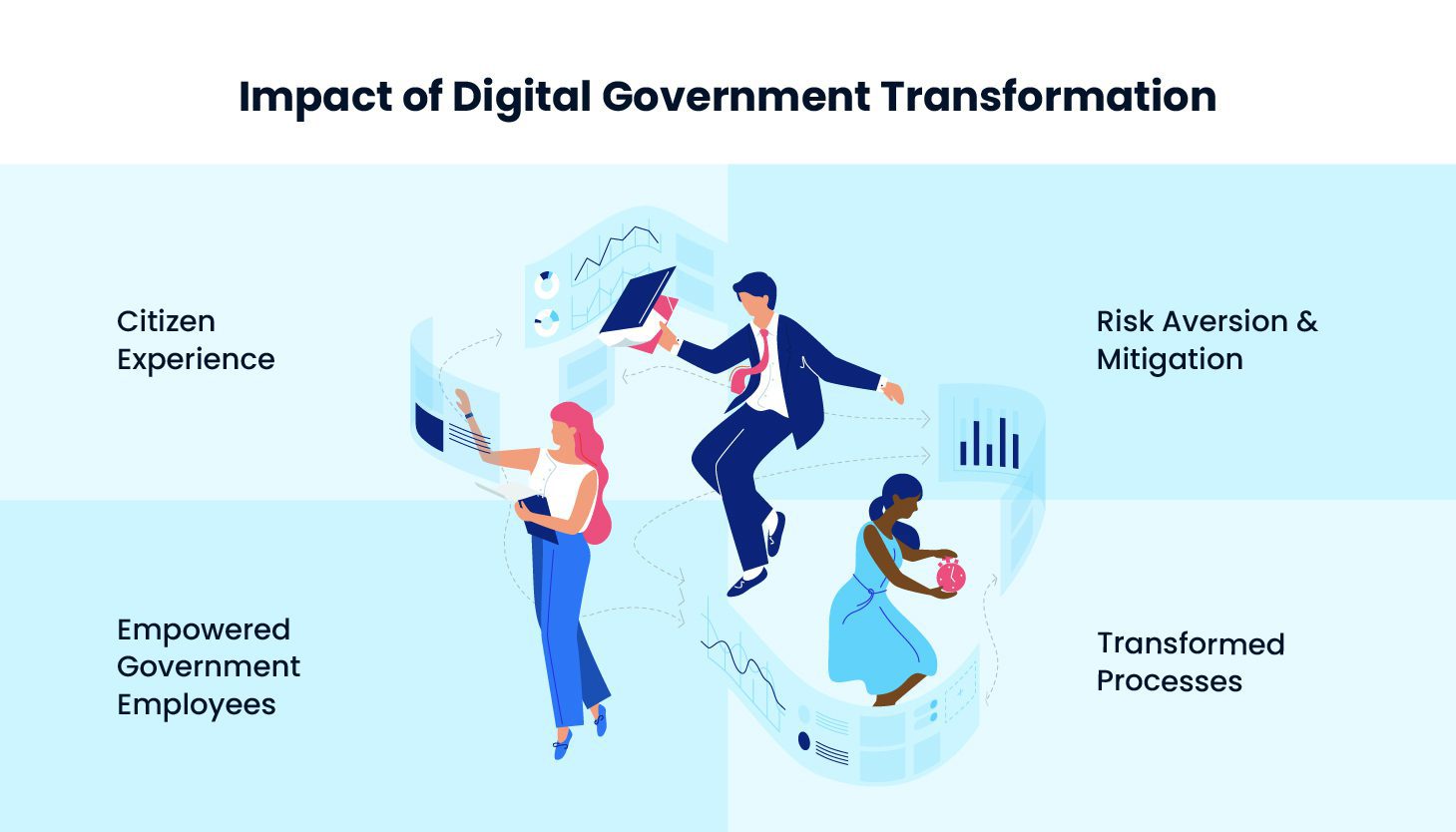 Digital governance leads to better engagement and collaboration with citizens. There's an increased level of trust in the government. The anticipation of citizen needs leads to better preparedness for unprecedented times such as the COVID-19 pandemic, while the enhanced technology offers a more human-centered future.
2. Empowered Government Employees
Digital transformation helps bridge the skill gap by providing employees with improved and personalized learning experiences. It automates several tasks like data entry, thereby reducing manual effort and increasing employee productivity.
3. Risk Aversion & Mitigation
Data is at the heart of digital government strategy. Government agencies are considering data analytics to gauge shifts in risk, opportunities, and outcomes. Hence, the decision-making process has become data-driven and improved drastically.
Digital government transformation aims for better utilization of public money by optimizing government processes. The procurement process, for instance, has become simplified, flexible, and fast-paced.
Make Whatfix a Part of Your Digital Transformation Journey
Digital government transformation is a complex phenomenon. It is bound to receive resistance from various departments and government employees unless this change gets communicated clearly and efficiently. Skill development and personalized training are barriers to creating a workforce that can deliver well on the digital transformation initiatives. Technology coupled with personalization can help address this challenge better.
One such perfect amalgamation of technology and personalization is the Whatfix Digital Adoption Platform. It provides contextual, in-app guidance that helps users learn in the flow of work without spending extra hours after the office hours for training purposes. Whatfix uses behavioral data to provide a personalized experience like never before. 
Customizable pop-ups notify users about continuous updates, and smart tips give users confidence in using digital technology with ease. Additionally, interactive walkthroughs and on-demand training keep them engaged and bridge the knowledge gap throughout the transformation journey. 
Download our white paper- 'Fastrack Digital Transformation At Your Local Government' to see how Whatfix assisted Moorabool Shire Council, Australia, with its transformation challenges.
Sign up for a demo to see how Whatfix can support your transformation roadmap.
Subscribe to get new content delivered directly to your inbox.