COVID-19 accelerated digital transformation across global industries by at least seven years, introducing new tools and processes that impact your customers, your competitors, and — unless you want to remain in the stone age — your own business.
One of the key transformations of the new digital age involves the way we buy and sell. These days, 63% of sales leaders believe that digital selling is as (if not more) effective than in-person selling. Early results support that belief: sales professionals who use digital sales platforms report win rates that are 7% higher than those that don't.
Digital sales is the process of using digital channels and tools to reach out to leads and prospects, present the benefits of your product, and ultimately close the sale. But moving to virtual sales doesn't just mean giving your sales teams a headset and wishing them luck; this shift requires a paradigm change. You need to change your sales processes, get sales teams new equipment and digital tools, and make sure they have the proper training to stay effective.
Almost 80% of customers and remote sales reps have come to prefer this new virtual sales reality—your job as a sales leader is to make sure that your sales team has everything they need to succeed. Here are some new developments about creating a digital sales strategy that will set your sales team up for success.
1. The Buyer Journey Is Becoming More Complex
In recent years, sales morphed from a strictly linear process to a more cyclic one. Part of this due to buyers being more particular about when they want to engage with sales professionals directly and when they prefer a digital experience.
Under the linear model of yesteryear, sales teams: (1) got a lead from the marketing team, (2) qualified that lead, (3) reached out to that lead to explain their product or service (to turn them into a potential customer), (4) negotiated with the potential customer, (5) closed the sale.
These days, as Gartner describes, "customers engage in what one might call 'looping' across a typical B2B purchase," revisiting and skipping the traditional steps seemingly at random. For buyers, this complexity leads to frustration. In a 2019 survey, 77% of B2B buyers agreed their most recent purchasing experience was challenging due to too many options and too many stakeholders weighing in on the decision.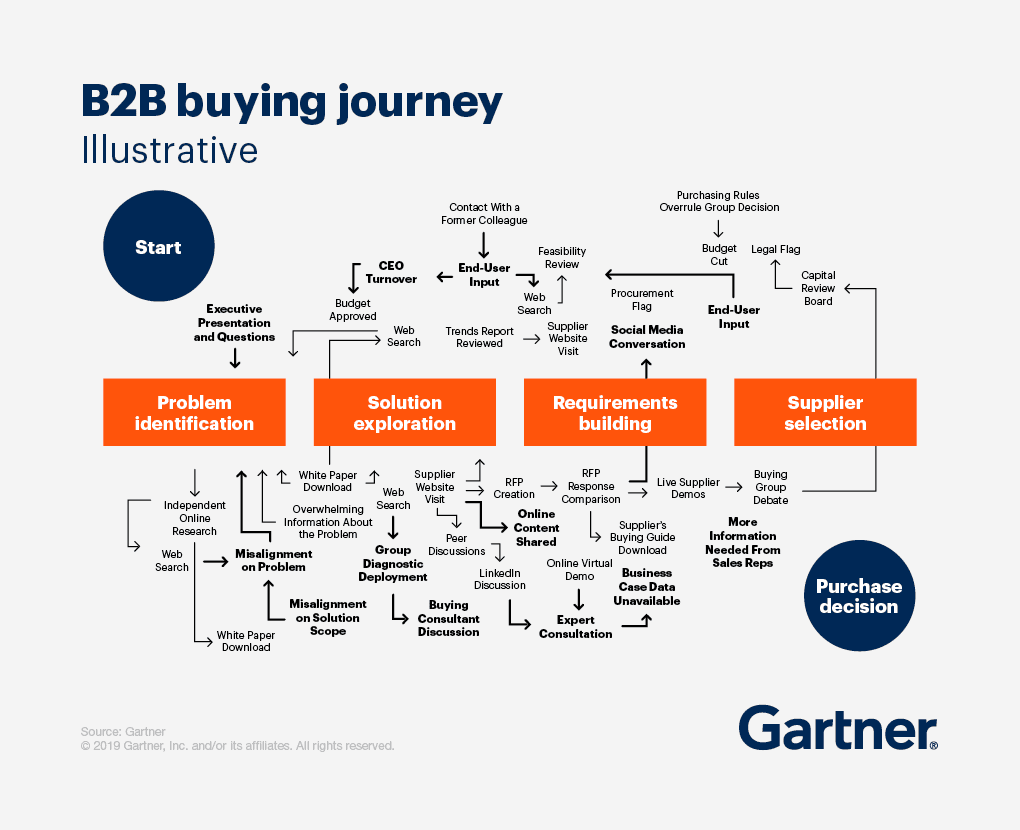 Source: https://www.gartner.com/en/sales/insights/b2b-buying-journey
As buyers wade into the murky waters of this new buying journey, their preferences are anything but clear. McKinsey found among buyers who prefer digital experiences overall that two-thirds still want standby access to human support while researching tools. Likewise, among buyers who prefer human experiences overall, 85% want a digital experience when considering upsells and expansions.
As buyers figure out the new way purchasing decisions get made, the best course of action is to (re)consider when to lead with human interaction vs. digital experiences.
How to Excel at the Human-Machine Balance:
Map your buyers' journey by segment. Each of your target segments has a different buyer journey, so map each one and evaluate where it makes sense to lean on digital resources, such as explainer content, and where it makes sense to push for face-to-face time.
It might help to ask existing customers where they would have benefitted the most from talking to an actual human during their own buyer journeys. You can set up one-on-one calls with your power users or release a survey with a small incentive.
Companies that learn the right formula for their unique buyer base can outperform their peers by as much as five times in revenue and eight times in operating profit.
2. The Engine Behind Sales Is Becoming Digital (And More Critical)
According to research conducted by Sales Enablement PRO, 87% of sales teams are either going to maintain or increase their sales enablement budget for new digital tools that make sales teams more efficient and transform the way sales agents train. It's paying off, too: sales teams that maintain or increase their budget perform 4% better than those that plan to decrease their budget.
 The need for sales enablement is due, in part, to the new complexity buyers face, as described above. Buyers rely on sellers too, as Gartner says, "make sense…of the overwhelming amount of information that buyers will encounter from various sources." It's becoming increasingly necessary to train and arm sellers to become smarter, more knowledgeable guides.
How to Level up Your Sales Enablement for the Digital Age
Establish resources that help your buyers find the information they need (when they need it), equip your sales reps with ample knowledge and expertise, and ensure your sales reps know how to use your new digital tools efficiently.
 Create informative digital resources that show your buyers what problem your solution solves and how. Simultaneously, provide your sales reps with digital training so that they can answer your prospect's questions and meet expectations around business justification and value-added insights. Digital training allows you to use both AI and machine learning so that you can give your sales reps a personalized training experience and modules that encourage learning in the moment of need.
 Technology can be a double-edged sword. You invest in tech to improve business outcomes and increase sales rep productivity, but an unsuccessful digital tool deployment can result in a loss of productivity. Invest in walkthrough technology like a digital adoption platform (DAP) that integrates with your tools and walks your sales reps through that tool's different features with bite-sized, step-by-step guides.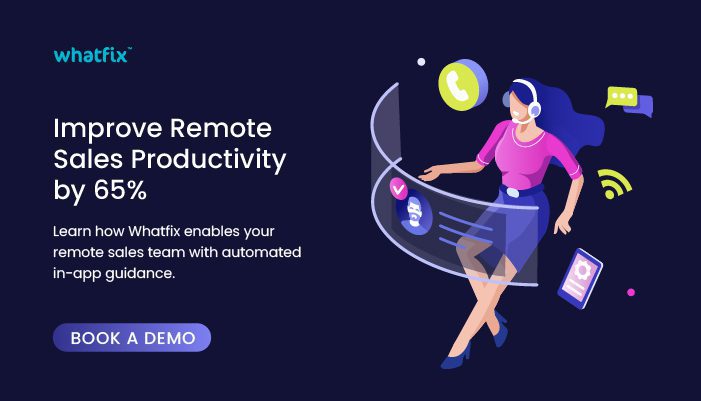 3. Video Selling Is on the Rise
Recording sales videos or webinars for qualified leads helps you build a better connection with your customers. In an experiment by Salesloft, 15 out of 20 of their sales reps closed deals by sending their leads personalized videos. A Vidyard study also found that using video in sales can cut your sales cycle length in half, and including a video in your email can lead to three times as many responses.
 Sales videos echo modern buyers' new need for privacy at certain points in the sales cycle—video is a low-pressure way to connect. Sending a prospect a video gives them a chance to watch on their own time and as many times as they need to, making it perfect for when they'd prefer less contact.
How to Crush Video for Sales:
Use introductory videos to get your get buyers' attention and generate interest in your product or company in a unique way. When explaining the benefits of your product, make sure your sales reps are engaging and clear in their tone and body language to build a better connection with potential customers.
Use testimonial videos, product demos or tours, and personalized closing content to give warm leads that final nudge they need to make the purchase decision.
Continuously monitor your videos' performance by tracking watch length and click-through rate so you know if your video efforts are effective or if you need to spruce up your videos.
4. CRMs Are Becoming More Than Mere Record Keepers
In the past, CRMs were used to store new lead and customer information, record the number of closed-won sales, and track the time it took for sales reps to close sales. Now, CRMs offer real-time customer journey documentation, team collaboration features, lead organization, prospecting data collecting, comprehensive analytics dashboards, and more.
Used to its fullest potential, a CRM increases sales productivity by as much as 15%. If used consistently, CRMs can even eliminate the need for status meetings, giving your sales reps more time to build sincere relationships with your buyers.
How to Kickstart CRM Adoption:
Properly communicate change management to prepare your team for cultural change. Your whole team has to commit to using the CRM consistently to make the most out of it (e.g. keeping data up-to-date to remove the need for status meetings). Make it part of your company culture and sales training processes that every sales interaction is automatically documented in your CRM.
Provide CRM training that your sales team can access 24/7. Make sure your team is comfortable using your CRM and they can use it efficiently—your CRM shouldn't add extra work, it should save time. Use a DAP to create Flows and a Self Help menu to train your sales team, at scale.
5. Digital Sales Teams That Practice Social Selling Are Outperforming Those That Don't
Social selling—leveraging your social networks (like LinkedIn) to make sales connections—is the modern way to build sincere buyer relationships in a digital environment. 90% of the top salespeople are already using social selling. If you're not, you're missing out on one of the most active selling markets.
LinkedIn reports 87% of people to say they'd be more likely to trust a sales connection introduced to them through their network. Social selling is also a highly efficient way of prospecting, with 1/3 of reps saying it increased their leads and nearly 40% saying it lowered the time they spent researching prospects.
How to Make the Most Out of Digital Selling:
Optimize your social profiles so your prospects will see that you're a real person who wants to genuinely give them a solution. Be authentic and send personalized messages; sending spam or messaging large groups of people with a templated, vague message won't get results.
You can also use social listening tools to gain insight into your prospects' moods toward your company. Keep an eye out especially for someone who fits your ideal customer profile and who complains about social media. That's a clear opportunity for you to step in and offer your product as a solution.
6. Self-Serve, Direct Sales Solutions Are Becoming Essential
With the popularity of online shopping and self-checkout, customers are used to being able to serve themselves and make buying decisions on their own terms. Enter direct sales, which gives buyers the freedom to purchase a product or service online, without having to go through an agent. According to a survey by Salesforce, 59% of consumers and 71% of business customers said that the availability of self-serve direct sales solutions impacts their loyalty.
Direct selling doesn't just empower buyers with the freedom to make the final purchasing decision on their own. It also frees up sales reps to work on other phases of the sales cycle, where their efforts will produce positive results, like better sales or higher customer engagement.
Slack represents a great example of this new paradigm of self-service direct sales. Slack buyers can purchase from the website, freeing up Slack's sales team to focus on upselling, not new customer acquisition. They can also add more value by facilitating user adoption and ensuring new customers understand and get value from the tool as quickly as possible.
How to Help Your Customer Help Themselves:
Use online opt-in free trials to get buyers started using your product with no wait time. Be sure to include an easy self-service option to purchase after the trial, like an automatic subscription enrollment unless they cancel.
Set up easy buying options on your website and link to your purchasing page with a clear list of product features and prices. Also add that link to your free trial sign-up landing pages, social media accounts, and throughout your website. You never want a customer to have to hunt around for your pricing page or the "buy now" button.
Self-service shows your buyers you understand their wants and frees up your reps to do the heavy lifting in higher-value parts of your sales funnel. It's a win-win.
Delight Your Customers by Providing an Amazing Digital Sales Experience
COVID permanently altered how we handle sales. Virtual selling is the way of the present and the future. It's not only what the current climate needs but also what customers have grown to expect. In fact, 75% of buyers now prefer digital or self serve to face-to-face sales.
Book a demo to see how Whatfix can boost your sales enablement efforts and help you make the most out of your CRM to increase your sales team's productivity.