With the rapid pace of technological development today, every company will have to undergo a digital transformation on some level and, most likely, multiple times. Before you can reap the benefits of new technology, you have to get your customers and employees to successfully adopt the technology—and here lies a major challenge of digital transformation.
You might have heard of digital adoption platforms (DAPs) being used to support digital transformation and help in executing transformation roadmaps, but how does that work in a real company? This is where a digital transformation case study can provide helpful insights. Case studies show you the challenges other companies faced and how they implemented solutions like DAPs as a successful part of their change management strategy.
Here, we'll look at case studies from three companies that used a digital adoption platform to successfully overcome the challenges of adopting new technology.
Sophos is a global cybersecurity solutions company. It has over 3,000 employees spread across seven countries, and leaders wanted a way to streamline the business and client relationship management. To achieve this goal, Sophos adopted Salesforce as its new CRM.
Sophos wanted to take advantage of all the updates and customization Salesforce had to offer, so the company updated and added customizations to the platform on a monthly basis. With so many processes to learn, users had trouble keeping track of the updates. They weren't adopting the technology quickly, and Sophos was inundated with a large number of support tickets. With such a vast, geographically distributed user base, one-on-one training was impossible.
The company needed to find a way to reduce support tickets and provide employees with self-serve support options. The overall goal was to improve training efficiency, so users could adopt new CRM features quickly.
Solution and Results
To solve this digital transformation challenge, Sophos turned to digital adoption platform Whatfix. To begin, Sophos created multiple guided walkthroughs to take users step-by-step through relevant Salesforce features. The guides started with basic functions and moved to more complex features as the user learned the platform.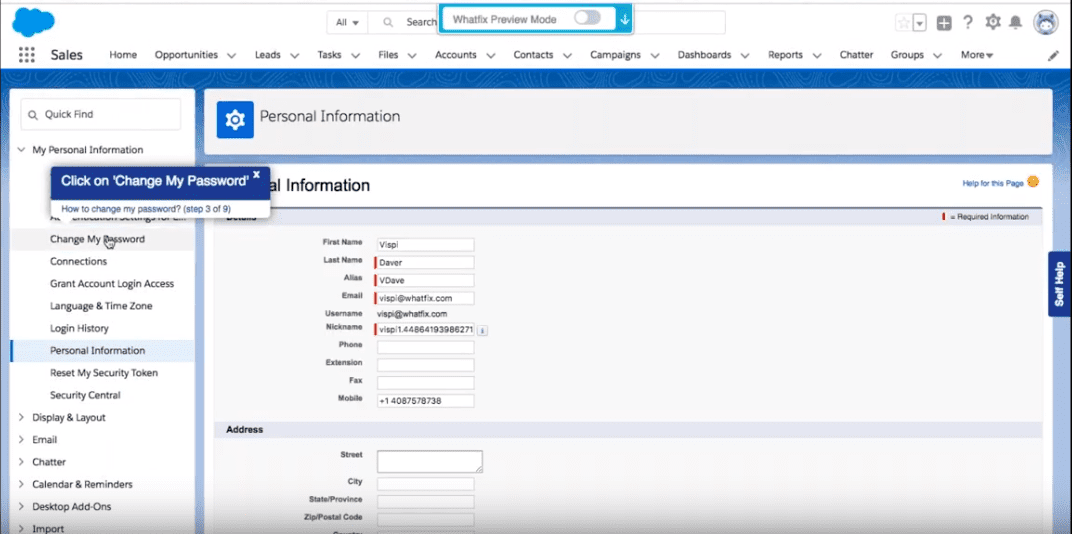 To provide employees with a way to answer their own questions and cut down on support tickets, Sophos leveraged the DAP to increase in-app guidance. Self-help menus provided instant access to resources from Sophos' knowledge base and added support content created by Whatfix. Depending on where the user was on the platform, the menu guided them to appropriate articles and videos, or the user could consult the self-help menu directly.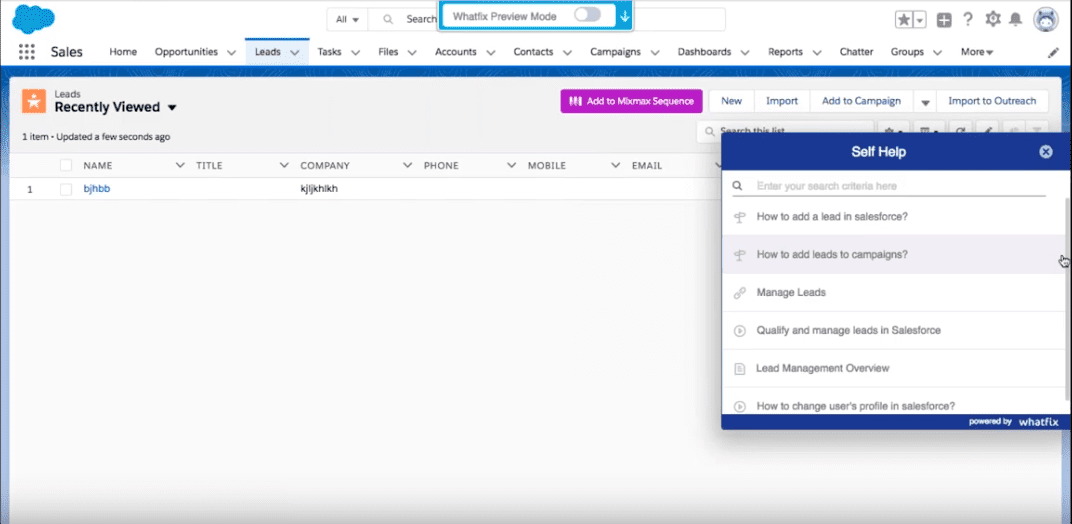 Sophos implemented pop-ups and alerts to address the issue of continuous updates. The DAP notifies users when new features and updates are available, as shown in the image below, and they can click on the alert to see a walkthrough of the feature. At the same time, "Smart tips" appeared to provide specific information about each button and form field, increasing users' confidence that they're using the right features and filling in the correct information.



All of these features worked together to solve Sophos' digital transformation problems. After implementing Whatfix, they experienced a 15% (~12,000) global reduction in support tickets. Not only did this free up the support team's time, but employees were also more productive overall because they weren't waiting around for their tickets to be answered.
Sophos can now manage over 1,000 employees on Salesforce, updating and customizing regularly while maintaining a 9/10 user satisfaction score.
Key Takeaways
This digital transformation case study demonstrates the importance of easily accessible, self-serve support options. You can empower your employees with self-help options like:
An internal knowledge base
A comprehensive self-help menu embedded in the technology you're adopting
Alerts for updates and new features accompanied by walkthroughs
Quick tips for filling out especially sensitive or complicated forms
If employees are more confident about using the new technology and solving problems when they arise, you're likely to have a much faster user adoption rate.
Drive Digital Transformation with Whatfix
Discover how Whatfix's Digital Adoption Platform can help your organization transform digitally with high levels of employee adoption and increased productivity.
Experian is a global information services and credit reporting company. Like Sophos, Experian adopted Salesforce as a way for sales teams to better manage client relationships. Experian took advantage of the highly customizable nature of Salesforce, resulting in a highly specialized platform featuring many different functions and processes.
The company noticed low engagement with Salesforce, and employees reported very low satisfaction ratings. User adoption was also incredibly slow—each employee required months of onboarding and training time. Experian needed a way to reduce onboarding and training time, so employees could productively use Salesforce in a shorter timeframe.
Solution and Results
Experian used Whatfix to create in-app guidance that ran throughout the training process. One solution they implemented was goal-centered walkthroughs. Each walkthrough had a specific goal for the user, such as changing their password or logging a lead, and it took them through each step to complete that goal.



To promote self-training, Experian used the self-help feature. Users could easily access instructional videos, articles, and walkthroughs. That saved time and helped users quickly become more confident in the platform.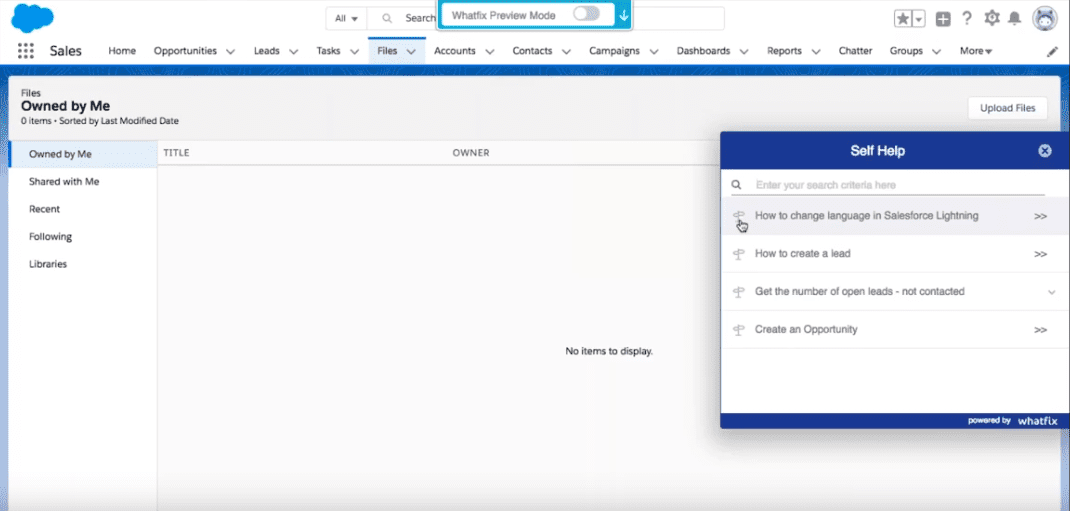 Prior to implementing a digital adoption platform, new hires at Experian trained separately before beginning to use Salesforce. The DAP helped employees train within the system, reducing the time needed before new hires could productively work within the platform.
By implementing these solutions, Experian reduced user adoption time from eight months to just three and cut overall training time by 50%. And because Experian needed less time for training and onboarding, the change also cut the time it took to launch Salesforce in a new business unit. Instead of three months, Salesforce launches only required one month.
Key Takeaways
Experian's case study of digital transformation demonstrates that digital adoption solutions can serve multiple purposes. For example, you can use the same techniques for training new hires and for ongoing training of existing employees, maximizing the ROI of every piece of content.
You can also see the importance of having self-serve training options throughout the platform. Adding walkthroughs and guidance features at multiple points in the workflow boost user confidence and reduce training time. For example, you could have one walkthrough at the beginning to set up the user's profile, and another later on to walk them through logging their first lead.
PlanetHS is cloud-based management software for the middle and high school athlete eligibility and registration process. The company has over one million users spread across 15 states and continues to grow. Despite this huge and diverse user base, the company trained new users on its platform through one-on-one calls that lasted around 45 minutes each.
Existing users struggled as well. The complex registration process meant users had to register multiple times because of data entry errors, and PlanetHS received thousands of support tickets. The company also regularly sent out emails to try and collect customer feedback regarding the platform, but the response rate was very low.
PlanetHS needed to find a better and less time-consuming training method for new users. It also needed to improve the efficiency of the registration process to reduce the number of errors and lower the volume of support tickets.
Solution and Results
To reduce in-person training time, PlanetHS used Whatfix to create walkthroughs and micro-learning plans to replace one-on-one calls. A micro-learning plan took the user through a series of related walkthroughs to help them learn one section of the new technology at a time.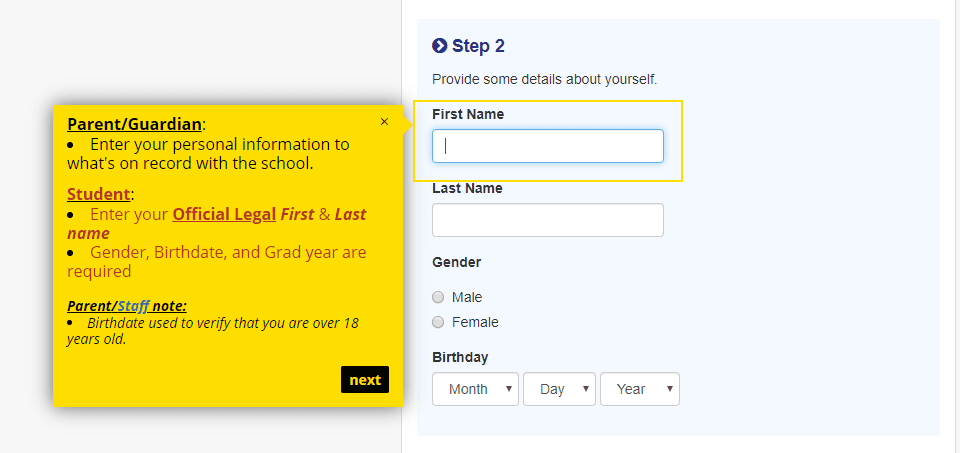 The steps included self-help details, so the user learned exactly what information to enter, cutting down on user errors and the need for multiple registrations. Inside the program, users could also access a self-help catalog that contained information specific to each user's role. Athletic directors could access different articles than students, for example.
PlanetHS used the DAP to improve customer feedback collection as well. The company offered surveys to users in-app rather than via email, which dramatically improved the response rate. The company then used the feedback from each customer to add sections to the self-help database.
The digital transformation solution was a success. PlanetHS eliminated 190,000 support tickets and dramatically reduced the number of support calls and emails related to system navigation. Users also noticed the improved registration efficiency, and the company's user satisfaction rating went up to 5/5.
Key Takeaways
PlanetHS used Whatfix to collect customer feedback in-app, with far higher response rates than emailed surveys. Collecting and implementing ongoing customer or employee feedback can help you quickly find and address any issues during the course of your digital transformation.
These digital transformation case studies also show how a simple solution can solve a major problem. By implementing informational prompts, PlanetHS improved registration flow and cut down on human error. In your own digital transformation, you can add informational prompts and tips to make complicated processes easier to learn.
Personalize Your Digital Transformation Solutions
The company in each digital transformation case study faced a unique challenge when it implemented new technology, and each had to find a personalized solution. Their challenges can show you what issues to watch for during your own digital transformation, but the specific solutions you find will need to be personalized for your company.
Open communication with your customers and employees will help you spot potential issues early on, and you can use case studies like these as a starting point.
Keep reading our articles and subscribe to our updates if you're looking for more examples of successful digital transformation.
If you would like to learn how you can achieve these results by using a digital adoption platform, then schedule a conversation with our experts today.
Learn in the Flow of Work with Whatfix
See how Cardinal Health learns in the flow of work with the Whatfix Digital Adoption Platform