In the wake of the COVID-19 pandemic, "over 60% of nonprofits are anticipating significant decreases in terms of their fundraising ability," according to Amir Pasic, dean of the Lilly Family School of Philanthropy at Indiana University.

Now, you face a serious dilemma. More people are in need of your services due to the wide-ranging impact of the pandemic. But you have fewer resources with which to serve those people.

This challenge complicates long-term strategic planning for nonprofits. Strategic planning gives you a blueprint for advancing your mission. It aligns your organization around the mission, sets goals and objectives, and details key operational tasks.

But strategic plans now have to adapt to economic uncertainty. Digital transformation can alleviate some of that pressure by introducing new technologies that improve your ability to connect with stakeholders and help you operate more efficiently.
It Helps Drive Your Mission Forward
Digital transformation fits into the last mile of your strategic plan. It makes your operations more efficient so you can drive your mission forward even when fundraising is down. There are two primary ways digital transformation can do this: It can improve internal communication, and it can improve data access/management.

Digital Transformation Improves Internal Communication and Collaboration

One type of digital transformation project involves upgrading your communications and collaboration solutions. This has become increasingly important to your operations as COVID-19 forces employees to work remotely. Implementing new videoconferencing software, messaging systems, and file-sharing tools can go a long way in keeping your workforce connected. And the easier it is for employees to communicate while working remotely, the more productive they'll be in contributing to your mission.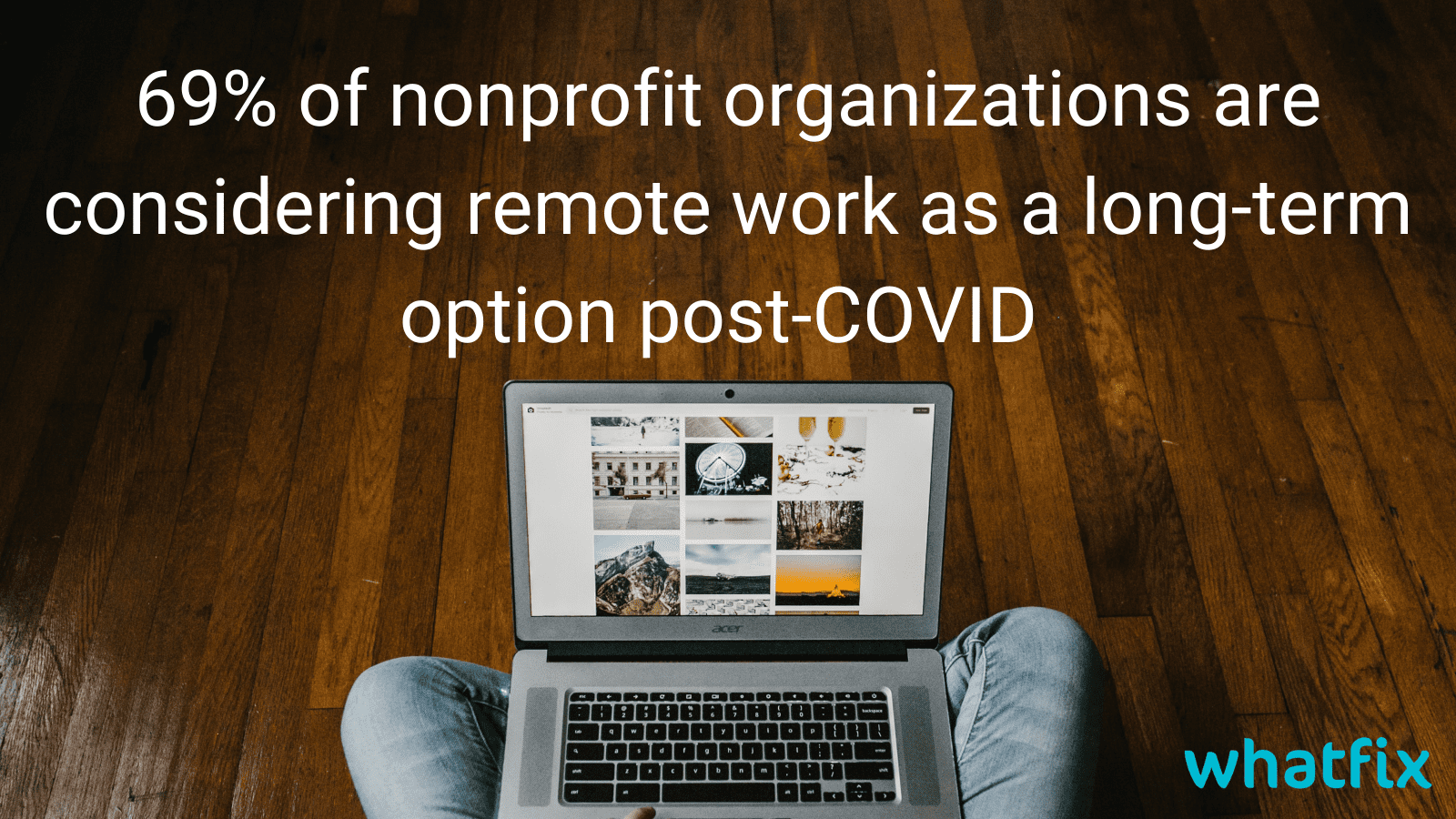 One survey found that 69% of nonprofit organizations are considering remote work as a long-term option post-COVID-19. Continued investment in communication and collaboration tools will be critical if you plan to maintain remote operations.

Digital Transformation Improves Data Access and Management

Another type of digital transformation project involves upgrading back-end IT infrastructure so that data can flow more easily across your organization. Breaking down silos in your IT infrastructure enables more data-driven decision-making. This leads to smarter resource allocation, which advances your mission even with limited funding.

Legacy systems limit visibility into performance data. You won't be able to solve this problem all at once. But if you identify the data sets that are most important to your business, you can come up with small projects to increase access to that information. Maybe that means moving a specific storage system to the cloud. Or maybe it means upgrading certain systems to standardize data collection for your organization.

Even small steps to improve data access can give employees the information necessary to increase productivity.
It Supports Critical Capacity-Building Projects
Capacity-building projects are any long-term initiatives that aim to improve your nonprofit's ability to fulfill its mission. The projects could be anything from mapping your leadership succession plan to improving donor relations to increasing recurring donations, and more. Digital transformation can supercharge these projects, leveraging any kind of technology that could make it easier to achieve your goals.

The challenge is aligning capacity-building with your digital transformation. This is where strategic planning comes into play.

Strategic planning aligns your capacity-building projects with digital transformation by focusing on the sustainability of your mission. It keeps you from viewing digital transformation efforts as siloed tech investments by highlighting their strategic relevance.

There are three broad types of capacity-building projects that are especially well-suited for digital transformation:
Leadership Development: A leadership succession plan is critical to the sustainability of your nonprofit. But mapping out a clear org structure isn't enough. You need to prepare next-in-line leaders for the tasks they may be responsible for when they're promoted into the new role. One potential digital transformation project could be to build out a more robust eLearning infrastructure and create microlearning opportunities for up-and-coming leaders.
Volunteer Recruitment: Advancing your mission often means extending services into new communities. And that means you're in a never-ending cycle of volunteer recruitment. Digital transformation projects like upgrading your website or implementing systems to support remote volunteering can widen your reach and attract more people to your cause.
Stakeholder Engagement: Improving communication with donors and constituents is a common capacity-building project because it's so fundamental to any nonprofit's mission. A common nonprofit digital transformation project is to implement a basic cloud-based CRM that can manage stakeholder data more efficiently. These tools can also help you craft personalized messages, which can be helpful in encouraging repeat donations to your organization.
It Can be Affordable for Any Nonprofit
Digital transformation doesn't have to be the daunting, high-cost initiative that often keeps it out of nonprofit strategic planning. With the right digital transformation strategy, you can execute smaller-scale projects that still have a real impact on your mission.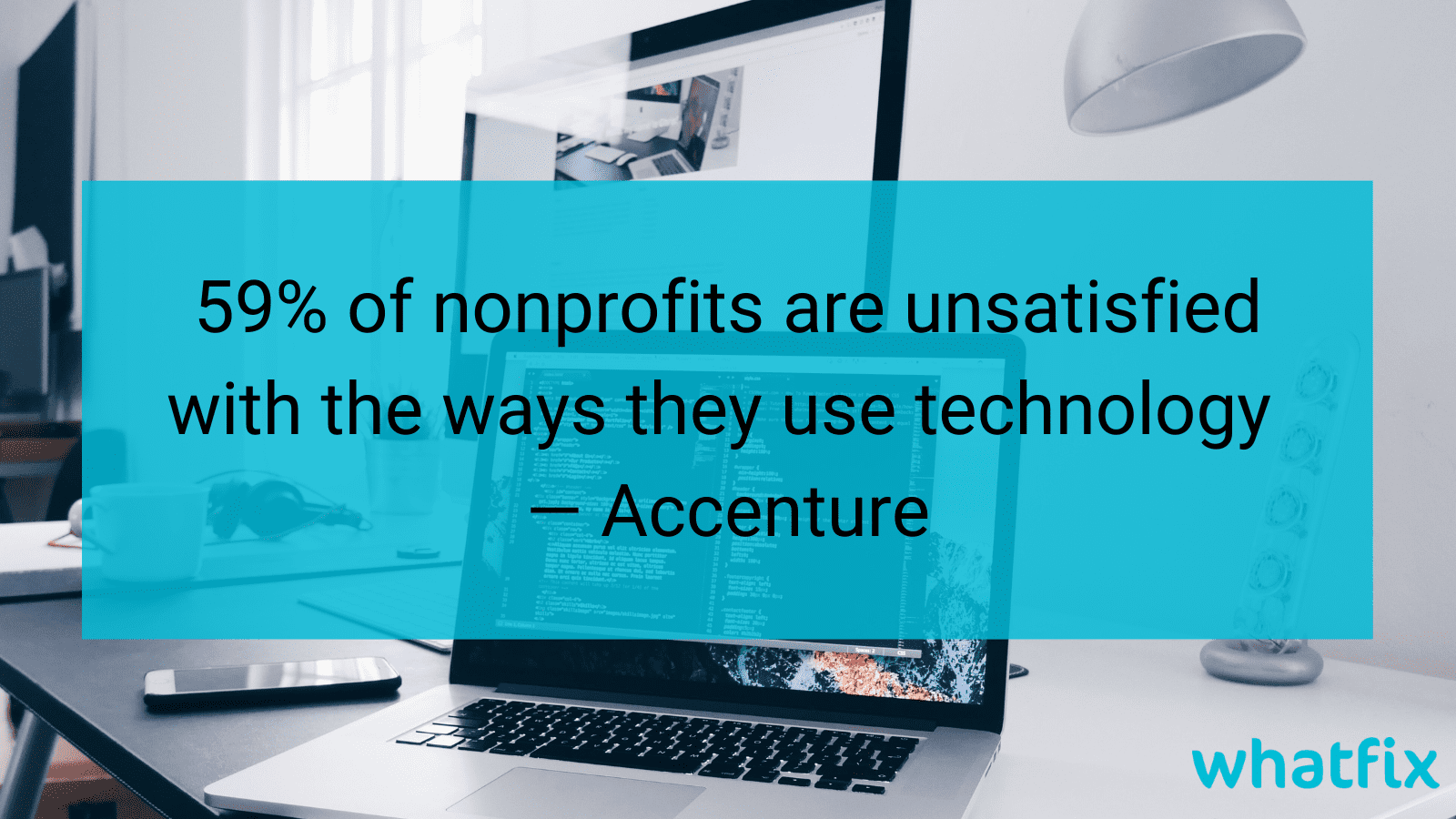 Nonprofits have recognized the value of investing in technology as a strategic objective for a long time. But they still struggle to add it to resource allocation in strategic planning for two main financial reasons.

The first is clear: the cost of technology. Accenture research found that 59% of nonprofits weren't satisfied with the ways they used technology. And they "almost always" said that funding was the big roadblock.

But even if technology cost isn't a problem, the same study found that 45% of nonprofits see the cost of employee training is a barrier to new tech implementation.
Approach digital transformation one project at a time
How do you overcome these challenges? You take a slow, staged approach to digital transformation. Prioritize one project at a time based on your budget to keep costs low and ensure training remains manageable. Any of these areas of investment would be a good place to start your digital transformation journey:
Event Management Systems: Find a low-cost SaaS tool that can take a lot of the manual work out of hosting events online, freeing you up to focus on the experience.
Accounting Systems: Upgrade your accounting software to make it easier to track different types of donations and link financial data to customer data records.
Marketing Automation: Use an affordable marketing automation solution to personalize outreach at scale and get deeper insight into engagement statistics than if you had manually sent mass messages.
CRM: Migrate your donor and constituent records to a CRM to get a comprehensive view of each contact and improve data access for your increasingly remote workforce.
Digital Transformation and Strategic Planning for Nonprofits Go Hand in Hand
The global pandemic is going to have long-term effects that extend well beyond vaccine distribution. And according to Steve Zimmerman, coauthor of The Sustainability Mindset, that means it's time for nonprofits to "reimagine who you are and what you do and then make your organization better in the process."

Digital transformation needs to be at the core of your strategic shift if you expect to thrive during and beyond your organization's COVID-19 recovery.

No matter what specific project you decide to take on, employee adoption could make or break the success of your digital transformation. Without a plan to onboard new users and help them get the most out of new tools and systems, new tech investments could go to waste.

This is where a digital adoption platform (DAP) like Whatfix can help. Request a demo, and find out how Whatfix can help you create a smooth transition to your newest digital tools.