Keeping up with digital transformation trends isn't just about staying competitive; it's about empowering your business to evolve.

"Look around you. Everything changes. Everything on this earth is in a continuous state of evolving, refining, improving, adapting, enhancing…changing. You were not put on this earth to remain stagnant." — Steve Maraboli, author and behavioral scientist.
Maraboli may have been referring to personal improvement, but his words ring true for enterprise businesses as well especially in the wake of the COVID-19 pandemic when business requirements have become dynamic. If you don't watch digital transformation trends, you won't discover new ways to improve how you leverage technology in your own business.
Let these digital transformation trends inspire you to achieve your transformation goals in 2021 and act as a reference to build out your digital transformation strategy amidst the COVID-19 pandemic.
1. Digital Adoption Platforms Help Users Learn in the Flow of Work
Users can access self-guided training and on-demand guidance to help them learn new technology via digital adoption platforms. As cloud software becomes integral to workplaces in nearly every industry, digital adoption platforms are transforming how users learn, work, and improve their skills.
Digital adoption platforms:
Speed up employee onboarding and help users master new features
Cut back on training and support costs while improving productivity and comprehension
Allow users to set their own pace and learn as they work
Transformation in Action
Whatfix's digital adoption platform provides contextual in-app guidance to help users to learn new technology as they work. The platform caters to multiple learning styles with video, slideshows, articles, and even a self-help widget that answers questions and pulls external knowledge assets, such as information from a company wiki, directly into the program.
Instead of relying on time-consuming training sessions that overwhelm learners with too much information at once, our platform offers "microlearning" opportunities.
For example, Dimensions UK uses Whatfix for a successful digital transformation initiative. Whatfix encourages users to learn by doing. Custom walkthroughs hand-hold users so that they can complete actions in real-time, helping them gain confidence as they accomplish small milestones while they interact with the system.
Dimensions UK also uses Whatfix's auto-update feature to ensure that all walkthroughs, self-help widgets, and training materials are updated when the system updates every three months.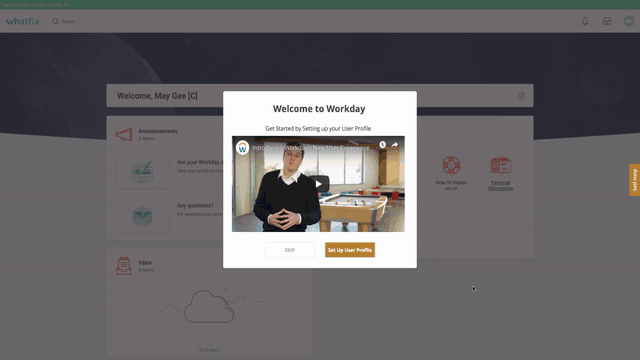 2. AI-Powered Assistants Gather and Analyze Data
Making informed sales decisions is easier and faster with AI-powered assistants that manage, analyze, and recall data on demand.
AI-powered assistants take care of repetitive, data-driven work that would eat up time for a human employee. The assistants are programmed to collect data, such as customer habits and sales numbers, and then recall that information instantly.
Companies use AI-powered assistants to gain detailed insights into the sales trend and customer behavior, which, in turn, help them create better sales strategies.
Transformation in Action
Zoho CRM simplifies sales forecasting through their smart sales assistant, Zia. The AI-powered sales assistant works in the background so that it can analyze data, alert sales agents regarding any fluctuations, and recall information when asked.
Zia not only tracks every step of the sales process — it is also designed to chat with human agents in a conversational tone. Sales agents can say, "show me revenue by country," and Zia will reply with the relevant information. Zia makes sales agents' lives easier and allows them to spend time on more high-value work.
3. Visual Search Helps Companies Increase Online Sales
Worldwide, online sales account for three-quarters of retail growth. It signifies how transformation programs are no more a business innovation but an imperative to keep pace with digital transformation trends.
Online shopping continues to grow in popularity, but some shoppers miss the ability to scan physical stores for a particular look or style. Visual search is bringing the in-store browsing experience to online retail.
Online retailers are using visual search to:
Allow shoppers to upload photos to discover similar items
Help shoppers find a cohesive style by identifying multiple items in a photo
Provide a way for shoppers to discover items without needing specific search terms
Delivers personalized recommendations for accessories that would pair well with items identified in the image
Transformation in Action
Syte's camera search feature makes it easy for shoppers to upload photos of what they want and then get immediate product recommendations. Visual search is helping online retailers around the world increase customer engagement and boost sales conversions.
Spanish online retailer, Venca, increased conversion rates 8x by using Syte to implement a combination of visual and textual search. When users upload a photo of an outfit, the visual search identifies multiple style elements within the photo and delivers a curated selection of Venca's related products.
4. Robotic Process Automation (RPA) Improves Employee Experience
Robotic Process Automation (RPA) technology is changing the way employees spend their time at work.
RPA technology makes it possible to configure software or a "robot" to execute processes within digital systems. These robots emulate human actions so that they can interact with applications and gather data much like a human would – only with zero mistakes and without ever needing a break.
Software robots can:
Process data between multiple systems
Eliminate human errors caused by manual data entry
Decrease labor costs associated with low-value work
Software robots are designed to support employees by taking repetitive, time-consuming tasks off their hands. Implementing RPA is fast and requires a minimal upfront investment, so many businesses are leveraging RPA to improve efficiency and employee job satisfaction at the same time.
Transformation in Action
Eastman Chemical worked with Automation Anywhere to leverage RPA to replace manually updated Excel spreadsheets.
Through Automation Anywhere's platform, the company is able to automate several tasks across ten different departments.
The bots work to extract data in bulk and upload it directly into designated spreadsheets and tables. This frees up over 20,000 hours of human labor each year, which allows employees to focus on more creative and high-value work.
5. Mobile Apps Improve the Patient and Healthcare Provider Experience
Healthcare providers are turning to technology to manage the patient and provider relationship. Patients increasingly expect to be able to reach their doctor both in and outside of the doctor's office, so healthcare providers are using apps to accommodate them.
Many medical professionals now rely on mobile apps that provide:
HIPAA-compliant secure messaging through services such as IM Your Doc
Centralized patient management with communication, medical records, billing records, etc., in one place with platforms like Patient Fusion
Telemedicine services via video, phone, and text
Transformation in Action
Virtual healthcare platform Dialogue manages a "virtual clinic" that connects licensed medical professionals with patients through an interactive mobile app.
Dialogue helps patients skip in-person visits with video, phone, and text consultations. They also worked with Segment to leverage Intercom live chat support to handle non-medical or app-related IT issues.
Filtering out non-medical questions frees up nurses' and doctors' time to focus on medical care, which improves both the patient and the healthcare provider experience. This is one of the leading transformation trends for 2021.
6. Banking and Finance Companies Use Self-Service Banking to Encourage Customer Success
Financial institutions are leveraging digital transformation via online banking and mobile apps to put financial planning into the hands of customers.
These mobile solutions go beyond checking a balance or transferring funds and instead focus on helping customers gain insight into their spending and saving habits. Plus, with digital adoption solutions like self-guided walkthroughs and automated chatbots, customers can navigate the apps without contacting a bank employee.
Transformation in Action
Simple built a mobile app that promotes improving financial literacy by putting banking, budgeting, and financial goals all in one place. Customers can use a digitized version of the "envelope method," which involves designating funds based on future expenses, such as a phone bill or rent. Once users set aside money, they can set leftover funds as "Safe-to-Spend" and feel confident that they won't come up short later in the month.
Personal savings goals help customers work toward milestones they design themselves. Users can set a savings goal, like financing a dream vacation. Then they can monitor their own progress through the app.
7. AI-Powered user personalization leads to custom employee training
Hyper-personalized content can now be automatically generated thanks to AI-Powered personalization engines. By tracking user behavior, the engines can design custom training materials that cater to individual users.
Employees within the same company learning the same tool can receive different training materials, guidance, and resources. This allows employees to receive help based off their own engagement history, learning style, preferred language, and more.
Transformation in Action
Whatfix adopted a personalization engine to deliver custom in-app guidance.
As users work within apps, Whatfix provides tips and training based on where the user is within the app. Thanks to the AI-powered engine, they also track how users engage with the system so future guidance can be customized to match the user's preferences. Combining the power of personalization with the ease of automation speeds up and simplifies user onboarding.
What Digital Transformation Trends Are You Watching in 2021?
We love hearing about exciting digital transformation initiatives that solve problems, make lives easier, and leverage technology in creative ways. Tell us more about the digital transformation trends you are keeping an eye on this year.
Ready to start your own digital transformation initiatives? Schedule a demo with us to see how we can help your business evolve in 2021.