Bring your Whatfix-Generated Videos to Life by Adding Voice-Overs
Learning is a personal experience, where everyone has a preferred style of consuming information. Which is why, we've always offered the capability to convert a Whatfix Flow into a PDF, Video, Article, Slideshow, Support URL in ONE click, to accommodate learning styles and use cases.
With this release, we are taking this a step forward. By auto-generating audio using text-to-speech, all your flows (after being converted into a video) will support audio. So say goodbye to having to record audio, merging it with the Whatfix videos and then pushing it to your users. It is entirely automated with a click of a button, from your dashboard.
Let's face it, listening to a video is way more engaging than reading through content, even if it is bite-sized. So go ahead and captivate your users' attention by auto-generating voice to your Whatfix-generated videos.
Upload Videos in Multiple Languages Faster, with Greater Convenience
Videos were clearly a focus area for us in this release. We are introducing 3 big enhancements that will change the way Whatfix videos are uploaded.
Intuitive Design for Video Channel Configuration
Design plays a critical role in reducing friction between a user and an application. We've redesigned the entire channel configuration process to make it simpler, faster and better. Visibility options are now included within the UI, as compared to redirecting you to the settings page of the selected video channel, previously.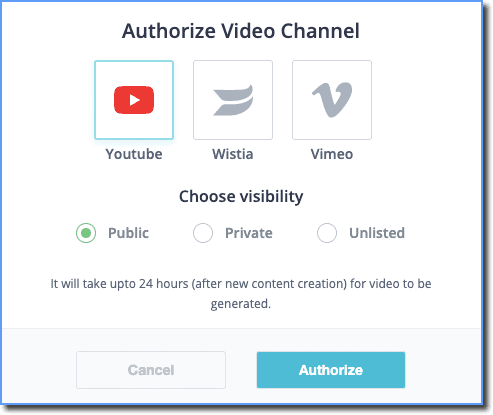 Track Video Uploading Status in Real-Time
Prior to this update, there was no way to track how long an upload would take or how many videos are left to be uploaded or what uploads faced issues. The mental satisfaction of being able to track and view progress real-time is immense.
We've observed this and are, therefore, visually representing the status of video uploads – making the process more transparent. Now, you can view how many videos are getting uploaded, successful uploaded, uploads in progress and uploads that failed.
We have also reworked the backend to speed up the upload process.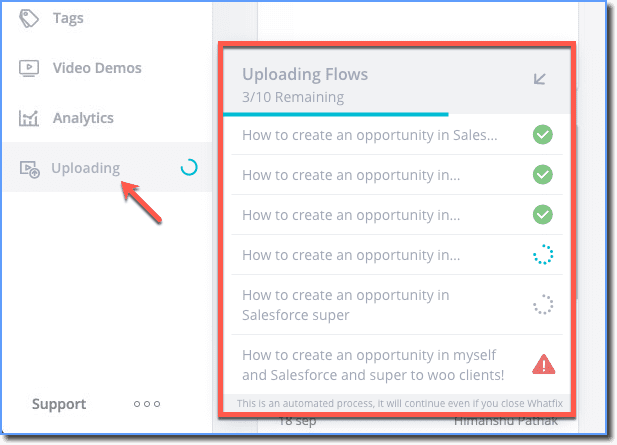 Upload Videos in Multiple Languages
Supporting your global, multilingual users has become a lot more convenient. Earlier, we offered multi-language videos only for video downloads. Now, the same capability will be supported for online video channels as well – so you can simply convert your flows into videos, change the language and upload them on your desired video channel.


Build Superior Flows by Utilizing Insights into Flow Failures
Flows or Walkthroughs are the lifeline of any Digital Adoption Solution (DAS), and Whatfix is no exception. Users will engage with flows only if they are valuable i.e., have answers that resolve their specific concerns.
While Whatfix Analytics has always provided insights into how many times Flows were played and from which widget, we now offer deeper insights. Whatfix admins and content creators can view how many flows were exited by users, either intentionally or unintentionally, and how many failed. Let's understand the terminologies before we move ahead:
Flow Failure: Flow Failures happen when there is something wrong with the flow and the user is unable to proceed.

Flow Exits: Flow Exits happen in spite of flows running well and are recorded  in 3 ways:

User clicked on the 'X' button on the Flow.

Flow Navigation: User did not click on the next available action in the Flow, but clicked on some other element on the page.

User navigated away: User became inactive or closed the browser/browser tab.
What's more exciting is that this information is available at an individual step-level for all Whatfix Flows. This granular level data can help content creators understand how useful the flows are, and helps them understand which step needs to be fixed.

Deeper Insights into Usage and Engagement through Report API
One of our core philosophies has always been to NOT be a walled garden. We want to work with our clients' technology ecosystem without making Whatfix a hindrance. As such we are investing heavily in our Integration capabilities.
With this release, you can now export any data from Whatfix Analytics using Whatfix Report API. We have introduced 20 APIs to track usage and engagement related data for your Whatfix content, and we intend to add more APIs in the future to help you get deeper insights into user behavior. These reports can also be downloaded in .CSV format by passing the API call in a web browser.
Increase Installation of Whatfix Extension Among Individual Users
Maybe mass deployment is not supported in your organization either due to an IT policy or due to a massive user base. While we have had a solution to counter such situations, it required some manual effort and configuration before implementing it.
With this release, this process is largely simplified. You can redirect your users to a landing page from where they can install the necessary extension. Moreover, you can even customize the landing page to suit your corporate branding guidelines. Currently, this mode is offered for Firefox and Chrome browsers. You can reach out to your Account Manager or CSM for the landing page, or you can email us at [email protected].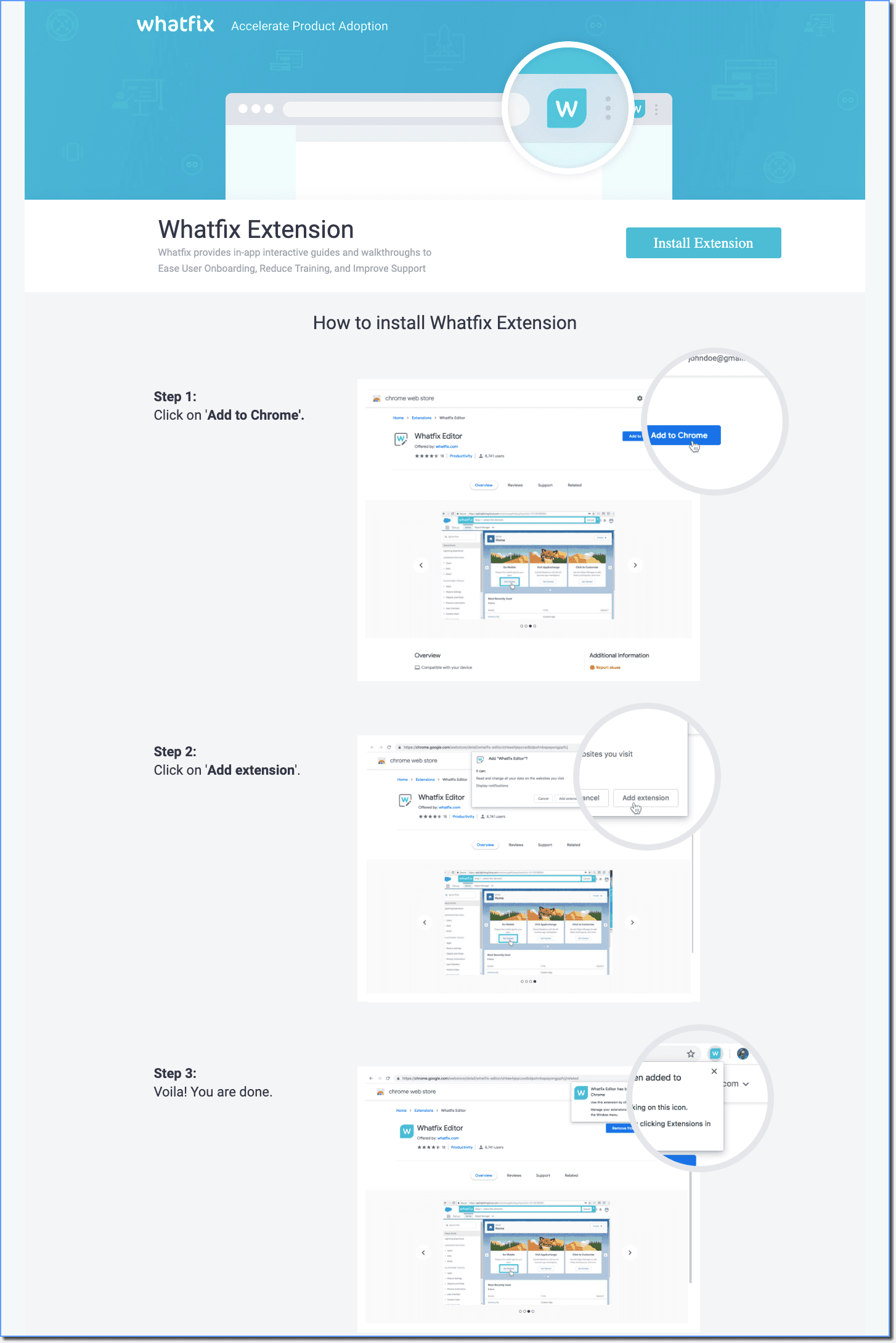 On the landing page, the following can be edited: the banner image, title, description, button name and the URL to which your users have to be redirected after installing the extension
Wait…There's More!
Improved End-User Detection
We have improved the backend algorithm for accurately detecting unique end-users.
With the enhanced algorithm, we have added a layer that enables capturing encrypted user data from the local storage, based on previous sessions. As such, Whatfix Analytics and Whatfix Google Analytics will reflect accurate user count.
Track Changes through an Audit log
With multiple users accessing the Whatfix Dashboard, it is critical to keep track of who's modifying what. With this in mind for this release, we now enable Whatfix to capture specific actions that users perform on Integrations and Analytics, when using the Whatfix Dashboard.
Essentially, these logs will help with increased security, managing risks, compliance and detailed insights into dashboard activity.
Currently, we allow this for actions made in Integrations and Analytics sections.
Performance Enhancement for Smart Tips
We've made a series of improvements to increase the efficiency of Smart Tips. End-users will experience faster load times, minimal friction while scrolling and minimal flickering of Smart Tip icons – resulting in a smooth, seamless experience across any application.
Please reach out to your CSM to get this enabled.
Configure More Characters in 'Text'
Text content was limited to 600 characters. Now, this limit can be increased to something that suits the needs of your organization. Once changed, the change applies to all your text content.
User Specific API Token
Previously, developers used Enterprise specific API token for authorization. Now, it's been moved to User specific API Token so that each user can generate and renew their API token without affecting other users.
Omniture and Matomo supported in Custom Analytics
If you use analytics from Omniture or Matomo (formerly Piwik), then you can now integrate these tools to analyze how your Whatfix content is performing. This is done using Whatfix API.
What's Next…
Graceful Flow Exits:

Keep end-user experience intact even in situations where Flows fail to work. With Graceful Exits, you can offer alternative content formats such as a PDF, video, slideshow, etc so that they can continue to get the guidance they require.

Auto-Execution and Auto-Form Fill

: As the name suggests, we plan on boosting user productivity by automating navigational clicks in a workflow as well as filling out form-fields with relevant data.

Multiple Step Completion Rules:

With this, you can offer multiple step completion rules for an individual step. For example, a user can either click on 'Next' or press the 'Enter' key on the keyboard to move to the next step.

Sharepoint Integration:

We will be introducing Sharepoint integration as part of our effort to bring enterprise knowledge within the application. Whatfix already integrates with Confluence, Zendesk and Freshdesk.

CSS Selectors for Branching:

An intuitive design will be provided, which will massively simplify the process of detecting HTML elements in Branching scenarios. Simply 'Click & Point' and define your Branching steps.

List View in Dashboard:

With List View, you'll be able to view 50+ line items in a single list. So without having to navigate across multiple pages, you can access more content items.

Private Chrome Store:

Soon, we will start hosting Whatfix Chrome extensions on our servers, instead of the Google Store. This will considerably reduce time taken to generate or update the extension.
---
Contact your CSM to know more about any of the above updates or email us at [email protected]
If you are a Whatfix customer, you can access the release notes here.
---
Whatfix Support Documentation Feedback
Now you can easily give us feedback (verbatim) on any article in support.whatfix.com.
At the end of any article, click either the thumbs up or thumbs down icon under the Was this article helpful? section and enter your feedback.



If it's not regarding a specific article, you can also write to us at [email protected].