Some years ago, I had joined SAP to work as a product manager for their Business Intelligence (BI) product. SAP BI an impressive product: massive and very comprehensive. With no better way available at the time to get us prepared for the job, L&D had us sit through three weeks of classroom training straight! I really enjoyed the time spent in demystifying the complexity of the product. However, the granular learning on things such as the 'how-tos' of creating data loading processes started to wear off. When I resumed work after those enlightening three weeks, for building those processes involving tens of steps, I had to start from scratch. I had to occasionally reconnect with the trainer or with the other attendees to 'think-together' with them.
A decade ago, this wasn't such a bad way of going about things. But today?
Today, it's possible for HR to give a

VR-powered tour

of the office to interview candidates so they can experience the ambience and culture before they join.

Recruiters can use

predictive analytics

to create more appealing job-descriptions and attract more diverse and upto twice as many qualified candidates.

Anyone can learn a new language in a fun and astonishingly flexible way with mobile apps that apply gamification to keep you invested in that goal.
Workplace learning doesn't have to be much different. As companies deal with the accelerated pace of business, they need to help employees grow their digital expertise and enable them for the digital age. With this goal, companies are treating training as an ongoing initiative, and, in fact believe that anything that is done to help employees become better at their job is 'training'. This can mean many things:
Embedded Learning:

Training is moving out of classrooms. Companies are embedding training into the day to day work of employees and as Josh Bersin calls it: learning in the flow of work.

Microlearning: Small bursts of information is provided to help employees with the goal of reinforcing the training, or for applying to their work immediately.
Social Learning:

Employees are encouraged to share and collaborate on their learning journey by enabling social learning.

Gamification:

Companies use rewards and incentives to motivate employees to learn or share about new skills.
Enterprise Software Training with Whatfix
Whatfix helps you modernize your enterprise software training by making it 'real-time'. Without leaving the application, employees can get onboarded, learn how to use the software and improve their digital skills. This specialized training widget called Tasklist lets you house your courses within your enterprise application and as extensions of your LMS, these are 'alive' in the application.
Using Tasklists, within the software application, you can:
Design courses

Assign courses, and

Track completion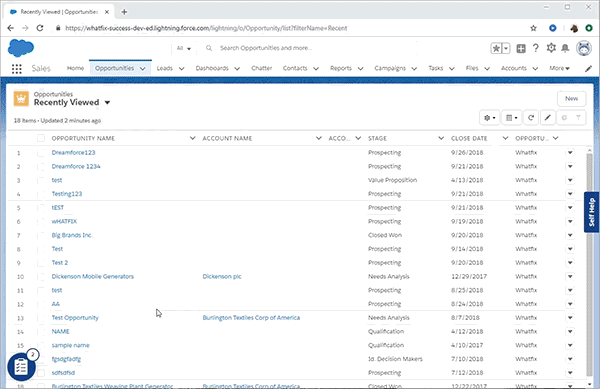 A glimpse of the Whatfix Tasklist in action on Salesforce Lightning
For someone responsible for the learning and development of employees in their company, Whatfix Tasklists (in combination with Whatfix Multiformats) eliminate hours of course creation and administration effort, while delivering training that 'sticks'. Employees engage better with this modern way of training and L&D meets their ultimate goal: making sure training translates to learning, and learning to improved performance.
Design Courses:
Create Flexible Learning Courses:

Whatfix lets you bundle all different types of content to combine in a course. You can add a Whatfix walkthrough (for helping someone trying to figure what is the next step to creating a source to target mapping in that data-loading process in SAP BI, for instance), a link to a video, a link to a MOOC course or any vendor you have a partnership with (Lynda/Udemy etc.). The courses appear personalised to the user, and on the application pages where the courses are most relevant. As compared to an LMS course, the course creation effort in Whatfix is negligible, with no additional tools or coding effort needed.

Make Training Real-Time:

By embedding training into your application, you enable users to learn by doing. Its hugely different and more effective as compared to going through manuals to recall this learning. As compared to bringing employees away from their work for spending weeks in a training room, reinforcing classic methods with embedded training within the app makes it more effective, leads to higher retention and keeps productivity high.
Assign Courses
Assign Training based on Competence:

Just as for all other content, Whatfix Tasklists can be assigned using intelligent segmentation that auto-creates user segments based on profile, tabs or other UI variables. This takes away the painful administrative work out of L&D's workday.
Track Completion
Nudge and Track Completion:

We applied the 'science of learning' to Tasklists to ensure high user engagement and retention.

Users can view their real-time progress on a status-bar

Users can apply the learning right within the course

And, in combination with external incentives, learners stay motivated to see the course through.

Bring training outside of the LMS:

While LMS is a great central repository of all things 'training', as most learning happens outside of LMS.

Whatfix Tasklists help you keep your learners on a forever learning trajectory, without needing them to switch between an application and the LMS. Also, with Whatfix SCORM integration, L&D can track completion of courses in not just Whatfix Analytics but also in their LMS, and continue to report on it.
How the Enablement Team at a European Laser Technology Company uses Whatfix
A leading laser technology company with employees across seven countries in Europe uses Whatfix to enable their employees become proficient users of Salesforce. By using Whatfix Tasklists in combination with auto-generated training videos and other formats, this company was able to reduce their training and documentation effort by 60% and training time by 50%.
Course creation in a typical LMS takes an average of 30-40 days. However, with Whatfix, it was done instantly as the multiformats used for training employees were created automagically. These courses were then assigned as Tasklists to employees so they can learn in the flow of work. The company integrated their Whatfix content with their LMS and achieved significant efficiencies in their software training program. To close the feedback loop, when a user completes a walkthrough in the application, the completion status reflects in the LMS making it available for tracking and reporting.
A thriving workplace in the future will be one that has its employees at the centerstage. With employees empowered to leverage the latest technology to become their most ingenious and creative best. Whatfix makes it super easy for L&D to take their first few steps as they start planning for the future of workforce learning.