Technology continues to touch our lives and disrupt almost every aspect of business in ways that companies can leverage to increase their bottom and top lines.  The procurement space is no exception. Digital transformation in the procurement and sourcing processes is helping cut costs, making businesses agile and drive better strategy & decision-making.  The application of disruptive technologies like AI/ML enabled software, Big Data and Robotic Process Automation (RPA) to procurement is fundamentally altering the impact of this function by providing centralized data, enabling automation and taking over repetitive tasks while reducing costly human errors.  
Let's first define Digital procurement. Digital procurement is the application of disruptive technologies that enable Strategic Sourcing (Source to Contract; S2C) to become predictive, Transactional Procurement (Procure to Pay) to become automated, and Supplier Risk Management (SRM) to become proactive.  
For sourcing managers and professionals, who worry about sourcing goods and services at best value, running RFX processes for a large number of categories & across multiple scores of global suppliers, it is now possible to: 
Categorize and manage spend in real-time

Better collaboration & agile RFX process(es) with supplier, vendors and contractors through various sourcing events

Have more visibility to supply chain risk and a better handle on contractual terms upfront (e.g., penalties, compliance, legal aspects, etc) during sourcing events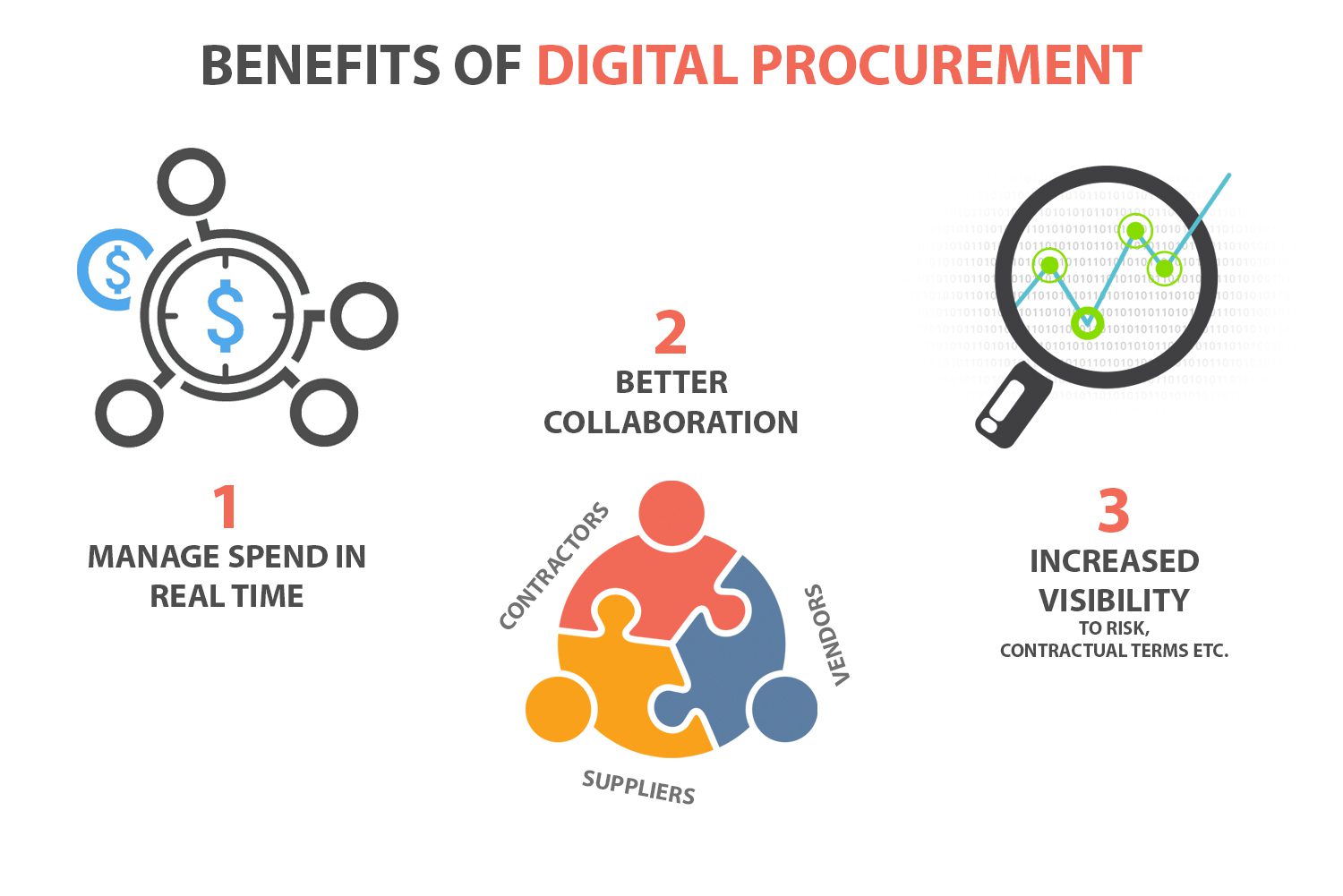 Likewise, for procure to pay professionals, it's now possible to initiate automatic purchase orders to request replenishments from suppliers or to trigger automated & secure payments upon receiving signal of material delivery as few examples.  Or, for a supplier relationship manager to have better visibility into financial, fraud or other forms of supply chain risk by integrating with third party services like D&B, Thomson Reuters and other databases. 
​Overall, the central goal of procurement is still to protect and improve profit margins by getting the best prices and highest quality for goods & services, but technology is making the process more efficient and cost-effective. ​
This space has seen a lot of innovation with the emergence of a number of SaaS players (both suite players as well as best of breed solutions) who have disrupted the industry and help drive digital transformation and legacy modernization for their customers.  This transformation is seen across a multitude of industries and is moving ahead at a rapid space.
While procurement transformation programs are driving value & delivering benefits to enterprises, these programs come with challenges of product adoption, poor user productivity and huge change management initiatives as they are rolled out across the organizations.  The underlying processes are still complex, enterprises continue to customize software (even SaaS) to their ways of working and extended workforce including internal employees, partners, contractors and suppliers are in multiple locations & geographies.  Training employees to complete tasks as easy as submitting a purchase request for a category item or enabling suppliers to respond to RFX processes and submit their bids on a supplier portal can be challenging when they are infrequent users of applications.  Multiply this by the number of sourcing events in a year, or number of virtual employees in today's global & complex organizations that use these tools, and you can quickly appreciate the challenges for rolling our digital procurement solutions. 
Additionally, many global projects are deployed in phases with an agile, waterfall or a hybrid approach with new software functionality enabled in new releases that you want users to adopt.  All of these changes require a new approach to training, onboarding and continuous learning for the ecosystem.  This is where a Digital Adoption Solution like Whatfix can play a very important role in delivering value, just in time learning (i..e, in the flow of flow when you need it) and enabling a better user experience.  DAS can provide the necessary navigational & workflow guidance for completing processes (i.e., to a first-time supplier to submit a technical bid or seek clarifications), help with data validations (i.e., commercial submission in correct currency or discounts to right decimal values), automate repetitive & basic steps thru' RPA (i.e., complete the first few steps to open a PR and / or a RFX process or to run specific reports) and help onboard users to newer functionality by bringing the right content within the application.  All in all drive better user experience within the procurement applications, improve user productivity and overall reduce the time to value for your investments.  
[popup_anything id="10959″]
Procurement leaders should expect the rapid pace of innovation and continued R&D investments by SaaS providers to bring in richer functionality into the digital applications. Leaders that are able to leverage these advancements & see a greater adoption of these solutions by their organizations & extended supply chains will have the opportunity to execute on their main missions with greater insight and efficiency. So, consider deploying a DAS across your organization as you look to maximize the return of investment from your digital procurement projects…and don't get left behind.