With the recent release of Salesforce Lightning Experience, came an array of new tools like the Lightning App Builder, Lightning Process Builder and the Lightning Schema Builder. And for Salesforce developers, there is a newer version of the Developer Console with more Lightning features.  
The Salesforce Lightning's Developer Console seamlessly allows you to create, edit and test Lightning components. The Lightning components, which are basically the core of all Salesforce apps, consists of reusable bundles of a number of files.
In this post, we will show you how to get started with Salesforce Lightning's Developer Console to create Salesforce components and apps.
A Quick Guide To Create Salesforce Lightning Apps
Our aim with this series on the Salesforce Developer Console is to create Salesforce components that can be used across different Salesforce elements. But to do that, you first need to know how to create a Salesforce app.
In our previous post, we had explained the prerequisites to create a Salesforce app.
TL; DR version:
Get a Salesforce Developer Account

Enable Salesforce components in your working platform

Create a namespace prefix for the app you want to create
To get started with setting up your Salesforce Developer account and to enable Salesforce components, click here.
You've taken the first step, let's close the circuit by creating your Salesforce App.
The app that we are going to create is the container for the Salesforce Components. This is the reason, this step is important.
The best way to learn any platform is interactive experience on the product and that is what the Whatfix way is. To get interactive help,  install our extension. Click on See Live on the Whatfix flow. And get real-time interactive walkthroughs, within your Salesforce Lightning platform.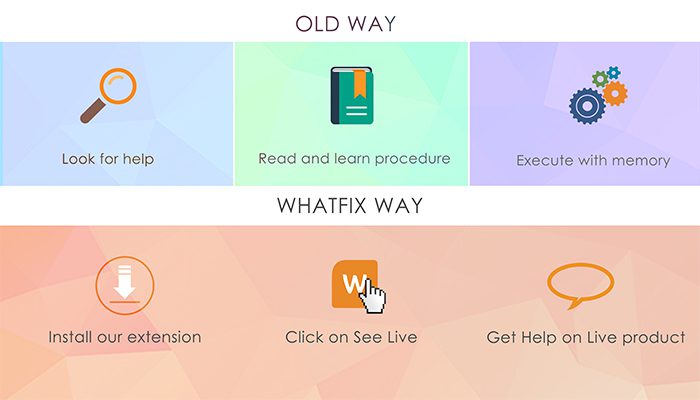 Note: With this Whatfix flow, we will be creating a"Hello World" App for Salesforce Lightning.

As a developer, you already know that you will require multiple iterations to get your app working. The following Whatfix flow will show you how you can use the edit feature in the Developer Console.

Hooray! We are done coding, judgement day arrives. In this flow, we will be testing our "Hello World" App in Salesforce's Developer Console. When you test the app, you will see different markups directly inside the app. Using these markups, you can reuse your Salesforce components in multiple Salesforce apps.
See this flow live to understand how to test your Lightning app on the Developer Console.

In our next blog post, we will show you how you can create and embed a Salesforce Lightning component.
For more news and updates about Salesforce Lightning, subscribe to our weekly newsletter!