Salesforce has always been a great platform for developers. Be it Apex, Visualforce, or even the backend coding for integrations. With Salesforce Lightning Experience, the company also released Lightning Component Framework for developers.
Read also: What's New In Salesforce Lightning Experience
Lightning Component Framework is much more flexible than its predecessors and has  lots of useful tools and functionalities.
What's covered in this blog post:
How to Sign-up for a free forever developer account.

How to get started with lightning by enabling its components to create apps.
What's a better way to learn something new than doing it on the actual product. This is what we call The Whatfix Way. To experience it, install our extension and click on See Live to get an interactive experience like never before.  Here's how: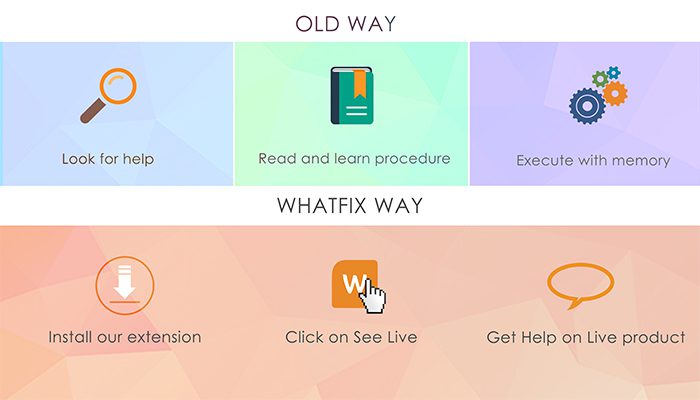 Ready?Let's begin.
The best part of Salesforce Free Developer Edition is that you can create any number of developer accounts. It is likely that you would need more than one. Since, there is a good chance that you may want to test and try out multiple solutions, as a developer.
The following Whatfix flow will show you how you can sign up as a Salesforce Developer.  And do make sure that you click on See Live for an interactive experience on the platform.

Salesforce Developer Edition gives you complete freedom to create Salesforce apps, components, and integrations. And in case, you are not keen on creating, you can still use it to customize the existing Salesforce applications to fit your company's requirements.
Also read: How To Build kickass Salesforce Apps Using Lightning App Builder
Creating Lightning Components
The new Salesforce Lightning UI allows you to create Lighting applications that are responsive. These applications are built on the Lightning Components Framework, which provides the platform for the creation of the components.
After signing up as a developer, the next step to start creating Lightning components is to enable the function in Salesforce. Let's explore, how to do that.
A namespace prefix  is what distinguishes your Salesforce packages and contents from that of the other developers. So as a must-do practice, every Lightning component is prefixed by a namespace. This will ensure you exclusive control over all your packages.
Click on See Live  to create a namespace prefix on Salesforce.

Once you have created the namespace prefix for the Lightning components, the next step is to enable it. This Whatfix flow will show you how to enable the debug mode (developer mode) for the Salesforce Lightning Components.

In our next post, we will show you how you can create, edit and test Lightning apps through your Salesforce Developers account. To get updates, subscribe to our weekly newsletter.
Also read: Best Practices To Setup Salesforce Lightning Experience