"I'm a great believer that any tool that enhances communication has profound effects in terms of how people can learn from each other, and how they can achieve the kind of freedoms that they're interested in." Bill Gates was correct in predicting the high dependence on meeting solutions like Microsoft Teams to keep organizations in the business amidst the pandemic. 
Gartner suggests that 74% of organizations will offer permanent remote positions for some of their employees because of the pandemic, thereby increasing the need for meeting solutions like Microsoft Teams. It further recognizes Microsoft Teams as a leader in the meeting solutions category in 2020 due to its promising performance across collaboration, communications, and content sharing to support virtual meeting scenarios.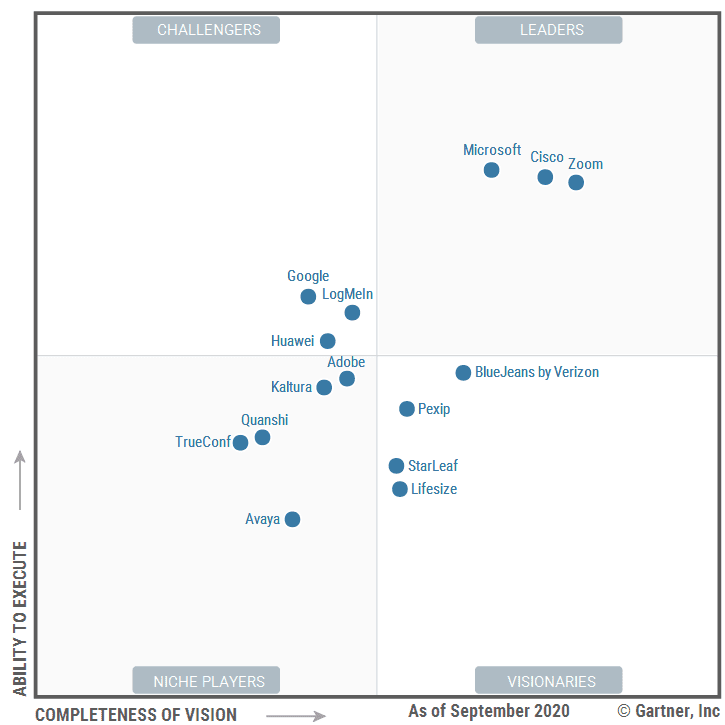 However, as intuitive as it sounds, organizations still experience a gap in the adoption process since users are always resistant to transition towards a newer technology and a sudden change. Users feel overwhelmed and often wonder how to use MS Teams. Organizations are unable to derive maximum value out of Microsoft Teams because of higher support requirements, training costs, and a steep learning curve.
But before diving into the user adoption & training, let's consider how Microsoft Teams is increasing its presence significantly.
Compared to hardware-centric on-premises communications deployments, MS Teams is a highly improvised cloud solution. It offers a wide range of Teams' functionality-from video conferencing and content sharing, to call control, team collaboration, enterprise instant messaging and presence management, business productivity and line-of-business software, mobility, and analytics. All these functionalities are packaged in easy-to-buy, provision, and consume user licenses, which indeed is an alluring value proposition. 
Microsoft's ownership of the desktop and tight integration across the Microsoft stack makes Teams an attractive option for organizations seeking to modernize communication and collaboration environments with cloud-based services.
Microsoft reports over 5,00,000 organizations use MS Teams to support their remote work initiatives, and there are 115 active daily users on Teams. Leading British-Swedish multinational pharmaceutical company AstraZeneca joins forces with Microsoft on AI collaboration for healthcare. Similarly, Accenture mentioned that Teams was critical in their business continuity and collaboration strategy for the pandemic.
Though Covid-19 increased Microsoft Teams deployments, it has not necessarily brought meaningful adoption; especially when employees are accustomed to using a different application. Confusion related to Teams functionalities do not allow employees to leverage Teams for achieving their goals. 
Challenges Associated with Microsoft Teams Adoption
Following are the most common challenges associated with MS Teams adoption- 
Most leading meeting solutions like Microsoft Teams have complex user interfaces with multiple collaboration features & use cases within the application. The complexity of the UI/UX makes it challenging for new users to understand, learn and leverage the application.
They are often left overwhelmed and wondering how to use MS Teams because of which they might return to legacy processes resulting in under-utilization of the new application. 
2. Employee Resistance & Training
Large enterprises have a distributed workforce across geographic locations. With an increase in remote workforce, MS Teams' training challenges get amplified. Employee resistance is higher because of higher comfort with an existing app, unfamiliarity with new application UX, and exposure to multiple apps.  
Organization's change management is another major challenge for slower Microsoft Teams adoption. Making a new collaborative tool like MS Teams appear without any change objective and communication would act as an obstacle to a successful change initiative. 
A comprehensive change management strategy is required as organizations are undergoing enterprise-wide complex digital transformation initiatives with meeting solutions being one of the application changes. 
Additionally, project documentation, support articles, design briefs, and other vital content may reside in multiple formats and silos across the enterprise. Hence, a phased roll-out approach has a higher chance of success. 
A Digital Adoption Platform like Whatfix can be your partner in change to effectively use MS Teams.
Streamline Change Management with Whatfix
Discover how Whatfix's Digital Adoption Platform can help your organization roll-out change effectively, with high levels of employee adoption and increased productivity.
Drive Microsoft Teams Adoption with Whatfix
Whatfix Digital Adoption Platform disrupts the way application support and learning content is consumed. It addresses the above-mentioned challenges and improves the adoption rate of Microsoft Teams in the following ways:  
Whatfix provides new users of your meeting solution with a personalized onboarding experience through customized pop-ups, contextualized in-app MS Teams training, and smart tips. It leverages learning in the flow of work to make the learning process easier. 
Whatfix intelligently segments the data based on behavioral attributes and provides actionable insights to improve the effectiveness of online training. Additionally, it combines automation with guidance to save time on repetitive tasks and guides users through a virtual tasklist inside the Microsoft Teams platform getting them up to productivity quickly.
Whatfix provides a seamless transition to the Microsoft Teams solution by providing change management support to the existing users. Features like beacons highlight the new feature till the time the user consumes it. Whatfix further drives users to change certain behavior patterns to align well with the organization's change objectives, resulting in a better employee experience and reduced support tickets. 
Whatfix fosters a self-serve culture among employees. The self-help widget displays the most relevant multi-format content to the users. Users can find answers to their queries at any time, and the content search functionality further reduces their content discovery time. 
 A noteworthy aspect of a meeting solution application is it is used multiple times a day by all employees. Whatfix allows you to leverage Microsoft Teams as a cardinal app or a super app. You can increase employee engagement scores and better adoption of organizational policies and practices by using MS Teams for making organization-wide announcements, driving new policy implementation, running surveys, and collecting feedback. 
5. Digital Collaboration (Whatfix Assist for MS Teams)
Whatfix Assist aggregates distributed content from multiple repositories such as Microsoft Sharepoint, Atlassian Confluence, and Salesforce Service Cloud into a central location and enables users to search for and share content with others, which translates to a significant reduction in the time users spend on finding and sharing helpful content. 
One of the major insurance giants in the US deployed Whatfix to transition from Skype to Microsoft Teams, to drive user adoption for over 50,000 employees spread globally. Whatfix opted for a phased roll-out approach in accordance with IT policies for driving the adoption of MS Teams. Whatfix deployment resulted in a considerable reduction in support tickets as 85% of users started using Whatfix Self-Help instead of the organization's customer support. Employees experienced higher productivity and satisfaction as Whatfix reduced the content discovery time, and they can access a self-help menu containing accurate information whenever needed. 
Still, wondering how to use MS Teams more efficiently? Reach out to our experts for a personalized demo.