Remote work. Employee burnout. Re-adjusting to life with the world pandemic.
COVID-19 has left human resources (HR) managers' plates full as they helped employees navigate the new normal. Now, a year after our workplaces changed forever, we're trying to decide the right way to re-introduce in-office work, and new business trends are emerging. Among them are remote workforce management and hybrid workplace models that are giving organizations the benefits of working from home and in-office, and the importance of leveraging HR technology to keep that distributed workforce connected.
5 Key HR Technology Trends to Watch in 2021
HR Virtual Assistants & Chatbots
Employee Self-Service Software
Internal Talent Marketplaces
AI-Based Recruiting
AR/VR Applications Are Making Learning and Development More Engaging
For HR leaders, the question becomes, how do we support people in this new paradigm? The answer, somewhat counterintuitively, involves a lot of automation. Save time by investing in technology and leveraging these HR technology trends to increase employee engagement, collaboration, and productivity.
1. HR Virtual Assistants & Chatbots
Human Capital Management (HCM) virtual assistants are computer-generated AI applications with a working knowledge of HR processes. Think of them as Amazon Alexa for HR managers. But they don't just take simple commands and play Dinnertime Chill playlists—they handle HCM-related tasks, like releasing payouts, and analyze related employee data.
While VAs have been around for several years for personal and eCommerce use, they're starting to permeate the workplace. A 2018 study by Spiceworks found that 40% of businesses with 500+ employees plan to implement VAs.
Don't be surprised if 2021 becomes the year when HR embraces virtual assistants full force. HR professionals in the post-pandemic workplace are busier than ever; they also need to be more creative and innovative to keep up with accelerated digital transformation. As Fast Company puts it, "The role of HR now includes acting as a diplomat, nurse, regulatory expert, HIPAA watchdog, and tech liaison."
HCM VAs integrate with HR software to automate HR functions (e.g. employee performance management) so your team can spend more time supporting your employees. HCM VAs also automatically track and record data by administering and collecting forms and surveys from your employees so you can keep an eye on HR initiatives. With time, the tech can be taught not only to answer questions but also to make decisions on the employee's behalf.
To see if a virtual assistant could be right for your team, multiple companies, like Leena AI and Bambee, offer demos and trials.
Drive end-user adoption of cloud applications
Learn about the adoption challenges of HCM applications and the right approaches to overcome them for any organization.
2. Employee Self-Service Software
Employee Self-Service, or ESS, is online software that allows an employee to complete tasks like checking pay statements, changing their direct deposit information, or updating benefits online, without the intervention of an HR professional.
HR departments that spend time on routine requests instead of working on higher-level initiatives are turning to ESS to free up their teams. It's also beneficial from the employee standpoint—instead of having to contact HR and wait to hear back from them, ESS empowers employees to conveniently handle their own issues.
ESS is especially convenient in a hybrid workplace, where employees may be in different time zones than HR, or may never meet face-to-face. But to implement ESS effectively, you need to train your employees how to use it. You're not increasing efficiency if it takes your employees twice as long to complete HR processes. 
Instead of burdening your HR team to teach new software—the exact issue you're trying to solve—use a digital adoption platform (or DAP) to integrate directly with your new ESS. DAPs create flows, interactive in-app guidance that walk your employees through important processes.
Some ESS tools even offer chatbots, analytics on usage data, and payroll summaries for the employees and leadership.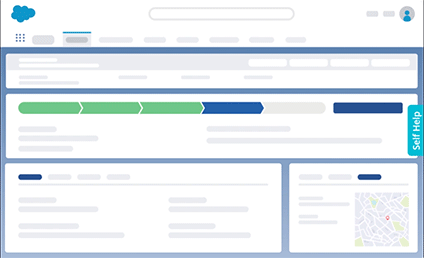 Create personalized learning flows for your enterprise apps with Whatfix
Whatfix empowers your users with contextual flows and self-help widgets, improving productivity and proficiency while cutting training and support costs.
3. Internal Talent Marketplaces
Internal talent marketplaces are like in-company job boards. But they do more than list open positions. They give employees a place to list their skills and areas of growth and match them to new opportunities within the organization. It's, first and foremost, a retention tool that allows a company to use their staffs' unique skillsets while offering new and different challenges for employees.
The pandemic left us in a labor shortage. Internal talent marketplaces keep employees with in-demand skills from burning out and looking for a new job. Simultaneously, they keep critical roles filled without the cost of hiring externally and training new hires from scratch.
Internal marketplaces also give employees opportunities for internal mobility and constant professional growth. The spirit of the workplace is trending toward an "opportunity marketplace" to keep employees interested and engaged, not only listing full-time positions, but short-term roles, gigs, and even volunteer opportunities.
If you're looking to implement an internal talent marketplace, Deloitte suggests taking an "iterative approach": that is, start small, and change things up often based on employee feedback. If employees aren't looking to make a permanent job change but are feeling burned out, posting short-term projects may resonate better. If your company prizes philanthropy as a core value, offering volunteer opportunities is a great way to live that out. As it's a tool primarily for employee satisfaction and retention, let your team tell you what they need.
Fifty-six percent of recruiters say hiring will increase in 2021, but 66% of recruiting teams will not grow—or will shrink. That means your HR team is tasked with hiring more people than normal, with less help than normal. Artificial intelligence (AI) can help even the playing field to protect against overwork.
LinkedIn research found that one of the recruiters' top complaints is that there simply aren't enough hours in the days to manually evaluate all the applications they receive. AI-based recruiting software significantly reduces manual recruitment responsibilities, like filtering out the 42% of resumes that are automatically unqualified for the role. Eliminating these rote tasks from an HR team's to-do list frees them up to focus on higher-value tasks like conducting interviews.
AI can also be programmed to look for specific skills or phrases in a resume, or even to reduce unconscious bias. Humans are naturally biased, but ethically-made HR tech isn't—it looks at facts and qualifications and screens candidates based on those factors. Because it reduces the chance of hiring an unqualified candidate, one study says using AI recruiting can lead to a 35% turnover decrease, 20% performance increase, and 4% revenue increase per employee.
5. AR/VR Applications are Making Learning and Development More Engaging
In a business environment, Augmented Reality (AR) and Virtual Reality (VR) applications can be used for training by simulating experiences that are valuable learning tools but would be difficult or impossible to replicate in real life. AR takes in the world a user sees and overlays graphics on top of it to enhance and change the surroundings (think Pokemon Go) while VR is fully immersive—it simulates a completely new environment around the user, almost like being dropped directly into a video game.
According to HBR, replicating real-life situations can be especially helpful in developing soft skills. For example, you could use the technology to have HR staff practice firing an avatar instead of a real person. It's a slightly lower-pressure way of honing an uncomfortable skill, while being more realistic than having a conversation with yourself in the mirror.
Another application could be teaching customer service reps how to react to an irate client, or going through safety drills for dangerous situations, or disaster management as an HR team. AR/VR gives you the opportunity to "take" your remote team to these situations, without ever leaving your offices.
VR could even be used in a hybrid-work environment to "immerse" a new employee in their workplace before they ever set foot in an office. For example, Amazon could train a group of their fulfillment workers how to navigate their new warehouse before it's even built. That way, employees can show up on the warehouse's opening day already familiar with the layout.
Conclusion: Emerging HR Technology Trends Can Help Your Workplace Thrive when Paired with a Digital Adoption Platform (DAP)
HR technology has blown up in our newly digital world like never before, and when used properly, the tools can accelerate your workplace's growth and productivity and improve the employee experience. But there is a learning curve involved in working with new technology.
Digital adoption platforms (DAP) like Whatfix can help you shrink your teams' skills gap to get a faster return on your new tech investments. Whatfix directly integrates with your existing software to help employees learn how to navigate the tool faster and learn its features seamlessly. It's a tutor for your tech stack.
See how Whatfix can help your organization adopt software faster and sign up for your free trial today!
Increase end-user adoption with Whatfix
With Whatfix's Digital Adoption Platform, create in-app learning flows, contextual training and onboarding, and self-help knowledge bases. See it in action below.