Change is hard to accept, even if it promises new beginnings and greater convenience. This dictum holds true in the case of users who are subject to regular Salesforce CRM upgrades, new software customization and (more recently) the critical Classic to Lightning migration.
This primal response is sometimes called the 'amygdala hijack'. Users end-up feeling so stressed about the unfamiliarity of the software change that they end up fighting it or fleeing from it. But managing this response is important because the successful adoption of new and powerful Salesforce features is what will offer your organization a competitive advantage. 
Therefore, to ease users into accepting the changes in the software, you need to prepare a solid Salesforce Change Management plan that leverages real-time guidance within the application. 
In this blog post, you will gain insight into the 7 steps to manage the 'human' aspects of the Salesforce CRM change. For further support, you may even download the comprehensive checklist for Salesforce change management.
Streamline Change Management with Whatfix
Discover how Whatfix's Digital Adoption Platform can help your organization roll-out change effectively, with high levels of employee adoption and increased productivity.
7 Step Salesforce Change Management Plan
Here is a list of 7 steps to humanize Salesforce change management:
1. Proactively Seek User Buy-in
Always anticipate what your users want from the Salesforce software by running continuous improvement surveys or harnessing Salesforce's 'Ideas' functionality that enables two-way communication between end-users and change leaders.
Why? Because, if the changes you run match the employees' needs then getting them to accept the update will be a lot easier.
Experian, a Whatfix client and leading global information services company, surveyed 150 Salesforce users to understand what they would want to have improved in their Classic instance. Answers ranged from 'less clutter on pages' to 'quicker page loading'. This form of employee buy-in helped them pragmatically decide on migrating to the more user-friendly Salesforce Lightning UX. And, in turn, they faced minimum user resistance.
2. Strategize for Success
While there isn't a cookie-cutter approach to formulating a successful Salesforce change management strategy, here are a few must-haves: 
Set your vision for change. This may be based on business needs and user feedback, i.e how you believe the sales ecosystem will look post the change. 

Predict the scope of each change by anticipating user reactions. To this end, it would be best to map out changes in employee experience by shadowing users as they conduct their day-to-day routines. If you are planning on adding a new app or tab into Salesforce, users might complain that it makes the workflow much longer. Predicting possible problem areas will help you plan on dealing with it better.
Clearly outline the change management roles and responsibilities of individuals and teams. This may include setting up a change management taskforce.

Set timelines for roll-out, training and adoption tactics for each change element. 

Set aside a fund to take care of your Salesforce change management. Ask yourself questions such as  "Is external support required?", "What adoption tools do we need?" and "How much manpower investment is required to manage the change?". Setting a budget makes it easier to arrive at what ROI you can expect.

Finally, define how you'll measure success. These metrics could be a mix of

organizational, individual and change management performance

. 
3. Build 100% Organization-Wide Commitment
Leaders drive change. A company like Experian knows that. This is why they got their sales leadership to support the Classic to Lightning migration; early on. 
By presenting a ROI-backed business case, you will have the bosses ready (or even excited) to get the Salesforce changes rolled out. Their open endorsement and use of the tool in the sales workflow will also add credibility to the change; thus encouraging employees to also embrace it. 
It would also help to incentivize power users to act as agents of change, promoting the benefits of the Salesforce migration or new customization amongst other users.
Keep change simple. This will prevent the change management task force and the end-users from getting overwhelmed. 
To this end, prioritize the rollout of features that are most critical or/and deliver maximum ROI. Once that is complete, the next set can be implemented. The same goes for phasing the change across the many geographies or business units that Salesforce is used in.
5. Communicate 'Why' and 'What' of the Change
According to a Towers Watson study, only 68% of senior managers will know why the change is necessary and the level of understanding only reduces from there on.
So, to ensure that the Salesforce change isn't jarring to the wider user-base, the change management taskforce needs to help them answer the question: "why is the change happening?" and also "what's in it, for me?"  
And invite everyone to understand this better via targeted messaging over short emails, blogs, and videos. Users can also be encouraged to discuss their concerns about the change, amongst themselves, on a moderated Salesforce Chatter group. 
Alternatively, instead of relying on many communication tools, you may just use Whatfix's:
Onboarding

overlay widget, as the user's first communication touch-point. For Experian, we created a heavily customized welcome mat featuring a launch video showcasing key features, links to 'Basic Navigation' related flows and a link to a document explaining the assistance matrix. 

Also, set

alerts

and

announcements

relating to the change and use Whatfix

Beacons

to draw peoples' attention to new features, immediately after the rollout. 
As a bonus, the Digital Adoption Platform allows you to translate your communication content into multiple languages to support localization requirements in multi-regional implementations.
No matter what the communication platform is – for maximum effect, repeat your key change-related messaging 5-7 times. According to change management experts at Prosci, this will help the message really permeate into the minds of the users. 
6. Train to Keep Technostress at Bay with a DAP
This should happen alongside communication. The addition of a new Salesforce feature can be quite disorienting and scary for employees. In fact, this fear of the "unknown" technology can actually prevent users from engaging with the tool and related training in a positive manner. 
DAPs, such as Whatfix, are ideal for offering in-app 'training in the flow of work', which helps alleviate much of this technostress. You may share a demo of Whatfix Flows that guides each user through the new features — even before the roll-out. 
And from the moment the new Salesforce feature is rolled out, Whatfix can be set-up to offer real-time and contextual lessons. Experian ran orientation sessions to encourage users to take advantage of Whatfix features such as:
Flows for users based on their location within the application and behavioral data

Experian created a Task List (microlearning plans), of 8 Flows, to familiarize users with the Lightning UI 
DAPs are a big proponent of change. In fact, this brand of informal continuous training (being contextual and dynamic) doesn't expect software to stay the same. So, all training content on the adoption tool can be tailored on the go to encompass the new developments.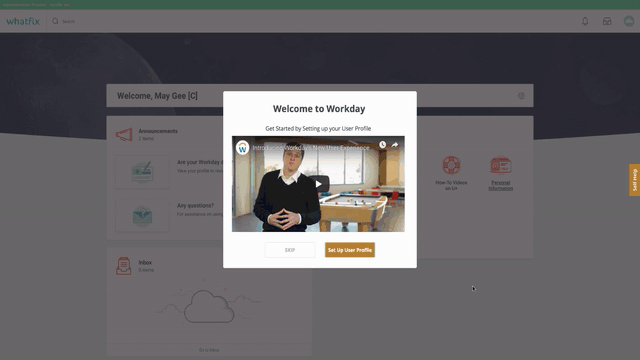 7. Optimize Salesforce Change Management
At the end of phase 1 of Experian's migration efforts, a satisfaction survey was conducted. This demonstrated a clear preference (among end-users) for working with the Lightning UX over Classic –  a clear change management win for the company. 
You can only ascertain what part of the user experience, related to the change, is and isn't working out by running regular feedback sessions. 
At the same time, take cognizance of the issues that cropped up. Such insight can be used to improve your change management processes for the next rollout. For instance, by checking the most common search terms that were keyed in by users on the Whatfix self-help widget, you can find out what type of training content was in-demand but not available. And it can be readied for the next feature to be launched to deliver greater impact.
So, ultimately, change can be good. Nay, great! And if you are looking out for a digital adoption platform to help with the Salesforce change management, then try Whatfix. Click here for a free trial to see how it helps your employees adjust to Salesforce Lightning and other upgrades. You may also experience a quick demo to understand how Whatfix can help train users to harness the new Salesforce features more productively. 
Increase end-user adoption with Whatfix
With Whatfix's Digital Adoption Platform, create in-app learning flows, contextual training and onboarding, and self-help knowledge bases. See it in action below.