Listen, Empathize, Analyze and Design is the Whatfix mantra when it comes to developing or enhancing features. We listen to our customer's needs and wishes, we walk in their shoes to understand those needs better, and then we design to delight our customers. In simple words, we LEAD product innovation to satisfy our customers. 
With every release, we strive to make the Whatfix product more valuable and with that goal, the July 2019 is a very important one.
In this release, we are introducing wider and deeper enhancements across multiple areas such as content creation, deployment, integration, targeting and widgets, with the hope that they make your digital adoption experience more valuable.
So, let's see what's in store!
In-App, Contextual Search For A Connected Enterprise

This is a big one.
While knowledge bases act as a great repository of valuable knowledge for companies, accessing information from them is mostly challenging. Whatfix's KB aggregation unlocks this wealth of information present in your KBs and presents it in Whatfix's Self-Help widget, making information available in-app. Since information is shown contextually, it saves your users a lot of time since they do not have to go through different sources searching for answers.
You can add the URL of the knowledge base that you want to add to Whatfix. Whatfix crawls through the pages of the KB and all the articles from your Knowledge Base are listed in a 'Knowledge Base' tab on your Whatfix Dashboard. You can configure segments and add tags to this content just like you can with other Whatfix content.
While we can display content from any HTML Knowledge Base, we have good integrations with Confluence, Zendesk, and Freshdesk.
Whatfix is Now xAPI Compliant
As you already know, Whatfix is the only SCORM-compliant digital adoption platform in the market. Now, we have also added xAPI compliance to our treasure chest i.e., you can now export Whatfix content into your LMS and measure and track learning more granularly.
xAPI is a fast-growing standard for delivering online learning and is popularly known as the next generation of SCORM. SCORM has been  limited to tracking online learning. xAPI, however allows companies to track almost any activity, online or offline. Thus, xAPI delivers a far more detailed view of learner progress, within and beyond traditional learning environments.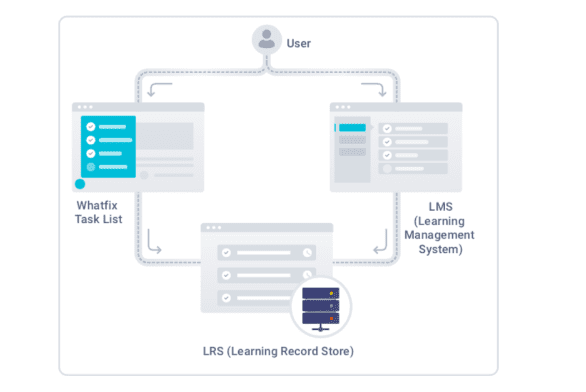 What does this mean for your Whatfix experience? 
Using xAPI integration, you can use Whatfix to drive even more effective training::
Track Learning Even Outside the LMS:

In combination with other data, xAPI presents a complete picture of a learner's progress to establish a direct link between people's learning experiences and their on-the-job performance. 

Create Flexible Training Plans Rapidly:

Using Whatfix's automatically generated multiformat content, L&D can create application learning plans in minutes

Understand Your Learner's Journey:

Since xAPI allows you to understand the experiences of a learner, you can use these granular insights to track and improve Whatfix learning content.
Show More Personalized Content to Your Salesforce Users
Salesforce customers can now configure segments using standard Salesforce user properties. This helps you show highly specific and targeted content to Salesforce users by segmenting the Whatfix content based on objects such as user department, user role, user division and so on. For instance, for a sales rep for the SMB segment, the activities they might need to undertake in Salesforce might be different from the ones in the Enterprise segment. And, all of this effort is automated, providing huge time-savings.
Please note that this is available only on Salesforce Lightning.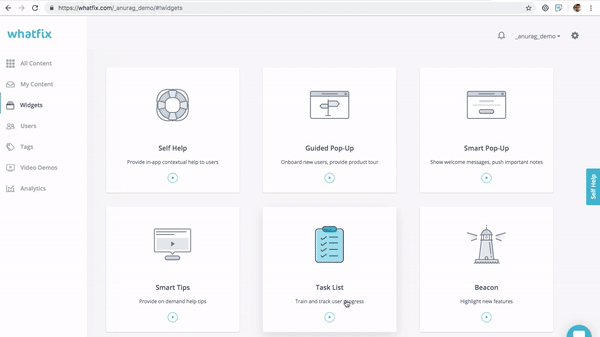 Launch In-App Surveys from Whatfix Pop-Ups
Companies use surveys extensively to gather employee/user feedback on various topics such as pulse surveys, application feedback, process feedback etc. However, traditional methods of sending surveys, such as through email, do not assure high response rates. With this update, we are making Whatfix capable of in-app surveys using our Pop-Ups.
Whatfix now allows all surveys to be embedded, whether they are created with Google Forms, SurveyMonkey, Qualtrics and Microsoft Forms. In Whatfix pop-ups, the surveys can be shown in the relevant application for their employees to provide feedback contextually. Now, end-users do not have to navigate out of the application that they are working on and subsequently, admins can expect higher response rates for their surveys.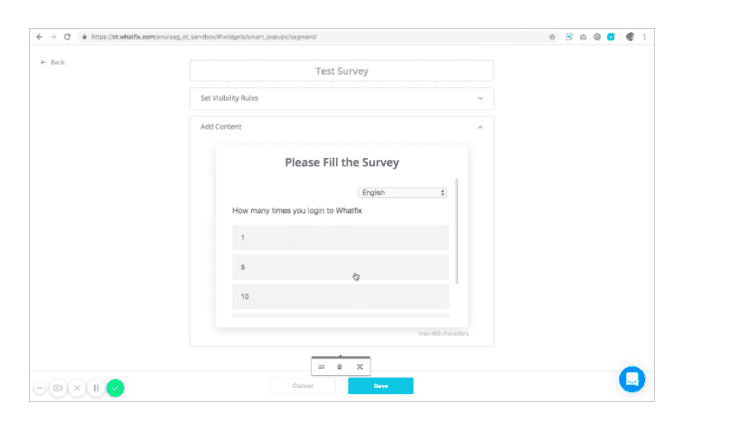 Your end-user can now access the survey within the Pop-Up
Tooltip Configuration Choices
We now provide more configuration options for your  tooltips. Tooltip configurations can be made under the following headers:
Under TIP Configuration:

Ability to configure and highlight the next button to show text or only an icon (or both) when the user hovers over the Next button. Existing functions like selecting tip color, font, size continue to be available like before

Under Other Configuration:

Ability to show or hide the step number and walkthrough name for all your tips. You can also configure the font size, style, and color for the flow name text. Configure rounded corners for your tips
Role-Based Filtering in Tasklist
Whatfix content displayed in the Tasklist can now be segmented by user role, saving a lot of the content creator's effort. In other words, by creating just one segment for your tasklist, you can target specific content to users by creating role-tags.
Repositioning of Self-Help
It can get very distracting when parts of an application gets blocked due to a Whatfix widget. To overcome this issue, Whatfix allows you to reposition the Self-Help widget to a location that's most  convenient on the page.
Add Walkthroughs via Links
You can now insert links to Walkthroughs when creating Smart Tips, Pop-Ups or any tool tip in a walkthrough. Inserting a walkthrough is similar to inserting a link in the text content. Moreover, you can link to walkthroughs using any UI that provides the rich editor. 
This function helps you provide contextual text before a user performs a task. 
Bulk Operations for Multiformat Content
The option to do multiple things through one action is a blessing. Think about selecting all your mails with a single click, or all your photos on your phone gallery with a single click. Well, now you can do this with Whatfix content as well. With just one-click, you can now download various pieces of content, irrespective of format.
Ability to Support Video Embed from Cloud
With more and more companies moving towards cloud services, we felt it is necessary to introduce this in Whatfix. You can now add videos that are stored in your cloud, into your flows and make the content more engaging for your users.
What's next?
Your Whatfix deployment experience will be more automated and simplified with the one-click extension to be made available in end user browser(Chrome)

Language translation UI improvements will make it easier and much faster to translate your rich-text content

Searching from Self-Help will be enhanced by providing more relevant results

Your multiformat content will now be shareable. If your support teams are using Whatfix multiformat content to resolve tickets, they will be able to directly share content via email/cloud storage, without needing to download it. 

Whatfix's content aggregation capabilities will extent to more sources such as video content from various channels, pdf, docs, ppt etc. We will also be able to fetch content from SSO enabled Knowledge bases.
Contact your CSM to know more, email us at [email protected]
If you are a Whatfix customer, please access the release notes here.