Remote work abruptly became the new normal because of COVID-19, so most companies weren't prepared to train their entire workforces and new hires without face-to-face learning.
They needed to figure out a way to not only train their employees but also make sure that their teams had the digital tools they needed to achieve success—which meant adding new tools and more training sessions.
It's difficult to apply prominent instructional design models in a remote learning environment, but a digital adoption platform (DAP) can make it easier.
How to Apply 4 Common Instructional Design Models in a Remote Setting
There are many existing instructional design models, but most of them were developed before remote learning even existed. While they can still be applied today, they need to be adapted to fit the changing times.
1. The ADDIE Model
ADDIE stands for analysis, design, development, implementation, and evaluation. It's an instructional systems design (ISD) model that presents a systematic, step-by-step process that starts with a situational analysis before course design and evaluation.
The ADDIE process can be challenging to apply in a remote environment because ADDIE is inherently fixed: Every step must be walked through in the exact order that it prescribes. It also requires a lot of up-front analysis, with most of the course creation process spent on analyzing problems and storyboards. By the time you get to the testing phase, most things are set in stone and hard to change or improve.
But that doesn't mean it's unusable. To adapt to the e-learning environment, a modified version of ADDIE was made: PADDIE+M. The new model starts off with a planning phase to make sure that you set clear goals and timelines. It ends with a maintenance phase to make room for technological advancements and new developments.
2. SAM
The Successive Approximation Model (SAM) is also an ISD model and was developed to provide an IT-based learning model that is both analytical and flexible. Because it was created as an answer to the ADDIE Model's inflexibility, it focuses a lot on collaboration, rapid design, and continuous testing. The model hinges on quick prototyping. After the first phase of brainstorming and setting up a focus group for testing, different expert groups are formed to simultaneously tackle different phases in the design process.
While SAM takes you from conceptualization to a final working curriculum quickly, it can be difficult to use for remote course design, because teams have to work simultaneously on different design phases at the same level of efficiency for the model to really work. Otherwise, the collaboration just slows things down and makes for a messier final result.
To make the most out of SAM, you need to have a reliable team, tools for digital communication, and a tool that can quickly distribute your alpha and beta tests.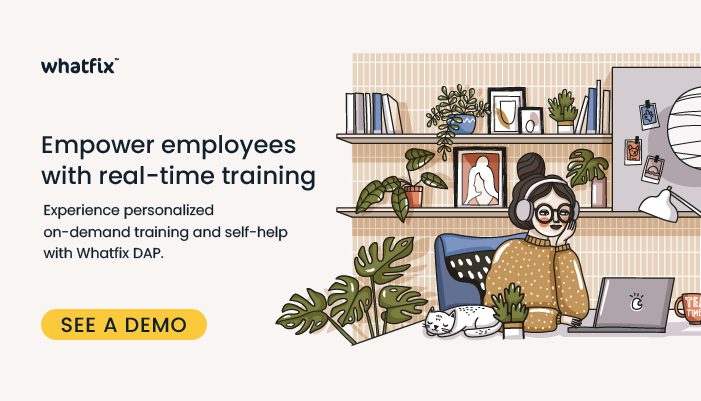 3. Dick and Carey Model
The Dick and Carey Model builds on the ADDIE process by adding a number of steps to address ADDIE's shortcomings. It adds steps to address goal-setting, user-behavior analysis, instructional materials, and in-depth evaluations. It also reminds you to do a quick review after each phase and revise your course outline based on what works and what doesn't.
 The biggest downside of using the Dick and Carey Model for building a remote employee training course is that it can become long-winded. Before you arrive at your final prototype, you need to go through nine steps, including a final summative review at the end to gauge whether your course is achieving the desired result. And because the model prescribes a long process before arriving at a prototype, it's also really easy to forget your course objectives until the last few steps.
 The keys to making this model work are consistent communication and teamwork, so you'll need a digital tool that allows for easy communication and collaboration. Communicate consistently with your team for major updates and changes with the course design (and why). Work with your team to make sure that your project is on track and that your course will meet the required learning objectives.
4. Cognitive Apprenticeship Model
The Cognitive Apprenticeship Model emphasizes the value of learning from a subject-matter expert. It is heavily based on the social cognitive theory and focuses a lot on teaching new skills through mentorship. While the previously mentioned instructional design models separate the world of learning from the real-world application, this model encourages you to make your courses as hands-on as possible. The model asks subject-matter experts to demonstrate real-life skills while the learner follows along.
The problem is, in a remote world, mentors and their mentees don't get together face-to-face for lunch, coffee, or a quick demonstration. Mentors talk to their mentees either through text chats, voice chats, or video calls. In a company with employees all over the world, this model is even harder to implement.
Instead of setting up live sessions, you can create prerecorded videos and conduct personalized training sessions with walk-throughs that integrate directly with certain tools. Instead of focusing on the loss of live, in-person meetings, focus on how you can integrate video and hands-on learning with your remote course.
How a DAP Can Help You Apply Instructional Models Remotely
There are multiple ways a DAP can help you apply instructional design models to your online process.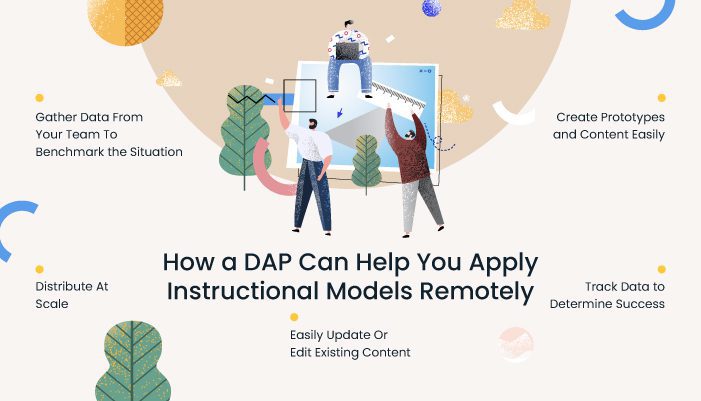 Gather Data From Your Team To Benchmark the Situation
A lot of ISDs recommend goal-setting and situational analyses as a first step. With a DAP, you can create in-application surveys and distribute them across your team to gain insights quickly and easily. You can also make announcements, letting your team know that you are introducing a new tool and would like everyone to make a contribution to the ideation process.
Create Prototypes and Content Easily
During the design process, you can create content faster and easier with a DAP that allows for no-code content building. Within minutes, you can create micro-learning courses, walk-throughs, self-help content, and pop-ups and then do prototyping by implementing them in a controlled environment for testing and evaluation.
Distribute At Scale
When you've finalized your design, you can then easily distribute your new e-learning course across the entire company, no matter how big your company is, no facilitators needed. You can also segment your users so that certain courses show for only certain teams or user groups.
Track Data to Determine Success
After company-wide implementation, a DAP will track user performance and interactions—how many times a walk-through was played, the percentage of people who completed the walk-through, unsuccessful self-help search queries, and so forth. From there, you can start evaluating your learning design and identify which parts you need to improve based on solid data.
Easily Update Or Edit Existing Content
If, after distribution, you need to change something, tweaking existing content is also very quick and easy. All you need to do is change what you need to change and then click publish.
Whatever instructional design model, or combination thereof, you decide to use, a DAP will make your course design process faster and simpler by introducing educational technology built for employee development.
Improve Online Learning Experience for Employees with a DAP
Training an enterprise-size remote team can be made easier by integrating a DAP to implement instructional strategies, provide easy access to instructional materials, and increase knowledge-retention rates. From the ideation and design phases to the evaluation, implementation, and updating stages, a DAP can make the instructional design and course creation process a lot more efficient.
Book a demo to find out how integrating a DAP with your instructional design process can lead to better online courses that will boost your employees' rate of adopting new knowledge and improve their recall of prior learning.