Continuous innovation in insurance analytics enables many P&C insurers to improve their plans for customer-centricity, telematics, and claim management efficiency. However, studies show that the industry still has a long way to go to get the most out of advanced analytics.
According to a Willis Towers Watson report, "many insurers have been either overambitious in stating their goals for advanced analytics or have had their longer-term vision blurred by the reality of the day-to-day business and market challenges."
The rate of innovation in insurance analytics may outpace the rate of change for P&C insurers, but this could be good news for your business. What it really means is it's not too late to make insurance analytics a competitive differentiator.
The Expansion of IoT Monitoring
Internet of Things (IoT) monitoring continues to grow into new facets of P&C as the increase in smart devices and greater access to their data makes it easier to contextualize policies and monitor risk in real-time.
On the surface, this trend seems like old news. Most major insurers already use telematics to improve auto policies. But increased consumer adoption of smart home devices is creating new opportunities for insurers. One study found that 35% of U.S. households would be interested in proactive risk notices from insurers, which can be powered by IoT monitoring that customers opt into.
NPD research found that 35% of consumers own at least one type of smart home product, such as a security camera, door lock, thermostat, smoke alarm, or other devices. In these early days of adoption, P&C insurers can form partnerships to gain access to these new streams of consumer data. This data will help insurers personalize property insurance based on safety and energy efficiency the same way they personalize auto insurance based on driving behavior. According to McKinsey, "insurers should build up scalable and flexible API-based IT architectures that support quick integration of offerings" and create analytics capabilities to leverage these new data sources.
The Rise of Ecosystems for Insurance Distribution
Traditional distribution channels like agent intermediaries, brokers, and direct-to-consumer websites/call centers still dominate P&C insurance, but there's a rising tide of ecosystem distribution that could offer consumers greater convenience. Having the right insurance analytics solutions and data infrastructure in place will be crucial to unlocking the value of an ecosystem distribution model.
Innovative participants in the mobility ecosystem (car manufacturers, dealerships, ride-sharing platforms like Uber and Lyft) offer insurance services to drivers, are already cutting out the more traditional auto distribution channels. But this trend isn't relegated to auto insurance product lines. As banks, mortgage brokers, and home security providers start to offer new services, ecosystems can also transform personal property and homeowners insurance.
According to a McKinsey report, "Ecosystem orchestrators and participants, such as car-sharing service vendors, could also collect and integrate massive amounts of data from different services. Participants can use this data to become and stay relevant in the eyes of customers, offering them an array of services and products tailored to their needs."
Ecosystem distribution models currently account for only 10-15% of P&C premiums, but there's a tremendous opportunity for growth. Combining your wealth of customer data with new partnerships across emerging ecosystems can help you maximize customer experiences and shore up revenue streams as the industry evolves.
The Introduction of Insurance-Specific Cyber Analytics Solutions
While cyber insurance quickly emerged as a high-margin P&C product line, increased demand has created a need for more advanced cyber analytics to manage risk as claims rise. Thomas Johansmeyer, Head of Property Claim Services (PCS) at Verisk has pointed out the fact that insured firms with the protection of at least $200 million make up $1.1 billion in global cyber insurance premiums. He says that "it would take only four insured losses of $300 million to wipe out an entire year's premium—and would likely take decades for insurers to earn back such losses."
Increasing demand makes cyber insurance a strong revenue opportunity for insurers—but only if you get the pricing model right.
For now, Johansmeyer says that "prices are low and risk is high." And part of that is because it's so challenging for P&C insurers to accurately assess cyber risk. This is an entirely new field for your business without any of the historical loss data that you're able to rely on for product lines like auto and homeowners insurance. Without that historical data, underwriters have to manually align the moving target of cyber threats with potential damages. Premiums may be growing as a result, but the risk is high because cyber insurance pricing hasn't been tested by loss events at scale.
However, new platforms and solutions have emerged to mitigate these challenges. With cyber analytics solutions built specifically for the insurance industry, P&C insurers can better understand a company's risk profile and avoid costly underwriting mistakes.
How P&C Insurers Can Take Advantage of Analytics Trends
You don't necessarily need to be a first-mover on every brand new, never-before-seen insurance analytics trend. Rather, you need practical ways to implement insurance analytics that improve services and boost your bottom line.
The Willis Towers Watson survey also finds that 86% of insurers believe advanced analytics either strongly or somewhat positively impact their bottom lines. Capitalizing on insurance analytics trends requires new tools, but you also have to find the best ways to use those tools.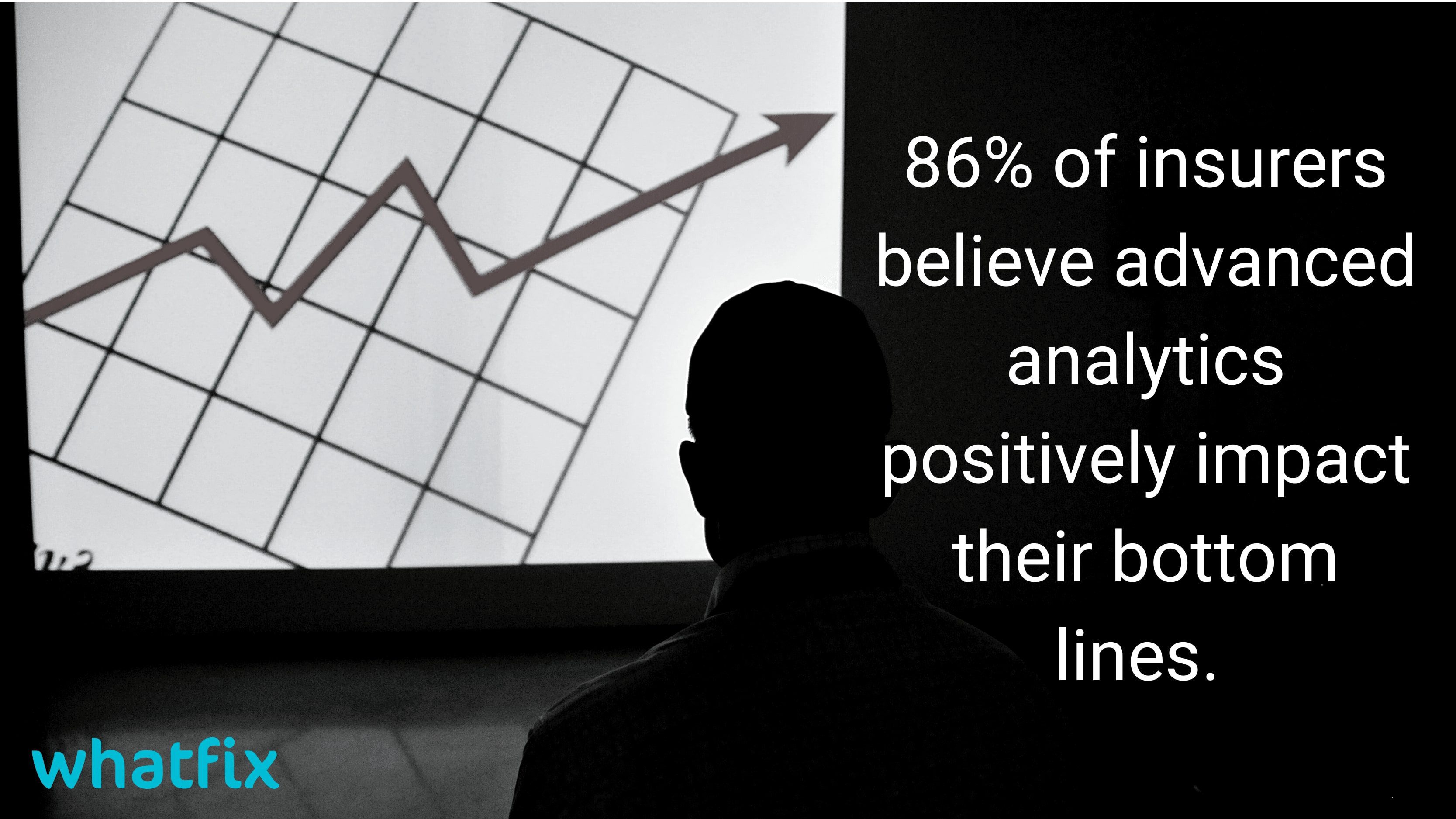 Use 'What If' Modelling to Streamline Underwriting
"What if" modeling, a form of predictive analytics, helps P&C insurers build upon the improvements that big data analytics and automation have brought to underwriting processes in recent years.
Even the most skilled employees can get frustrated when dealing with manual formulas across sprawling spreadsheets. Embedding "what if" modeling into the underwriting process can eliminate many of the tedious tasks that slow down risk assessment. Rather than manually modeling scenarios, "what if" analytics gives underwriters drop-down menus of data visualizations, providing real-time insights that help optimize risk decisions.
This is an accessible use case for advanced analytics because most P&C insurers have been building dynamic decision trees with this kind of technology for years.
Combine GIS and CRM Data for Real-Time Event Monitoring
Advancements in IoT technology enable P&C insurers to combine geographic information system (GIS), and CRM data for real-time event monitoring. In the past, insurers had to take a reactive approach to uncontrollable events like natural disasters. Natural disaster coverage can be lucrative for P&C insurers. However, slow responses to events can hurt the customer experience and lead to churn that damages your bottom line. The right insurance analytics tools can help you take a more proactive approach to loss events.
Real-time GIS data is the cornerstone of proactive event monitoring. By tapping into data from IoT devices like weather stations, you gain deeper insight into the "when" and "where" of the kinds of events that could impact claims—from hurricanes and tropical storms to wildfires, droughts, and more.
Taking this use case a step further, you can integrate your CRM with the insurance analytics tools you're using to monitor the GIS data. GIS data alone might tell you the "when" and "where" of notable events, but CRM data adds the "who." The combination is what enables you to proactively reach out to customers and offer advice that can limit damages for them while mitigating risk for you.
This insurance analytics use case helps you prepare for surges in claims, so you can provide more timely service that also delights customers.
Understand Historical Data to Capitalize on Cyber Insurance Opportunities
Implementing emerging cyber insurance analytics tools gives P&C insurers access to the historical data necessary to assess risk more accurately. This has to be a core competency for your business as demand for cyber insurance grows and attacks increase in both volume and cost.
According to IBM's Cost of a Data Breach Report 2020, the global average cost of a data breach is $3.86 million, with the United States holding the highest average at $8.64 million. Worse yet, 76% of survey respondents said the trend toward remote work increases the time necessary to identify and contain data breaches, which also drives up costs.
Capitalizing on the opportunity to cover businesses for these costly events requires a deep understanding of the relationship between attacks and financial loss. By implementing a cyber analytics solution, your underwriters and actuaries can get deep insights into a company's risk profile and coverage needs.
Leverage First-Party Data to Minimize Adverse Selection
By feeding more first-party data from social media and IoT monitoring into analytics tools, P&C insurers can minimize adverse selection in the underwriting process.
In the past, you had to rely solely on criminal records and credit histories to create risk profiles. Big data analytics tools have unlocked more first-party data that increases the accuracy of risk assessment, but there's still room for improvement. Part of the problem is that collecting more and more data won't necessarily lead to significant process improvements. Without a way to integrate all of that data, cross-analyze it, and pull out key insights, you're missing out on opportunities to reduce adverse selection.
You can get more out of tech investments by breaking down barriers between legacy IT systems and more modern insurance analytics tools. Eliminating data silos in your IT infrastructure is the first step to getting the most out of increasing volumes of first-party data. Once you do that, you'll be able to form clearer pictures of customer risk profiles, eliminating human error in underwriting that can lead to adverse selection.
Investing in Insurance Analytics isn't just about Technology - It's about Your People
If simply investing in new insurance analytics tools was enough, the $7.6 billion industry would have completely transformed P&C operations by now. But the truth is that the industry is still wide open for you to take the lead with insurance analytics.
To get the most out of emerging analytics tools, you need to have a plan in place for effective change management. Because, according to McKinsey, "carriers must adapt, reimagining their strategies to include technology and hiring the right people to implement it."
Want to help your employees quickly adopt new insurance analytics tools? Try a free trial of Whatfix, and see how we can help drive effective change management.