Building a community has always been a Chicken or the Egg problem.
Do you begin the community by creating content that incites discussion? Or, do you scout for people who would fuel the content and create traction?
There is no one way to solve this problem in a way that suits everybody.
However, if you do get it right, then the community could be the Eldorado of opportunities to build a business rapport, to being a gold mine of information, to being the feedback, and the voice of the masses.
Quite recently, I had the opportunity to talk to Erica Kuhl, the Queen Bee of a 3 million member community of the B2B giant, Salesforce. She spearheaded the movement that created the thriving Salesforce Trailblazer Community and all its programs. Over the last 12 years, the community has become the treasure trove of passionate Trailblazers, chatting their hearts out about the one thing they love – Salesforce.
This article is a crisper version of our conversation and will highlight:

How Erica built the 3mn member community from bottom up

The compounding impact of the community in the last 12 years

Role of the community in providing a distinct business value to Salesforce

The formula for long-term Salesforce adoption success
You can watch the entire interview with Erica Kuhl in the video below.
Spoiler Alert: In the video, Erica Kuhl reveals some exciting insider news about Dreamforce 2018, interesting things to look forward to from the community perspective in 2019, and gives her expert tips on how to leverage community and its programs for your business.

---
The Origin of the Salesforce Trailblazer Community
At Salesforce, Erica Kuhl started off with teaching admins how to set up and configure the CRM in the four walls of a classroom. 16 years into her time with the company, her classroom walls have extended unimaginably. Erica's presence, as the Vice President of Community at Salesforce, spreads globally with the many initiatives under the wing of the Trailblazer Community.
"It's fun to look back and see where we've come from. I really think it's important to always keep my mind on where we've been. It helps me define the future." says Erica as we started our conversation about the origin of the Trailblazer Community.
All those years back, little did Erica know that she would go on to create a community, that literally became the vein to transfuse the passion of millions, about a platform that contributed to an economy which has had a $1 Billion+ in social impact.
[ctt template="12″ link="vpmIh" via="yes" ]Spread the word about Erica & the community with a tweet. Click To Tweet![/ctt]
Start small, but start strong!
Erica started off with her 5-day admin workshops collaborating with her class. Individuals would go to her class, learn Salesforce together, and most often go back to their careers having to forge the rest of their way alone.
"It took me quite a while to cash in on the idea of starting a community. As a matter of fact, it did take about 4 years for me to pitch that idea. I was met with some interesting reactions because it was really not a thing back then. It was a concept, an idea and it was honestly a little bit crazy at that time." says Erica.
She finally got the go-ahead with the URL – success.salesforce.com. As the core foundation, Erica started with a group of Salesforce Experts who answered the questions asked by the members. In tandem was the creation of an environment where they could also network.
Optimistic ideas such as this are often short-lived. But for Erica, what worked for the best was not just sheer luck, but how her conviction to the cause changed the minds of even her naysayers. When asked about her philosophy to all her undertaking, she smiled and replied, "Start small, but start strong."
The compounding impact – Rallying the army of thousands!
"I have always said, I have armies outside of my team. We have a team of 250 Salesforce MVPs and over 1200 community leader all over the globe." 
Some may think that to run a huge community like that of Salesforce, you would need hundreds of Community Managers. But in reality, Erica leads a small 12 member team that steers the millions of community users.
"I have always said, I have armies outside of my team. We have a team of 250 Salesforce MVPs and over 1200 community leaders all over the globe. That is an important thing to remember when building something as special as we have now. They are truly like a core member of my team who actually works on the programs that we build and I am very proud of that. "
This formula has been fueling the compounding growth of the Salesforce community for many years now. With the Salesforce MVP program as the steed, and the enormous data from Salesforce, Erica was able to draw the correlation to the overall business metrics like the annual contract value of the Salesforce customers, the pipeline they brought into Salesforce, how fast they adopted the product, and how long they stay as customers.
When I asked about the MVPs, Erica was over the moon. "I was amazed how people began giving back in an altruistic way just to help other people and for themselves to learn. I never thought that we would get such a momentum initially, neither did our initial MVPs when we started off. They never would have believed it either. "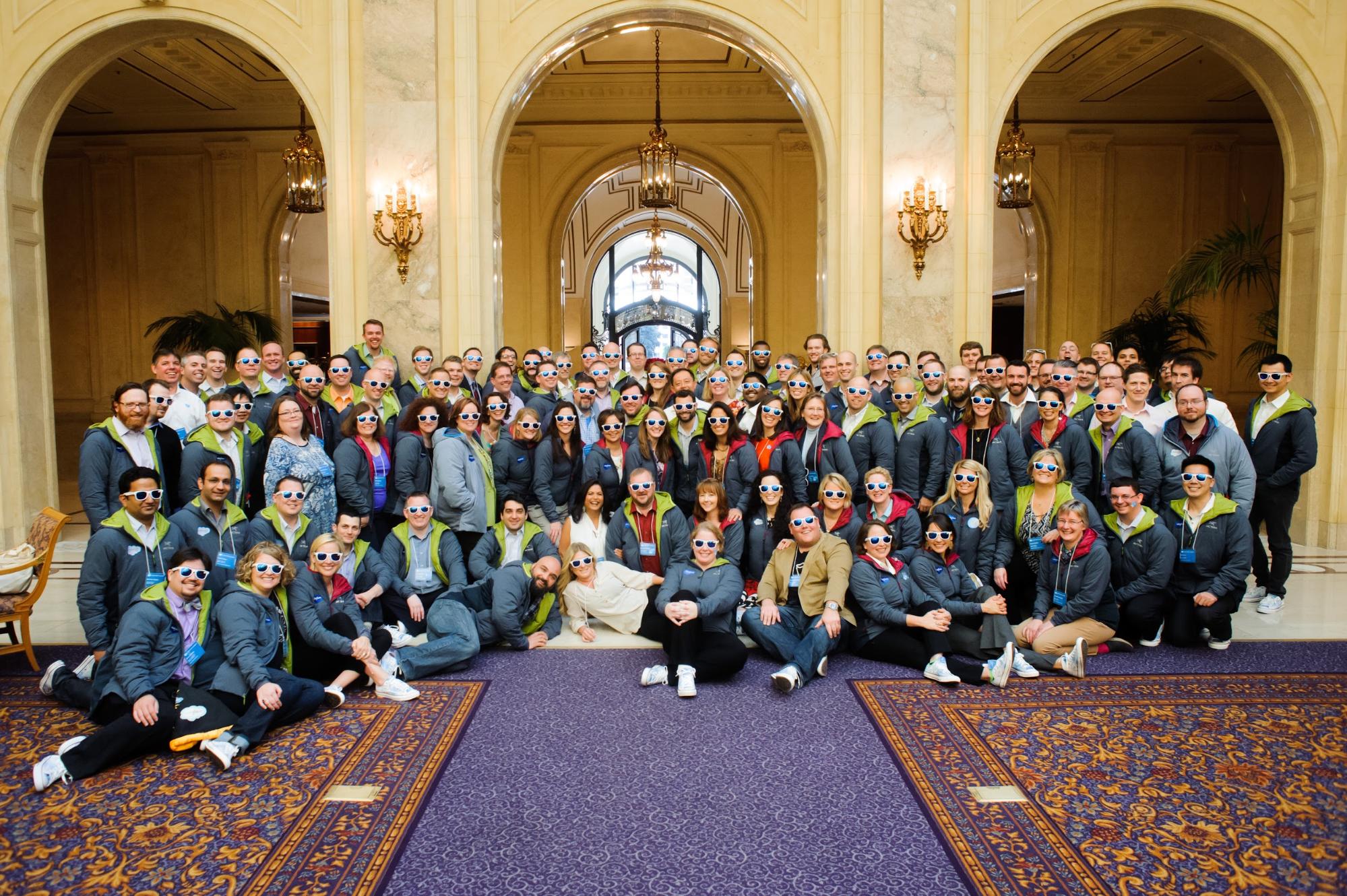 The MVPs who are under NDA with Salesforce are the unofficial spokespeople for the platform and the community. They have a deep connection and relationship with many of the Salesforce executives and community members. They volunteer their expertise through answering and collaborating in the Trailblazer community, building mentorship programs globally, leading community groups, and moreover sharing their insights through books, blogs, social channels, and collaboration groups.
Also Read: 11+ Salesforce Influencers: Up, Close & Personal
Recognizing their involvement with Salesforce, Erica says, "Our company has invested in them. These MVPs provide us with the critical feedback from the masses that they represent. They help us by telling us all that we need to hear and not what we want to hear."
The Business Value of Salesforce Community
Community leaders often struggle to show the business value through their metrics to the stakeholders. For Erica, it wasn't any different.
Recalling that moment, Erica says, "I really wanted to bring our initiatives to the prime time of Salesforce. But to do that I had to connect it with an overarching goal. This was something which was exciting especially because it was not my forte."
Community from the start played a specific role. It helped in creating loyalty and improving the brand awareness. But quantifying these metrics was quite cumbersome.
Collectively put, here's what I learned from Erica on how different parts of the community came together to provide an overarching value that Salesforce just couldn't ignore.
The peer to peer Q/A platform
This was the core foundation of the community. A self-help platform where people could network with their peers, answer the questions, and learn together. This platform has by far helped in reducing support tickets and in turn saving a lot on support time.
The component of collaboration
The intention of creating the component of collaboration was the start to connect like-minded people. With initiatives like the IdeaExchange, the community members could communicate directly and collaborate on their ideas for what they would want in the CRM and also on how they can help each other.
Power of the advocates
As the community grew, so did the advocates, and so did their interaction with the multiple solutions of Salesforce. Much like the Q/A community, the advocates of Salesforce started being actively involved in responding, moderating, and answering questions across other social media platforms like StackExchange and Twitter. Another critical value came during events like Dreamforce, wherein the Tweets literally exploded about Salesforce and the event.
Do check out – 40+ Dreamforce Parties 2018 That You Must Attend!
Creating the offline experience
This was another deliberate strategy that worked wonders. The offline experience was to connect the people who connected online and give them an opportunity to engage in person.
Adding it all up, Erica explained, "We didn't have anyone telling us what to do and where to go. We were literally paving the way. Look at the community now, it is really overwhelming with so much to do and learn. Imagine if I had started all these initiatives from day 1, it would never have happened."
[ctt template="12″ link="3JHI5″ via="yes" ]Learn how @ericakuhl rallied over 3 million people to build the biggest B2B SaaS Community ever in this exclusive interview! #Salesforce[/ctt]
The Formula for Long-Term Salesforce Success
When it comes to the success of Salesforce in an organization, there are many factors. The right formula may supercede the community. But that's when the entire symbiotic ecosystem of Salesforce steps in.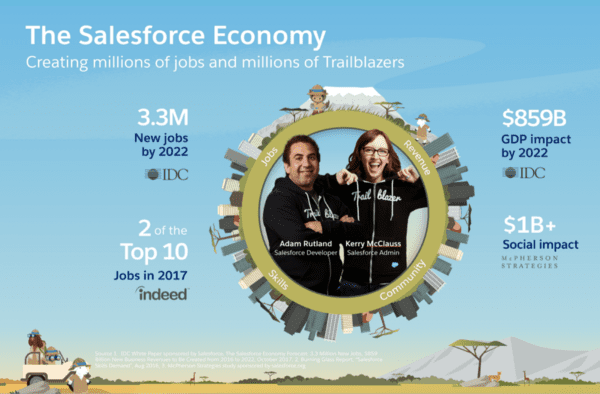 According to a report by the IDC, Salesforce and its ecosystem of customers and partners will drive the creation of 3.3 million new jobs and more than $859 billion in new business revenues worldwide by 2022.
The powerhouses of Salesforce success
"We have a responsibility to the Ohana. Its bigger than me and it's bigger than all of us."
With Trailhead, the thousands of Apps on the AppExchange, and the third-party solutions that help with major challenges like Salesforce Implementation, migration and adoption. if you look closely, you have an answer for everything.
The community itself stands as a strategic differentiator and one of the powerhouses of Salesforce, that is readily available as soon as you buy the product or start a free trial. The group in the community is a place where you can network and find content like webinars, whitepapers, polling, etc. on a regular basis. In the community, there is a direct correlation between the engagement of the product related groups and the Salesforce adoption rate.
Erica explained the impact with an example, "Say through the Lightning Now group that User adoption of Salesforce Lightning grows by over 40%. We see that communicating and participating in these groups which talk about product engagement definitely drives product adoption."
As for other ways of streamlining Salesforce success, there is the Trailhead and the much anticipated MyTrailhead. Both are expected to have a deeper integration with the community and could be the next evolution of learning and Salesforce training.
Aside from Salesforce's own strategies, there are many companies and consultants who use their expertise to solve Salesforce challenge and lead the customers to their Salesforce success. For example, Whatfix is a digital adoption solution that helps businesses with real-time interactive guidance within Salesforce, helping people learn while working on the platform.
Speaking about how everything in an around Salesforce comes together in a way to ensure success, Erica says, "You probably already feel this whirl of momentum that's been going on. There's fresh content that's posted every day, there are speakers who interconnect Salesforce with the masses, there are leaders who help with the community groups, there is never an opportunity to which you have to go at it alone."
With a sense of pride, she continued, "We have a responsibility to the Ohana. Its bigger than me and it's bigger than all of us. Now its like we are all in this together and so we have to figure out our next big challenge together."
---
The article only covers certain parts of my conversation with Erica Kuhl.
Watch the entire interview with Erica Kuhl for a lot more of her interesting ideas, some expert tips on how you can leverage community for your business, and also some insider news on what you can expect at Dreamforce!
Let us know what you think. You can tweet out to Erica Kuhl on @ericakuhl and reach me on @i_mgokul.
Have any comments? Share it in the comments below.
---
Looking for a solution that could solve your Salesforce adoption problem once and for all? Check out Whatfix's Digital Adoption platform for Salesforce.