This is by far the most exciting month EVER for all of us at Whatfix. It all started off with our BIG news on securing Series A funding. Post that, we got featured in some awesome publications (like SiliconAngle, Fortune.com, Economic Times) which talked about our vision, tech, and R&D.
And now, the excitement carries forward with a couple of fascinating new features and handy UX improvements from our tech den.
Let's take a closer look at what they are, what they do and how you can utilize them effectively!
1. Smart Tips
Ever got lost while filling a long, detailed form? Well, who hasn't! You already know that our interactive guides are perfect to help users who navigate and complete such tedious tasks.
Leveling it up, we just introduced Smart Tips. These tips, unlike our traditional tooltips, provide instant contextual help on any element, on hover over.
Here's a snippet of Whatfix Smart Tips.
 How to create a Smart Tip?
The creation of a Smart Tip is quite similar to that of a normal Whatfix guide. It's just that, in this, all the Smart tips for a particular page/section are clubbed together as a collection. 
What about its Look and Feel?
Smart Tips are much leaner compared to the normal Whatfix tooltip. There are some nifty customizations that you can do to the tip, to give it the best possible look and feel on your web app. Let's check them out.
1. Appearance of the tip
The appearance of the tip can be configured on the basis of the hover time. It is basically a condition which states that the cursor should remain 'X' milliseconds on the element for the tip to appear. Default hover time is 500ms. 
2. Disappearance of the tip
This can be configured in two ways:
– You can set the time delay required for the tip to disappear after the user hovers over or focusses on another element. Default recommended time delay is 500ms
– Configure Smart Tip close button. (By default, Smart Tips don't have a close button)
3. Text and Color
Smart Tips picks up the same text style and color of that in the Guided tips theme configuration.
Where to use it?
Smart Tips are best fit for long forms or static pages which have a lot of elements that requires attention. The tooltip will appear based on hover over or focus on the elements, popping up based on the given time gap.
To learn more about integration and functionalities of the Smart Tip, click here.
2. Interactive Guide Segmentation
This is a feature that is going to make yours and your users' life, a hell lot easier. The interactive guidance segmentation is the new addition to our feature roster, which will help you display guides, based on when and where you need them.
Say, for example, you have two sections to your application namely, Analytics and Dashboards. You have already created several guides that pertain to both sections. With this feature, you will be able to segment the guides based on the section, using the available conditions and display the corresponding guides. That is, you can segment Analytics based guides to be displayed only on the Analytics section and likewise for the Dashboard section.
Available for the Self-help widget currently, the feature lets you customize the list of guides as required in the widget for specific pages/sections on your web app, based on the set conditions.
Without further ado, let's see how it looks.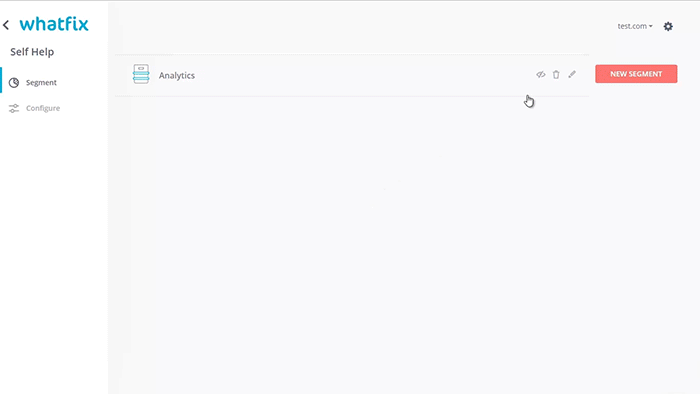 How to create a segment?
The segment creator can be accessed through the new "widgets" tab on your Whatfix dashboard. On clicking the widget, it takes you to the segments and configurations section.

To get started click on "New Segment" button on the top right, which leads to the segmentation pop-up. Fill in the basic details such as the Segment name and then set the rules/conditions and pick the guides that are to be displayed.
The available conditions and selection option are as follows:

Rules/Conditions

1. URL – Conditions can be set to identify the page on the basis of the URL's Hostname, Path, Parameters or Hash element. This is similar to that of the guide step identification in Whatfix editor.
2. Other Element – Use this condition, if you want to identify a page based on the presence of a particular element on your web page
3. Window Variable – Use this condition, if you wish to identify the page using the value of a particular JavaScript global variable
Content selection
1. All Flows – You can select to display all the guides in a particular segment with this option
2. Select Flows – This option allows you to select specific guides as required in the segment. It also allows you to order the guides to be displayed.
For more details on Interactive Guide Segmentation, please contact your Account Manager or your CSM.
3. Mobility for Whatfix Editor
Responsiveness has been a critical factor to Whatfix, as it's used across devices of all resolutions. Piggybacking on our responsive tool-tips, we have also introduced mobility for Whatfix Editor.
With this UX upgrade, now you can create Mobile/Handheld device specific guides as and when required.
This is especially useful if you have a web-app that has a different version for mobile users and desktop users.
---
Feel free to reach out your success manager for more details on these features. You could also email us at [email protected]
Be the first one to hear about our latest features. Subscribe to our blog.