Four months into work from home and the Whatfix Product Team is still continuing to release massive new capabilities, enhancements, and upgrades. Our July 2020 release will offer rapid deployment capabilities, uninterrupted guidance to all end-users, an exclusive integrations center, chatbot integration and further Flow-level customization flexibility.
---
New Capabilities
Updating and Publishing Content Becomes Even Faster with Whatfix Store
Whatfix is excited to launch the Whatfix Store – our self hosted repository for Chrome and new Edge extensions, that reduces the time to update content significantly.
Why did we create the Whatfix Store?
When an update to the Whatfix Chrome extension is triggered, Whatfix servers send the new updated package to the Chrome Web Store for download. Once uploaded, however, the updates are queued for review in the Chrome Web Store, which can take between two hours to six days or even rejected with no explanations. This extends the time it takes for new content updates to be reflected within the application.
How does the Whatfix Store make things faster?
Whatfix addresses this bottleneck by uploading the updated packages to the Whatfix Store. By eliminating the need for third-party review and approval, Whatfix reduces the time required for content updates to as little as 15 minutes. 
Will the Whatfix Store replace the Chrome Store completely?
The Whatfix Store is intended for administrators to schedule and manage extension updates to minimize bottlenecks and update times. Whatfix will continue to support the Chrome Store version for new download updates. 
For a complete breakdown of installation, deployment and architectures visit the Whatfix Store documentation page.
Continuous, Uninterrupted Guidance to All Users, Always!
Walkthrough or Flow failures – the bane of digital adoption solutions (DAS). It's a challenge every digital adoption platform (DAP)-provider faces for several reasons, such as platform updates or website changes, making it difficult for a DAP to detect the underlying HTML elements. Unfortunately, such Flow failures interrupt guidance to your end-users and affect employee and/or customer experience. However, Whatfix is revolutionizing Flow Diagnostics and Maintenance with a series of capabilities in the near future. In this release, we're very excited to launch our first innovation in this lineup: Flow-on-Standby.
Flow-on-Standby is an alternate Flow mode that is activated automatically when a Flow breaks. It is a Flow property that reinforces Flow success and ensures uninterrupted guidance to all end-users – customers and employees – at all times. 
In this mode, a Pop-Up is triggered with a screenshot of the broken step, including the HTML element and the associated Whatfix tooltip. Users can refer to this alternate guidance to complete the specified action and move on to the next Step. The following Steps will resume normally. While this mode is in place, Content Creators/Authors can make the required modifications to the broken Flows.
End-users want the right guidance at the right time to complete their tasks. Even if a particular Flow fails, the show must go on And that's exactly what Flow-on-Standby ensures.
Note: This is currently in beta. To get this enabled, please contact your CSM.
Ability to Plan Release Updates with Whatfix Versioning 
If your company is an enterprise, especially an independent software provider (ISV), your product undergoes multiple version updates. For every new version that Whatfix releases, you must be spending significant time and resources on Q&A Whatfix content and conduct security reviews of JavaScript (JS) libraries. You also don't have the freedom to choose when to update releases. 
Not anymore! 
With the new Whatfix Versioning you can now do the following, regardless of the mode of Whatfix deployment on your platform:
Test new features before deploying them.

Decide whether or not to deploy features.

Choose when to deploy features.

Update only Whatfix content without having to update JS libraries and entire feature sets.
Whenever there's a new update, you will receive a notification and can either choose to update the application immediately or cancel the notification and perform the update at a later time. An update reminder will be sent to you midway through the duration of Whatfix support for the current version.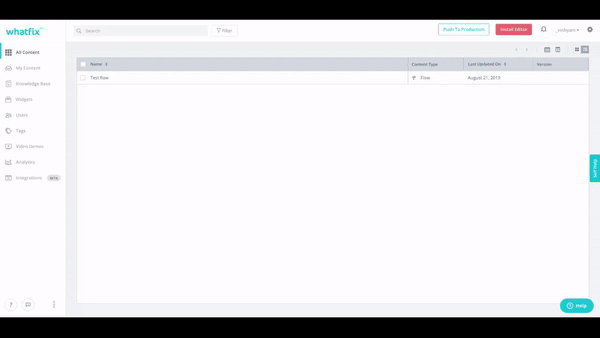 Whatfix supports each version for 12 months; thereafter the version automatically updates to the latest.
Enabling Data Flow between Enterprise Applications with the Whatfix Integration Hub
You can now integrate any application in your stack, including your CRM, HRMS, Collaboration, Support, etc. tools with Whatfix to enable bi-directional data flow. 
This means that you can now empower data that is available in different systems, simplify complex enterprise flows, and deliver contextual and personalized Help to users. 
The Integration Hub is an enterprise-grade integration solution that helps you securely connect applications with Whatfix, at scale, without coding. Whatfix can integrate with hundreds of enterprise applications and enable data flow on a schedule, on-demand, or in response to an event. 
The architecture used is designed like a very intelligent nervous system for a modern enterprise to scale and automate the data as per requirements. By using the Integration Hub, we can create a custom uni/bi-directional data flow.
Out-of-box integrations include the following:
SurveyMonkey

Confluence

Amplitude

Success Factors

Google Sheets & more…
The Integration Hub is simple and intuitive for non-technical users to integrate applications with a few button clicks. On the other end of the spectrum, it can also enable developers to execute complex and powerful customized integrations.
Launch Cross-Application Flows and Whatfix Automation with Chatbot Integration
Chatbots are wonderful. By simply offering a smart conversational user interface (UI), they drastically improve employee and customer experience. But, what if you can increase the functionality of your existing Chatbot by leaps and bounds? What if your end-users can use your existing chatbot as a 'launchpad' for all your Whatfix Flows and Whatfix Automation? And, what if all this is possible with zero-coding and with no API-integration? Everything is possible with Whatfix Chatbot Integration.
Once you integrate your Chatbot with Whatfix, its functionality multiplies instantly. It can start guiding your employees or customers, and even complete tasks automatically with strategic human intervention across multiple applications. Your Chatbot, with its native conversational interface, can now be used to trigger the following:
Whatfix Flows: Based on the conversation, the most relevant Flows (internal or cross-application Flows) will appear as options for users to select from.

Whatfix Automation: Depending on the kind of content created, some or all of the above Flows (internal or cross-application) may include Flow Automation and Data Entry Automation.
By enabling this cross-application workflow and interplay, your users will not only be more productive and efficient but will also have a new sense of emotional and psychological satisfaction.
Allow Content Authors to Configure Flow-Level Properties and Spotlight
With this new capability, you can now configure and customize each Flow to your requirement, instead of following a one-size-fits-all approach. No more global settings for all your Flows.
You can configure the Whatfix Spotlight feature to appear at certain steps rather than throughout the entire Flow and set other spotlight properties on a step.
Here's what you can do:
Customize Flow properties at the Flow-level:

Set a theme for your Flows to differentiate between business processes and also to align with your brand identity 

Create a unique end message for each Flow, if needed

Choose whether to prompt feedback from the user or not 

Configure the Spotlight with the following options:

Enable or disable the Spotlight at a step level, instead of the entire Flow

Disable Spotlight on hover

Change the overlay transparency of the Spotlight
You still have the 'advanced customization' option available. This takes precedence over the individual Flow properties followed by the global configuration. 
These customizations can be done in both the Whatfix Editor and the Whatfix Dashboard.
This new ability to edit Flow properties and configure the Spotlight gives content editors much-needed freedom to create and differentiate Flows to deliver a simplified experience for end-users.
Enhancements and Upgrades
Enhancing Flow Stability with Multiple Step Completion Rules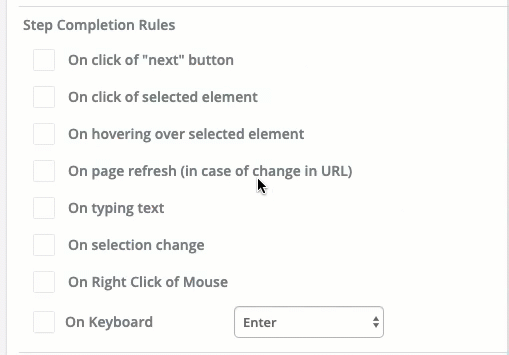 Until recently, end-users could complete Flows only in one set action that the Content Creator/Author would have defined at the time of Flow creation. However, the lack of flexibility in completing Steps resulted in unnecessary Flow errors. This will no longer be the case because we are empowering end-users with multiple ways to complete a Step. When creating Flows, Authors can now select multiple Step completion rules. And, Whatfix displays only the most relevant Step completion rules to Authors, depending on the type of Step being created.
Making Flows More Valuable by Setting the Right Context
Staying informed and being prepared are wonderful things. There are workflows where users trigger Flows, but are unable to complete them quickly because such workflows require users to gather input from different sources. But what if users were informed of such requirements before starting a Flow? That would change everything. With the Flow Information Pop-Up, Content Creators and Administrators can inform their end-users of such workflow requirements and set the right context to ensure the rapid completion of tasks.
Improving Content Discovery in Self Help with Search Keywords
There is nothing more satisfying than finding exactly what you were looking for. So the next time your end-users search for information in Self Help, provide them with the most relevant results using 'Search Keywords'. By adding synonymous keywords for your content (Whatfix content as well as existing, internal content), Whatfix will match the user's search queries with those keywords, and expand the search range. This will also help validate the usefulness of your existing content, knowledge assets.
Extension Analytics to Monitor Whatfix Go-Live Success
Whatfix Extension Analytics keeps administrators up-to-date on the details of installed extensions and extension updates. Administrators can see information about how many users have installed the extension, the type of browsers used, the geography of installations, and a lot more.
User Export and Stronger Integration with Google Analytics
With this release, you can now capture deeper end-user insights on Whatfix content consumption. The Whatfix Dashboard now summarizes engagement data (views, clicks), along with the pre-existing unique user count information to whom Whatfix content was shown. User engagement analytics data can now be directly exported from the Whatfix Dashboard into .csv files. The new 'Send All Events' checkbox allows you to share data from both these events with Google Analytics, thereby strengthening the Whatfix Dashboard integration with Google Analytics.
Track Flow Automation at Step-Level with New User Interface 
A new user interface (UI) informing administrators and managers when Steps are auto-executed in Flows.
'Unsubscribe' Button in Flow failure Notification Email
Recipients of Flow failure email notifications can unsubscribe from these emails using the 'unsubscribe' button that's been added.
Upcoming Capabilities
Content Authors will be able to push engaging end-user notifications with customizable pop-up templates. Editors will have the flexibility to configure trigger actions and design pop-ups to align with their brand guidelines.

Flow PDFs can now be customized to the brand. Content editors will be able to add a brand logo and edit the title and footer sections of the PDF.

Microsoft Teams users will be able to quickly search and access help content. With the forthcoming Whatfix plugin for Microsoft Teams, users can click on an icon in the messaging interface and directly search for static content and Flows without even leaving the application.

Whatfix will soon provide a unified adoption experience on applications across multiple platforms with Desktop and Native Mobile applications. 

Proactively maintain your Flows and eliminate Flow failures with automated Flow testing and detailed test reports.

A virtual personal assistant that will streamline key processes and information exchange across applications by automating manual, repetitive tasks.
---
For additional information, you can access the release notes here.
---
Whatfix Support Documentation Feedback
Now you can easily give us feedback (verbatim) on any article in support.whatfix.com.
At the end of any article, click either the thumbs up or thumbs down icon under the Was this article helpful? section and enter your feedback.



If it's not regarding a specific article, you can also write to us at [email protected].