We are happy to share that Whatfix has raised a $90 million Series D funding round, led by Softbank Vision Fund. The funding will be used towards product development and innovation, for organizations to accelerate their digital application adoption.
In May, we announced new Whatfix capabilities, including a slick new UI for the Whatfix Integration Hub, as well as multi-language support for Salesforce and ServiceNow.
Today, we're introducing even more capabilities and features we've been developing the past quarter, including:
Enterprise resource upgrades

Web Content Accessibility
Whatfix Security Enhancements

New Audio-Guided Flows
Revamped Beacons
Improved User Actions
---
New Capabilities
Raising the bar on Web Content Accessibility with WCAG2.1  
About 15% of the total world population identify as having a disability (Source). We realized the intrinsic design, flows of many applications make it difficult – and sometimes impossible – for people with some disabilities to use them. At Whatfix, we strive to create inclusion for everyone using its Digital Adoption platform and were compliant with WCAG2.0 guidelines.
We are happy to share that with the latest updates, Whatfix end-user features will soon be WCAG 2.1AA compliant. WCAG, or Web Content Accessibility Guidelines, are international accessibility standards set up and monitored by organizations such as the ISO, W3C. We have successfully tested with multiple tools like NVDA, Jaws, and Voiceover across Chrome and Safari browsers. The Whatfix compliance extends across both Mac and Windows Operating Systems.
Digital adoption is the first step organizations and their employees take when undergoing digital transformation. With a more accessible DAP, we believe organizations will look for transformation exercises that bring an equal, inclusive platform for all.
Whatfix Security: Enhanced packages with Subresource Integrity
Whatfix customers using the JavaScript + Cloud model of deployment can now opt into the latest security update of Subresource Integrity compatibility with this release.
Subresource Integrity is a standard web security feature that enables browsers to verify that a resource loaded from a CDN is not manipulated when it is delivered to the browser.
Whatfix attaches a unique integrity attribute created using a SHA384 encryption standard to every end-user impacting Whatfix library files. For every change made to these libraries, a new integrity attribute value is automatically generated. Changes to libraries that have an end-user impact and will trigger a change in the integrity attribute value.
With this update, you can trust the integrity of the Whatfix libraries delivered from your CDN and protect end-users from unintentional modifications to library files.
Whatfix administrators can choose to accept or reject Whatfix library updates when pushing changes to production. Administrators can decide not to accept library updates and continue pushing new Whatfix content created on the dashboard to end-users.
Audio-Guided Flows: Spotifying learning at work
Do you find yourself listening to podcasts and audiobooks on Spotify for hours? The audio experience makes learning easier and faster. What about applying the same audio experience for learning new applications at work?
That's why we're excited to share the new audio guide capability in Whatfix Flows. Gone are the days of reading long-text descriptions. You can now provide audio instructions at every step of the way. Uploading an audio file is simple.
Start by using the Insert Audio button during Flow creation as shown below: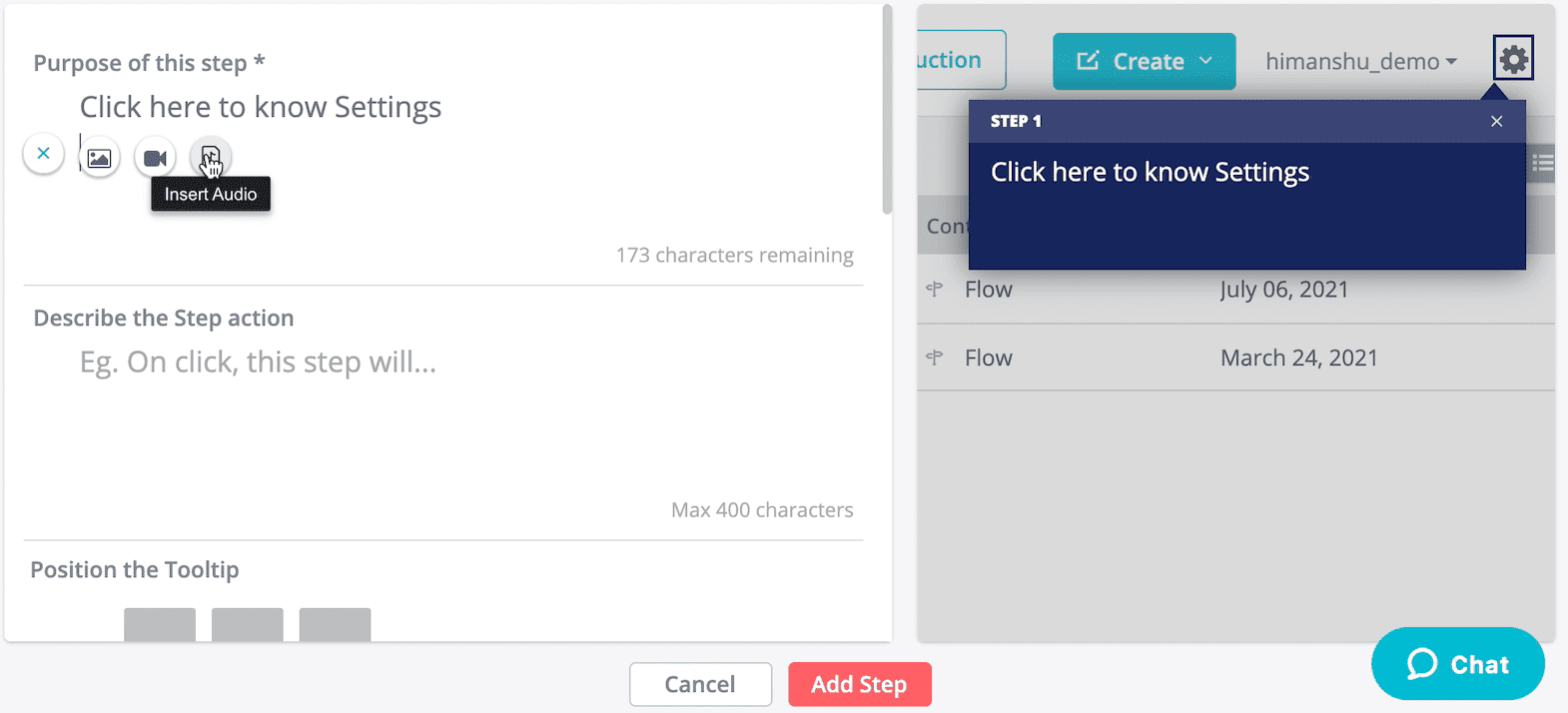 This helps your employees understand and learn without straining their eyes. You can also insert audio files in the description section.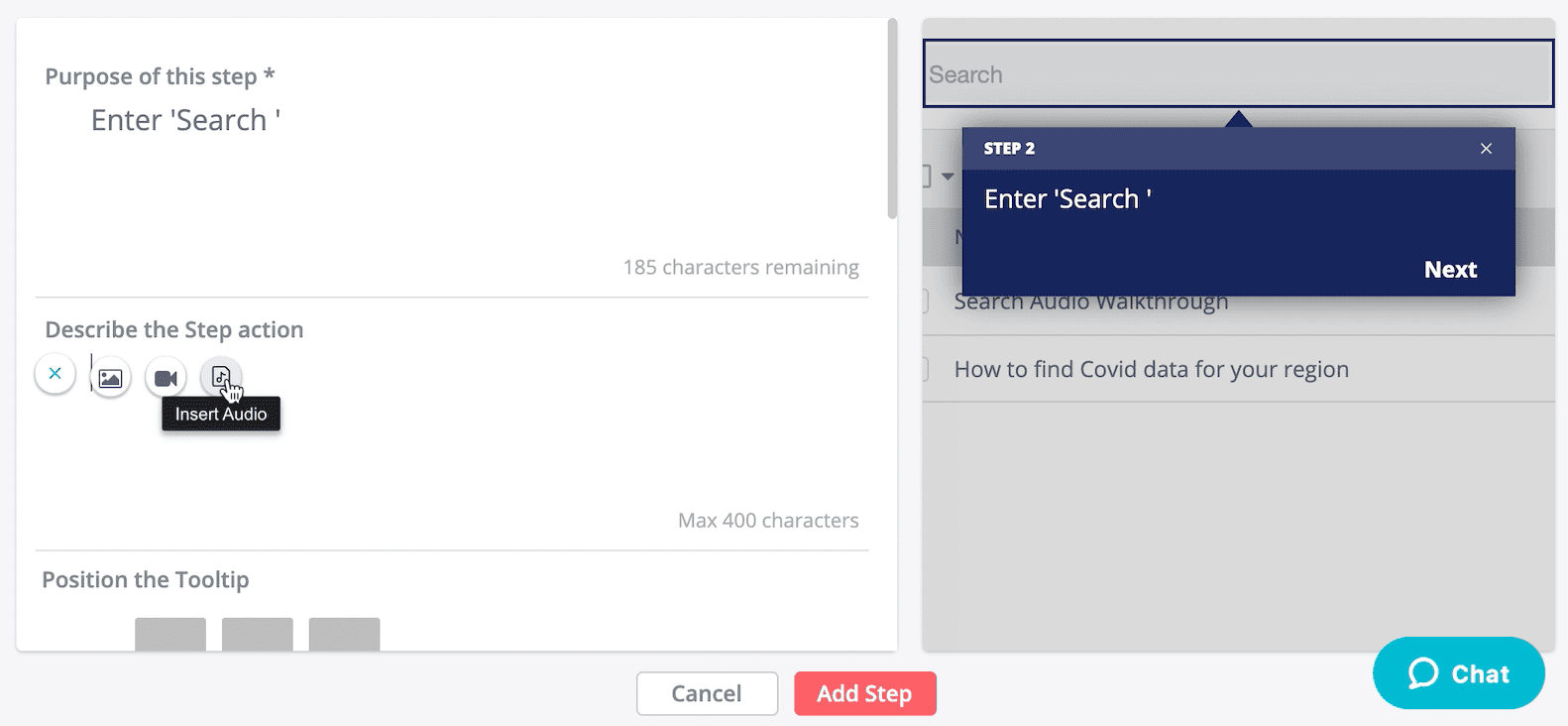 Watch the audio guide in action after you've uploaded a file. The Whatfix Editor supports multiple audio file formats (.mp3, .aac, .ogg, .m4a).
Revamped Beacon:
Change management just became more powerful
Content creators can now customize Beacons for a variety of in-app messaging with the help of the newly-launched configuration portal. A few of the new features include: 
Beacon Customization:

All custom formatting options available for Flows and Smart Tips are now enabled for Beacons.

Media Type:

You can now add images, videos, and links to the tip of the Beacon. 

Branded Beacons:

Style and color configurations are now available for Beacons to align with your brand's style guidelines.

Revamped Beacon: Highlight changes to features, communicate key information, and do more with the revamped Beacon.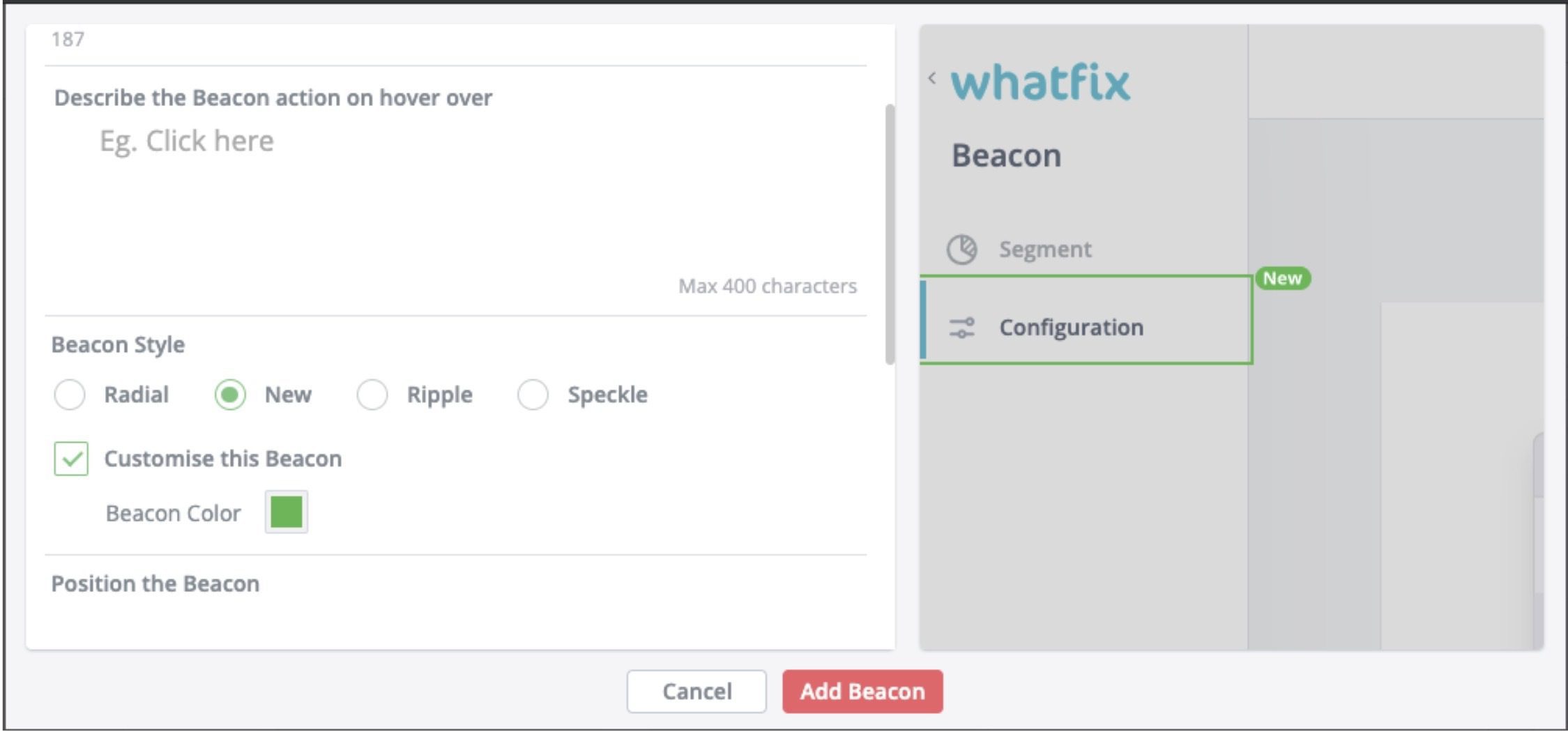 This feature is currently in open beta. Please reach out to your customer success manager to enable this for you.
User Actions:
Power up user-behavior analytics with these User Action enhancements
Leverage key actions performed by users on your application to trigger real-time in-app messaging. New display and visibility rules allow for more flexible User Actions.

User Actions will now be listed in the preview pane that pops up before content is pushed to production. 

User Actions will also be available on the summary page of the Analytics Dashboard along with the six widgets. 

Staying true to our open-ecosystem philosophy, you can now pull User Actions data from the Whatfix dashboard with the help of an API.
For questions on any of our new features and product enhancements, email [email protected] or contact your customer success manager to learn more.
What's Next? Stay tuned.
The excitement just does not stop here. Await our next release & more enhancements for our customers with Desktop capabilities, more No Code integrations, Autoflow failure solving capabilities, and many more…
---
For additional information, you can access the Release Notes here.
---
Whatfix Support Documentation Feedback
Now you can easily give us feedback (verbatim) on any article in support.whatfix.com.
At the end of any article, click either the thumbs up or thumbs down icon under the Was this article helpful? section and enter your feedback.



If it's not regarding a specific article, you can also write to us at [email protected].