The Digital Adoption Summit 2020 is just two weeks away! Are you excited?

It's a fantastic opportunity to learn from 30+ top-class leaders over the course of 3 days. If you haven't already registered for the event, happening on the 26th-28th of May, then visit the website and book your spot!
If you're still thinking if it's worth your time, check out our most recent article describing the top 5 reasons why you shouldn't miss the digital adoption summit. 
In this article, we're going to be talking about the real reason why anyone attends a conference, the keynotes and the speakers. We are bringing together over 30 of them from various industries and top tier organizations. 
Talk Tracks: 
30+ Insightful Sessions To Attend At The Digital Adoption Summit
Workforce Learning & Development
Organizations are continuously looking for and adopting new ways of training their employees as it is no longer just a good to have function. In fact, companies achieved 24% higher profit margins due to training. So, we've brought together the cream of the L&D crop to help you train your employees for the future of work. 
Speakers & Sessions
Accelerating Workforce Adoption, by Kerry Brown: Kerry is an SAP evangelist and thought leader in workforce adoption, future of work, change management and learning. She currently is part of SAP as the VP of Workforce Adoption and will be live at the summit explaining the shifting trends in workplace technology and the gig economy and how CEOs today can take much needed steps to stay ahead of this change. Twitter: @kerrynbrown , LinkedIn: Kerry Brown
 The Disruption Mindset, by Charlene Li: Charlene is an internationally recognized expert in digital transformation, leadership, and future of work. She is an author of 6 books including New York Times bestseller, Open Leadership. Charlene will be explaining her motto, disruption doesn't create growth but growth creates disruption, talking about the right growth strategy that aligns with the company and the customer. Twitter: @charleneli , LinkedIn : Charlene Li 
How to Make Learning A Competitive Advantage, by Dr. Roy Pollock: The Chief Learning Officer of The 6Ds® Company, co-author of the best-selling book- The Six Disciplines of Breakthrough Learning, international speaker & consultant, a Ph.D degree holder from the reputed Cornell University are just a few of the things on Dr.Roy's resume. In this session, Dr. Roy discusses learning as a strategic business process and steps to ensure a high return on employee training. LinkedIn: Dr. Roy Pollock
How The Modern-Day Learning Experience Is Shaping Digital Workforce Transformation, by Steven Rath Morgan: Steven is the former Head of Global Learning & Talent Development at Xerox and a thought leader who uniquely envisions a new age of L&D to help make the workforce more effective and efficient. Currently, he is part of Booz Allen Hamilton as Principal, People Technology and Innovation. In this session, Steven will elaborate on how L&D organizations have evolved over the past few decades and how digital adoption will be the future for corporate L&D. Twitter: @srathmor, LinkedIn: Steven Rath Morgan
Workflow Learning – 5 Moments of Need, by Bob Mosher: Currently a senior partner, and the Chief Learning Evangelist, at APPLY Synergies, a 5 Moments of Need™ company, Bob, has been an influential leader in the learning and training industry for over 30 years. In this session, Bob will be talking about implementing the trending topic – learning in the flow of work and how to make it a reality during remote work. Twitter: @bmosh , LinkedIn: Bob Mosher
LMS, LRS, LXP, and More: Exploring the Learning Platforms Landscape, by David Kelly: David has been a training director and consultant & speaker for over two decades and currently serves as EVP at The eLearning Guild. This session will examine how employees leverage multiple workplace systems to drive better performance. Twitter: @LnDDave , LinkedIn: David Kelly
Nudging Behaviour Change After Virtual Or Classroom Learning Events, by Paul Matthews: Paul is an internationally recognized L&D leader with 3 best selling books to his name. He is well known for breaking down complex theories into practical steps for better ROI. He looks to apply the same approach in this session by introducing a simple model to nudge behavior change in the right direction after a learning program. Twitter: @peoplealchemy , LinkedIn: Paul Matthews
Why Digital Adoption Requires Expert Performance, by Dr. George Selix: Dr. George is a US Air Force combat pilot turned industry leader in L&D. He constantly digs for new ways to drive expert performance from novices at the moment of need. This session is perfect if you're looking for a better approach to employee training, support and knowledge management. LinkedIn: Dr. George Selix
The New Workflow Learning Instructional Designer, by Ray Jimenez: Ray is a leader in instructional design and has worked with top organizations such as American Bankers Association, Neiman Marcus, the U.S. Air Force, NASA, Blue Cross etc. He has also four great books on learning and will cover an array of topics including 100 years of instructional design and the ways to implement and track workflow learning. Twitter: @RayJimenez , LinkedIn: Ray Jimenez
Building a Video Instruction Plan, by Josh Cavalier: A 25-year eLearning Industry Veteran who founded a company that went from a revenue of $0 to $1.8Mn.In this session. Josh will help get you started on the Video Instruction Plan (VIP) methodology which walks you through the planning process of a video-centric learning strategy centered on a large training effort. Twitter: @JoshCav , LinkedIn: Josh Cavalier
The Missing Ingredient In Our Learning Courses, by Nibu Thomas: In his 20 plus years of having a blast at work, Nibu Thomas has had the pleasure of being associated with organizations like Bosch, AOL, Infor and now Whatfix as the Associate Director of Information Development. In his session, he will talk about the 3 letter word missing in today's learning programs. Find out what it is. LinkedIn: Nibu Thomas
Digital Transformation & Adoption
The dependency on technology and mission-critical software has never been higher. Due to massive budget cuts owing to the current scenario, organizations want to find out ways to make the best use of existing applications to ensure business continuity. That's Whatfix specialty! 
Speakers & Sessions
Lessons from Tesla, The Formula for Digital Adoption Success by Beth Loeb Davies: Having worked in top brands like Tesla, Microsoft, Apple and Gap, Beth is an expert in strategizing and delivering cutting edge learning solutions. Currently, she serves as an advisor to EdTech startups, hosts the Career Curves podcast, and teaches in the Talent Development & Human Resources master's program at IE University. At the summit, she will be describing the People X Tech formula, clearing doubts about how a company can prevent resistance to digital adoption. Twitter: @careercurvespod , LinkedIn: Beth Loeb Davis
State of Digital Adoption, by Khadim Batti: A digital adoption expert who started it all at Whatfix. Khadim has over a decade of corporate experience and is an active speaker at various events & conferences and is an influencer in the startup community. In his session, Khadim breaks down the current state of adoption with business applications among enterprises, the common roadblocks and how to tackle these challenges for a better time to value. Twitter: @KhadimBatti , LinkedIn: Khadim Batti
Technology Adoption in Disruptive Times by Linda Lamppert: Linda is a seasoned leader in human performance technology with over two decades of experience. She also holds a strong background in instructional design and has led the implementation of ERPs in top organizations, the likes of SAP , Oracle and Peoplesoft. Being a system implementation and software learning expert, her session will be around developing an effective strategy for system implementation during times of COVID-19. Twitter: @LindaLamppert , LinkedIn: Linda Lamppert

Reimagine Remote Training with Learning in the Flow of Work, by Vispi Daver: A seasoned Sales leader and investor with two decades of experience growing early stage startups to million dollar companies. He joined Whatfix at an early stage and is now the SVP of the innovative, fast-growing company. In his session, Vispi answers how to implement "Learning in the Flow of Work' to your employees working from home with the help of a Digital Adoption Solution. Twitter: @VispiD, LinkedIn: Vispi Daver
The Human element of Digital Transformations, by Khytsse Garcia, Sanjeev Kumar and Sripathi Chakkravarthi: Both Khytsse and Sanjeev are top tier Digital transformations experts having achieved immense success in implementing digital change in both small organizations and in large enterprises such as Boral and Nissan. They will be joined by Sripathi, a Techie turned sales leader helping Whatfix penetrate the ANZ market. This panel is excited and ready to share their perspectives on transitioning to the digital world and the importance of having a human element in every transformational initiative. LinkedIn: Khytsse, Sanjeev , Sripathi
7 Ways to Accelerate Time to Value of New Technology, by Rajan Venkitachalam: Rajan is a product development guru with over 25 years of experience spanning across companies like ServiceNow and Microsoft. He is currently part of ICertis as the General Manager of Product Development. Rajan will be talking about a very important subject at this time – driving faster time to value for any mission-critical software. He will review implementation and digital adoption best practices that Icertis uses in the hundreds of deployments they have done with their contract management technology worldwide. Twitter: @icertis , LinkedIn: Rajan Venkitachalam
Agile Business Transformation That Drives Innovation and Culture, by Isaac Sacolick: Isaac is a successful CIO and IT leader and is the author of the Amazon bestseller, Driving Digital: The Leader's Guide to Biz Transformation Through Tech. In this session, you will learn how planning agile roadmaps can address culture transformation, mature collaborative practices, and drive innovation. Twitter: @nyike , LinkedIn: Isaac Sacolick
AI, Automation And The Future Workforce, by Vara Kumar Namburu: As the Co-Founder and CTO here at Whatfix, Vara Kumar is the Head techie of the company with over a decade of experience developing innovative and disruptive products. In this talk Vara will be sharing how Digital Adoption Platforms work with AI and Automation to drive the Future of Work. LinkedIn: Vara Kumar Namburu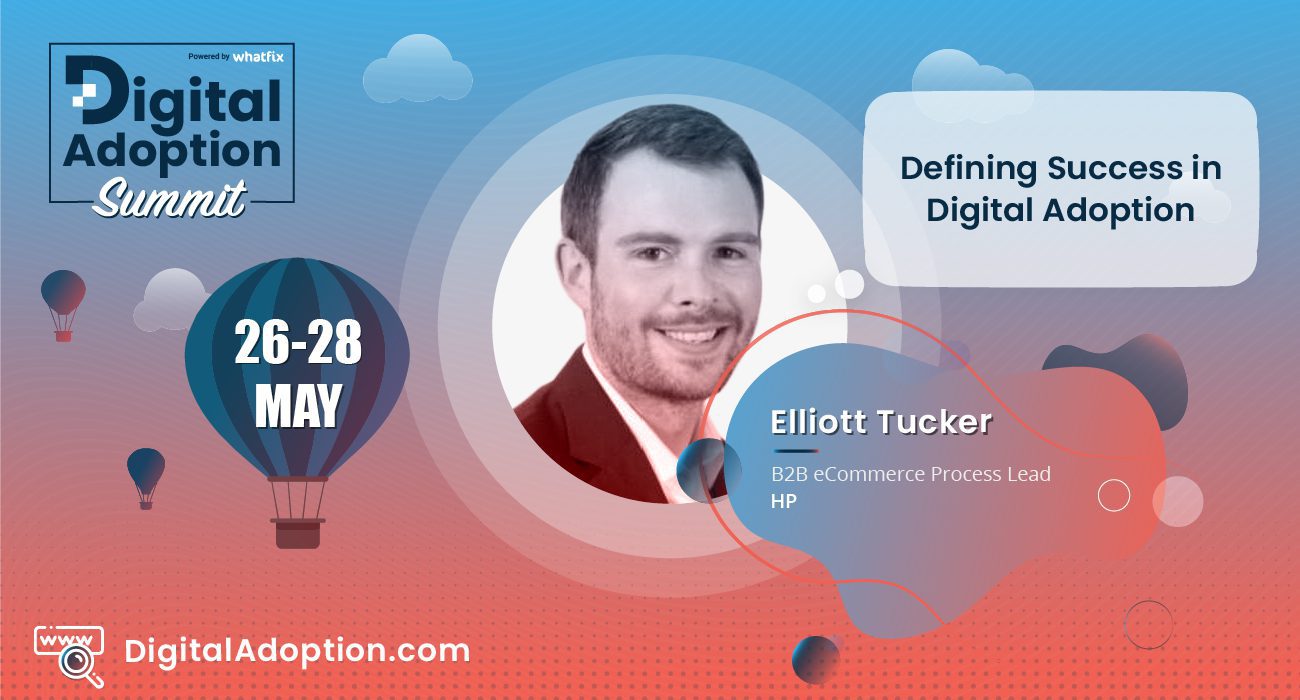 Defining Success in Digital Adoption, by Elliott Tucker: Elliot is a young and inspiring process and operations expert currently leading B2B eCommerce Process at HP. In his session, Eliott will cover how to be intentional in defining success with the use of digital adoption tools and how digital adoption transforms your organization. LinkedIn: Elliott Tucker
The Five Fundamental Questions of Digital Transformation, by Michael Leckie: Michael is a former CLO for digital transformation at GE and Ex-Managing VP at the top research firm, Gartner. He helps leaders and organizations build the human capabilities needed to change organizations for good. In his session, Michael will reveal 5 important questions that are failed to be asked during any transformation initiative. In a world that is constantly hung up on just improving technology, he is here to let you know why that alone cannot solve any challenges in digital transformation. Twitter: @leckiemichaelj , LinkedIn: Michael Leckie
To Digitally Transform, You must Digitally Adapt, Josh Adams and Paul Dixon: Josh and Paul are both articulate sales and sales engineering leaders skilled at connecting with customers to facilitate sales success. They join forces at the summit to help you learn five major issues that cause the digital transformation to fail and top ideas to attain transformational success through maximum adoption. LinkedIn: Josh, Paul
How To Maximise The Returns Of Your Digital Adoption Investment, by Apoorva Mittal: One of Whatfix's top Customer Success Experts helping Fortune organizations realize the full value of their DAS. He will be sharing his insights on digital adoption and how to achieve maximum ROI of your adoption initiatives. LinkedIn: Apoorva Mittal 
Remote Workforce Management & Productivity
The COVID pandemic has changed the way we think about workforce management. It's imperative that we adapt to the new normal and learn how to remotely manage teams in the most efficient ways possible to maintain workplace level productivity. To help you master this skill, our speakers share their experiences in managing remote employees and distributed teams to ensure business as usual during these tough times.
Speakers & Sessions
Leading Successful Change to Remote Training, by Dr. Britt Andreatta: Dr. Britt is a global thought leader who uses her unique background in leadership, neuroscience, psychology, and education, to create brain-science based solutions for today's workplace challenges. She is a former CLO at Lynda (now LinkedIn Learning) and looks to answer the commonly asked question "How can you train people remotely and effectively, without disrupting the flow of work? Twitter: @BrittAndreatta , LinkedIn: Dr. Britt Andreatta
Impact Of COVID-19 On Learning & Development, by James Hudson: James is the founder of the Learning and Development Mastermind – a community created to allow L&D professionals to connect, share, and grow together. He has nearly two decades of experience in L&D and looks to share that knowledge with you all. In this session, he will explore the overall impact of COVID on learning around the world and provide his prediction of what the future of learning will look like. Twitter: @JamesHudson1979 , LinkedIn: James Hudson
L&D's New Role, Attitudes for continuous learning and motivation, by Nick Halder: Nick holds a wealth of practical experience developing, from scratch, a global strategy for learning, performance and talent development in a fast growing technology firm. He is currently the Global Head of L&D at ION Group. Nick will be sharing his insights into how employees & companies can adapt to continuous learning in these testing times. Twitter: @nick_halder, LinkedIn: Nick Halder
Ensuring High Productivity Of Your Remote Workforce on Your Tech Stack, by Govind Pandey: Govind is Whatfix's very own digital adoption and sales expert who has worked with Fortune 500 companies and SMEs alike to help them design growth strategy. In his session, Govind will share his experience with leveraging learning in the flow methodology to boost productivity of your remote workforce on your current tech stack. LinkedIn: Govind Pandey
Sales Efficiency & Enablement
The digital adoption summit has brought together some of the best thought leaders in the world of sales, sales enablement and salesforce to share their best practices in adopting sales tech, the right tools, building the best sales team etc. 
Speakers & Sessions
How To Ensure Business Continuity With Remote Sales Team, by Richard Harris, Aaron Ross and Prakhar Jain: In this session, 3 renowned sales leaders, Aaron Ross from Predictable Revenue, Richard Harris from The Harris Consulting Group and Prakhar Jain from Whatfix share their secrets to effective business continuity planning and maintaining sales productivity while working remotely. Twitter: @motoceo, @rharris415 , LinkedIn: Aaron, Richard
Perfecting Your Sales Tech Stack For Higher Sales Efficiency, by Tigh Loughhead: Tigh Loughhead is the founder of RentBoost, a Registered Salesforce Consulting Partner, Google Ads Partner Agency, 3X Salesforce MVP and a leader in marketing technology and sales enablement. Tigh will be sharing his thoughts on building an ideal Sales tech stack for better performance and how to ensure adopting for these tools. Twitter: @tigho , LinkedIn: Tigh Loughhead
Want More Success? Diversify Your Workforce, by Eric Dreshfield: Eric has been in the Salesforce ecosystem since 2009. He was first named a Salesforce MVP in 2013, and in 2020, was inducted into the Salesforce MVP Hall of Fame and is currently the Vice President of Delivery at ITequality. In his session, Eric will be talking about the importance of having a diversified sales team and how it can impact your revenue generation. Twitter: @ericdresh , LinkedIn: Eric Dreshfield
Is your Sales Enablement team delivering value? by Nicholas Gregory: Nicholas is a multilingual Sales Enablement thought leader, with over a decade of experience, laser-focused on improving organizations' sales capabilities to drive better sales performance. In this session, he will unpack some of the current challenges faced by organizations when it comes to sales enablement and describe ways to solve those challenges for consistent value. LinkedIn: Nicholas Gregory
Register to Gain This Vast Knowledge from Industry's Best!
You're probably thinking," Wow, that's a lot of speakers!". You're right and we're adding more speakers every day.

If you want to keep track of those announcements, follow all the updates on Twitter and Linkedin.

To register for the Largest Virtual Summit of 2020, visit www.digitaladoption.com today!