In 2020, the COVID-19 pandemic forced companies to transition to a fully remote environment within weeks. That phenomenon led companies to incorporate more digital tools into their everyday work processes to replace in-office interactions, which is currently causing information overload and cognitive interference—both of which lead to reduced productivity and slower time to competency.
The solution is an effective knowledge management tool. Proper knowledge management helps companies produce, organize, and distribute accurate information across entire teams. They make employee development and training easier because they provide an easily accessible knowledge base where employees can find self-help content on company values, internal and external processes, and other important information for company culture and employee competency.
While a knowledge management tool is useful on its own, just like any other digital tool, there can be some hiccups with implementation. By integrating a digital adoption platform (DAP) with your knowledge management system, you can solve your problem of information overload for both your customers and employees.
Top 5 Knowledge Management Tools
Here are the top five knowledge management tools you can use to avoid overwhelming your existing and new employees:
Confluence brands themselves as the single source of truth (SSOT) for your team—when someone has a question, they can go to the Confluence knowledge base and attempt to find answers on their own.
One of Confluence's most notable features is its data organization platform. While its search feature can be lacking, Confluence allows teams to create "spaces" to make it easier for employees to find content. Each space can be customized based on teams or departments, allowing and restricting access to certain self-help content. Employees can access and easily find relevant content while also avoiding the clutter of irrelevant knowledge.
Zendesk is a robust tool that allows you to create a knowledge base for both your customers and employees. After creating content, you can restrict access based on your preferred organization criteria (e.g., by user type: customer or employee). It uses a tagging system to organize content so that users can find content relevant to their specific needs, encouraging customers and employees to use self-help solutions rather than contacting customer support.
Apart from being a knowledge management tool, Zendesk sets itself apart by allowing users to integrate their knowledge bases with their support center and help desk features. Zendesk's steep price is justified by its organization, functionality, and potential return on investment (ROI), as long as your team learns how to use the tool efficiently.
Similar to Zendesk, Freshdesk helps you set your customers up for success by allowing you to create and organize self-help content for your knowledge base, then integrate that knowledge base with its customer support solutions. Its content dashboard makes it easy to create, edit, and update self-service content.
Freshdesk further encourages your customers to access self-service content through its advanced content bot. When your customers can't find something, Freshdesk tries to help them with a bot before redirecting them to your customer support team.
For even better content creation and self-service functionality, Freshdesk tracks user data so that you know which pieces of help content are the most useful. What it lacks in reporting flexibility, it makes up for in the comprehensiveness of the data.
Guru is another knowledge management system with integrations that make content creation, management, organization, and distribution a lot faster and easier. Guru can integrate with web browsers and collaboration tools like Slack so that you can create content easily, by highlighting text or through a Slack application.
Like other knowledge management tools, you can restrict or allow your customers and employees access based on user type or tags. The content dashboard makes it easier to digest data because you can organize them by cards, boards, groups, and collections.
Guru's content creation and management features make it one of the best knowledge management tools out there, but maintaining your knowledge base with so many sources of input can be challenging. Keeping everything up to date can become time-consuming and costly, as well.
Document360 ensures that you have the tools to create and update help content with its specialized content creation portal. After creating content, you can store and organize everything in a knowledge base for employees and customers that you can integrate with a knowledge base assistant.
Some of Document360's most notable features are its excellent search functionality and multi-device accessibility. Its knowledge base assistant enables employees and customers to find answers to their own questions by providing contextual guidance through site mapping.
Document360 is still growing, which means it's still updating and changing its product to provide more solutions. If your team uses Document360, you need to make sure that your team can adjust to the updates quickly so that you can make the most out of the tool.
Integrate a DAP with Your Knowledge Management Tool to Unlock Its Full Potential
Using a DAP can help your knowledge management system boost productivity and reduce feelings of stress from information overload. It can fill in the gaps in the functionality of your knowledge management. Where your knowledge management tool may not have been searchable, have a user-friendly interface, or be able to collect enough data, a DAP integrates with your knowledge management tool and can conduct all those tasks.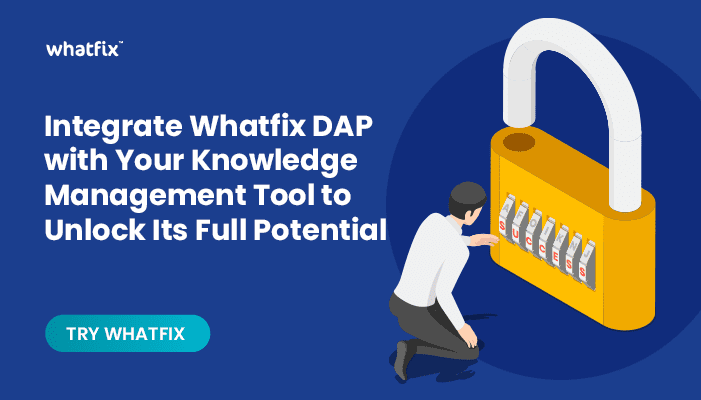 Aggregated self-help menus. You can create a self-help menu with a DAP that collects all your existing knowledge content and presents it to the end-user in the form of a searchable list. If your knowledge management tool isn't searchable, a Digital Adoption Platform will make it searchable by aggregating each page in your knowledge index. This self-help menu is easily opened with a single click.
Guided walk-throughs. Walk-throughs are step-by-step, on-screen prompts that guide your users and employees through important processes. They integrate with your knowledge base and appear in the form of speech bubbles or tools that show your employees how to publish self-help content or tell your customers how they can apply for a certain service that you offer.
User data dashboards. DAPs collect data on how many walk-throughs are run and completed, how many search queries were successfully answered, and which specific search queries were asked multiple times but remained unanswered. Integrating a DAP's data dashboard with your knowledge management tool can show you what content is accessed the most and what queries you need to make content for.
Contextual pop-ups. A contextual pop-up can be programmed to appear on a specific page, to a certain user, or at a scheduled time to announce changes and tell employees and customers what they can do with that change. Integrating contextual pop-ups with your knowledge base can give your users a heads-up before a major update that could disrupt workflow.
Set Your Employees Up for Success with Better Knowledge Management
A knowledge management tool alone can reduce information overload by presenting information in a more organized way. A DAP will take your knowledge base's functionality and effectiveness to greater heights by making it more accessible and easier to use.
If you want to see how you can increase productivity and decrease employee time to competency with the use of a DAP, book a demo with Whatfix today!