Enterprises across the globe are on their way to becoming digital. And by across the globe, we mean that nearly two-thirds of global CEOs are making digital transformation their top priority. This means paving the way for a generation of enterprises that do much more with much less resources.
While the optimism behind digital transformation is reason enough to start thinking about setting up a digital transformation strategy, McKinsey gives some dismal statistics on the outcomes of organizations that have undertaken these efforts.  A recent survey by the management consulting firm found that less than one-third of digital transformations are successful.
If these numbers are anything to go by, then it's clear that setting up a digital transformation strategy means you need to have a crystal clear vision of how exactly your business is going to change and the impact it will likely have on your entire organizational model. This is precisely where it is vital to understand that digital transformation affects not just business processes and technologies but also leaves a profound impact on your organization's most valuable resource – human capital.
Businesses are taking steps toward digital maturity; HR and L&D has a crucial role to play.
Virtually all businesses across the globe are revamping and remodeling their technology infrastructure and business models to keep pace with modern demands. Their digital transformation efforts are centered on investing in and implementing digital technologies such as the Internet of Things and Artificial Intelligence that allow them to become smarter, nimbler, and more agile. They digitize their supply chain and other business processes to provide their partners and customers with truly digital experiences.
In this approach, IT people and decision makers spearhead the organization's transformation journey and carry most of the digital transformation responsibilities.


Source: Twipu
Digital transformation, however, is not limited to modernizing technologies and processes. It also involves shaping people to be able to keep pace with the change and meet the digital demands.
Taking the "human factor" out of the picture can hinder digital transformation success. According to a McKinsey survey, only 14% of polled business executives said that their digital transformation efforts have sustained performance improvements, with only 3% reporting complete success at sustaining change. Experts say that one of the top reasons Digital Transformation initiatives fail is poor organizational change management. "The teams were either unable, unprepared, or unwilling to shift processes required to execute on a new process or system," Akhilesh Tiwari, global head of enterprise application services at Tata Consultancy Services told Cisco. "Failure analysis will show that change did not happen from within and change management agents failed to deliver what is an essential first step in this journey."
How can HR and L&D help address this problem?
The HR and L&D role in Digital Transformation is to ensure a sustainable pipeline of ahead-of-the-curve talents that can help steer the organization toward digital maturity. But their role in Digital Transformation can even go beyond this.
Beyond Hiring: HR and L&D engage, equip, and empower
A digital native enterprise is a hodgepodge of talents with hard and soft digital skills. The role of HR and L&D is to ensure that the talent supply pipeline is also filled with digitally adept non-IT personnel, most of which are customer-facing and in production. This can be done through recruitment. But to reduce hiring costs and retain top talent, HR and L&D needs to roll out effective training and development programs to arm their existing manpower with the necessary digital skills.
Before employees undergo actual training, however, HR and L&D must first ensure that they are highly engaged.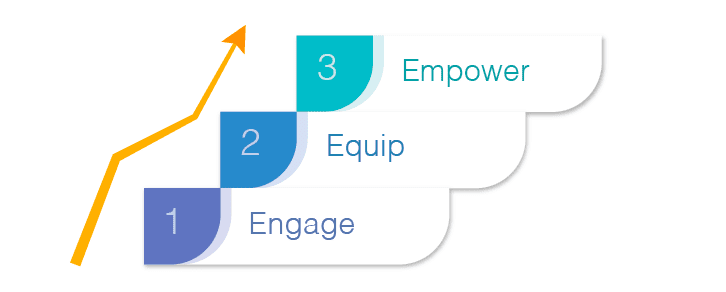 Engage
Project managers may have a hard time engaging individual staff and encouraging them to support the company's Digital Transformation initiative. Engaging a generationally diverse workforce can be difficult because they have different takes onDigital Transformation. Fears and false perceptions can also influence their view of using digital technologies. According to Kirona CTO Neil Harvey, "many workers are understandably skeptical about the benefits of certain digital technologies" because they believe they are a threat to their jobs. They might think that technologies such as robotics and artificial intelligence (AI) will replace them. "Such fears can easily translate into a lack of engagement with new technologies, or even an active refusal to use them as intended," wrote Harvey. 
HR and L&D can break this mindset and replace it with a digital mindset, creating a digital culture where employees who used to stay in their "traditional thinking" cocoon can now "fail fast, [adopt and] test new ideas, and be agile and collaborative." From being process-centric, they became more customer centric and can operate across geographical boundaries in a nimbler and scalable manner. 
HR and L&D have the necessary skills and understanding of how to excite and successfully engage employees, change their perspective on Digital Transformation, and turn them into digitally thinking individuals. When equipped with effective engagement tools, they can strategically and effectively make change work for every employee. They can cater to their individual engagement needs through a human-centered, technology-powered approach.
Forward-thinking HR and L&D foster a digital mindset among employees by providing them with a platform where they can think digitally. Various companies have implemented this and experienced small victories along the way.
Case in point 1: PwC
PwC's digital services marketing leader Stephanie Feldman saw that in order for their organization to succeed in Digital Transformation, they should inspire their workforce to take part in it. They rolled out the Business, Experience, and Technology (BXT) strategy. Through BXT, employees were encouraged to actively participate in the company's transformation process, allowing them to confidently share their ideas, work in an energetic environment, and think disruptively.
Case in point 2: Vodafone
To foster a digital mindset in its employees, Vodafone involved them in designing and building digital applications, which if chosen, could be further developed and deployed. This helped them rethink how they work and become digitally savvy. Vodafone also leveraged AI-powered technology to inculcate a digital way of thinking among its employees.
HR and L&D can also help break the old mindset by letting employees realize and enjoy the benefits of working in a digital environment. In the most modern enterprises, a thought-out investment into workplace transformation technologies enables employees to become more productive wherever they are. As a result, their employees develop a positive view of Digital Transformation because they experience firsthand, how it helps them become a better version of themselves. Instead of fearing change, they start to welcome it with open arms.
Equip
Highly engaged employees are easier to involve in learning and in the organization's overall digital transformation plans and activities. More than 40% of surveyed L&D professionals see that this is the case in their organization.
According to the fourth annual global survey of digital business practices, conducted by MIT Sloan Management Review and Deloitte (as cited by Human Resource Executive), 44% of respondents believe they need to continuously update their skills to do their jobs effectively in a digital environment. Ninety percent, on the other hand, recognize the need to update their skills at least annually. But respondents also claimed that they are dissatisfied with the training and development opportunities they are receiving from their company. Respondents from digitally maturing companies view classroom or traditional training setups as less effective. They highly prefer receiving training in a way that doesn't require them to step away from their day to day jobs. Clearly there is a need to provide learning opportunities that can take place in the flow of work.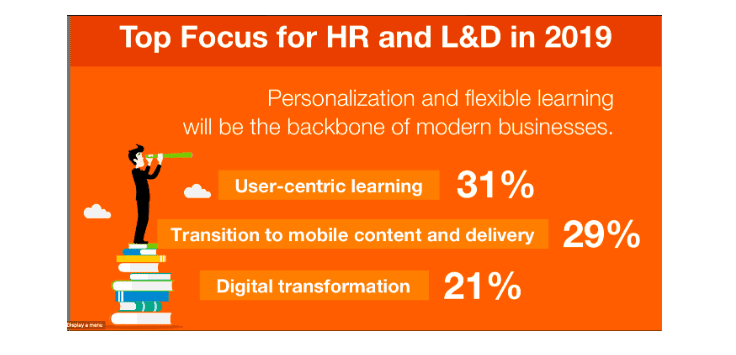 Source: Speexx
HR and L&D is in the best position to reinvent training by creating a work environment that fosters continuous learning as well as personalized, customizable, and human-centered training. They can help project managers and decision makers to tailor training programs that adjust to the individual training needs of their staff. They can help ensure high user adoption rates by offering "snackable" training or microlearning that allows them to learn as they go.
Ahead-of-the-curve HR and L&D from companies like Metro Trains knew that their Digital Transformation project should involve a "powerful and immersive training experience" to encourage innovation. Metro Trains brought together Virtual Reality (VR), neuroscience, and haptics to provide its employees a superior learning experience. "It's like learning without knowing you're learning," Metro Trains Executive General Manager HR Nick Dickinson told PageUp. He said that their internal analysis showed it delivered learning outcomes 12 times faster than past training solutions.
Empower
Digital Transformation is not just an event but a continuous process. It is almost impossible to accurately predict exactly which new technology will disrupt which aspects of business and how. But one thing is for sure, digital organizations that are always prepared and empowered to welcome and embrace change thrive and succeed.
According to Training Journal, "developing the digital capabilities of your existing employees is the most cost-effective strategy in the long term. That's why the UK government is advising employers to take greater ownership of their digital skills development."
HR and L&D helps raise and sustain an army of empowered digital talents by ensuring that they are receiving continuous training and development. They help develop digital leadership skills throughout the organization. They identify effective ways to help individual staff continually develop the specific capabilities needed to succeed and thrive in an ever-changing digital environment. They ensure that training is scalable and deliverable to all business users, meeting learners where they currently are and guiding them throughout the entire journey. They help create a culture that promotes learning and experimentation so that the organization will not merely keep pace with the change but also set the pace.
Moreover, HR and L&D can also help the organization establish new performance measures to help gauge digital transformation success. According to HR executive, HR can lead their company into rethinking and optimizing performance management systems and align these systems with the organization's overall need to be more collaborative, risk tolerant, and experimental.
Final Thoughts: HR and L&D Should Raise Their Game
To be more effective at engaging, equipping, and empowering employees to become digitally thinking individuals, the HR and L&D unit itself should be armed with digital technologies that allow them to modernize their approach. They should leverage digital solutions that empower them to cater to the learning and development needs of their digital enterprise in a scalable and agile manner, regardless of the size of their organization. They should take advantage of a technology platform that allows them to take engagement and learning down to the individual level, without stretching their resources too thin.