Learning by doing is an active learning approach that allows people to learn while they work. Applying this strategy to employee training can lead to increased employee satisfaction, better comprehension of technology, and more efficient learning.
But you don't have to take our word for it.
We dug into the 2020 LinkedIn Workplace Learning Report and identified several pain points that a learn-by-doing approach could alleviate.
Learn by Doing: A Data-Driven Argument for Enterprises
We'll take you through common concerns from both employees and learning and development (L&D) professionals. Then, we'll show you how to address them with learn-by-doing techniques.
49% of Employees Say They Don't Have Time to Learn at Work
While nearly half of employees feel they don't have the time to learn new tools or skills, 94% believe making time to learn would benefit their career.
When your staff is bogged down by daily duties, they can't focus on expanding their knowledge. Traditional training methods — like group training and written guides — make it even more difficult. Long, all-inclusive trainings are time-consuming and can overwhelm learners with too much information at once. And according to the Forgetting Curve, people forget an average of 90% of information within one week.
Learning by doing addresses both pain points. Learning in the flow of work saves time and prevents information overload. You can also use a digital adoption platform (DAP) to facilitate microlearning. With Whatfix's DAP, employees can complete quick, bite-size training directly in the application they're using.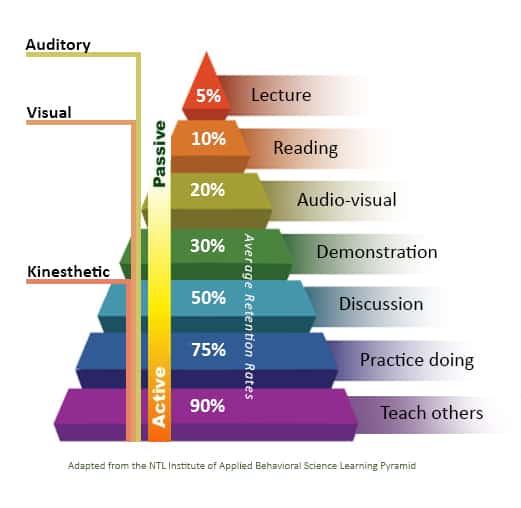 Source
Learning while working within the platform also helps learners absorb more information. According to The Learning Pyramid, learners retain 75% of knowledge when they practice doing a task, compared with only 10% when reading instructions.
94% of Employees Would Stay at a Company Longer If It Invested in Their L&D
Ninety-four percent is a huge portion of your workforce; do you really want to risk that level of turnover? Keep in mind that the average cost of a bad hire can equal 30% of the employee's annual earnings. Losing employees is bad for both your budget and your hiring resources.
Your team members want to know that you're invested in their success. Embracing learning by doing gives your staff a chance to build their skills on a continuous basis.
Ongoing training benefits employees and your bottom line. Instead of paying your team to attend a one-hour training, you can help them learn while they complete their work. The learn-by-doing method allows you to invest in more education without decreasing your team's productivity.
Increasing L&D initiatives can improve employee engagement as well. And studies show that companies with engaged workers are more likely to retain them. For example, when LinkedIn's L&D department doubled the learning goals for their team, they set a new company record by achieving over 50% engagement in their top three departments.
74% of Employees Want to Learn During Spare Time at Work
Learning by doing is one of the simplest ways to make the most of downtime between tasks and pick up new skills without disrupting daily routines.
Employees do not want to set aside time specifically for training or learning new tools. People prefer to take advantage of short breaks between tasks and work through training on their own. Learning by doing plays right into these preferences.
Think about your daily schedule. If someone asked you to block out two hours for SuccessFactors Training, you'd probably say you simply didn't have the time. With the learn-by-doing method, you wouldn't have to interrupt your workday. Whatfix's DAP allows you to explore SuccessFactors' features in between meetings and while working within the application.
Athletics management software company PlanetHS, LLC, struggled to educate people through 45-minute training calls, so they switched 60,000 users to the learn-by-doing method. After using Whatfix's DAP to create walk-throughs, guided navigation, and informational pop-ups, PlanetHS replaced one-on-one calls with in-app training. As a result, it eliminated 190,000 support tickets and gained a 5/5 user satisfaction score.
More than 75% of Workers Value Personalized Course Recommendations
One-size-fits-all training is inefficient because employees tend to zone out when they don't feel personally invested. Learn-by-doing strategies facilitate personalized training by allowing employees to focus on the skills most relevant to their job.
Whatfix's DAP ties tips and walk-throughs to specific areas of a tool so that recommendations are more relevant to the person using it. For example, the SuccessFactor admin center shows basics, such as how to set up an account or reset a password. The report section, on the other hand, shows walk-throughs for running standard reports or creating custom fields.
The Whatfix Digital Adoption Center of Excellence (COE) program is built for personalization. We work with customers to optimize training time by creating role-specific tasks. Learning by doing with a DAP gives employees the ability to skip training they don't need and instead focus on building new skills. For instance, if a person already knows how to set up a ServiceNow account, they can move onto more high-value training modules, such as ServiceNow report management.
94% of L&D Teams Consider Closing Skills Gaps to Be an Urgent Priority
When your team lacks the skills they need to be successful in their jobs, everyone suffers. Addressing skills gaps not only builds your team's collective knowledge but also helps boost your staff's confidence in their own abilities.
Don't underestimate the power of confidence. Fear of failure is a common cause of resistance to change, and self-doubt can feed into that fear. The ADKAR Model shows that in order for your team to embrace a change (such as a new tool), they need to believe that they have both the knowledge and the ability to adjust.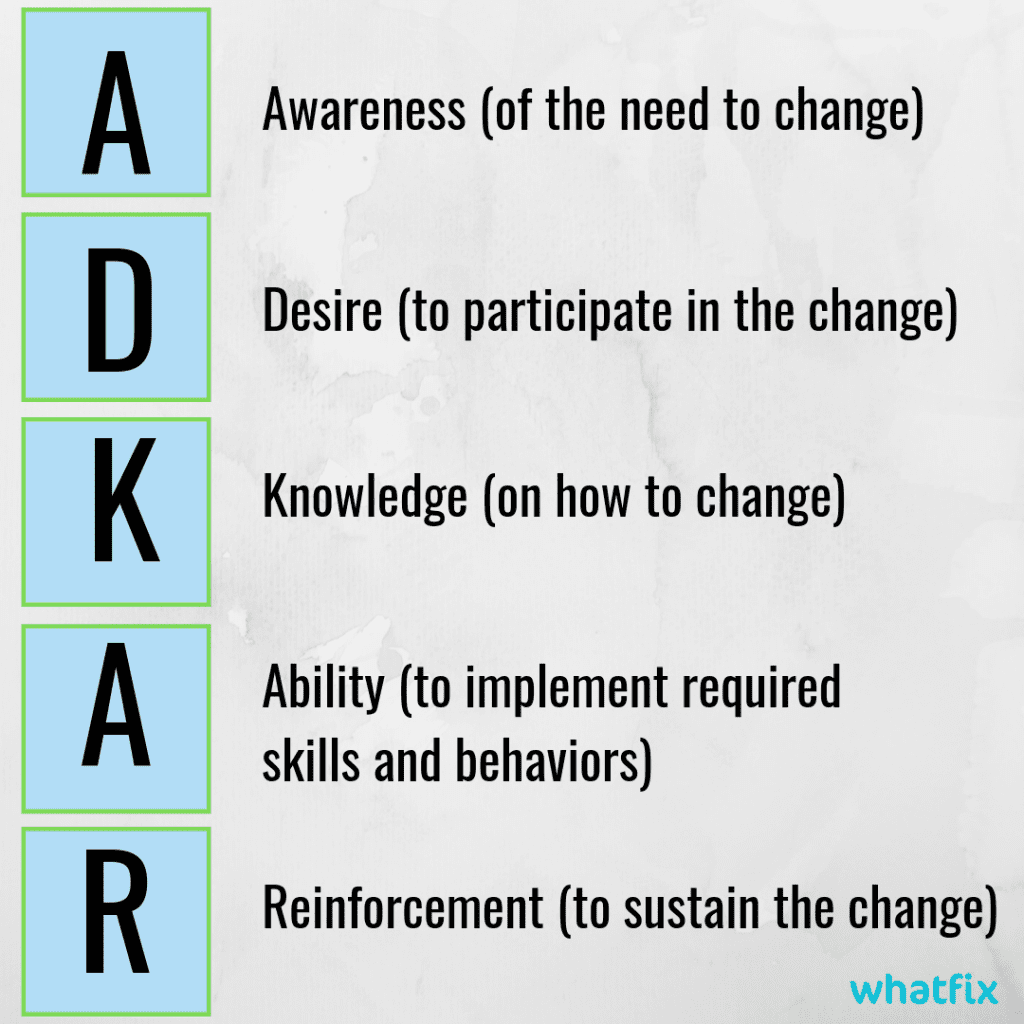 L&D programs often address skills gaps through upskilling (building skills for the existing job) and reskilling (learning new skills to be applied in a different capacity). In fact, 51% of L&D professionals plan to launch upskilling initiatives in 2020, and 43% will incorporate reskilling.
The learn-by-doing method tackles skills gaps by working upskilling and reskilling into people's daily routines. Instead of scheduling time for webinars or long tutorials, employees can build on their existing knowledge while they work.
Let's say your sales agent, Molly, has been working in Salesforce for two years. Although she never has trouble meeting her quotas or working within Salesforce, she admits that there are newer features that she's never had the time to master. You can design training content within Whatfix's DAP that narrows in on recently released features so that Molly and her teammates can upskill right within the CRM.
L&D Professionals Spend 29% of Their Time Sourcing or Building Content
Creating and updating employee training content is an arduous process, especially if you're trying to deliver content in various formats.
Because developing engaging training materials is challenging, L&Ds may favor simpler formats, such as written guides, over more entertaining options, such as videos, walk-throughs, and pop-up tips. You're probably guilty of taking the easy route yourself. But when content creation takes up nearly one-third of your day, who could blame you?
DAPs give you the best of both worlds. Whatfix's no-code options make producing learn-by-doing content in multiple formats easy and, more importantly, quick. On average, our DAP cuts content creation time by 60-85%.
British nonprofit Dimensions UK used Whatfix to provide in-app training for more than 7,000 employees. In less than a year, it slashed content creation time by 84%.
Now is the Time to Learn by Doing
American author, educator, and keynote speaker Stephen Covey once said, "Most of us spend too much time on what is urgent and not enough time on what is important."
Research shows us that when it comes to learning at work, both the trainers and the trainees feel they do not have enough time. As teams get busier, their work becomes reactionary — people do what they think has to get done right now, pushing additional training and learning opportunities to the side.
Learning by doing solves that problem by allowing companies to prioritize training without disrupting the everyday flow of work. Sign up for a demo to see how you can leverage our DAP to implement the learn-by-doing method in your organization.