Managing remote employees takes practice. Unfortunately, in-office management skills don't always directly translate to leading work-from-home teams. Remote workforces face unique challenges in everything, from communication to training.
Figuring out what works for you and your company will involve some trial and error, but you don't have to build your remote team management strategy from scratch.
We surveyed several remote team managers to get their expert advice on everything from training employees to managing distractions. Give yourself a head start by learning from their experiences.
Provide Onboarding Resources
Working from home requires a lot of tools for remote teams — many of which may be completely new to your employees. No matter how useful those tools may be, you can't just force your employees to use them. And because many resources charge subscription fees and user licenses, low user adoption rates will cost you. Helping your team onboard to new software and tools is as important for your budget as it is for team morale.
"When you work with remote people, onboarding can be easy to ignore, but it is super important to make onboarding structured," says David Kofoed Wind, CEO of Eduflow. "One of the things we do now is to run a structured onboarding course for everyone to guide through our tools, workflows and to introduce people to our products and the other people on the team."
Vispi Daver, Vice President of Whatfix, points out that when you can't train people in person, you need to seek out new solutions. "One of the solutions that both employees and employers are recognizing is a category called Digital Adoption. These are overlays that sit on top of a software application. They work like a GPS guiding employees through a particular software application in a personalized manner."
Digital Adoption Platforms (DAPs) can significantly increase user adoption rates while actually helping employees perform tasks as they learn. Whatfix's DAP is designed to provide on-demand, in-app guidance for software. With the help of beacons that point users to specific features, walkthroughs that guide users through processes, and other contextual trainings, our DAP gives users the knowledge they need to learn in the flow of work.

While DAPs are useful for both in-office and home-based teams, the need for efficient training solutions is often greater for remote teams. According to Nigel Stevens, CEO of Organic Growth Marketing, "being a remote company forces you to be much better about processes and systems. There are ways to be 'lazy' in an office culture because you can just go ask people, and everyone is used to wasting lots of time."
Those "lazy" habits simply won't work for remote teams, which is why you need to create processes and document them.
Document Everything in a Central Location
If your employees have to message someone every time they need to know where files are stored or how to use a specific tool, productivity will plummet. However, creating a single source of truth — a searchable resource where you store all processes and key information — can cut time spent searching for information by 35%.
"Remote work required putting processes in place much earlier because you no longer have the 'hey how do you do this' or 'what do you think of this' types of conversations," says Josh Ho, founder and CEO of Referral Rock.
While he acknowledges that messaging tools like Slack are helpful, thoroughly documenting processes is more effective.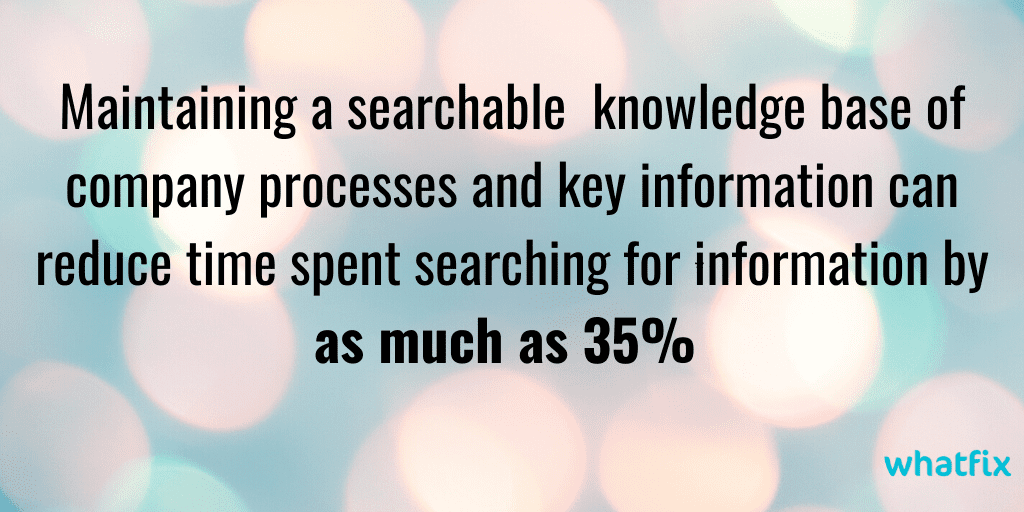 Rachel Kaplowitz, CEO of Honey, uses Honey's intranet "for long-form updates, like all hand recaps, strategic decisions, and important announcements like IT alerts and COVID-19 related updates" so that her team knows exactly where to look for information. This helps employees to feel more confident working independently.
Build Trust Within Your Team
When you're new to managing remote employees, it's tempting to micromanage and constantly worry about productivity, but mistrust can be toxic for a workplace. In fact, lack of trust ties into the Maurer 3 Levels of Resistance and Change Model.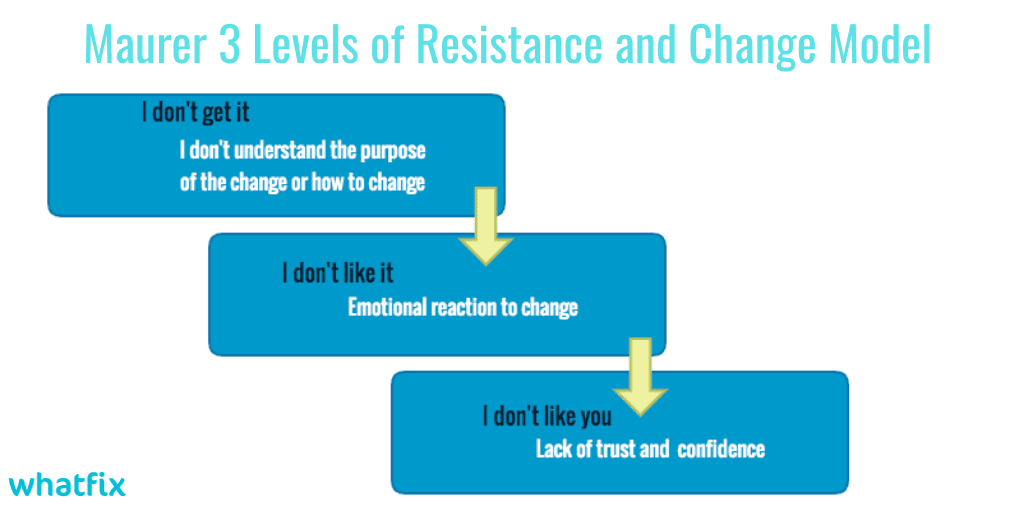 Abiella King, senior manager of People and Culture at Riipen acknowledged that transitions to remote work caused by COVID-19 call for extra empathy: "As managers (and humans), we need to operate with the assumption that everyone is doing their best — to adapt, to focus, and to produce good work. We need to make it clear that we trust our employees, and prioritize empathy, both for our peers, and for ourselves."
David of Eduflow notes that "building trust remotely is super hard, and if it breaks, it is also very hard to restore."
"You have to get comfortable asking them for information, and digging in for more detail than is totally comfortable," says Janine Anderson, managing editor at Zapier. "It's really easy to tell in an office when someone has had a difficult conversation, because they may have pushed their chair in more forcefully than normal, or stalked out of the office to take a walk around the block. That's harder to tell by text, and if you're the person who's upset, it's easy to just say things are fine when they're not."
Creating processes for how you will monitor what people are working on and when allows you to stay informed without having to constantly follow up with employees. Consider using a daily check-in channel in Slack or Microsoft Teams for quick project updates, and use calendars to establish working hours for each team member.
Proving that you are confident in your team is crucial, but it's important to remember that building trust also requires you to acknowledge that no one — yourself included — is perfect.
Be Willing to Own Up to Mistakes
Mistakes happen — don't make them worse by trying to hide them. Acknowledging your missteps humanizes you in the eyes of your employees and, ultimately, strengthens the team as a whole.
"Part of what's helped me improve is just admitting my challenge with my team and making sure I end the day with a Zoom call with my team, so we can clarify any miscommunications throughout the day, and we can express ourselves more authentically before heading off for the night," says Kaplowitz of Honey.
Gail Marie, lead editor at Animalz, shares a time when she had to acknowledge a mistake:
"I once wrote a lengthy document in Quip explaining in great detail how to conduct and get the most out of a brief weekly meeting our editors are required to have with each writer. Though my intent was to be helpful, I was actually micromanaging. The next day, I posted a message in our private team Slack channel apologizing for being heavy-handed and encouraging them to disregard the document. 'Y'all are smart, creative people who have editing experience and want to do good work. I know that. Animalz knows that,' I concluded. 'So, go on and be those awesome people.'"
It's clear that managing remote teams often boils down to respect — for people's abilities, limitations, and even for their time.
Encourage Time Blocking
Interruptions have compounding negative effects — only 55% of work is resumed immediately after an interruption. When work is not resumed right away, it takes an average of 25 minutes for employees to return to the task.
Although experienced remote employees report being more productive while working from home, that productivity doesn't always come naturally. As messages, notifications, and other distractions appear on-screen, multitasking can quickly eat up time. To allow your team to really dig into deep work, consider time blocking.
Time blocking involves setting aside a block of time to focus on a single task. These blocks should be treated like meetings — no interruptions and no expectation for employees to respond to messages during that time.
Maria L. Alvarez, senior talent acquisition partner at Internet Creations, shares that her company has always encouraged calendar blocking for both in-office and remote employees.
"[We] have created habits where people respect each other's work hours and away time."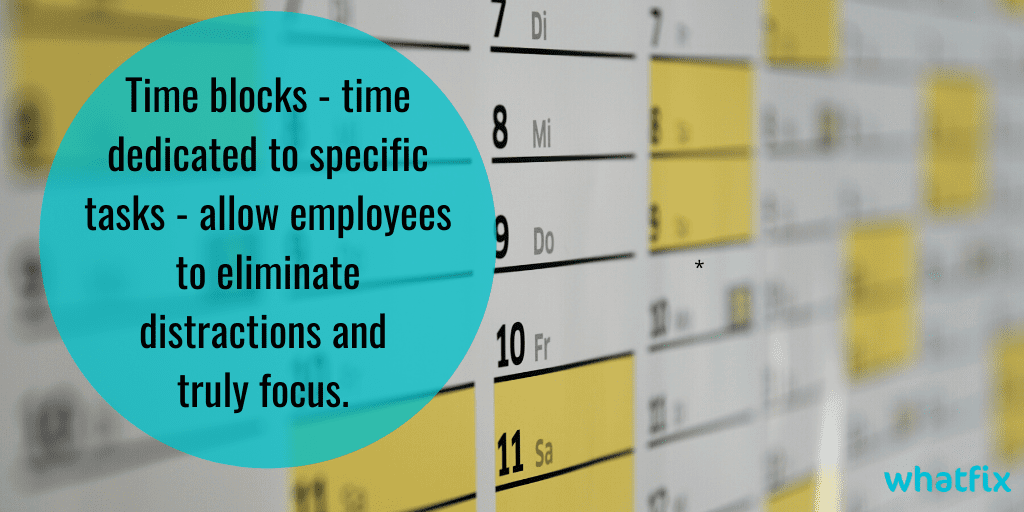 Kaplowitz of Honey says, "it's been tough communicating effectively in Slack when I'm multitasking…when I have 4 important conversations happening simultaneously on Slack and my kids are screaming for me from the other room, I tend to shoot off messages quickly without taking the proper time to account for tone and clarity."
Setting aside time for deep work prevents inefficient multitasking, which can lead to decreased work output and miscommunications.
Turn on Your Cameras
When you can't have face-to-face interactions, video calls are the next best thing. Of course, no one likes being asked to turn on their video without notice, so establish a "cameras on" policy for all meetings.
Video makes interactions feel more social and more human. Chris Zaugg, co-founder of Uptick realized that actually seeing people gives them depth, so he began trying to find ways to make interactions more "human" with 1:1s, video calls, and lunches.
Body language, facial expressions, and gestures all factor into communication — their importance should not be ignored. Brendan Hufford, director of SEO at Directive, explains how he learned this the hard way: "Oddly enough, when I first started managing remotely, we didn't have 'camera on' as an expectation. Not being able to see people's faces was wrought with all sorts of miscommunications and also people not taking it seriously."
Hufford makes a good point — audio-only calls often lead to distracted multitasking or attendees tuning out the speaker. Video keeps employees focused and accountable.
Be Flexible
Flexible schedules are considered one of the top benefits of working from home. Try to be open to letting employees adjust their schedules as needed, especially during unexpected transitions to remote work. Having remote work policies could be very helpful during a sudden transition but make sure that they created with empathy in mind.
Julia Melymbrose, head of content at TestGorilla, stresses that "your team (and company) stands to benefit a lot more from a well-rested, happy, and productive employee who missed one day this week than from a burned-out, unhappy, and unfocused employee who's dragging their feet from Monday through Friday."
Linkedin's 2019 Global Talent Trends confirms Melymbrose's theory — 54% of talent professionals say work flexibility encourages retention, and 72% believe it is "very important to the future of recruiting and HR."
Managing Remote Employees Is Easier with Whatfix
As you introduce new tools, software, and processes to your remote team, you'll need help getting your employees up to speed. Our Digital Adoption Platform can provide contextual, self-guided training for a variety of tools so that your team can learn in the flow of work. Our DAP has helped many companies increase user adoption rates and productivity — why not sign up for a demo and see how our team can help yours?