Contracts are becoming the backbone and foundation in driving the success or failure of organizations. They control every dollar in & out of the organization and are true enablers of today's commerce. The Contract Lifecycle Management (CLM) space is going through a major transformation and is attracting a lot of investments by enterprises as they overhaul their legacy way of contracting and move towards a Digital First and Digitally Enabled business. There is a multitude of reasons to explore and implement a contract lifecycle management solution as we speak:
Why should you implement a Contract Lifecycle Management Solution?
There is a multitude of reasons to explore a contract lifecycle management solution as we speak:
The speed of global business is accelerating and now demands a faster-contracting process. The cycle time from contract request to contract execution is shortened from months to weeks given the pace businesses are demanding. You can't take months to execute a contract when the contract duration is short (i.e., one year as an example)

Technology is enabling various pieces of the contracting process to be digitized and your operations to be more efficient. Contract templates, clause libraries, workflows, integration with upstream (i.e., CRM, Sourcing) and downstream systems (ERP, P2P, others), E-Signatures and contract storage are here and enabled in the cloud that is facilitating more of the contract processes to be automated. Contracts can be created from anywhere, accessed anytime & anywhere and thru' E-Signatures be executed from wherever you are

Risk management has always been top of mind for businesses and is even more critical today with more regulations coming into play (i.e., GDPR, CCPA, FCPA, others). Stay compliant or face stiff penalties. As an example, fines for violations of the U.S. Foreign Corrupt Practices Act (FCPA) in the last 10 years have been higher than in the previous 25 to 30 years.

And many more reasons to consider like faster revenue realization (on sell-side contracts), improving governance, and reducing procurement spend (on buy-side contracts) to name a few.
Many Enterprises started their Legal Transformation journey pre-COVID and are Digitally enabled & resilient to handle the pandemic and alternate work models such as work from home without sacrificing the agility they need to succeed. They are able to handle simple use cases such as contract renewal dates not being missed or additional discount terms applied with higher purchase volumes from suppliers or faster turnaround times for contract execution among many examples. Other businesses who didn't invest earlier can take advantage of the slowing economy and the downtime available now to explore and invest in a transformative technology like Contract Lifecycle Management.
As you look to transform your Legal Technology and look at a CLM system to standardize legal processes, gain efficiency and reduce risk, here are a few activities that you will likely consider (not in order of priority):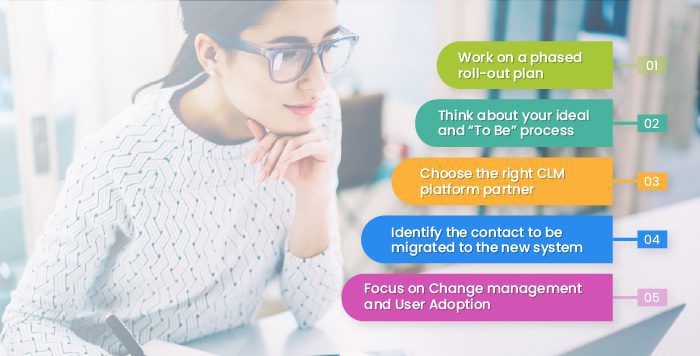 Contracting Processes: Look at all of your current processes ranging from a Contract Requests, Contract Creation, Templates, Clause Library, Approval Workflows, Redlining & Negotiations, Signatures, amendments, etc and start thinking about your ideal and "To Be" process

Legacy Contracts: Identifying and staging all of those existing contracts and deciding ones that will be migrated to the new system is a key step

Choosing the right CLM platform partner among the various choices available today. Many SaaS providers are available that can help you in your transformation journey

Working on a phased roll-out plan: Work with your CLM partner and decide the best course of action for a phased implementation and roll-out for your contracts. A phased approach is best and looks for a crawl-walk-run approach for best ROI

Change management and user adoption: Change management is a piece often neglected in these projects as many organizations make a jump from legacy or at times manual ways of contracting. To top it up, contracting processes can be complex and with a wide variety of users across the enterprise (sales, sales ops, risk, compliance, finance, procurement, legal, legal ops, others) who are distributed in a large organization, adoption can be a big challenge.
Digital Adoption Platforms for CLM adoption
Consider a Digital Adoption Platform like Whatfix as you look to overcome a massive change management road ahead for you. Our experience shows that with infrequent usage of the CLM solutions, many users struggle to get the most out of these solutions & the advanced functionality they provide. Legal, Legal Ops, or IT departments are not always adequately staffed to handle queries from users, and often the SaaS providers have to bear the brunt of the struggles for not creating an intuitive UX.
Today's workforces demand a consumer application-like user experience and want to embrace self-service workflows. They also want a Netflix type of on-demand learning – just in time, contextual, and interactive. By providing in-app support and self-service features, users can get answers to queries and guidance to complete critical tasks, reducing the burden on the support staff/helpdesk. This is all possible with a Digital Adoption Platform like Whatfix with over 20+ global CLM implementations to date.
Take the leap to modernize your CLM, equip your organization with the intelligence, agility, and enterprise-wide capabilities to manage the complexity of contracts as you digitize and power it with Digital Adoption Platform to enable learning in the flow of work, maximize adoption & maximize user productivity.